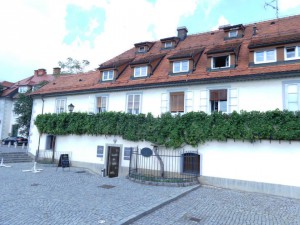 Maribor, Slovenia
According to the
first version of our travel plan
, on day #5 we were supposed to go to
Otocec terme
(yes, I know it is a quite touristic destination, but in that case there is a valid reason why so many people go there!), but the hotel in the castle was all booked so we decided to change our plans and enjoy eastern Slovenia instead (aka my side of Slovenia). We were planning to exit at Celje and from there visit Slovenske Konjice, Zrece, Maribor and Ptuj, but again we were running late so we skipped a few things from the plan and we drove straight to the Mercator supermarket at the entrance of
Slovenske Konjice
, where you can find the hugest array of beauty products by Dvorec Trebnik ('cause the Mansion,
Dvorec
in Slovene language, is located in this small village) and I bought a 1-year-stock of its products plus a few presents for my mother and my friends.

Then, after a tour of glorious Slovenske Konjice across the main square and the St. George Church, we went to take a coffee at the youth center were I was working and there I had the chance to catch up with old friends and to meet the new generation of EVS volunteers, tell them about my experience there, advice them about where to go eat in Slovenske Konjice and the surrounding area and ask about their lives there.
It is always kind of weird to come back and meet new volunteers; they are living the experience I lived before, but they are living it in a completely different way. My experience there was strongly influenced by the wonderful people I shared it with, and it is weird to imagine that they are doing the same things, but with completely different people. They live in a different apartment, they hang out in different places… but still we share the core experience: live as a foreign in small village of such a peculiar country, where they still have few tourists and people are truly amazed when you make the effort to speak their language. By the way, time was flying and around noon we left glorious Slovenske Konjice heading to Maribor.
All the times that I came back visiting Slovenia, I never came back to Maribor, and I've always regretted this choice because I actually prefer the
londoness 
of Maribor to the
parisness 
of Ljubljana. So here I was, back in Maribor after 5 years, walking among the old houses of the town center with their white walls and red roofs.
We went to the world's oldest grape,
we
walked along the river Drava, we took some pictures of the colourful town around,
and it was aldready time to drive towards Croatia…
…But that's another story!

Maribor, Slovenia
SalvaSalva