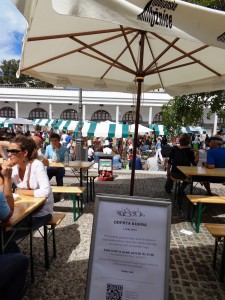 Ljubljana, Slovenia | Food
First of all, I must confess that in Ljubljana we were so lucky to have the best food guide on the planet: my Macedonian friend Elena, who is living in Slovenia since 2008, when we both arrived on the same day in the glorious EVS house in Slovenske Konjice (western Slovenia). We are close friends now, but I would say our friendship arose from our shared passion for cooking and eating (and also from travelling Slovenia far and wide to try new restaurants!). Thus she obviously had complete authority to decide where we were going to eat during our stay: 3 dinners to surprise us! :-)
Day 1: the first evening she brought us to a beautiful restaurant on the river called MOST, 'cause it was Silvia's first time in Ljubljana and we wanted to show her the town center and the magic of Ljubljana by night. The cuisine was traditional, but kind of reinterpreted in a more elegant and original way. The stile of the dishes was accurate and the taste wasn't so strong as it could be in a gostilna (traditional inn), even if part of the menu was composed by the same dishes you can find all around Slovenia.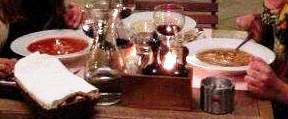 Ljubljana, Slovenia | Food
As every Slovenian meal, it started with soups: we ordered 3 different kinds of them to taste 'em all, and I must admit they were all magnificent! We tried one of the most famous Slovenian dishes, the beef soup with noodles (which here I found more delicate than everywhere else), then we tried the cream of potato soup, which is typical too but here it was reinterpreted adding black truffles, and we also tried a very innovative soup, the roasted pepper soup with king prawns and roasted almonds, a very original matching where the protagonist was still a very traditional Slovenian ingredient (red pepper).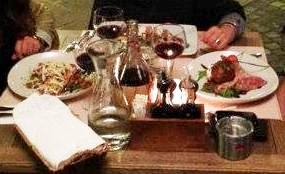 Ljubljana, Slovenia | Food
I ordered beef fillet wrapped in bacon on a crouton with porcini mushroom sauce and leek strudel, while the other girls ordered veal tagliata with young cheese roast potatoes and vegetables and prawns with mushrooms, ricotta cheese and traditional buckwheat porridge; all of them were delicious! 
[If you are feeling hungry, check Most's website here] 
Day 2: the second day for lunch we were by ourselves, but we hacked it great finding a food market with many stands by both Slovenian and international restaurants. 
We didn't want to eat too much so we just taste some fried chicken with another Slovenian specialty, smashed potatoes, together with spring rolls and a Chinese soup. 
The food was fine and cheap, but the atmosphere was top: good music, young people, long convivial and friendly tables, sunny sky… aaaamazing! 
:-) 
The initiative is called ODPRTA KUHNA (open kitchen) and it is running every Tuesday and Friday all day long: don't miss it if you are around! 
[If you are feeling hungry, check Odprta Kuhna's website here]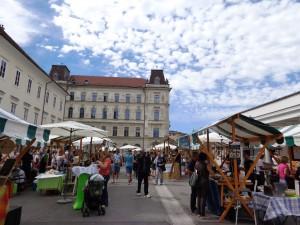 Ljubljana, Slovenia | Food
After all day spent walking through this beautiful city, we really wished a substantial meal; and in this case what could be better than traditional Balkan food? Again, Elena's choice was perfect: she brought us to a historic restaurant on the hill, called GOSTILNA ČAD, with a beautiful garden and a menu spacing all over Balkans.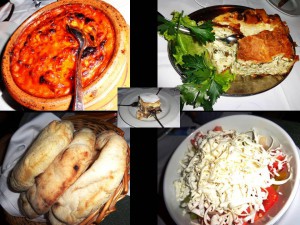 Ljubljana, Slovenia | Food
Here we tried traditional dishes such as baked beans, Gibanica salty layer cake, 
kajmak (white cream), šopska salad, home-baked lepinja bread and, of course, the classic mixed grilled meat (from cevapcici to pljeskavica, and more…), ending with sweat Gibanica, the most traditional Slovenian dessert (of which I've already given you the recipe
here
).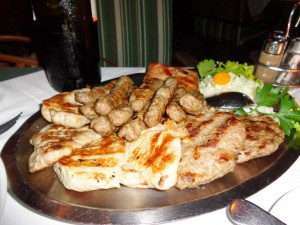 Ljubljana, Slovenia | Food
 [If you are feeling hungry, check Gostilna Cad's website
here
]
Day 3: Of course Elena was saving the best for last! So on our last night in Ljubljana we discovered a truly amazing place, which I bet many locals still didn't try!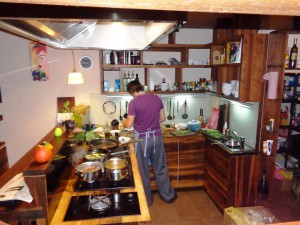 Ljubljana, Slovenia | Food
This tidbit is called IZLOžBA and it is 10 minutes walking by the town center. The concept is brilliant: you cross the pretty garden and you step into this lovely couple's kitchen; while the wife is making you comfortable pouring good wine in your glass, the husband is cooking right in front of you what you previously ordered (you should call before to arrange the menu of the meal with him, 'cause all ingredients are fresh and local and he goes every morning to the farmers' market to buy just what he will need to cook your meal). No need to say we ate wonderfully! 
The menu was creative but rooted into the Slovenian tradition: we started with local cheese, mushrooms and dried plums rolled in bacon, a delicious pumpkin soup, traditional dumplings from Idrija and a quiche with zucchini and cheese. The main dish was a composition of deer meat steak and liver paté with a pastry dumpling filled with flavoured spelt and vegetables, and for dessert we had chocolate soufflé. The food was amazing and genuine, the atmosphere cool and very homey: it is really one of the best little pretty restaurant I've ever been!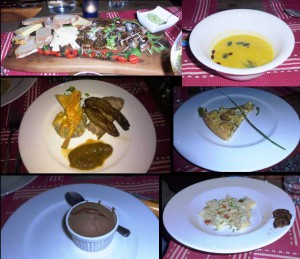 Ljubljana, Slovenia | Food
I'm very sorry that I was not feeling so well on that night and I didn't enjoy the meal properly, but this means only one thing: I must go back to Izložba very soon! :-)[If you are feeling hungry, check Izložba's facebook page here]
Find these spots and more insider's tips on my Lubiana Google Map!
One year later… read the post 'Eating out in Ljubljana – VOL. 2'
SalvaSalva