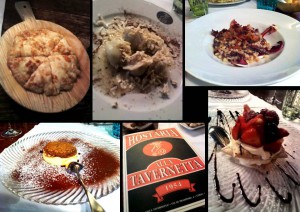 "Surely this weekend we won't starve to death!"
my best friend said, closing the "Slow Food Guide" after a meticulous analysis double checked by an on-line research through our favorite food blogs.
We didn't, indeed, even if we weren't able to stick to our pretentious plan of 6 restaurants in 24 hours… Actually we eat properly in only two of those restaurants on our pretentious list, but they both gave us such a pleasant experience that we consider ourselves more than satisfied!
Straight from the train station we headed to a traditional restaurant close to the dome and called Hostaria Alla Tavernetta, a quite elegant place with lots of prestigious bottles of wine settled in bookcases along the walls. Sipping a local prosecco (sparkling white wine from the region), we listened to the owner's description of the traditional dishes: we decided to share a frico con patate (cheese cooked with butter in a frying pan and melted with potatoes and onions) accompanied with local ham (which is kinda smoked, very tasty!). Then my friend ordered an orzotto (main dish made of pearl barley cooked as it was rice of a risotto, with speck and red chicory -which was giving a strong bitterish taste to the rest of the dish…), while I got those famous cjarsons alla carnica (pillow-like pieces of soft pasta filled with ricotta cheese and raisins, served with a surprising sauce of ricotta cheese, cinnamon and chocolate!), a very traditional dish based on the soft fusion between sweet and savoury. After a second glass of a morbid Cabernet Sauvignon 2011 Les Neris we got the desserts: a tiramisu sponge cake soaked in coffee and syrup and covered with sweet hazelnuts cream cheese and a morbid millefoglie (small layered cake made of puff pastry filled with cream) with soft fruits, decorated with balsamic cream; no need to say we accompanied our delicious desserts with a sweet wine, the Piccolit.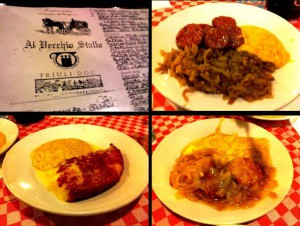 For dinner we went to Al Vecchio Stallo, a definitely more "rough & country" place than the restaurant where we launched, but still a very good and fascinating restaurant. Here we ordered (again!) some frico (this time served with maize porridge!), musetto & brovata (a boiled pork sausage made from its snout -which in Italian is called "muso"- with white turnip soaked within marc for at least 40 days and then grated and cooked) served with maize porridge and sausages cooked in vinegar with onions, served with (guess what!) maize porridge. While eating we drunk a red house wine which was very good (since we were in a prestigious wine area where even cheap house wine tastes good), while we ended up the meal with a sweet wine named Verduzzo and a handful of chestnuts.
After dinner we went to a nice place called La Cantinetta del Borgo where among Beatles souvenirs and beautiful wine bottles with old pictures of women on them we tasted a curious cocktail made with mint leaves, white wine and a liqueur made from elder flowers (not from elderberries, as usual!).
The day after we couldn't leave Udine without trying the breakfast experience at Caffè Beltrame where, together with a Sunday morning coffee, I savoured a puff filled with both whipped cream and custard.
Luckily we didn't plan to eat for the whole travel back home!
Soon I will also tell you about what we did in Udine in between meals :-)