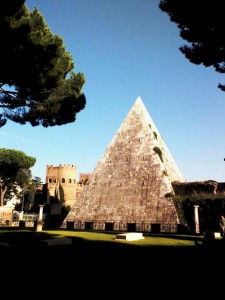 When I was young and still travelling with my parents my wish to avoid touristic tours made me a passionate about cemeteries and wherever we went I'd always pay a visit to the local graveyard. It may sound creepy, but I've always been fascinated by cemeteries; I find they are very peaceful places where you can walk through the past of a town.
That's the reason why today, when I was lunching in my pyjamas with all the laziness of a day off from work surrounding me, my parents invited me to go with them and their friends to a "theatrical tour" of the Old Cemetery for non catholic foreigners, which is situated behind the pyramid (Testaccio – Ostiense), 'cause the non Catholics couldn't be buried in the "holy ground" (= Rome, the holy town, which at that time was delimited by the Aurelian walls).

The place looks like a garden, as in the North-European / Protestant tradition, the tombs are simple, without pictures on them (which would be the one picture representative of a whole life, anyway??) and it is full of famous people's graves, from Keats to Shelley, from Gramsci to Dario Bellezza, from Gadda to John Addington Symonds.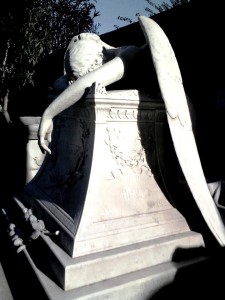 The Ancient area is untouched since the 18th century; this is the most romantic part of the cemetery, it looks like a park and that's why people also come here to read, to write and to relax, whereas the Old area is the most monumental, with some masterpieces of sculpture such as the Angel of grief (speaking of which, I noticed a girl in our group with the image of the statue of the Angel of grief on her T-shirt… that was too much even for a graveyard fan like me!! But then, back at home, I did my research and I discover that she was wearing a T-shirt of a Finnish metal band called "Nightwish" with the image of the angel of grief at Stanford University, in California, which is a copy of the original one in Rome, by William Wetmore Story
). 
The day was sunny, all that marble was shining, the place was silent and the alley, with all its cypresses, was suggestive… 
Again, it may sound creepy, but I've always been fascinated by cemeteries, I find they are the perfect place to think and to meditate.
And today I meditated about all those foreign people buried there who came to Rome from abroad attracted by the Arts, the Poetry and Rome's decadent beauty, all those young European who flied in the face of malaria and other fatal diseases in order to accomplish the "journey to Italy", while sometimes I'd fly in the face of unemployment and loneliness in order to move as far as possible from Rome and Italy itself. But then, in a lazy day like this one, I happen to discover such a charming place I've ignored so far and I can't help but share those foreigners' dream of living in Rome.