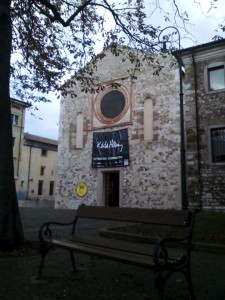 As you could have guessed from my previous post about eating in Friuli, last weekend I went for my first time in Udine, a pretty little town in the north-east of Italy close to the border with my beloved Slovenia. I went there with my best friend under the pretext of visiting the Keith Haring exhibition at the San Francesco church and –besides the exhibition- we spent the whole weekend eating & drinking (…that's why my first post about the Udine experience was devoted to the amazing food I tasted there!).
Anyway, in this post I will share with you all the rest of the Udine experience! so… let's start from the exhibition "Extralarge: the ten commandments, the Marriage of Heaven and Hell"

: as you can imagine from the title, this exhibition presents

the series of ten giant paintings dedicated to the ten commandments + "The Marriage of Heaven and Hell", which is the biggest painting Keith ever realized. The setting (into a deconsecrated church) is simply a-ma-zing, because of the high-ceilinged space, of the silent and contemplative atmosphere that only a church can inspire and because of the matching with the theme of the exhibition which, at the end of the day, is a consideration of the role of religion in the artistic experience and the personal life of this gay artist, his personal view which goes way beyond the usual interpretation of religious dogmas.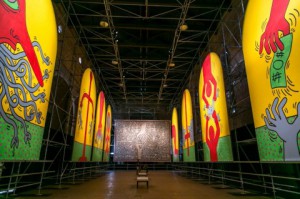 Beside the exhibition, our common impression of the town was that there was a weird atmosphere, as a feeling of "day after something" (without having experienced the day before!). I don't know how to put this mood into words, just imagine a deserted, sleepy town under a grey sky, where the majority of shops are closed (on a bank holiday weekend) and its inhabitants quietly walk under marble arcades. From an architectural viewpoint, I found Udine quite similar to Lille, maybe for their common "Austrian outside Austria" spirit.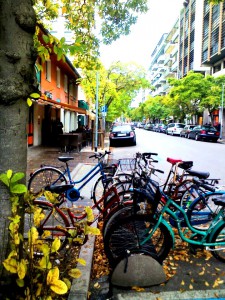 Given my previous positive experience with couch-surfing, we decided to look for a couch to surf in the area and we were so lucky to be hosted by Katia in her cosy, incense-scented flat with a blue fridge
:-)
Katia has been a wonderful host, she went out with us, she showed us the town introducing us to her friends and she taught us the three biggest peculiarities of the town (which quickly became sort of funny leitmotivs of the weekend): that until you walk on cobblestones you are within the town centre; that outside all restaurants and pubs there is a wooden bar where you can rest your glass on while chatting and smoking outside; and that almost every old building has windows with solid wooden blinds and that -on top of everything- those blinds are called "balconi" (which in Italian means balcony, a totally different thing!).