Category:
Me, Myself and I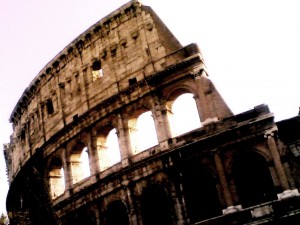 I'm born where Rome has born: on the Tiber island, a small piece of earth in the middle of the Tiber river near the Trastevere district, with the Jewish Ghetto on the other side. This island is a kinda magic place: I do believe that people who have born here have an unique energy, 'cause they come into the world feeling the power of the water passing by, forming artificial -but still amazing- waterfalls located just by the "Fate bene fratelli" hospital. My theory is that if you have born surrounded by all this water energy, for the whole life you'll be unable to settle down, feeling the call of the waterfalls. And you'll always feel like a river: always on the go, always changing.
As far as I remember, I've always been in love with my hometown; when I was in primary school and teachers were bringing us around, I was feeling so proud to be living in and to belong to such an important place that while walking through museum halls or archaeological sites I always had that "I'm-from-here-and-you-aren't" look towards tourists.
Growing up and deepening my relationship with Rome, not only I became proud of belonging there but also of the unique point of view I can offer when showing my town to others. Besides being essential for what during the years it became my very impressive "First Date Tour" (do you remember Rugantino's song Roma nun fa la stupida stasera?), my passion for Rome allowed me to instinctively tailor many different tours according to everyone's taste and interests, turning me into a precious and very appreciated "Cicerone" for all those friends coming visiting me from outside. And I do love showing Rome to my friends because seeing my town from their eyes always allows me to catch something I haven't seen previously; and then, when they leave, I feel lucky I don't, I feel lucky I can enjoy Rome's beauties in the long term because even if I'm not living there anymore I know I'll be back as often as possible and so being able to keep track of its many changes through the years. Since when I left Rome, in fact, several slums have been renovated becoming very pleasant and even cool districts, many restaurants and clubs closed and even more opened, new beautiful graffiti came out all around and new museums and cultural centres have born, in addition to the great ones we already had. Rome is becoming everyday more amazing, always hovering between the status of "eternal city" firmly rooted in the past (our common history and our cultural tradition) and the restless urban kaleidoscope constantly changing its shapes.
////////// MORE ABOUT //////////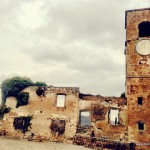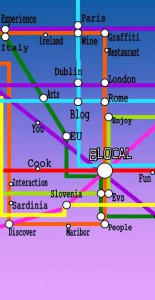 Cultural manager, world foodie and budding travel blogger, I'm passionate about arts, food and people from different cultures. Born and raised in the most touristic district of the world (the area surrounding the Vatican City State), no wonder I'm terrified of a tourist like I've seen a UFO! Huge buses stocked in the middle of the streets, noisy families eating defrosted pizzas with plastic cutlery, overcrowded streets where hundreds of pedlars sell small Coliseums in mixed -as well as unconvincing- colours and patterns… my childhood in Rome nearly traumatized me!