Flanked by the Vjose river, Përmet is a former Ottoman village from the 15th century, which nowadays claims to be the cleanest and greenest town in Albania. What I surely know is that Përmet, with its 12000 inhabitants, is a relaxing and quiet city surrounded by unspoilt nature; it was considered the unofficial capital of Albania during the communist regime, hence the rational architecture and urban planning typical of that era.
And, in Përmet, I finally felt at home.
Sorry to interrupt but would you like to be the first one to read my posts on offbeat places around Europe? Then sign up to my newsletter! (No spam. Never.)
Read the latest posts, stay in touch and get tailor-made travel suggestions


Albania > Leusa
Albania > Benjë
Walking towards (and inside) the canyon you will also discover more thermal pools, which are less crowded than the two famous ones at the entrance. Luckily we went there on a cloudy day of September and so we did enjoy the most beautiful pools all for ourselves, relaxing within their warm, clear and smooth water -and then we visited the other pools just for exploration's sake.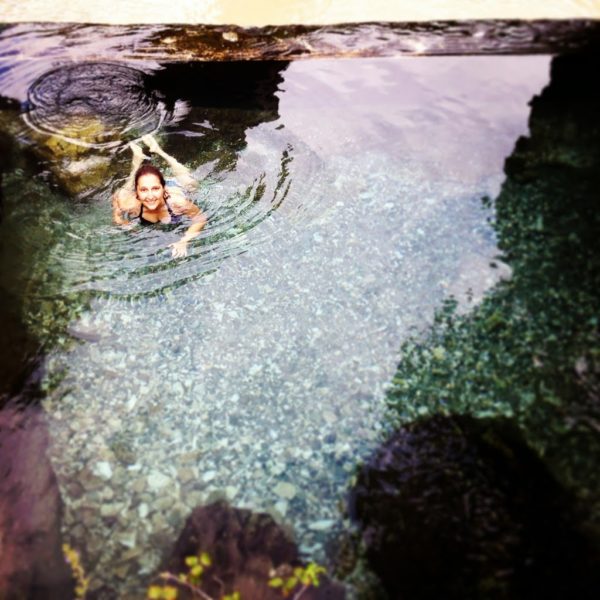 Hello!
Albania > Petran
After the day at the thermal waters, we kept driving on SH75 until the small and very picturesque village of Petran, which is made up of a colourful school, few stone houses, a bridge and a beautiful tavern with a terrace overlooking the Vjosa river.
Albania > National Park Bredhi i Hotovës
As I was mentioning above, this wonderful natural park of 1400 hectares well-known for its extensive forest consisting mainly of Macedonian Firs is among the attractions we had to skip due to the inclement weather. What I regret the most is that I didn't visit the ancient village of Frashër, but this only means I must come back another time!
Albania > Këlcyrë
Still, on the bank of the river Vjose, Këlcyrë is the second biggest town in Përmet District. It is well-known for its bustling flea market and for the gorge.
Unfortunately, we didn't make it until the Këlcyrë gorge (a 13 km long gorge along the Vjose river with small waterfalls sprouting from its walls), as the rain was approaching, but still we enjoyed the lunar landscape of a small pond nearby.
Albania > Ersekë
Halfway between Përmet and Korça, at the foot of the Gramos mountains, we found Ersekë -a small alpine town which is one of the highest cities in Albania. Here we wandered around the town stopping to buy some fresh fruits and to taste the two products for which Ersekë is well known: apple and honey.
Bonus track
This is the area where an odd Albanian phenomenon is especially widespread: the habit of hanging plushies.
At first, we saw them in the countryside, so we thought they were a sort of scarecrows, but then we saw more of them also in downtown Përmet and got so intrigued that we still wonder which is their purpose… are they hung to protect from bad luck? Any guess? Let me know in the comment area below!
Permet Albania || Where to stay
Permet Albania || Where to eat
In Albania there are two Slow Food convivia, one in the North and one in Përmet: it goes without saying that it is not so difficult to find fresh and tasty food in this area, which is also well-known for its wine production.
////////// MORE ABOUT /////////