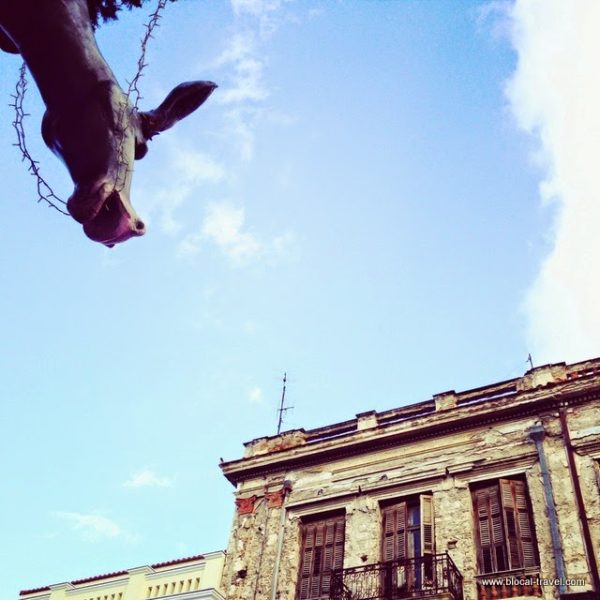 Athens is a motley town: each neighborhood has its own characteristic traits and atmosphere, a distinctive soul you can breath with a simple walk across its streets. Downtown Athens can be easily explored by walk, strolling from one district to another in less than few hours, leaving you the time to jump on a train or a bus and head to a suburban area. I really liked Athens' suburbs and I was amazed by that fact that it didn't take me long to get there: in fact, Athens public transport is really well-structured, which allowed me to explore so many areas of Athens in just one week, with an efficiency that could not have been possible in –let's say- Rome.
Athens Travel Blog > What to see in Athens? > THISIO
While the way to Philopappo Hill is characterized by many small, island-like houses with an open terrace, downtown Thisio is made of beautiful neoclassical buildings, pedestrian streets and many cafés and restaurants.
Exiting from Thisio station you will find a pedestrian street with many art-and-craft stands, which leads to an area of touristic and quite showy restaurants contending the best view of the Acropolis; hurry through it until you will find a more authentic part of the hood, with many bars and restaurants frequented by locals.
Athens Travel Blog > What to see in Athens? > MONASTIRAKI
Monastiraki is the neighbouhood of the most popular flea market of Athens, a collection of small shops and outdoor vendors selling just about anything, a heritage of Monastiraki's Ottoman past together with the narrow and curvy streets of the area.
Besides the popular flea market, Monastiraki is also the neighbourhood of Megali Metropoli (the Great Cathedral of Athens), of the smaller Byzantine Church "Agios Eleftherios" located next to it and of another beautiful Byzantine Church called "Kapnikarea"; in Monastiraki you will also find a Ceramic Museum within a former Mosque and "Kostas", the most popular souvlaki place of Athens.
Athens Travel Blog > What to see in Athens? > KIFISSIA
At the end of the green line, Kifissia is a rich neighbourhood of historic villas, elegant hotels and fancy shops developed around a nice park. When I visited Kifissia, the park was full of speakers giving out Christmas songs and there was a soft snow falling down from the white sky: the opposite of the Greek-cliché!
The area just outside the park is so full of chic bars and expensive shops to look like an open-air shopping mall, and even I could not resist and ended up buying a pair of gloves to face the unexpected cold.
This green neighborhood has been the haven of rest of Athenians since long time: it was a retreat of philosophers during the Roman Empire and it still is the area where rich Greeks have their summer houses to escape the chaos and the crowd of downtown Athens.
Athens Travel Blog > What to see in Athens? > SANTIAGO CALATRAVA'S SKELETON
On my way back from Kifissia, I stopped at "Irini" (still on the green line) to enjoy a beautiful yet very controversial piece of contemporary architecture (controversial for its high cost, which lies on a country with a very difficult economic situation).
Santiago Calatrava's skeleton was built in 2004 to redesign the Olympic Sports Complex for the upcoming Olympic games; the complex has an area of 96 hectares and it is inspired by the form of an arc, which was very common in the Byzantine period of Greek architecture.
Athens Travel Blog > What to see in Athens? > METS
The residential area of Mets is an elegant, up-hill neighborhood of small old houses, each one different in some lovely detail. I visited Mets on the last day of the year, thus running into the Greek tradition of local children singing door to door, which contributed to boost the village-like atmosphere of this beautiful hood.
Thanks to this special atmosphere and to the amazing view on Athens' roof I enjoyed from the top of the hill, Mets instantly became one of my favorite areas of Athens.
Here many famous Greeks are buried and the tomb artworks were created by the most remarkable Greek sculptors of the last two centuries.
Athens Travel Blog > What to see in Athens? > PANGRATI
Next to Mets, there is another residential area called Pangrati, which develops around a green square (Plateia Varnava) where locals gather to enjoy a coffee or a beer.
A walk across Pangrati is the perfect way to mingle with locals and enjoy an authentic slice of Athens, both during the day and during the night, at one of Pangrati's many bars and traditional restaurants.
Athens Travel Blog > What to see in Athens? > AGHIOS DIMITRIOS
I admit that when I exited the subway stop on the big, traffic-congested road full of shopping malls and gas stations I was a bit puzzled… Aghios Dimitrios didn't look so exciting at first sight!
To make it even worse, snow began to fall and I had to take shelter into one of Aghios Dimitrios' terrifying shopping malls. As I was stuck there anyway, I opted for a cappuccino at the panoramic bar at the last floor of the mall and by writing in front of a far reaching view out to the sea across the neighboring rooftops I started to kind of liking the area.
Later on, I entered the neighborhood and walked until a big orthodox church I saw from the panoramic bar and I discovered that the inner part of Aghios Dimitrios is totally different from its traffic-congested arterial roads: here I found pedestrian streets, flowerbeds, vintage cars and nice houses indeed.
Athens Travel Blog > What to see in Athens? > BENAKI MUSEUM
Explore Athens off the beaten path with my free Google map!
SalvaSalvaSalvaSalva