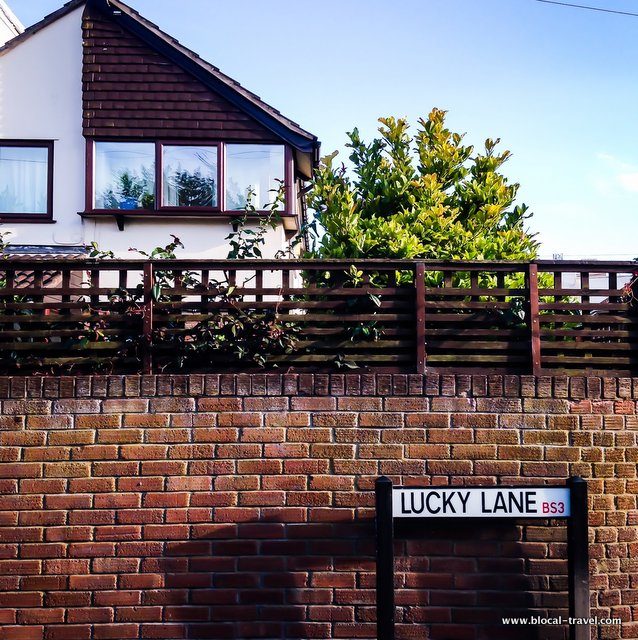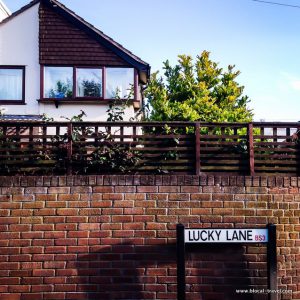 A cider hangover is something you wouldn't wish on your worse enemy. A cider hangover on the day you are supposed to move out from your flat and relocate somewhere else is an experience closer to the end, rather than to a new beginning. Still, the second chapter of my Bristolian summer (the one that will go down in history as the 'Stokes Croft' chapter) began with an acid smell of peach, which, around Stokes Croft's rough alleys, is a totally ordinary smell, although it usually doesn't come from me.
To make it smoother, the relocation of all my possessions from Easton to the top of Saint Michael's Hill happened during a Bristolian storm, at a point in my Englishization when I still needed to hold an umbrella in the event of rain. However, nothing could have stopped my gladness: I was moving to the People's Republic of Stokes Croft.
Moving downtown has changed my perception of Bristol completely. Living in a more central position has allowed me to discover further the outskirts of the city, not only towards the east as I did during my first month in town. Now my day begins in that fairyland of red, pointed roofs that I used to admire from afar, at the heart of that spray painted maze of streets that makes me feel as if I'm living inside a comic book.
My new neighbourhood is very colourful and fully covered with graffiti, with some great pieces of street art scattered around, including a couple of Banksy's. My favourite mural is the one saying "Think local, boycott Tesco" because it sums up the independent spirit of the hood and Stokes Croft's pride in its local shops.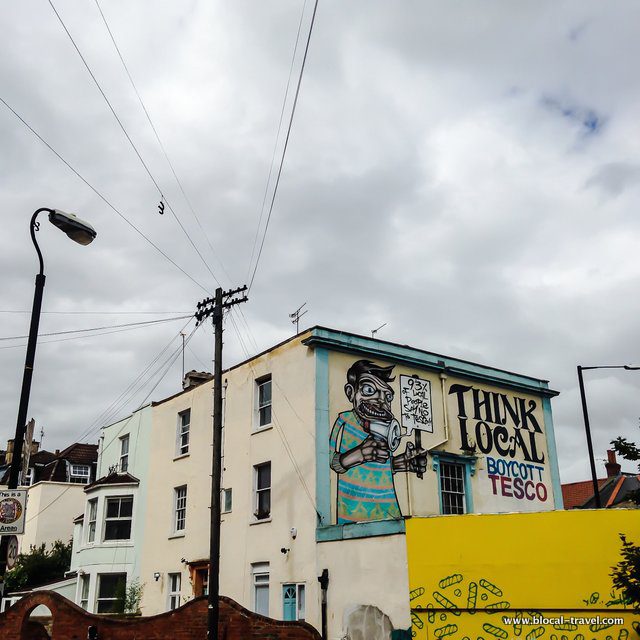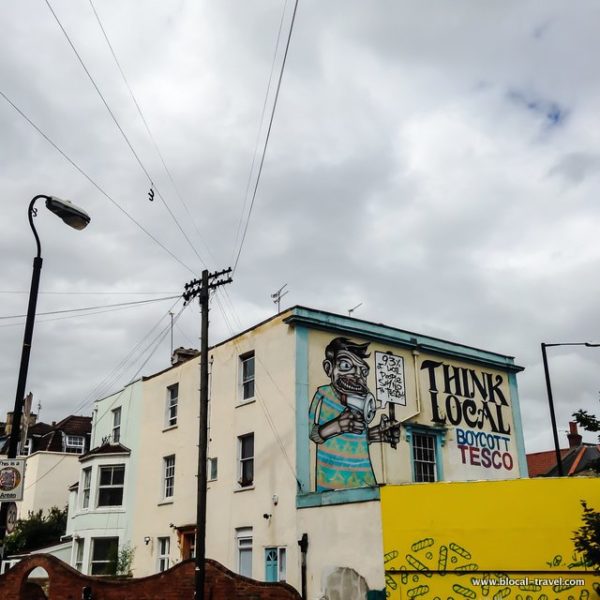 Stokes Croft is the realm of freelancers and creative workers, so when I fancy a (writing) day out I'm spoiled for choice, although no matter how many hipster cafés there are in the neighbourhood my favourite place to go writing in Bristol will always be the central library in College Green.
Stokes Croft is also a fantastic area to indulge in people-watching. Someone might walk up to you and simply introduce themselves or, more often than not, bless you waving their wands or invite you for a ride on the crossbar of their bicycles.
The area looks more crumbling and dirtier than other parts of Bristol (but anyway cleaner than, say, Rome), with a neglected charm and a laid-back attitude that characterize its streets and buildings, as well as its inhabitants.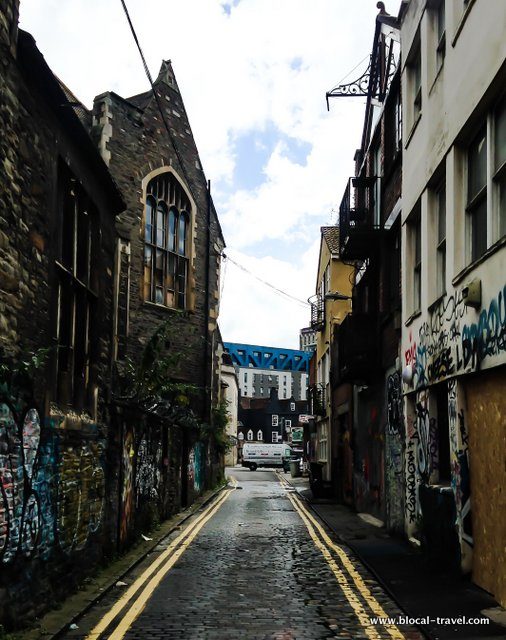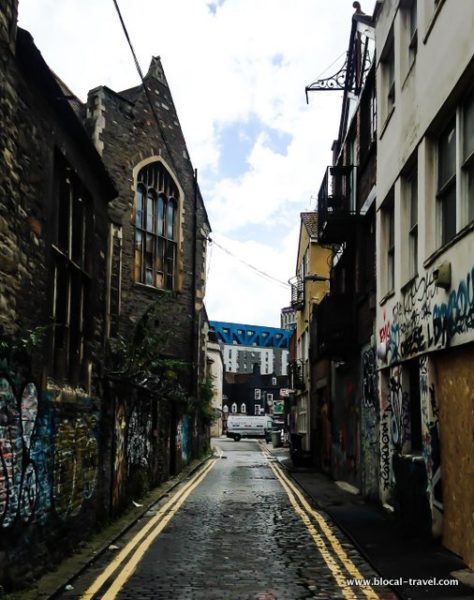 The whole area is basically one single road -not even that long- made up of completely different architectures, from derelict buildings and shut down cinemas to iconic, pastel-coloured facades and red-brick houses.
It's a variegated mix that mirrors the uniqueness of the Stokes Croft crowd, which in turn is a universe of piercings and tattoos, dreadlocks and asymmetric haircuts, espadrilles and bare feet, skateboards and bicycles, long beards and tortoise shell glasses, overalls and checked shirts.
On this main road, there is a long succession of hipster cafés -where everything is organic, fair traded and ethically sourced- and independent shops -those proudly accepting the Bristolian pounds- spaced out by accidental delis and fast food restaurants -those proudly resisting the gentrification of the area.
From the main road, several smaller streets branch off, leading towards a quieter area of the neighbourhood. Lying in Portland Square close to a big tree that has been there since before the square itself, I can hear the birds tweeting and the seagulls flying to the harbour and back. In Portland Square, the scent of red roses adorning the garden covers the iconic Stokes Croft's scent of spray cans and marijuana, except on Sunday nights when reggae enthusiasts queue in front of Cosies club.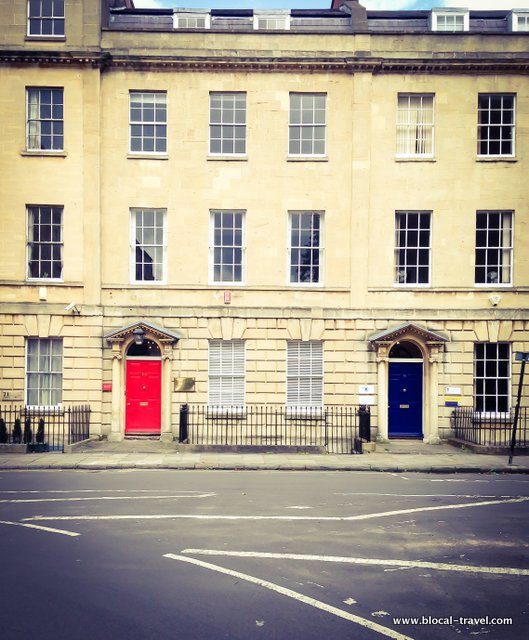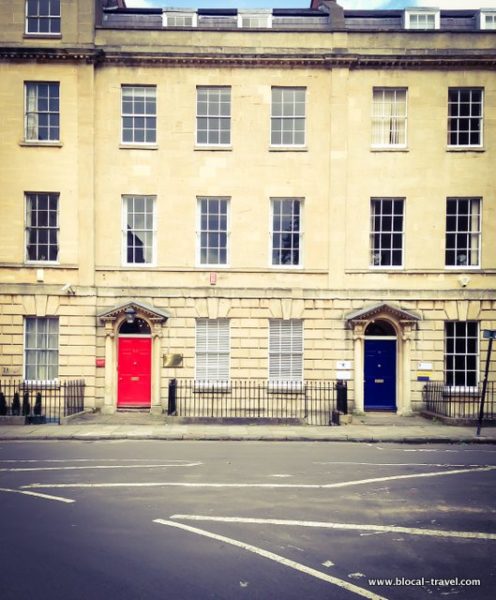 Undoubtedly, the real essence of Stokes Croft shows itself at night. Pubs close surprisingly early, as elsewhere else in Bristol; already around 11 pm, an army of upturned, surrendered chairs is visible from the main street through the wide windows. And while shutters go down, the homeless take shelter in the midst of dunes of garbage bags mushrooming all around the 'hood.
Groups of youngsters roam around like schools of fish, almost mirroring the same random movements; someone skates away towards the outskirts of Bristol, others bike unsteadily along the cycle lane, and their reflective jackets look like fireflies groping in the dark. Long after the hipster bistros have called it a night, all the kebab and fried chicken places are still serving food, showing that doing business in Stokes Croft is not a sprint, but a marathon. They resist through the night as they had have resisted through decades of neighbourhood changes, spreading around a persistent smell of deep-fried, greasy junk food like animals marking their territory.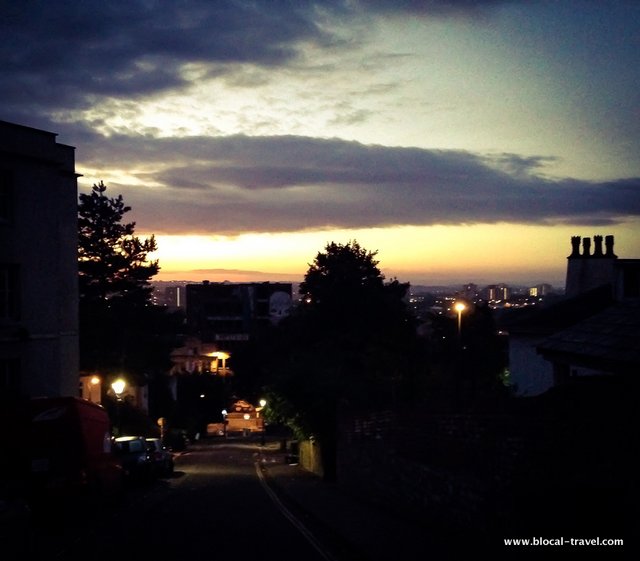 I've tried to mingle with the Stokes Croft crowd. Eventually, I even attended a couple of Bollywood dance classes at Hamilton House, which is the ultimate cultural centre in Bristol where you can find any kind of activities, from arts and crafts to hula hoop. But, apparently, I'm too old to enjoy this sort of gentrified neighbourhoods; now, I prefer the quiet of the suburbs and the relaxed atmosphere of streets along which you can stroll without having to overthink in advance your alternative dress code and your bag of weirdnesses.
Enjoy my Stokes Croft video:
And so, just across Ashley Road, I found my heaven in Montpelier, which most people consider still part of Stokes Croft, but whose vibe looks so different to me that, at most, I can consider it a Stoke Croft's appendix.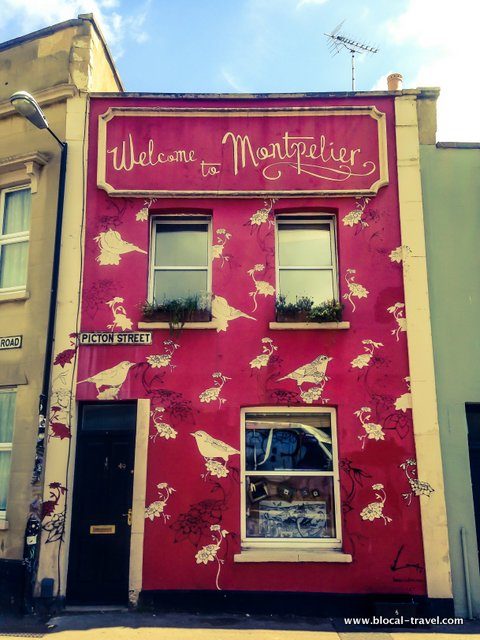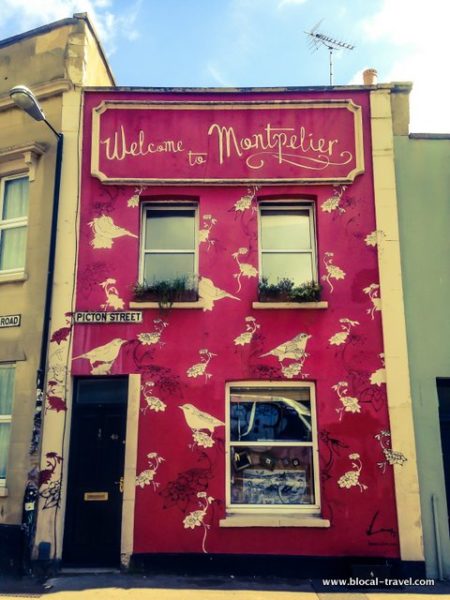 Here, I love strolling along Picton Street, walking as far as Herbert's bakery to buy some fresh bread. On my way back, I usually stop to enjoy some food: at the Bristolians (at breakfast), at Katie and Kim's Kitchen (at lunch) or at Bell's Diner (at dinner).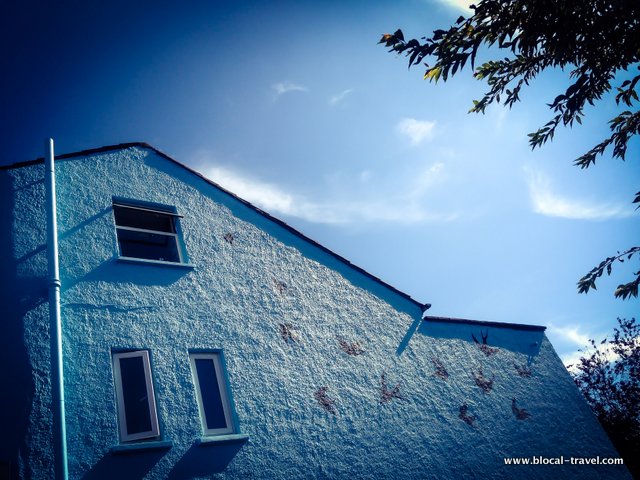 And, whenever I walk past Lucas Antics' atelier, I always peek through its corner window to step into an imaginary world populated with quirky sketched animals.
Apart from moving to Stokes Croft and turning 32 years old, highlights of the past month have been the day since when I've stopped using google maps to walk around the city; the day since when I've stopped bothering to open the umbrella and began walking confidently into the rain as locals do; finding out that some of my pictures of Bristol were on show at Arnolfini as part of "The Other Art Fair"; and volunteering at Upfest, the biggest street art festival in Europe.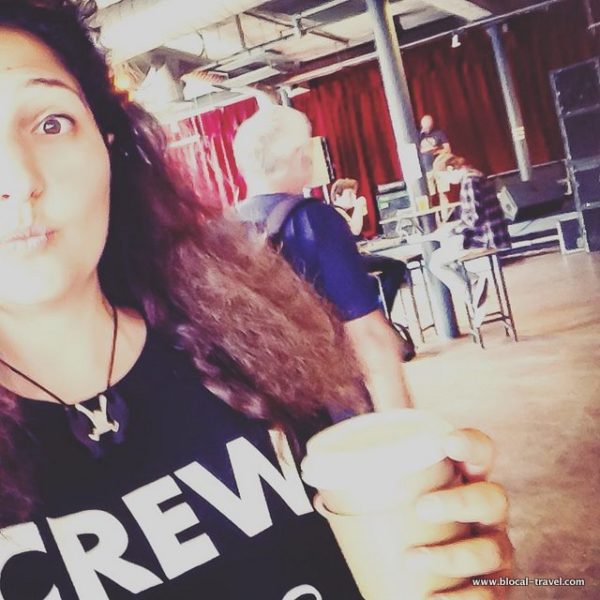 Upfest was the reason why I decided to stay longer in Bristol, so it has been very hard to keep my expectations low, and yes: I admit that I've got burnt at a certain point… But witnessing the daily progress of each mural was amazingly interesting, and meeting the artists was so fun: wait for the interviews and you will see! And, meanwhile, you can check out my Upfest video:
Moreover, thanks to being part of Upfest, I got the chance to discover another area of Bristol I like a lot: Bedminster.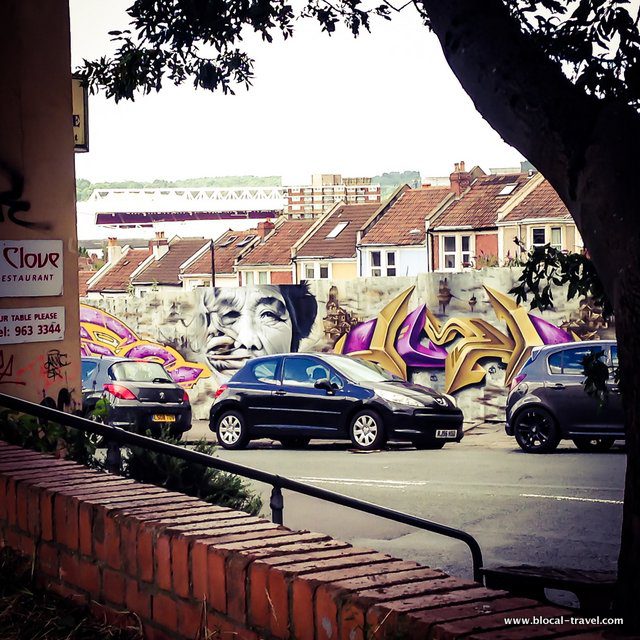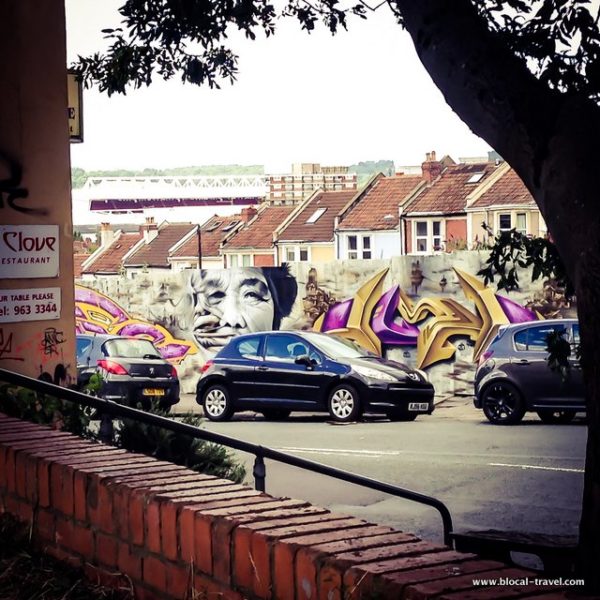 Once a district housing workers for the tobacco factories and other industries, Bedminster is now on its way to gentrification, although some areas –such as West Street- are still as rough and dodgy as in the good ol' days.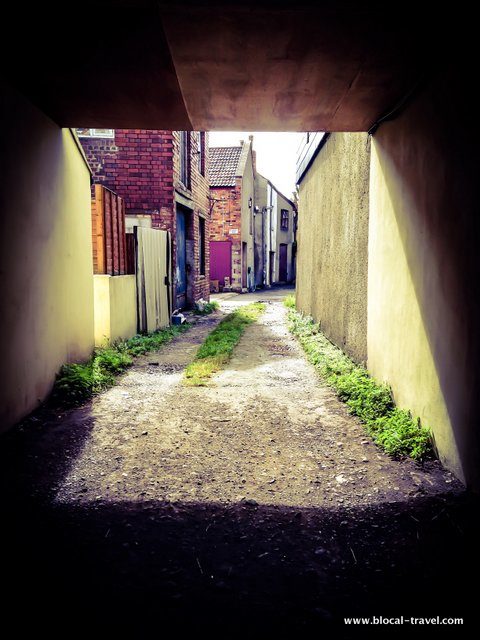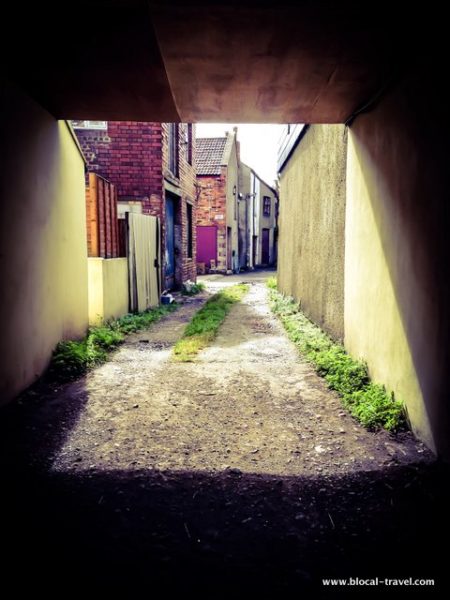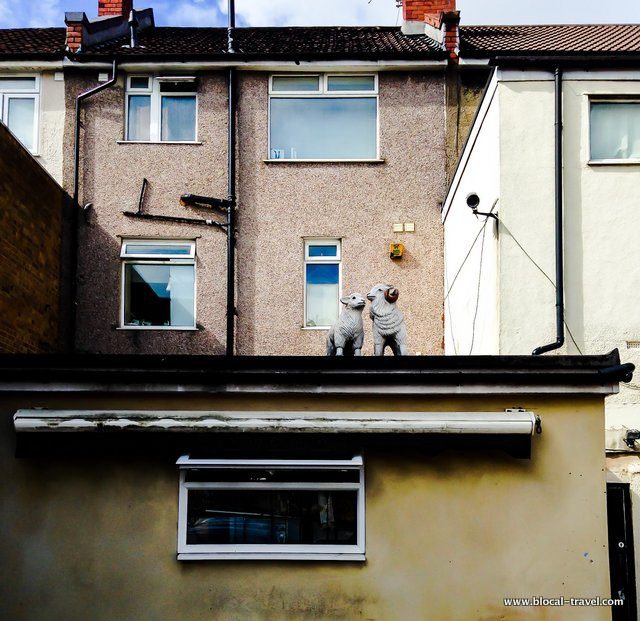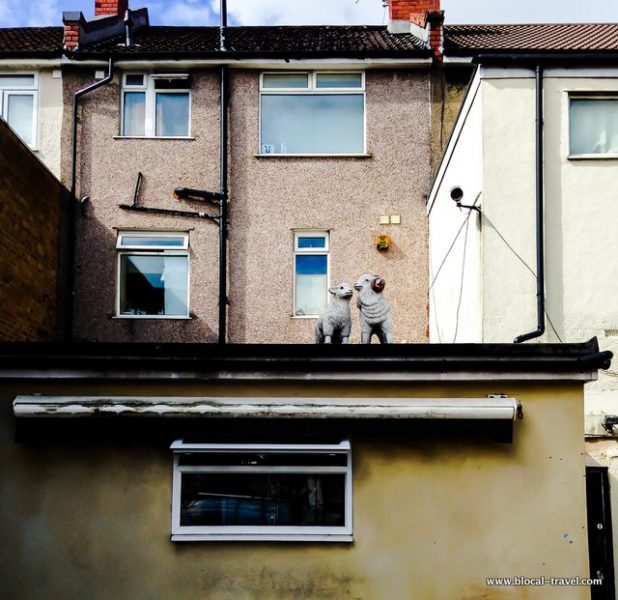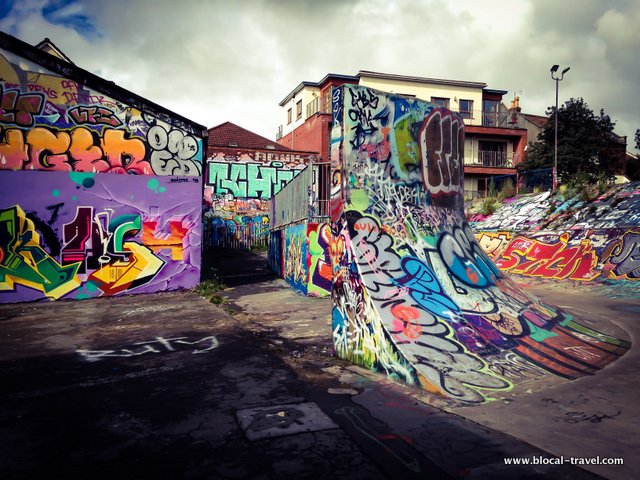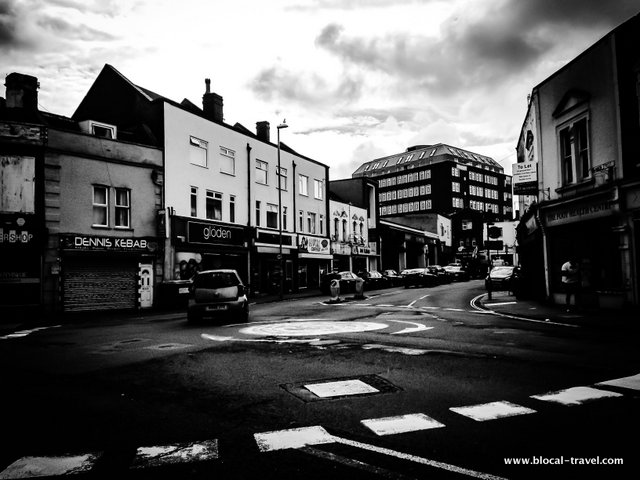 The neighbourhood unfolds around North Street, which runs from the way things used to be as far as what the area is becoming. This is a place where, within a ten-minute walk, you can witness decades of social changes.
Road with a split personality, North Street shifts from rough facades with the dullest shades to potted, colourful flowers hanging over the aligned patios of the trendy cafés. A road along which the average age radically decreases: from the old men smoking one cigarette after another sat outside the most disreputable pubs in the area to young couples hanging out at Tobacco Factory's street food market.
The glue that holds all that together is street art; or, at least, that worked for me, since I had discovered this neighbourhood through its colorful walls.
Upfest was my first occasion to be part of that active, committed community of Bristolians that is always in the front line when it comes to doing something for their town. It was an amazing experience of connection, which brought me to bound up with the city.
And now, I belong. That's it -there is no turning back.
Plan your trip to Bristol with my Bristol Google Map!
You can hover over these (or any image) to quickly pin it!
"The Bristol diaries" playlist: