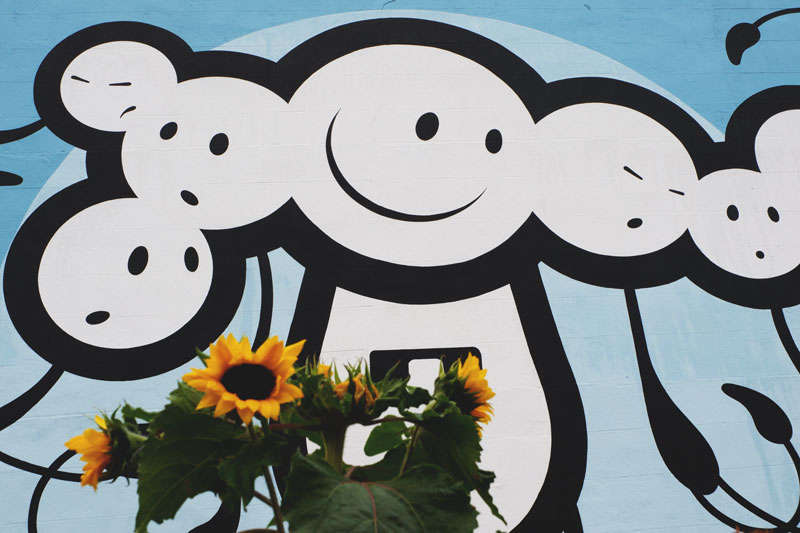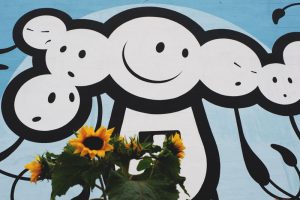 After eight long weeks of sunshine, the infamous English summer has arrived in Bristol. It happened on the opening weekend of the 10th edition of Upfest, the largest street art and graffiti festival in Europe. Hundreds of street artists and thousands of street art hunters gathered in Bristol hoping to stay dry, although the atmosphere of this world famous Bristol street art festival is so chilled and 'bristolian' that, in the end, we didn't mind the water.
Moreover, the brand new mural by The London Police that welcomed Upfest 2018's visitors at the beginning of North Street put everybody in a good mood -as their iconic LADs can't do otherwise. I like those crazy guys because they are like their LAD characters: fun and upbeat.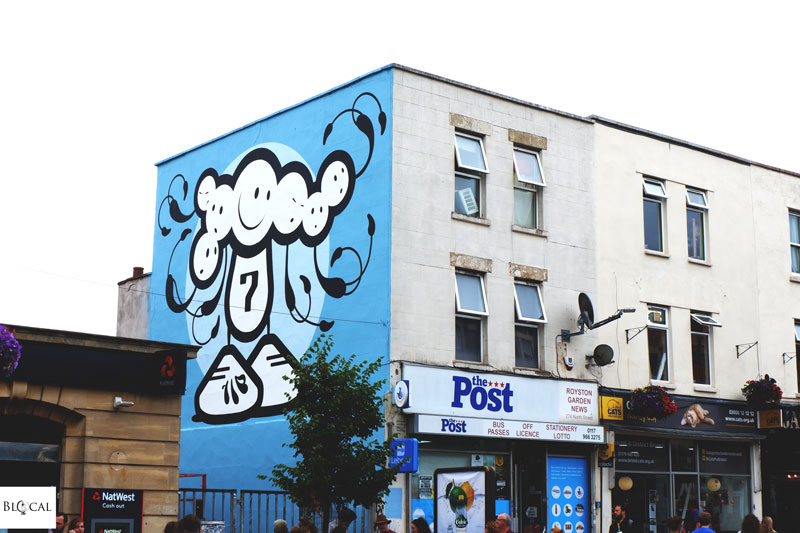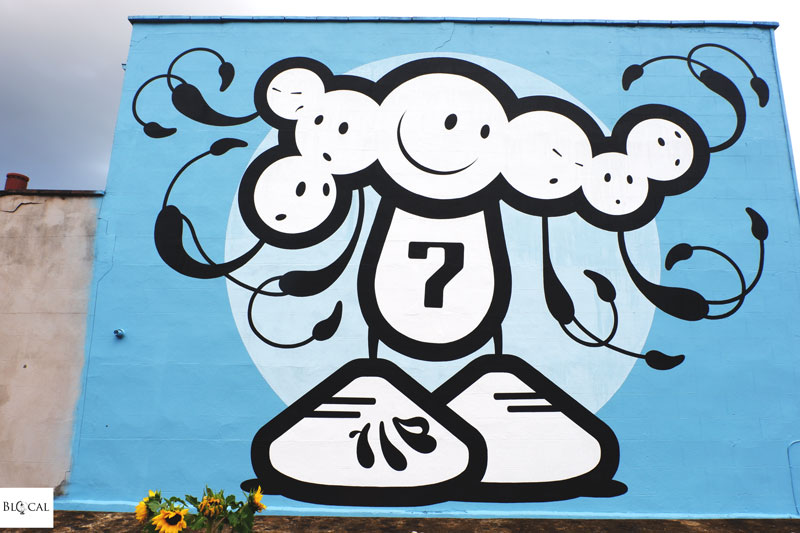 Another artist who did a great job busting everyone's mood was Angus. After these first two small pieces he made for Upfest 2018, he did a major mural that is still a Banksy reference and it still plays along with the Simpson theme.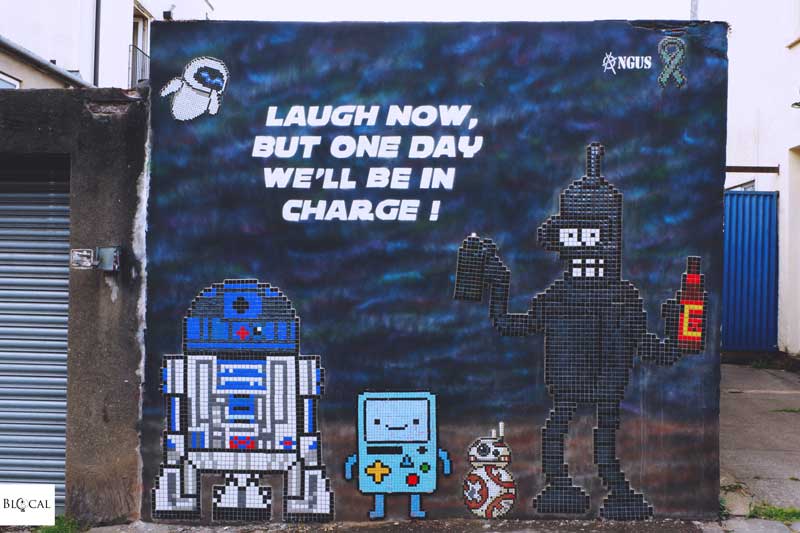 Angus is not one of those artists selected by Matt Groening to paint the Simpsons on the streets of Bristol, although –in my humble opinion- he is the only one who nailed the Simpson theme at Upfest 2018. Moreover, Angus has been twisting Simpsons and other cartoon characters since when he began hitting the streets of Bristol with his stencils several years ago, so in his case the Simpson theme wouldn't feel like it's forced.
Another prolific artist was the Brazilian L7Matrix, who has painted two of his iconic birds on North Street.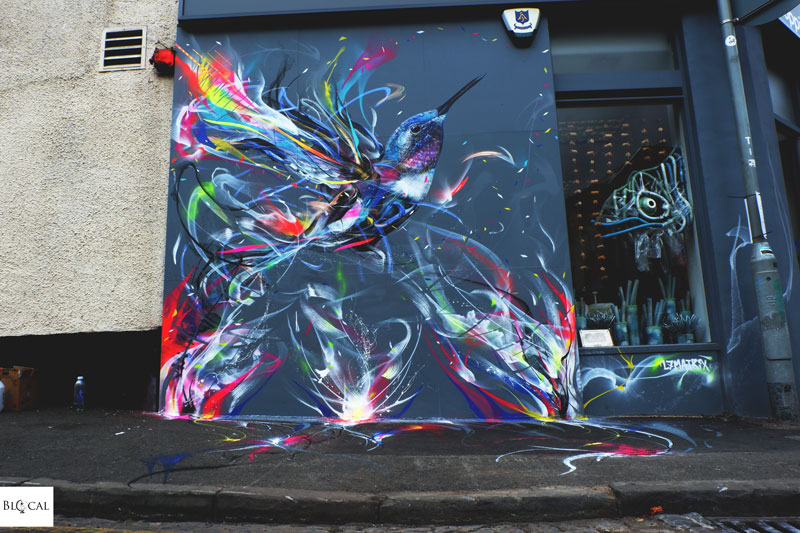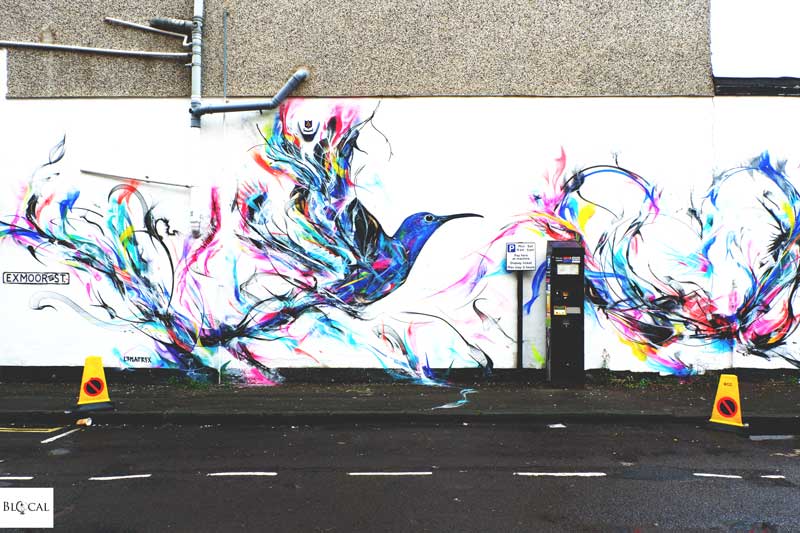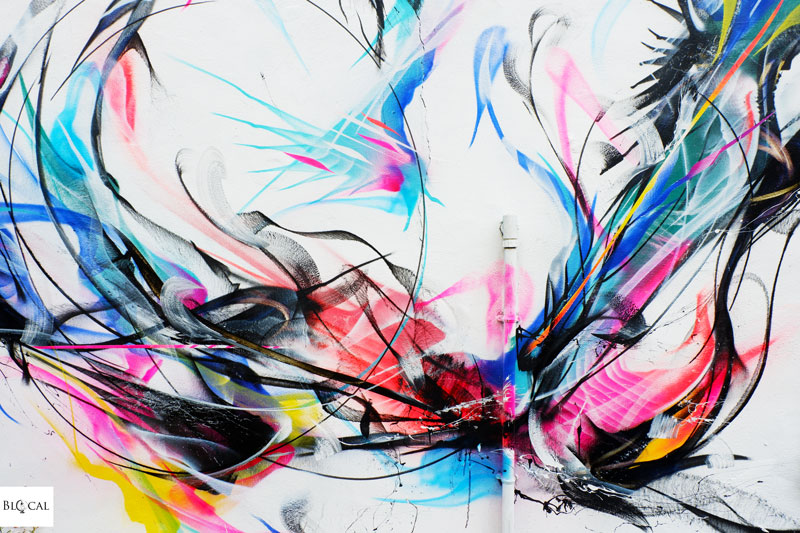 I thought his murals were stunning, but now that I saw him live painting I can say that the 'performance' is even more mesmerizing. Like in a dance, or a capoeira game, L7M stretches his fully tattooed arms all over the wall. He flows up and down, totally absorbed in thoughts while studying the wall with his dark eyes, until he suddenly does a quick movement with his wrist… check it out in this short video:
[Sorry guys, L7M asked me to delete the video from Youtube because his face was partially visible… ah, street artists! ;) ]
No wonder he always had quite a crowd staring at him…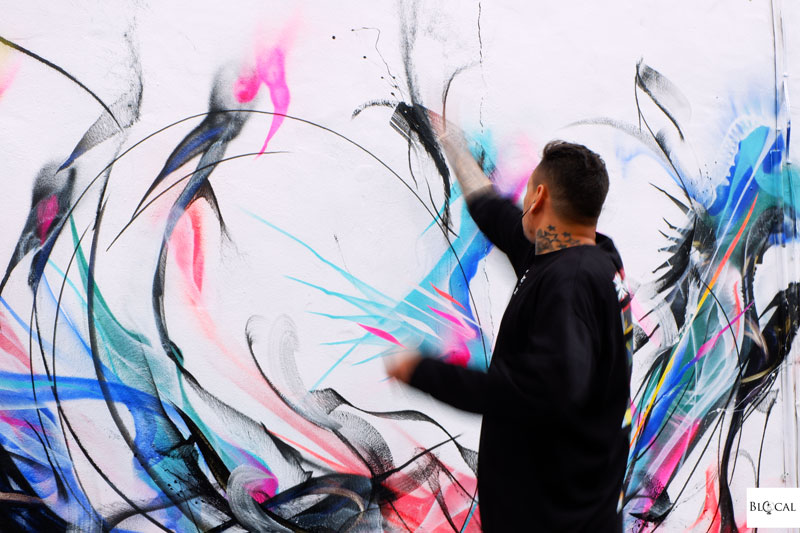 Not surprisingly, Bristol graffiti legend Inkie was also very productive during Upfest 2018. When I moved to Bristol there was a cool Inkie piece at the Pearsons Bakery on North Street ("Best Things since Sliced Bread", Upfest 2015); last week, Inkie painted yet another "bread" themed mural on the same bakery, with the help of his fellow Bristolian street artist Cheba, who did the galaxy background.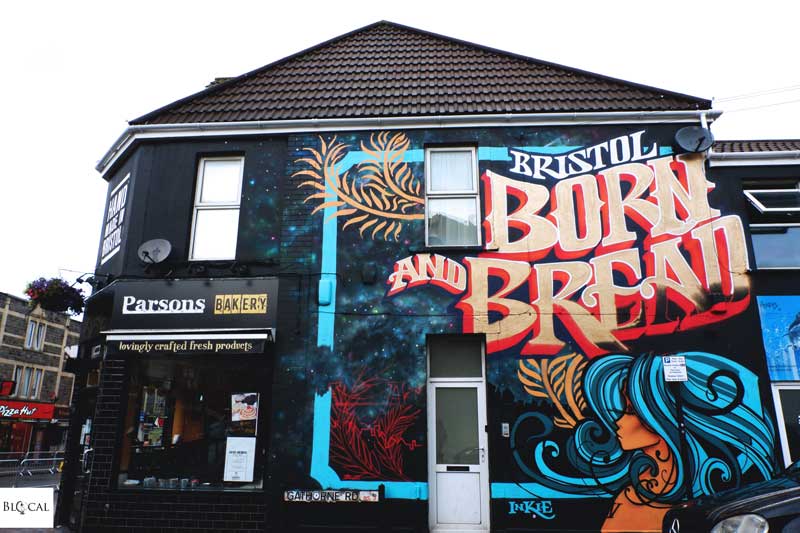 After completing the "Bristol Born and Bread" piece, Inkie moved a bit further on North Street to paint a 'Welcome to Upfest' wall. This piece will feature Brunel, the architect who designed Bristol's landmarks and who is a true Bristol legend as much as Banksy and Inkie himself.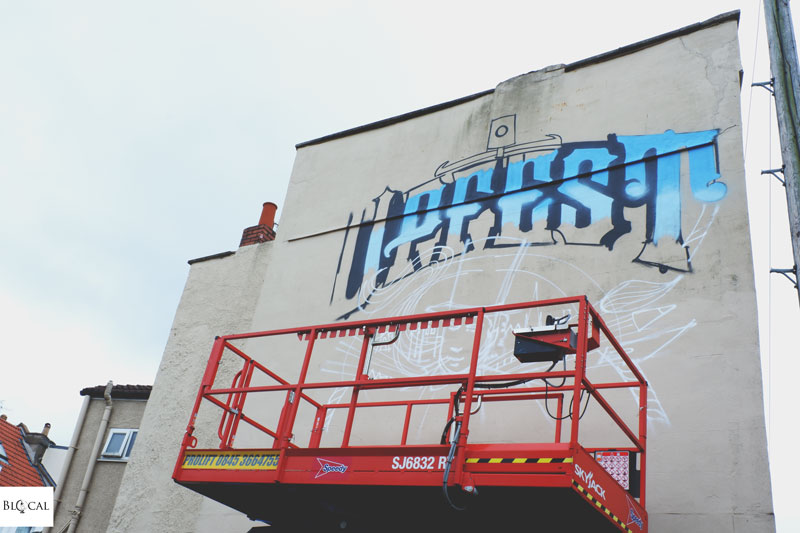 After painting these small golden pieces to kick off Upfest 2018,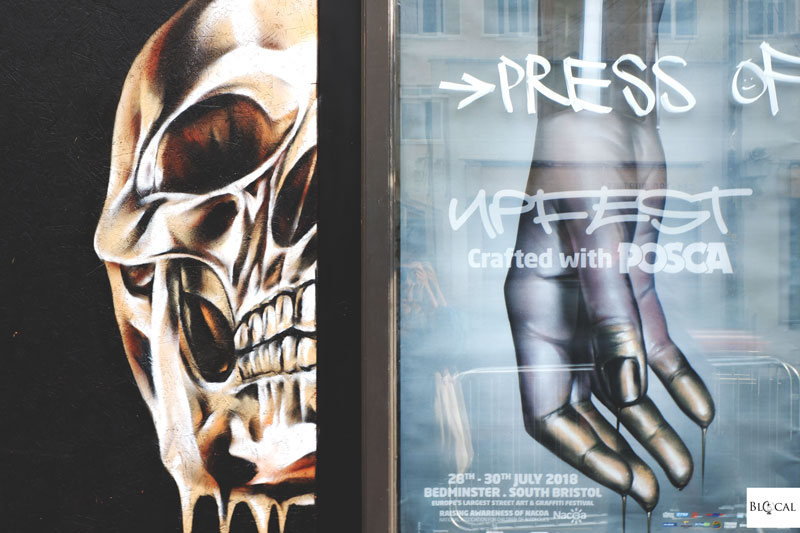 Jody began his main mural, which depicts a dog. Unfortunately, this is all I could see, since the artist couldn't get any work done over the rainy weekend.
Another artist who painted no-stop is the Hong Kong based Bao who, after completing her first Simpson mural for Upfest 2018, worked on a second Simpson wall on the side of The Spotted Cow pub. Sweet, very modest and soft-spoken, Bao often stopped painting to sketch on passers-by's black books and to chat with locals –although she looked quite shy.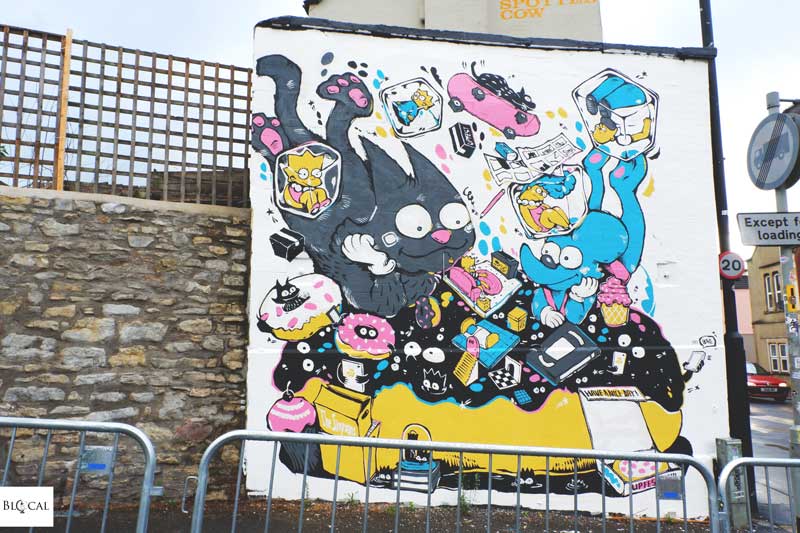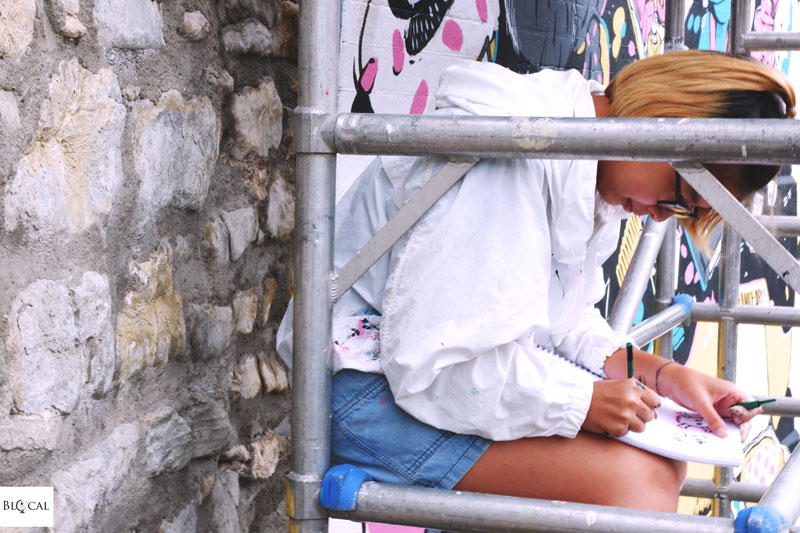 The Spotted Cow (which, by the way, is one of my favourite pubs in Bristol) hosted also several artists painting on wooden panels in its beer garden. There I spotted not a cow but the French graffiti artist of Vietnamese origin Akse, who painted one of his freehand, photorealistic graffiti portraits depicting Frida Kahlo.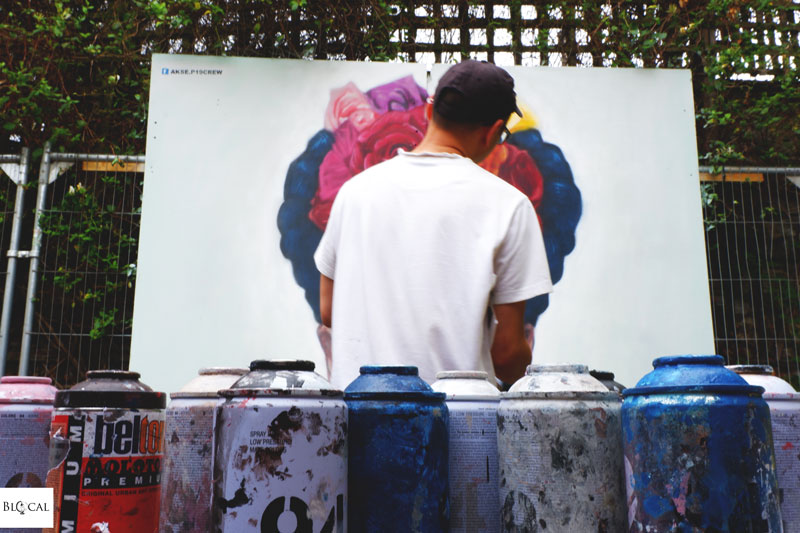 Wooden panels are a big part of Upfest festival: you can find them inside almost every beer garden on North Street, among which the Tobacco Factory's one, which is a hotspot during the festival (and it also happens to be one of my favourite places to eat out in Bristol, especially on Sunday, when the street food market takes place). There, I spotted a beautiful panel by Evol, among many other artworks.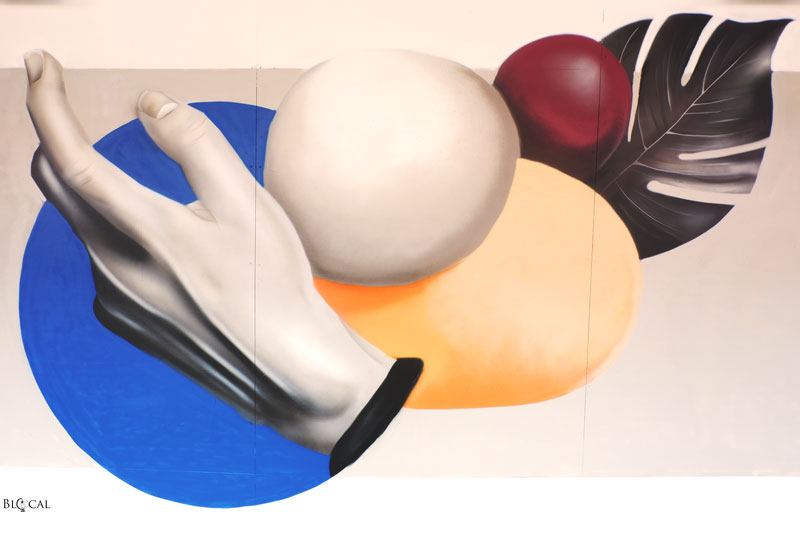 More panels were at the Ashton Gate stadium; this year, there were more than sixty artists painting both inside and outside the stadium, among which my friends Majilina and Kid Crayon, and a French artist that I really would have loved to meet in person: Ardif.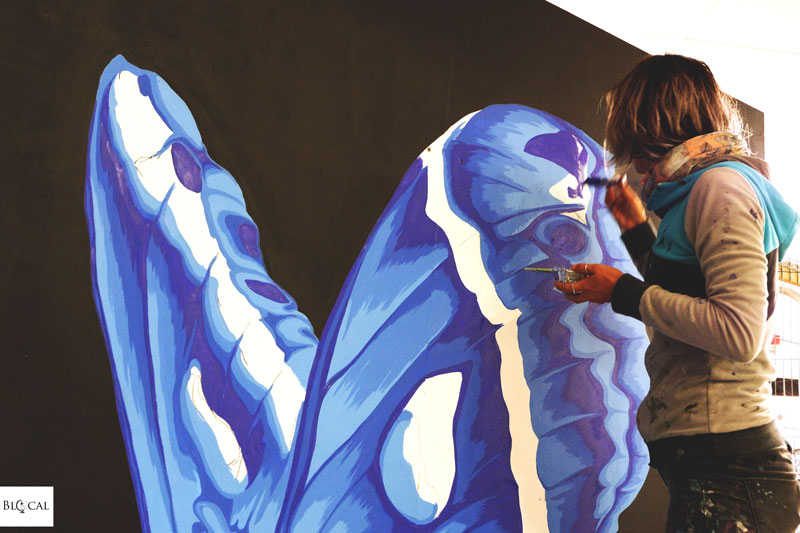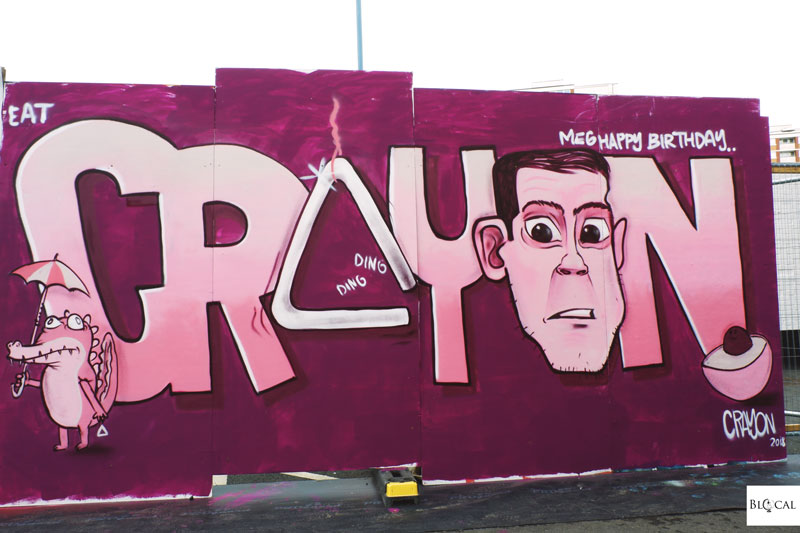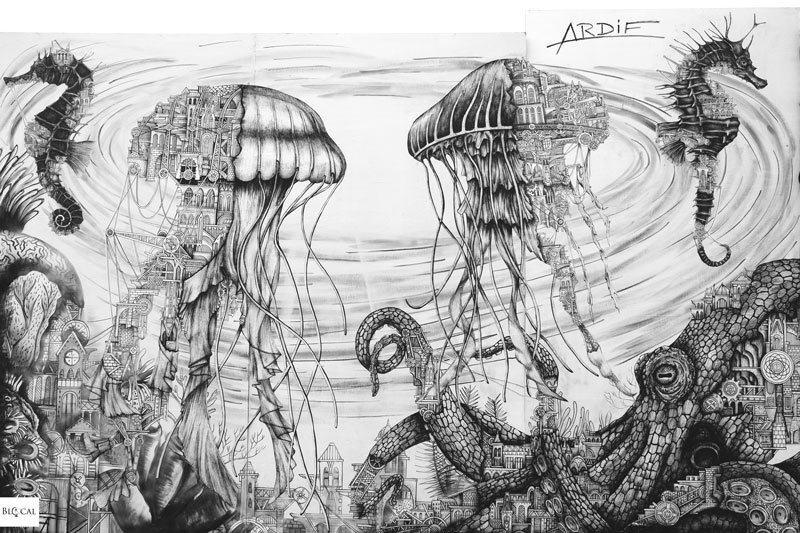 Another popular area for wooden panels, food trucks and DJ-sets is the South Street Park where, among ninety fellow graffiti artists, the Portuguese legend Odeith painted his "corner", which was made of wooden panels. Having seen the corner while they were building it, I'm beyond impressed by the job that Odeith did on it.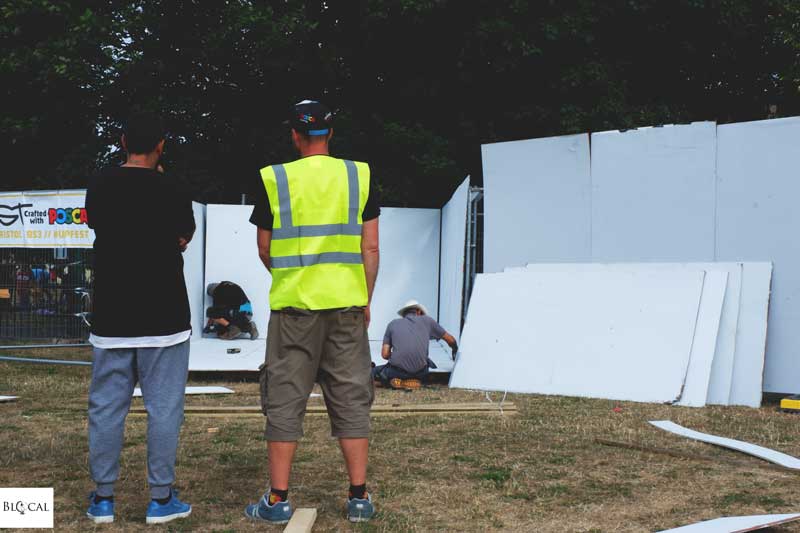 The final result is stunning and, although the piece looks amazing in photos, it's by seeing the actual panels he painted on that you realize what an unbelievable work he has done –in less than one day, to boot!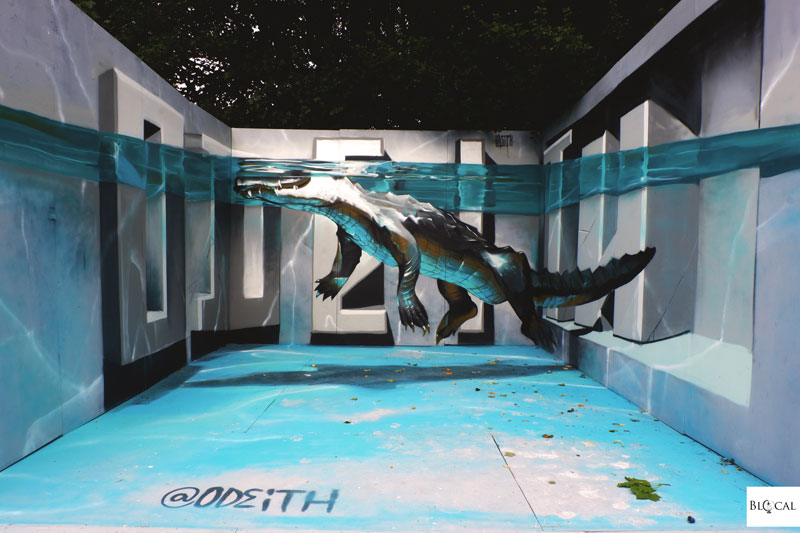 Another 3D graffiti legend painting at Upfest 2018 was the Greek artist Insane51, who specializes in overlay-murals. Unfortunately, when I left Bristol he had painted only the red layer: what a bummer that I couldn't see this piece through my 3D glasses!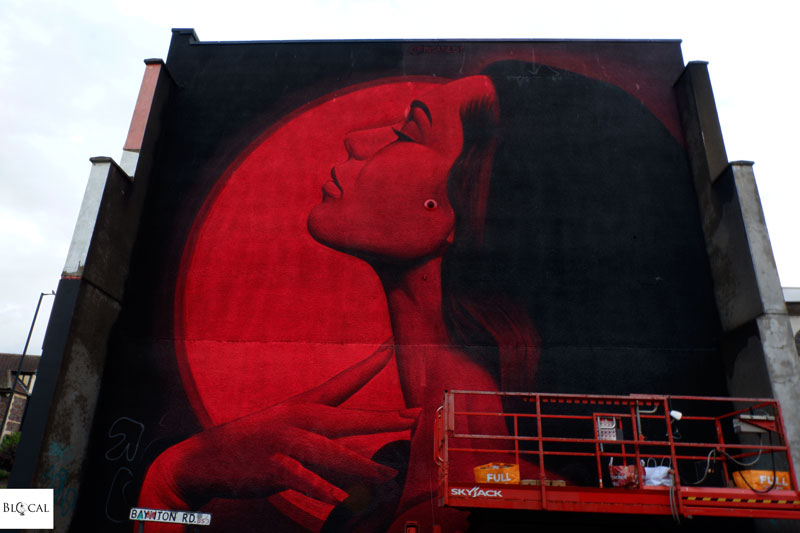 Because of the infamous English summer, many more murals weren't completed by the time I had to leave Bristol. Caro Pepe's one-eyed lady was missing some details, although she was already looking beautiful. This piece is inspired by the 100th anniversary of the suffragette movement.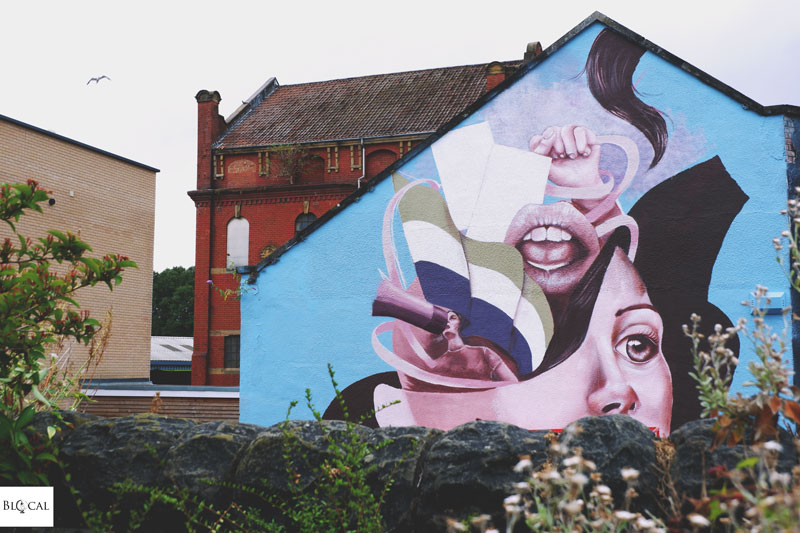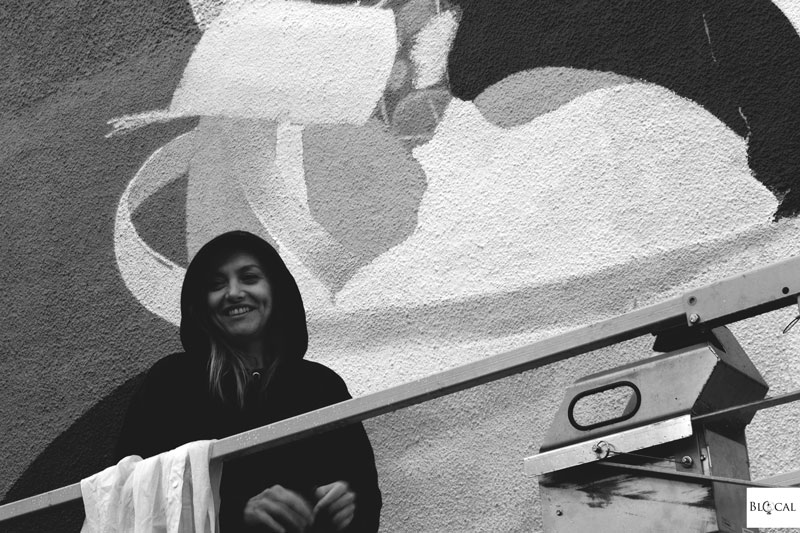 Dan Kitchener embarked on yet another ambitious wall and, on Sunday evening, he was still rushing around his large-scale mural, adding his final touches in bright neon colours to this rainy landscape, which he titled "Ghost Cities".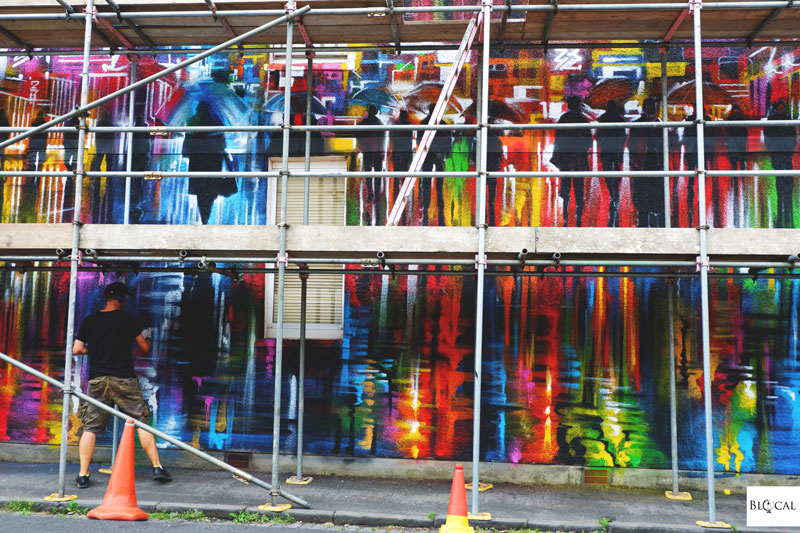 I'm sorry I couldn't see Annatomix's piece completed: her polygonal animals have always fascinated me and this was the first time I could spot her at work.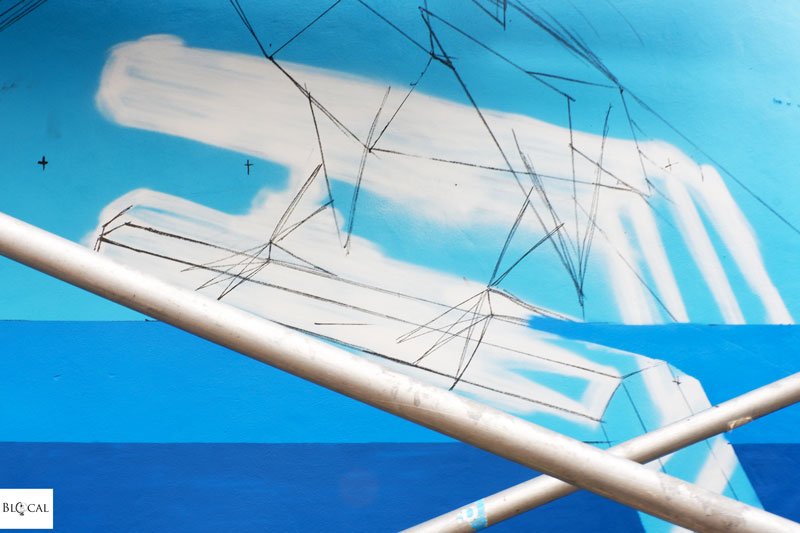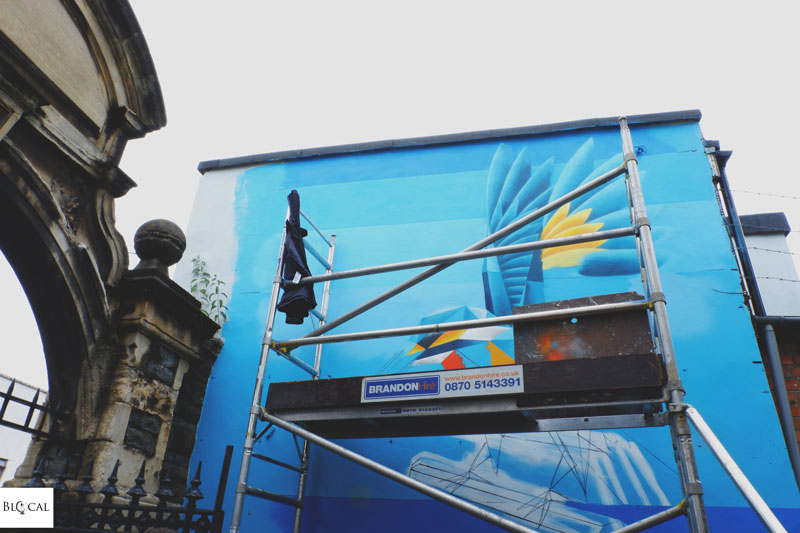 The Brazilian street artist Dinho Bento had almost finished his long, highly detailed blue mural when I stopped by to say goodbye,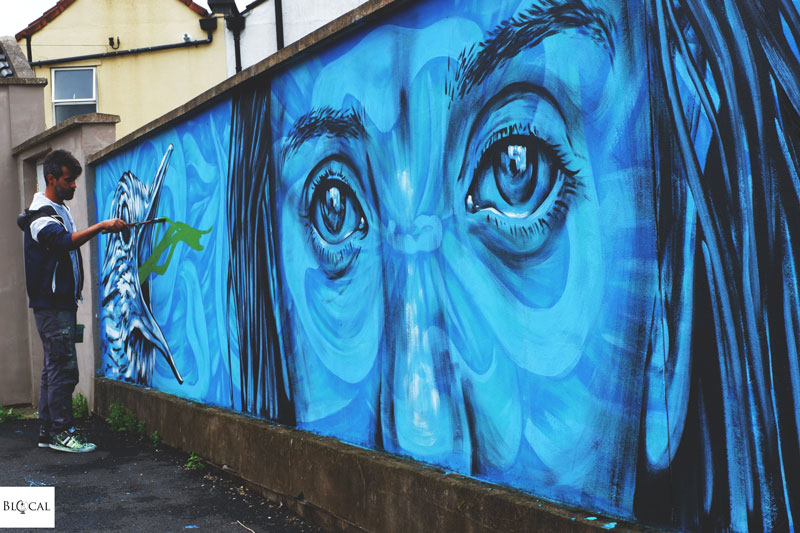 and only a few details were missing in this cute mural by Lucas Antics last time I walked past it. During my last months in Bristol I lived in Stokes Croft, which is a neighbourhood packed with her quirky, colourful animals, and so I'm glad I finally met her at Upfest 2018!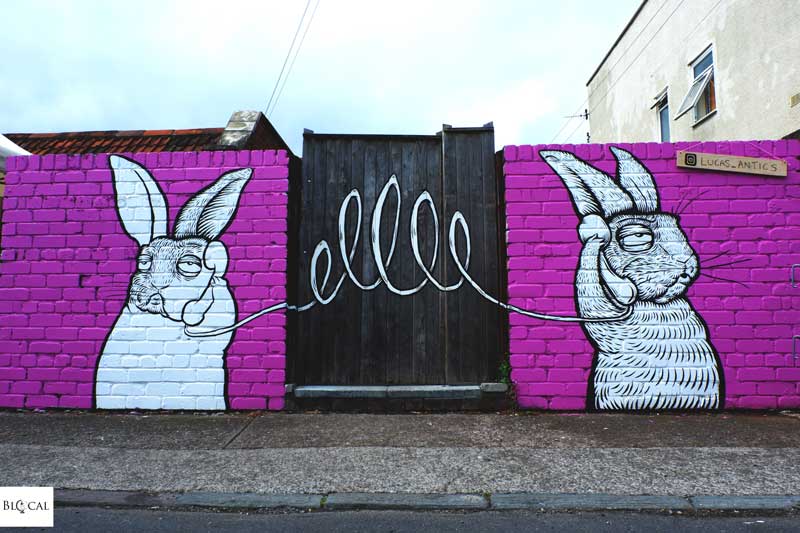 Last time I stopped by the Redpoint Climbing Centre, the Italian duo Loste and Rosk were still painting this huge portrait,
while Snub 23 was completing his piece at the other side of the building.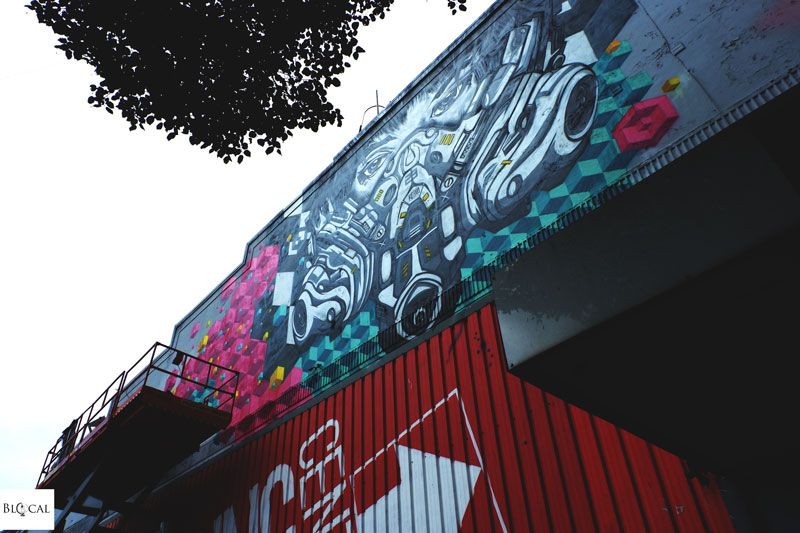 Perhaps the piece I regret the most I couldn't see completed is Nuno Viegas'. I was really looking forward to it!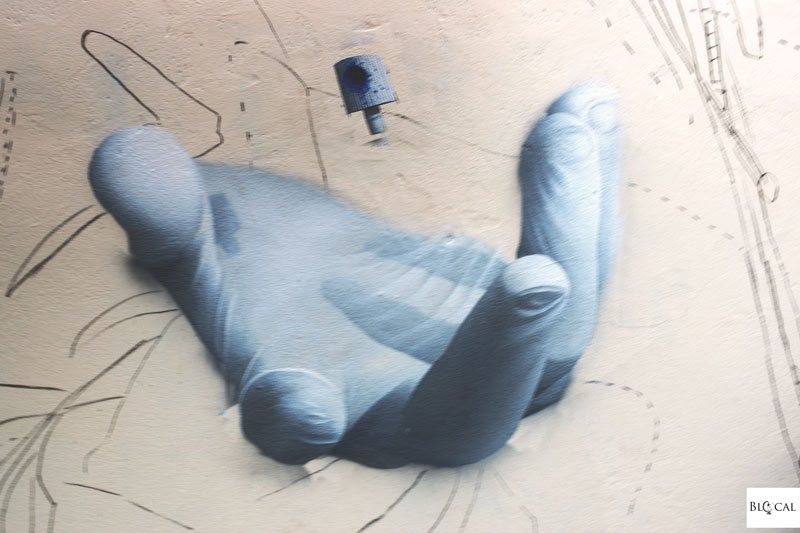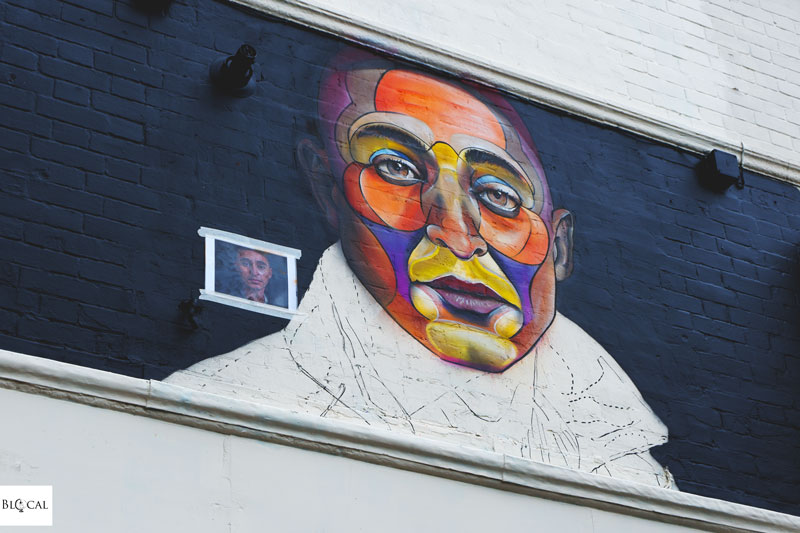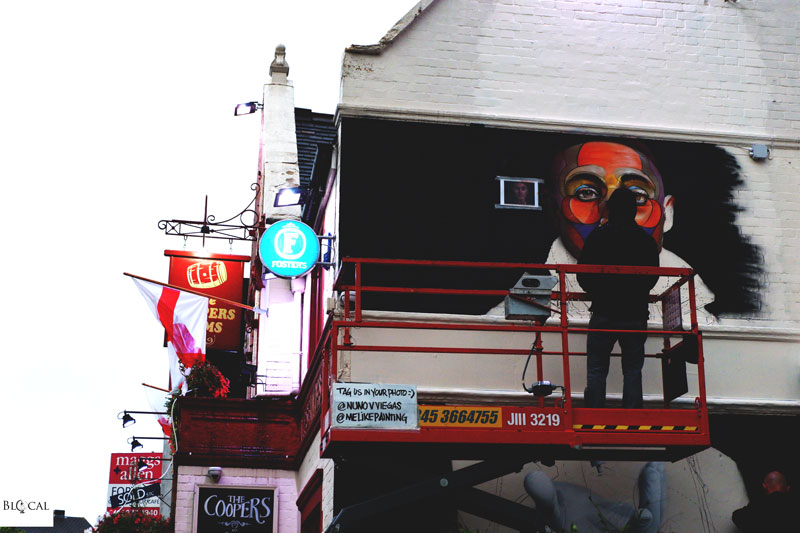 On Sunday night, when I walked back home after several 'goodbye beers', I spotted Louis Masai in the dark. He was still painting his amazingly detailed and bright coloured coral reef landscape, which was anything but completed.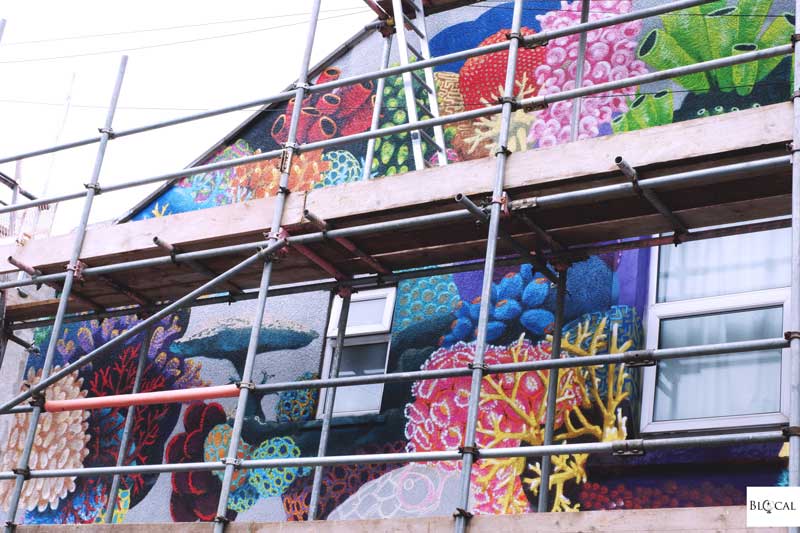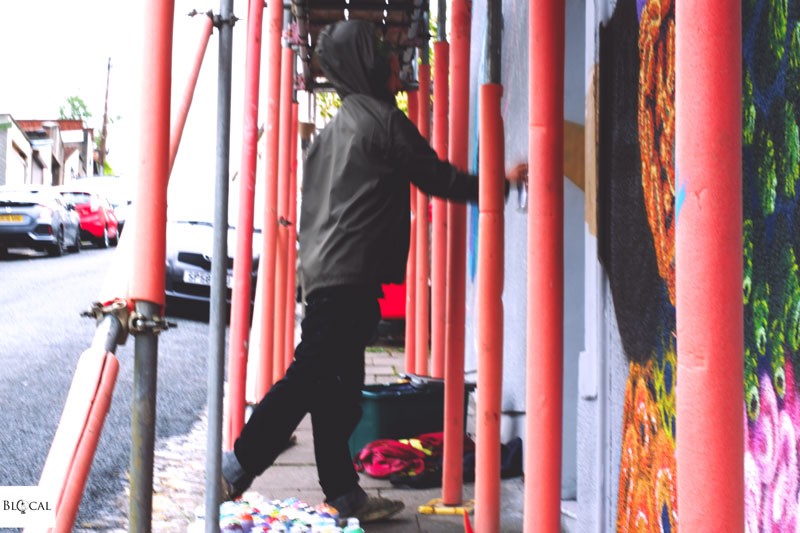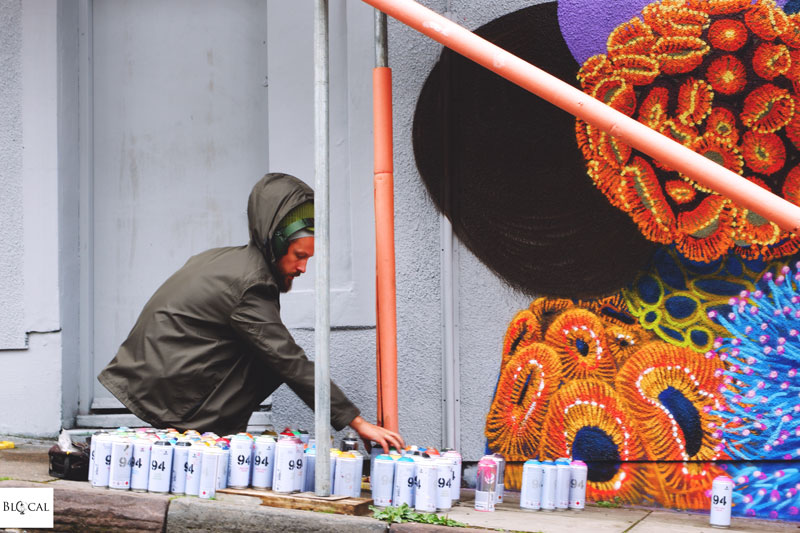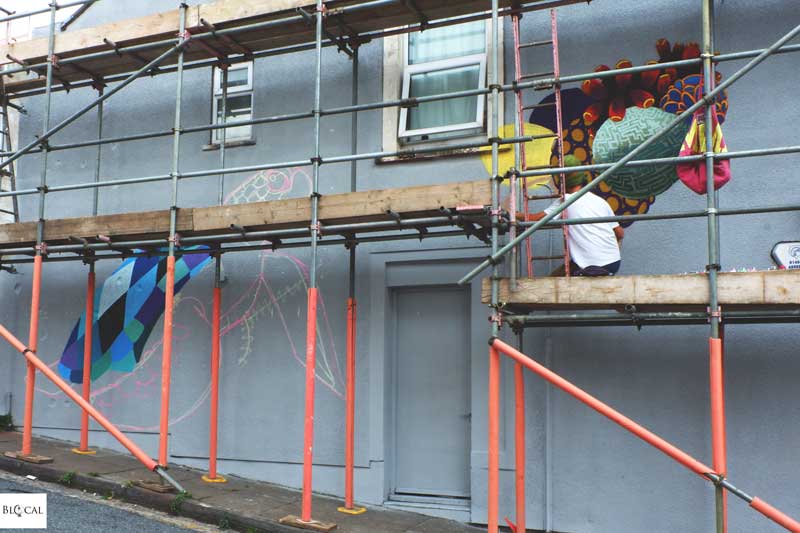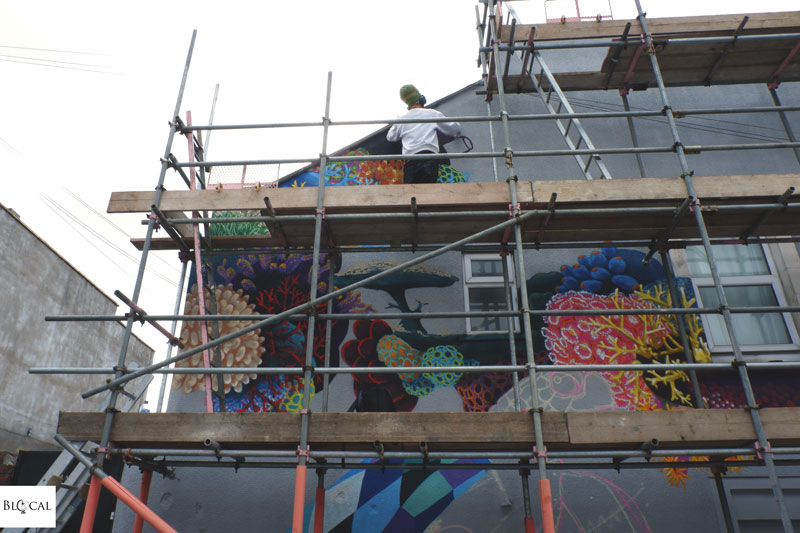 It's a pity that I couldn't see all these murals completed and scaffolds free, since by the next time I'll be in Bristol they will be gone already. That's the thing with Upfest: the walls are the same every year and artists are painting over someone else's artworks. Only a few murals stay and, as I just happen to realize, most of them are by the London-based artist Irony. Is that a coincidence or does it mean that Bedminster residents really love Irony's artworks? ;)
By the way, Irony was back at Upfest this year, where he added two mice to an old piece that 'resists' in Bedminster since 2016 and he also painted a brand new piece depicting an old school stereo.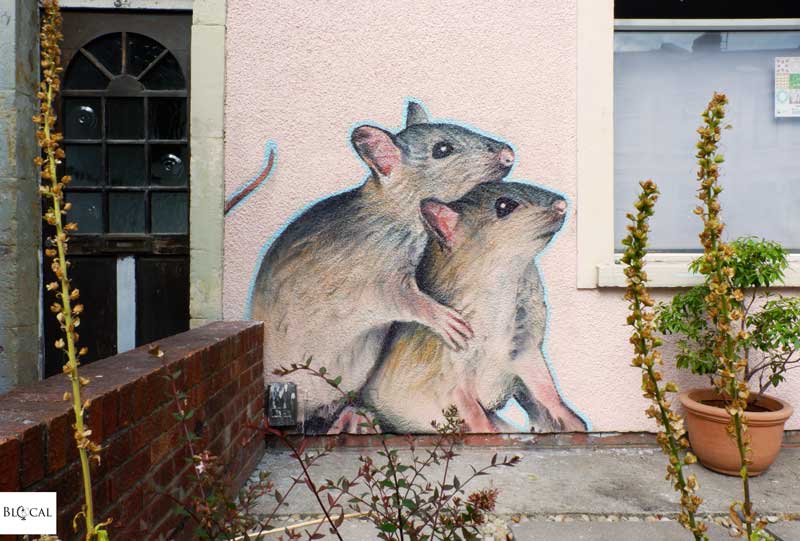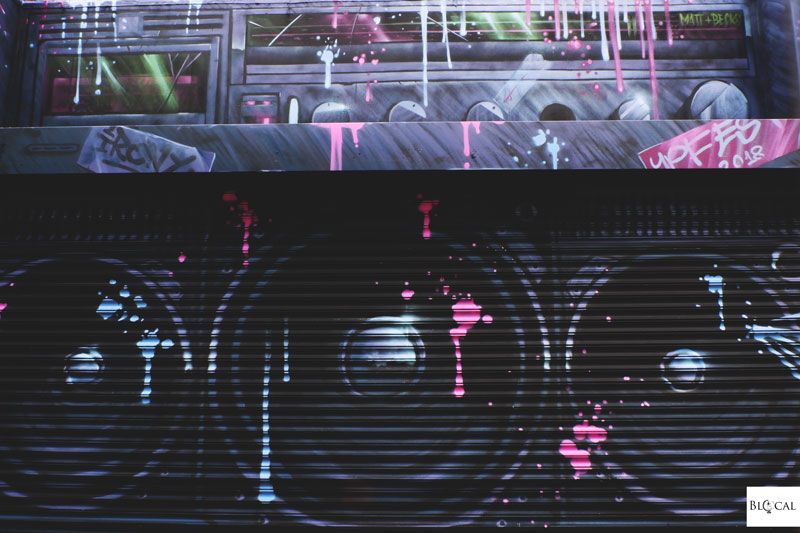 On the same block, which is known as "Old Argus Building", there are more amazing pieces painted during Upfest 2018 by Voyder, Gomad and several other artists, and also some insane trash bins by Hull Graffiti.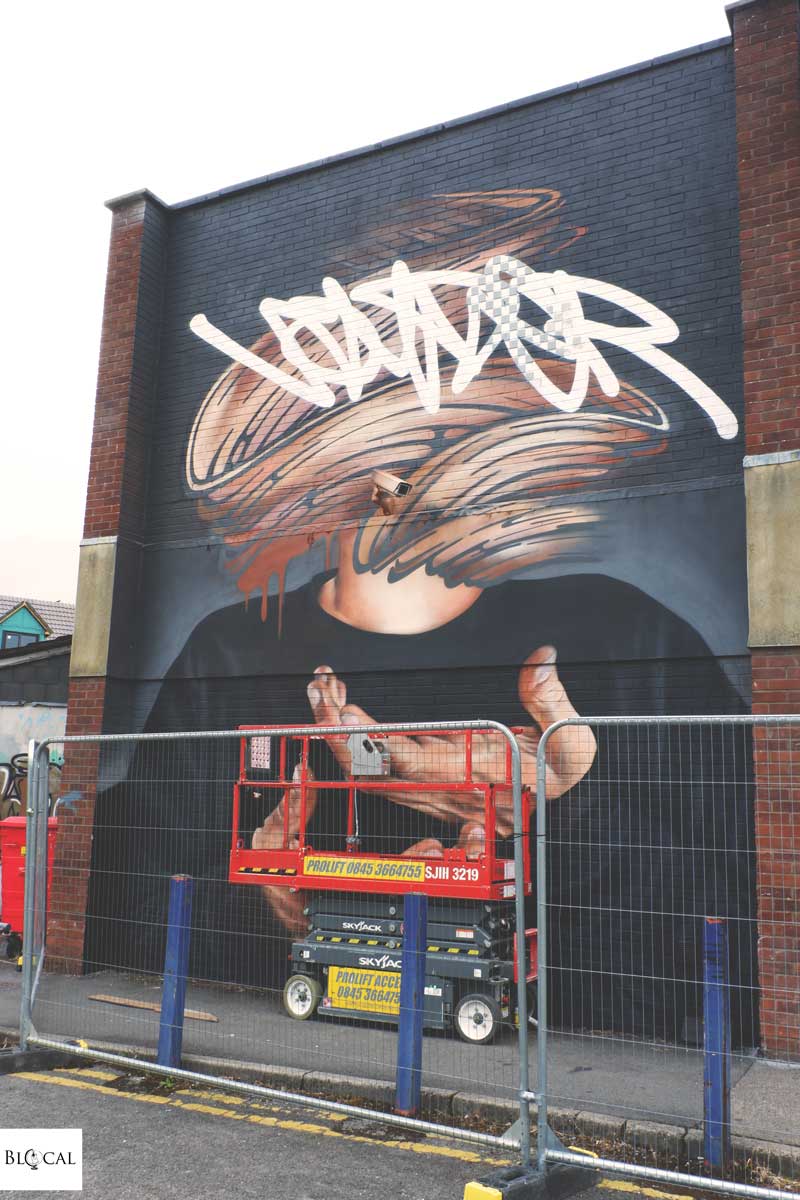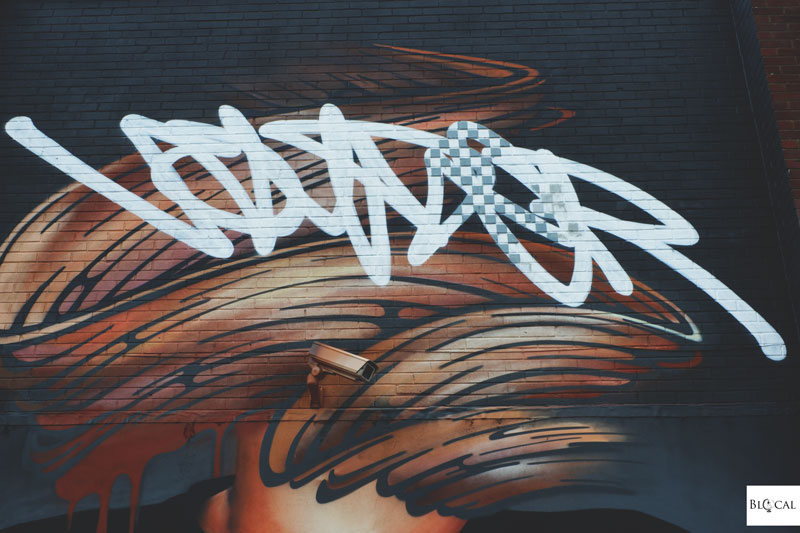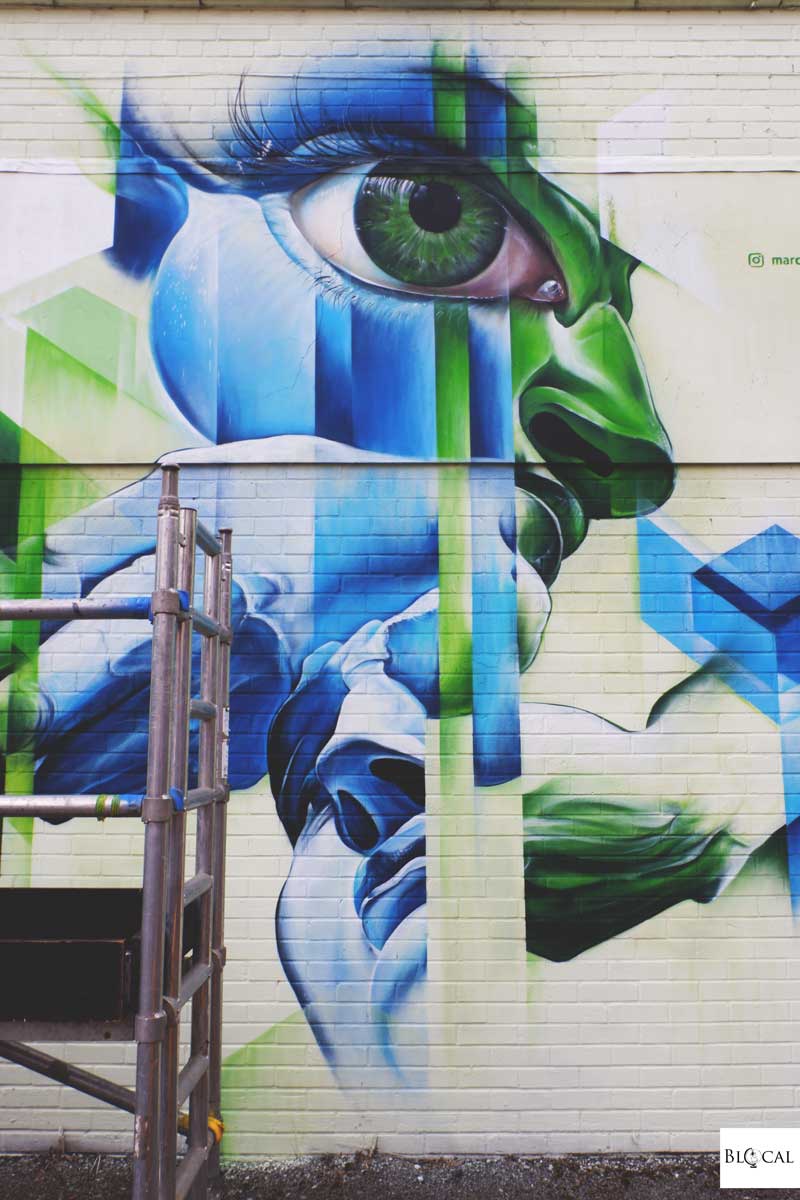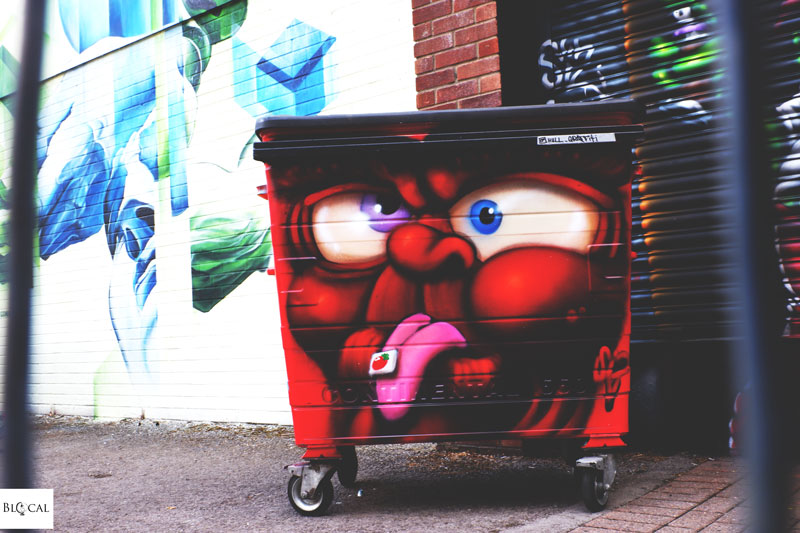 Still in this part of Bedminster, there are two more "iconic" Upfest walls that get painted over every year: the one at the Tap and Barrel Pub, on which Smok has been painting together with Ceepil and K.Shit a crazy collaborative piece that mixes their respective distinctive traits,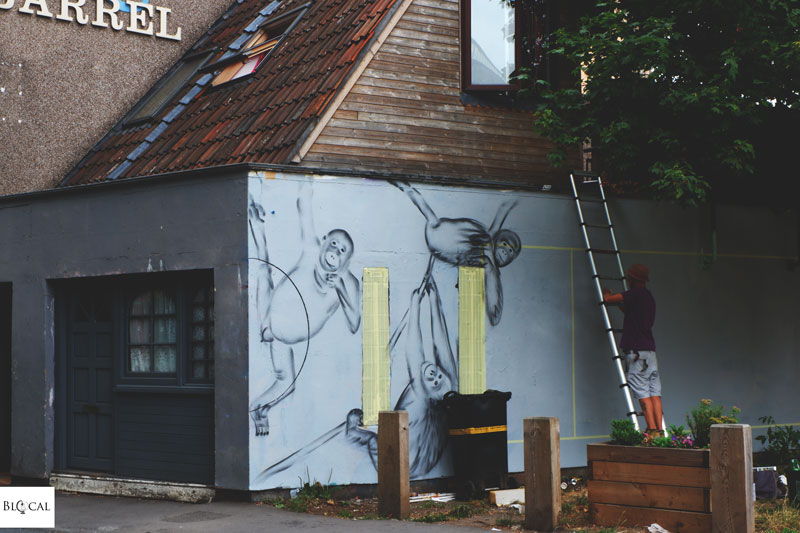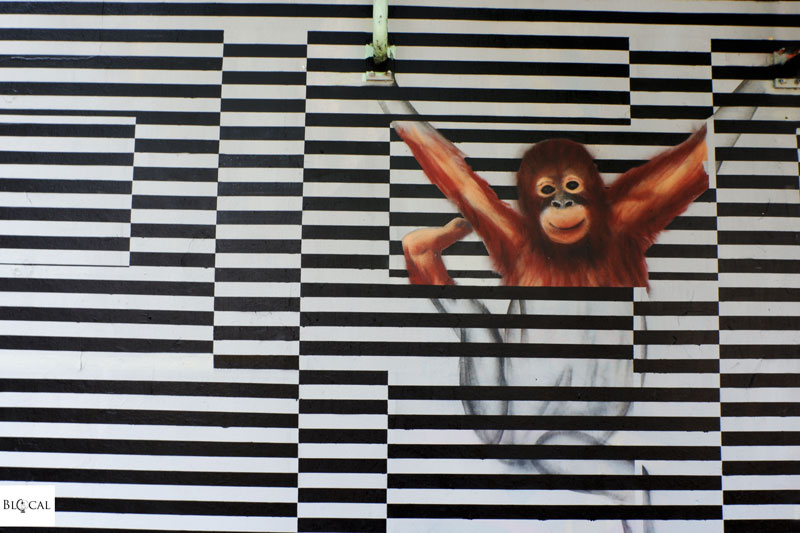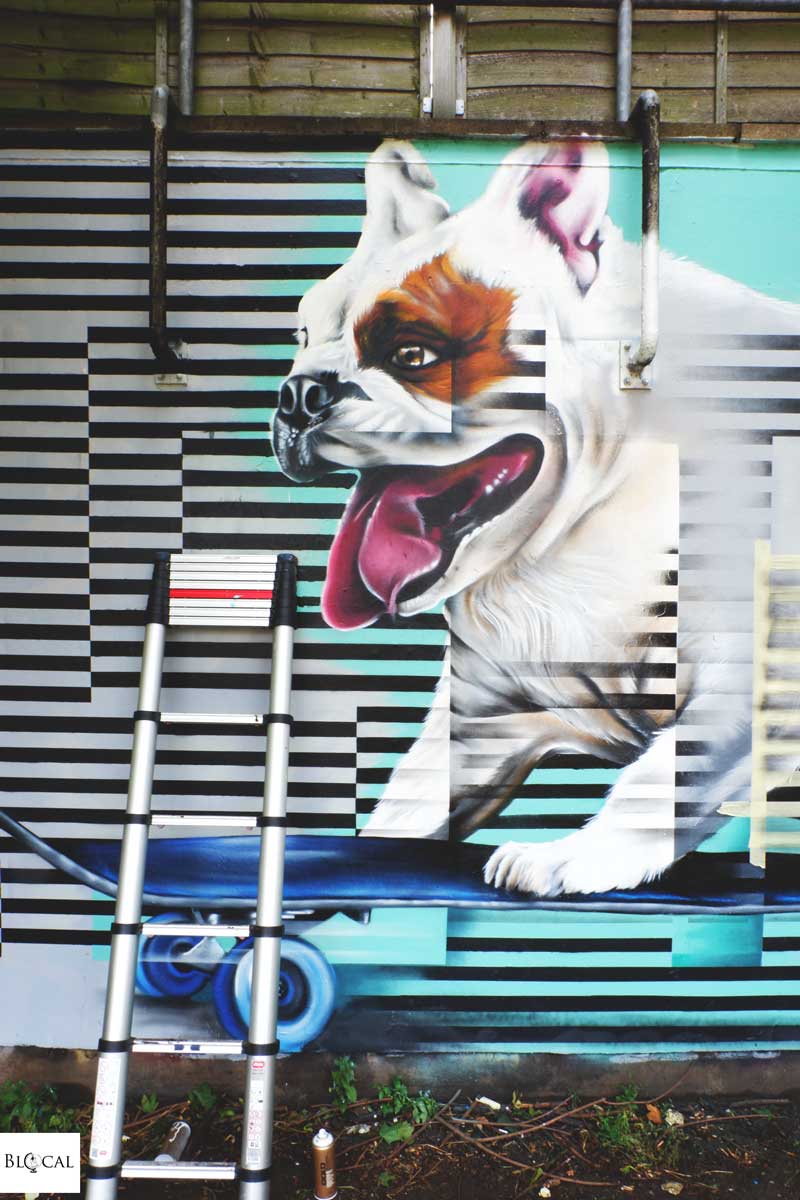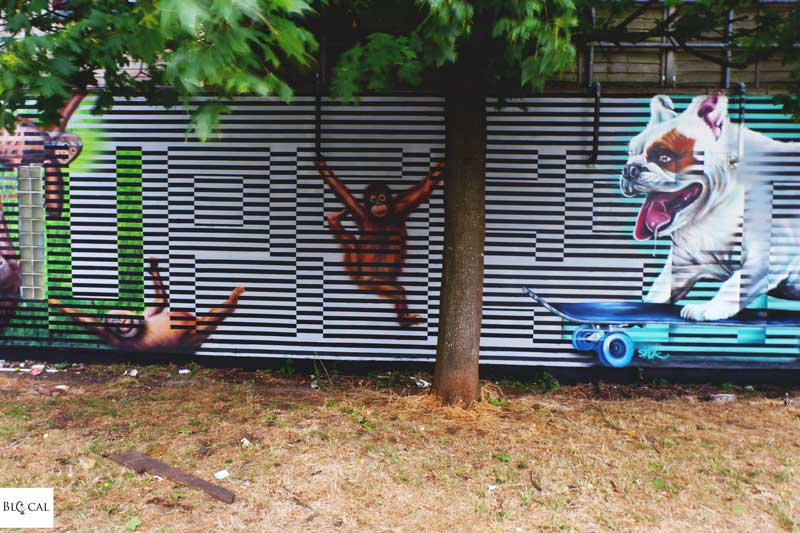 and the most iconic Upfest wall of them all: the Salvation Army's one, which this year was assigned to Philth and N4T4, who painted two huge faces inspired by mysticism and mother nature.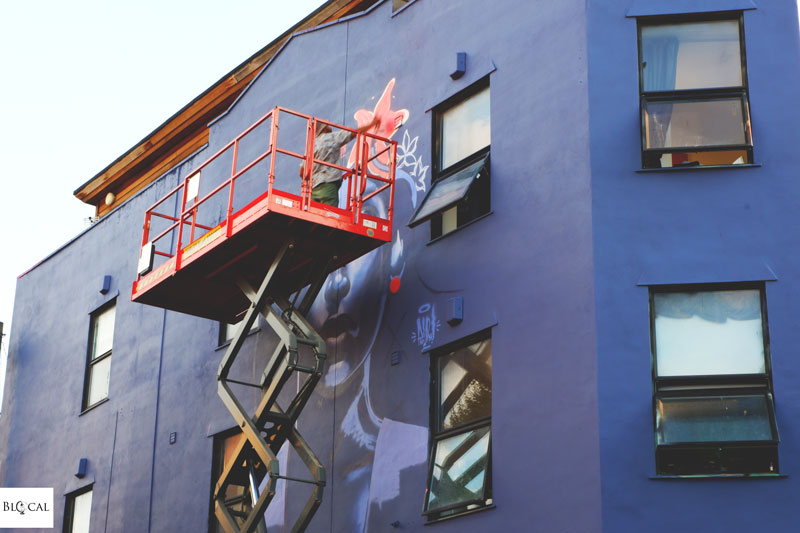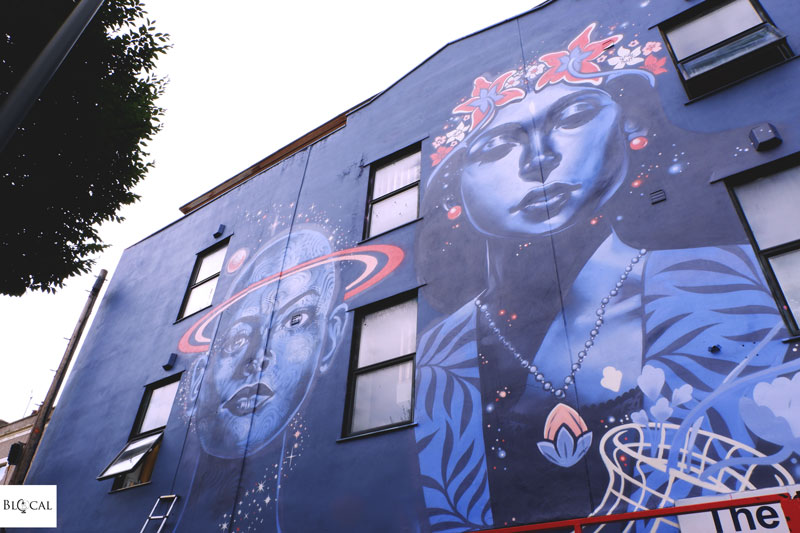 Speaking of this location, Dan Kitchener has tried to make me overcome my disappointment in The Upfest Law (murals being painted over after only one year). When I interviewed Dan Kitchener back in 2016, I asked him how did he feel when the huge, stunning geisha he had painted on the Salvation Army building disappeared. Surprisingly enough, he replied that if Upfest murals would stay there for years, people would stop looking at them. By changing every year, instead, street art re-energizes the area and residents will always be excited about it.
He couldn't change my mind, though. I like to get attached to a mural by seeing it day after day, year after year. I like to find my way around a city with murals as landmarks. When in Bristol, I like to come back to my favourite walls in the city (which, by the way, are all featured in my Bristol Street Art Guide) and no festival re-energization would ever replace the warm, snug feeling of seeing that good ol' Stinkfish piece at the entrance of Stokes Croft.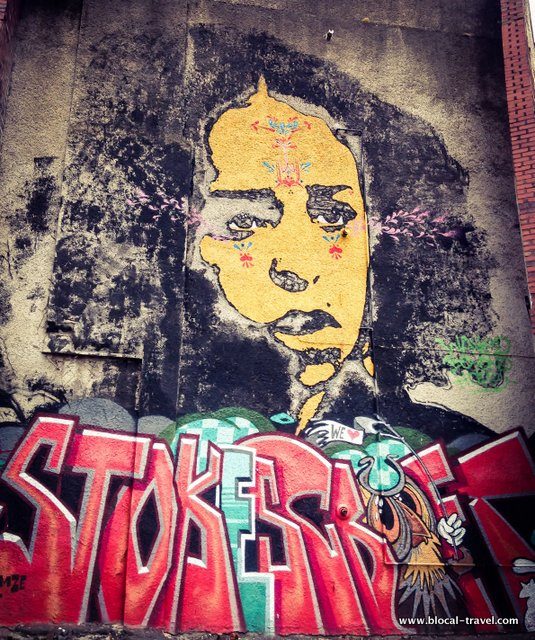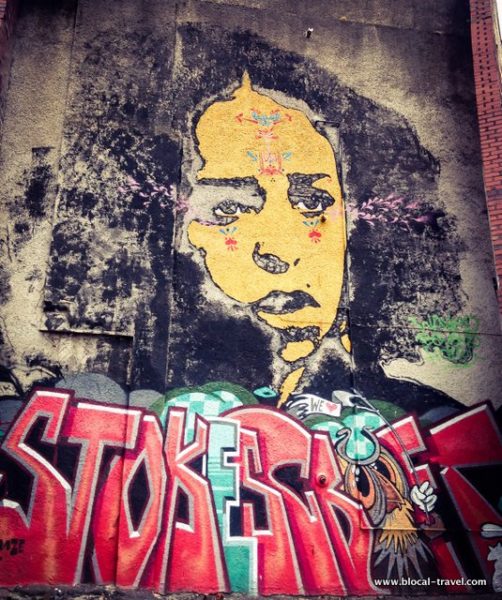 Plan your trip to Bristol with my Bristol Google Map!
You can hover over this (or any image) to quickly pin it!