The Parisian graffiti scene was born long before the contemporary graffiti crossed the Atlantic Ocean, as we can see in the photos taken by Brassai in the 1930s and in the student protests of May 1968. Announcements of street art can be detected already in the Parisian sixties, while from the 1980s, Paris and its suburbs have become one of the most dynamic centers of street art worldwide.
Do you wanna explore Paris with me?
When: January 1 – 6, 2024
I've put together six unique itineraries to delve into Paris' street art scene, along with some less-traveled gems like the stunning Mosque of Paris, monumental cemeteries, brutalist architecture, and urban wineries.
French wine, anyone?
Info: https://www.blocal-travel.com/paris-urban-art-trip/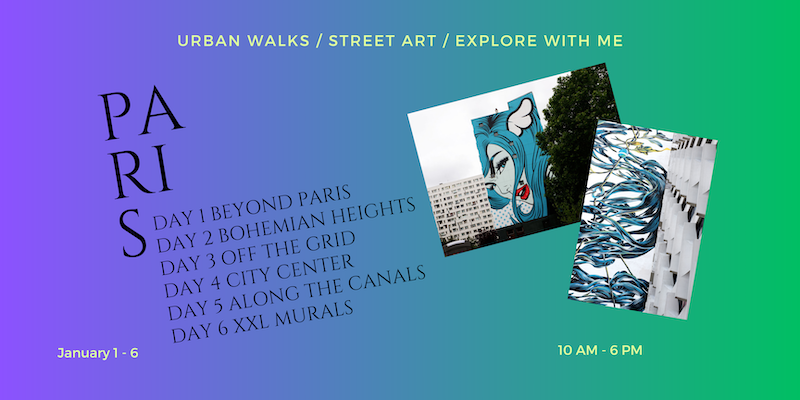 The Top 11 Places To Find Street Art in Paris:
13th Arrondissement
Montmartre
Butte-aux-Cailles
Le Marais
Oberkampf
Belleville
Ménilmontant
Canal de l'Ourcq
Montreuil
and in the neighbouring towns of Vitry-sur-Seine and Versailles.
Street Art in Paris: my favourite murals in the 13th Arrondissement
After a cozy weekend with my big, fat, Italo-French family, it was time to hit the city and explore the street art of Paris. I opted for the 13th district, where some great murals have just been added to an already outstanding collection of public art to inaugurate the open-air street art museum "Boulevard Paris 13", a project curated by Itinerrance gallery.
Together with Mathgoth gallery, By Night gallery, Magda Danysz gallery and pioneering projects like Paris' White Night (2014) – and with the blessing of the passionate urban art lover and 'Maire' of the 13th Arrondissement, Jerome Coumet – Galerie Itinerrance transformed the neighbourhood through the production of massive murals by the leading players in street art.
Luckily, while wandering around the most colourful area in Paris I also stumbled upon some independent pieces and smaller, spontaneous interventions – sometime by the same 'superstars' who have painted large-scale, commissioned murals.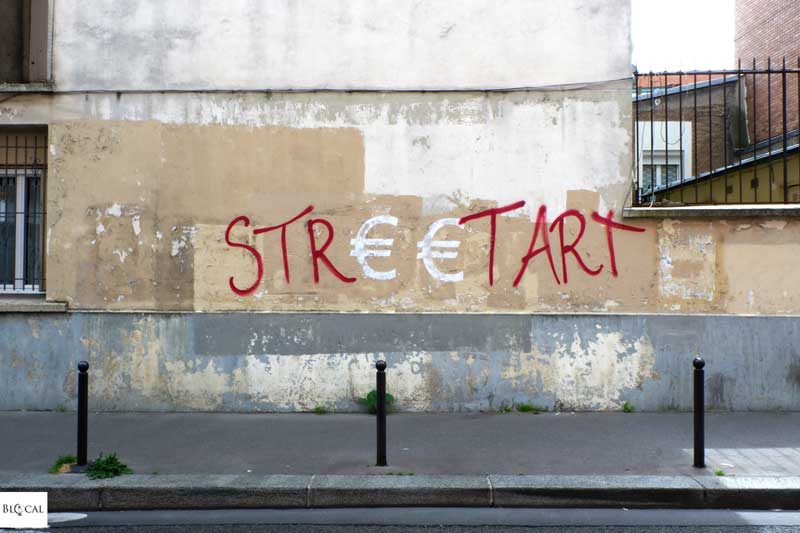 Murals in Paris' 13th Arrondissement
Street Art in Paris > Addfuel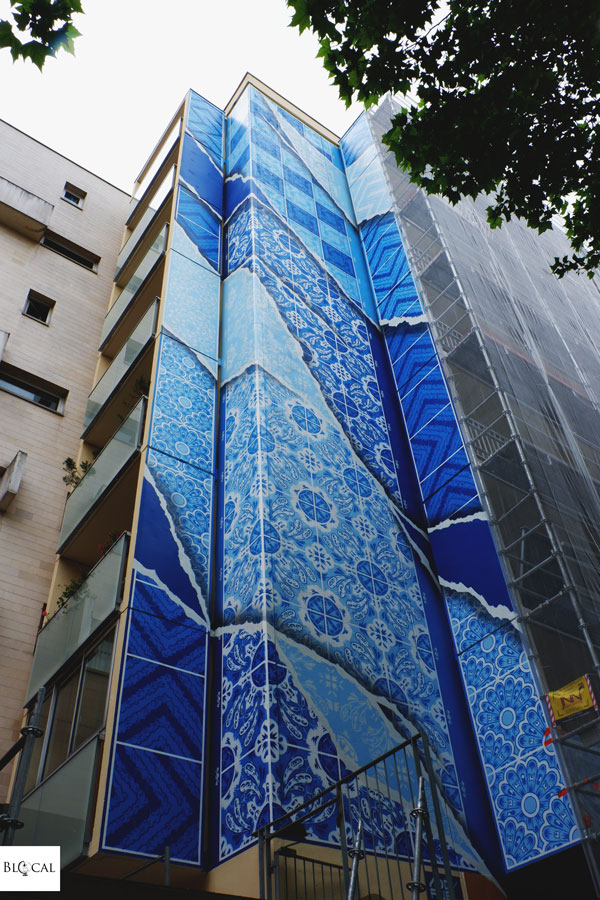 Addfuel is a Portuguese artist whose stencils are inspired by the traditional tiles of his country, which he revamps through his typical pop art imagery that juxtaposes comics and skateboarding culture. "Envolvente" was painted at the beginning of 2019, right before his solo show "Deuxième Désintégration" at Itinerrance Gallery.
Street Art in Paris > Bom K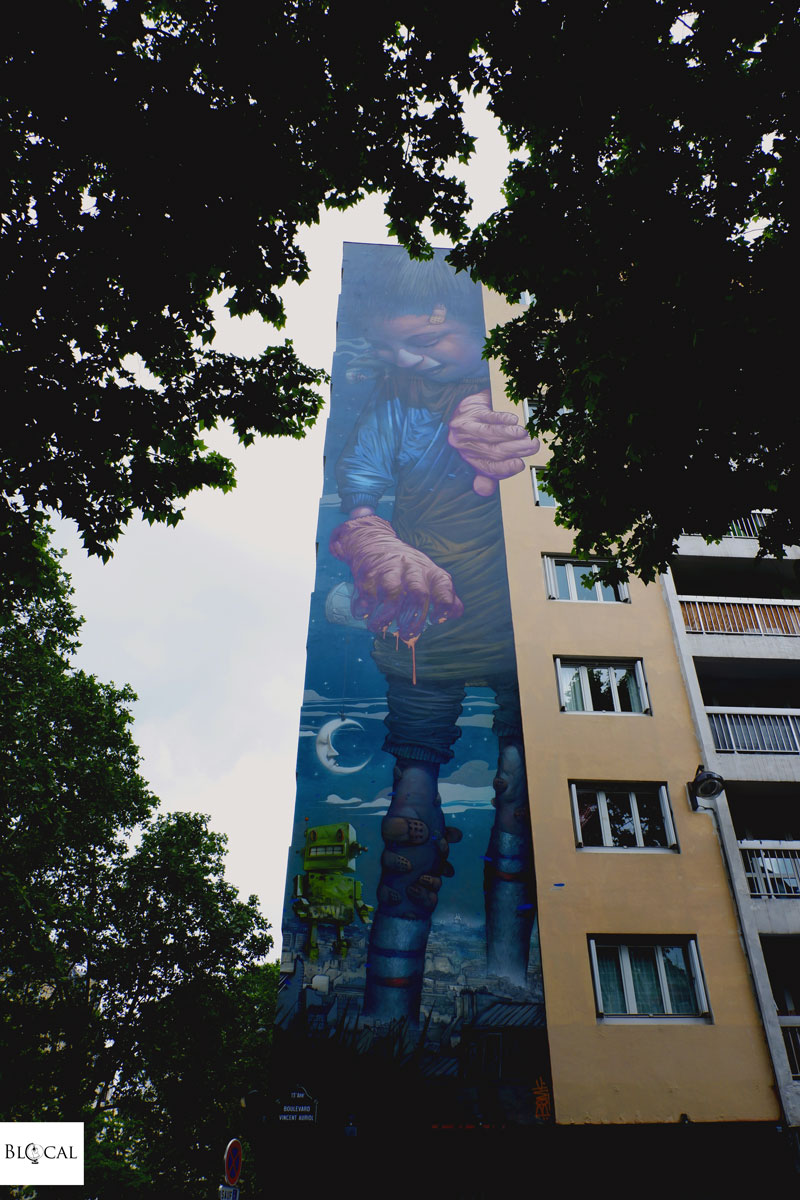 A pioneer of French graffiti, Bom K founded the well-know crew DMV (Da Mental Vaporz) in 1999. His style is very personal and his subjects are brute and grimy, although he gets poetic in the massive piece outside the metro stop 'Nationale'. In "Mon robot te botte le derriere" we see a mischievous child with a spray-can. As the little girl ventures into the starry night, she carries a pet mouse on her shoulder. I heard that the original background featured throw-ups and tags, but I couldn't find any pictures of it.
Street Art in Paris > Bordalo II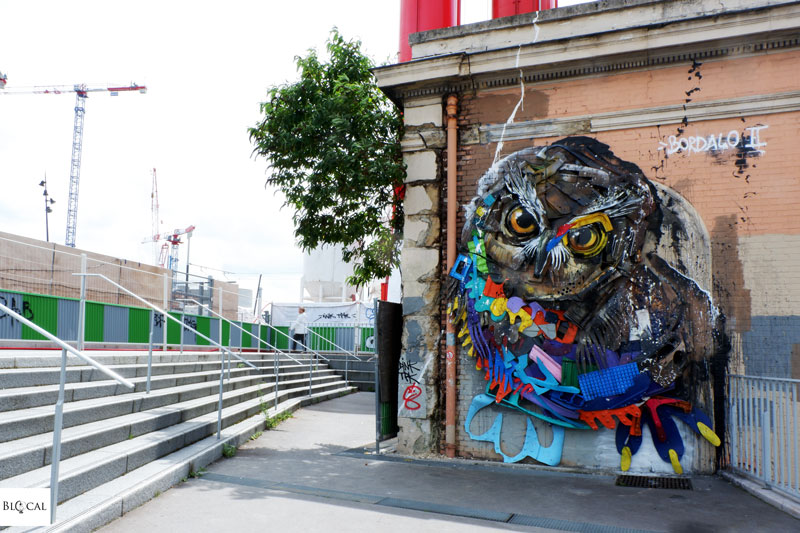 Creating sculptures of endangered animals out of rubbish and other things that kill them, the Portuguese artist Bordalo II realized two pieces in Paris for his solo show –"Accord de Paris"- at Mathgoth Gallery at the beginning of 2019.
>> Read about my week with Bordalo II in Rome!
Street Art in Paris > Borondo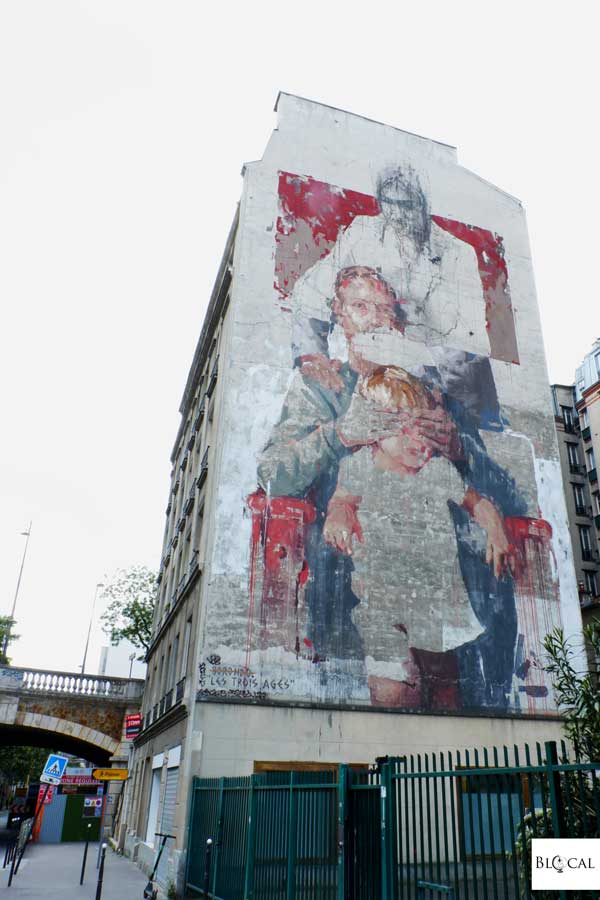 Sometimes I miss Borondo's classic pieces; the unrestrained brush strokes, the minimal yet expressive colour palette, and good ol' acrylic on wall. His production evolved through many different shapes, from his original glass scratching to the immersive experiences he is producing in the present, although the power of his message has never changed. In "Les Trois Ages" (2014) each man is preserving the following generation from the turpitude of the world, either by plugging their ears or by covering their eyes.
Street Art in Paris > Christian Guemy a.k.a. C215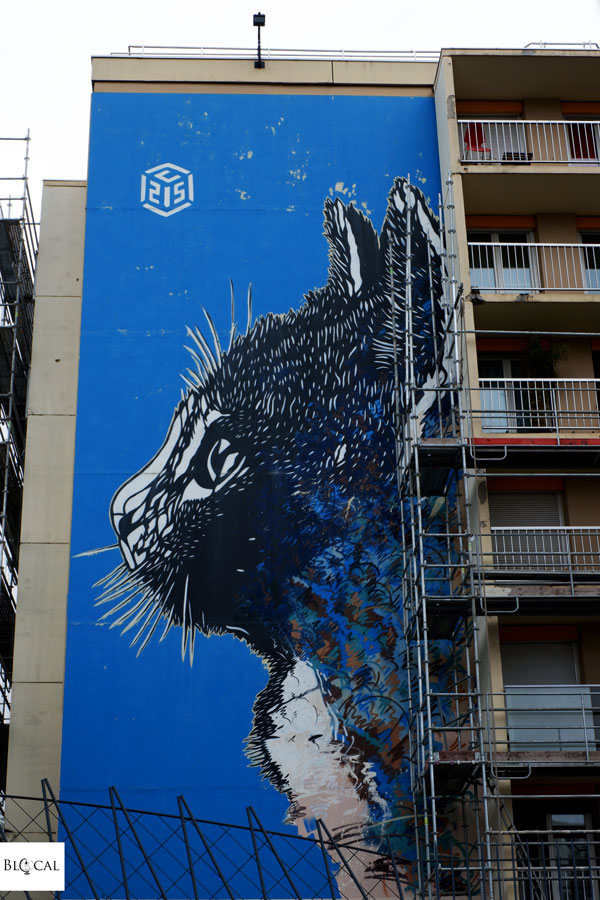 Local stencil legend C215 gifted the area with a massive piece – "Le Chat" – in addition to many smaller pieces he painted independently over the past years, including a classic 'Madonna and child'.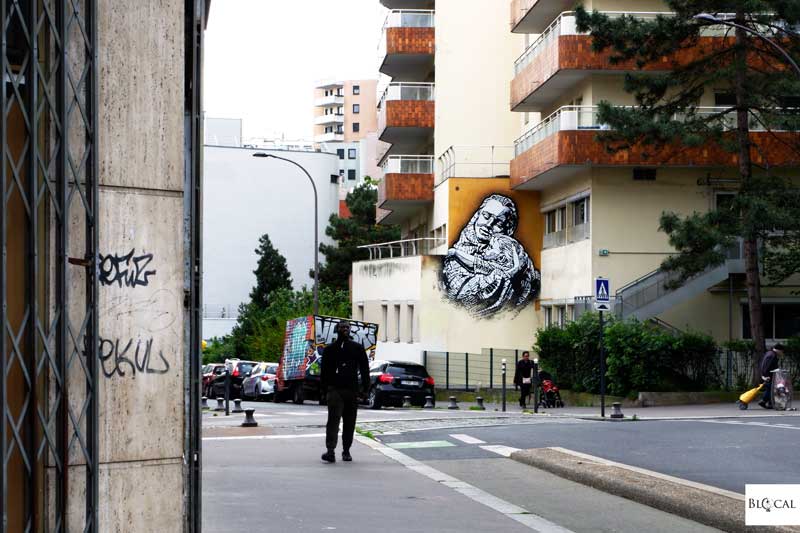 Street Art in Paris > Conor Harrington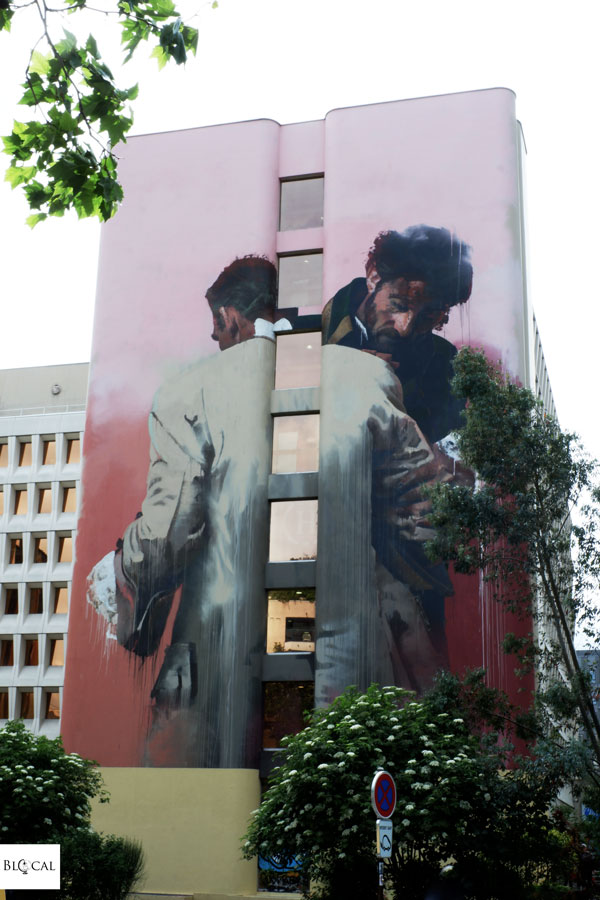 The Irish artist Conor Harrington brings a Baroque ambience onto walls. His epic images come from photo-shoots he did in his studio, where he stages men in period costume recreating postures that ooze masculinity and drawing upon historical references to tackle socio-political themes. Painted in March 2017, from far away "Etreinte et Lutte" looks like a hug, except it isn't. It's the representation of a political struggle, albeit purposely ambiguous to show that –especially when it comes to politics – every story has two different sides. The artist was inspired by the upcoming political elections in France.
Street Art in Paris > Cryptik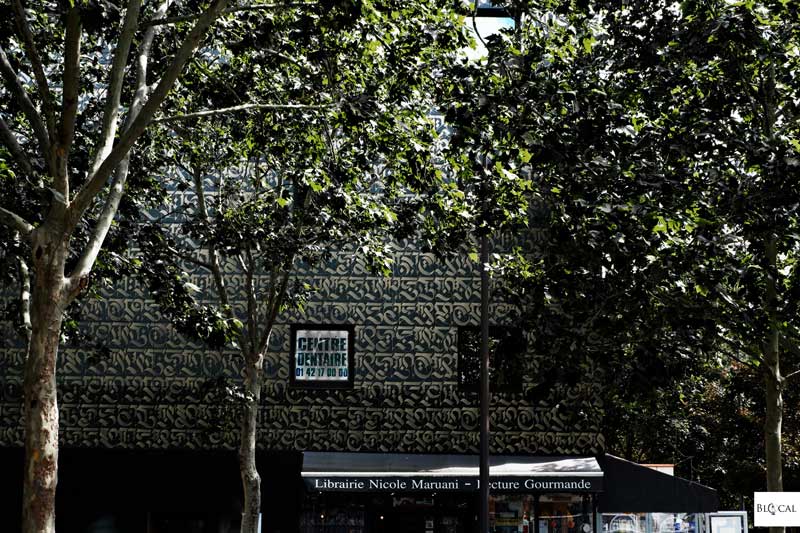 In October 2018, the master of calligraffiti Cryptik wrote a poem by William Saroyan ("The Time Of Your Life") right above a bookshop in Paris!
Street Art in Paris > D*Face
The British street artist brought his signature, Lichtenstein-inspired imagery to Paris for the first time in 2017, when he painted "Love won't tear us apart" in Place Pinel. In the 'city of love', D*Face drew a heart-breaking kiss between a girl and the memory of someone she had loved – one of those people we might lose, but will always live in our memories.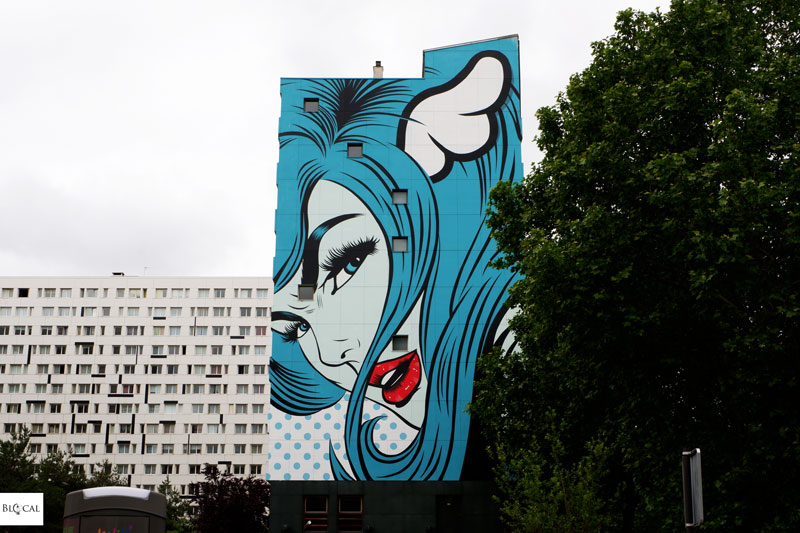 Back in the area in 2018, D*Face added a third figure to the romantic story: a girl who is looking at the couple from a building at the other side of the square. Is she jealous? Or is she happy to be freed from any romantic relationship? The artist leaves the question open, although we can't help noticing that – unlike the original painting on which the image is based – the girl in the mural "Turn Coat" isn't crying.
Street Art in Paris > DALeast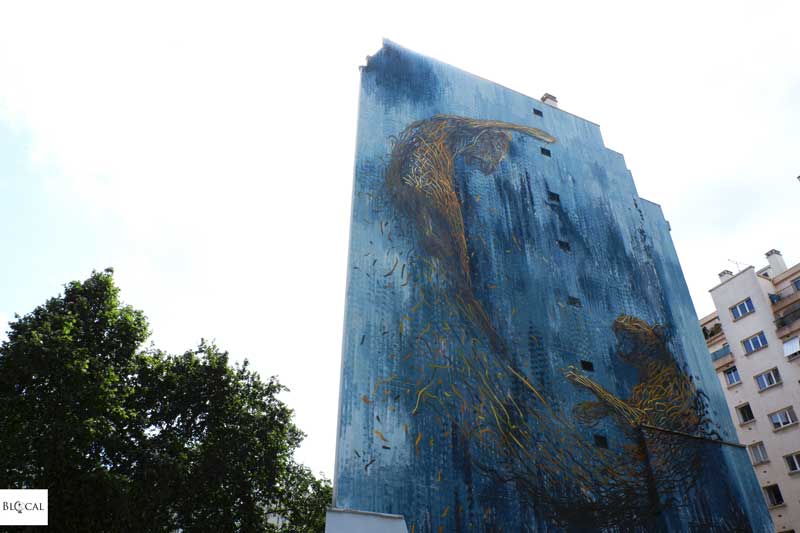 Chinese-born DALeast's subjects look as if they were made of thousands metal shards coming together. His fractured images are painted on a pop coloured, contrasting background, from which a breath of energy arises. Often depicting animals, his images appear to leap off the wall, while his characteristic splintered lines capture the movement and feeling of the subject. The final outcome is mesmerizing, as we can see in this mural he painted in May 2019 on Boulevard Vincent-Auriol.
Street Art in Paris > David de la Mano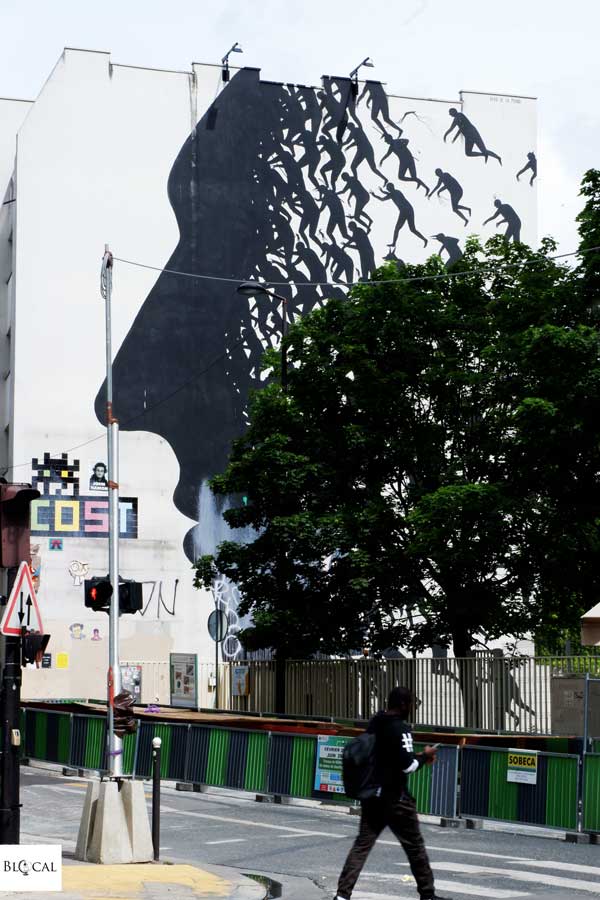 The minimalist style of Spanish artist David de la Mano recalls rock art. Wandering and disoriented, with the head of a dog or a bird, with or without a hat, his poetic silhouettes never look the same, although they do all walk towards the same direction – a same goal perhaps. The ones he painted in Paris in 2015 compose a big face.
Street Art in Paris > Ethos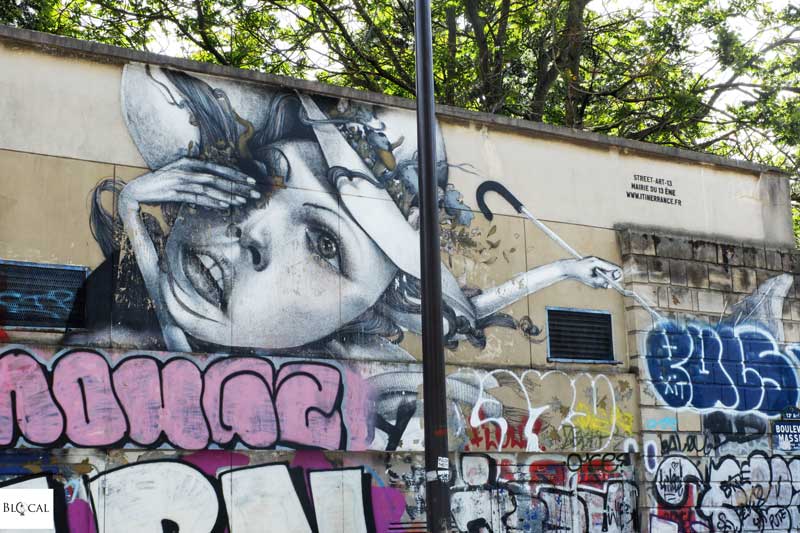 In a city like his hometown of São Paulo that is fully covered with pixação (unique Brazilian graffiti calligraphy), Claudio Ethos' figurative style has always been pretty unique. Additionally, unlike the colourful murals of his fellow Brazilian artists, Ethos' are always black and white. He paints surrealist scenes featuring highly detailed characters that often look tormented. The piece he painted in November 2010 is the oldest in Paris' 13th district.
Street Art in Paris > Faile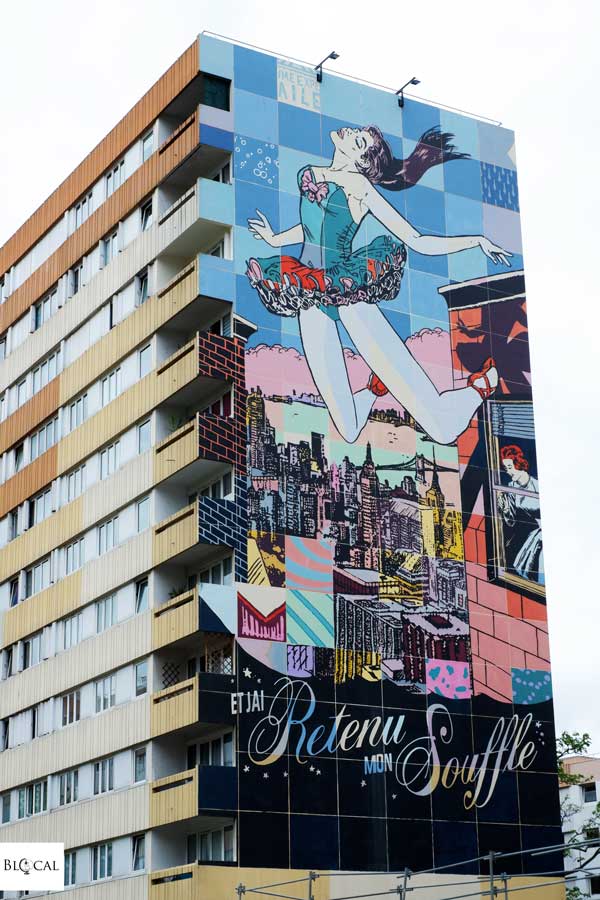 The work of this New York based duo is inspired by comics and pop culture. Painted in June 2016, "Et j'ai retenu mon souffle" is their first mural in France. It shows a young dancer holding its breath, in Faile's typical vintage style.
Street Art in Paris > Hownosm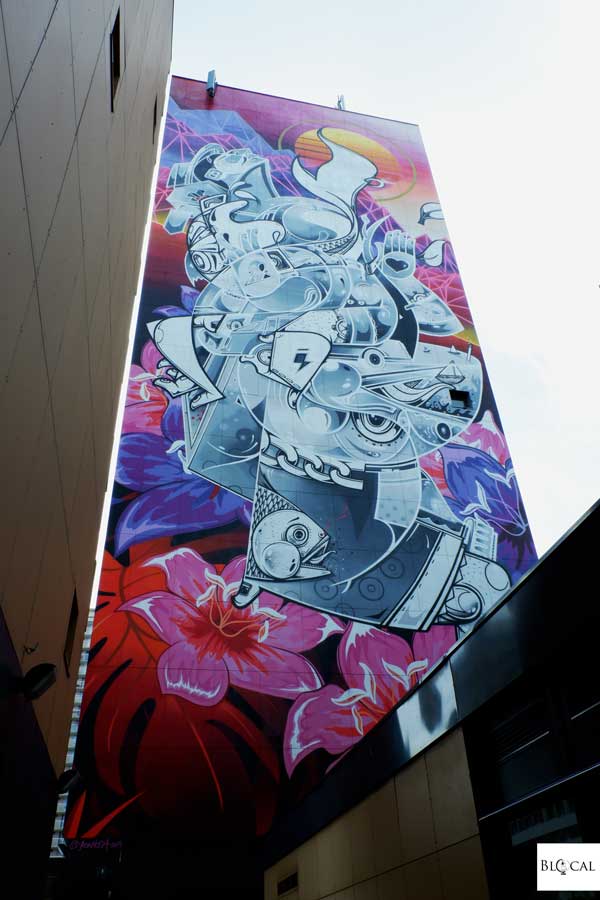 Raoul and Davide Perré are two Spanish twins living in New York. After years of train writing, they developed a peculiar style on walls as well, a style rich in recurring images, icons, and symbols. In "Sun Daze" (2019) they broadened their usual colour palette – white, red, black – to transmit warm and positive energy; an invitation to relax and enjoy life punctuated by the title, which can be read as 'Sunday'.
Street Art in Paris > Inti
The Chilean artist Inti painted three beautiful murals in Paris, but unfortunately "Our Utopia is Their Future" isn't there anymore.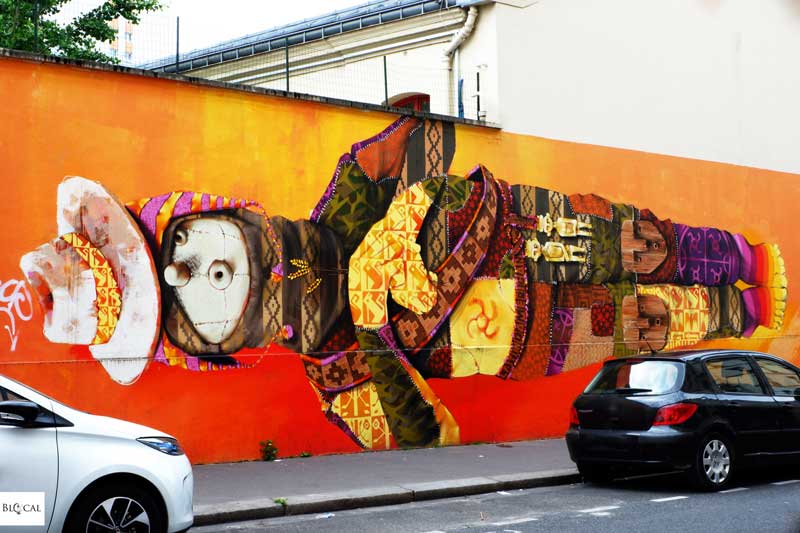 However, the one he painted in November 2012, "Sudaka", is still rocking! It depicts one of Inti's iconic characters – the 'kusillo' – a carnival clown dressed in a patchwork of colourful fabrics directly from the Bolivian culture.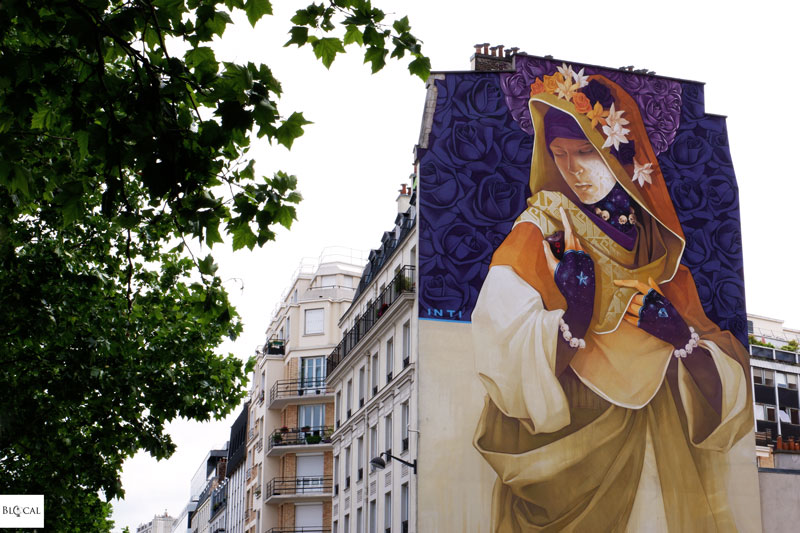 In June 2016, Inti painted "La Madre Secular 2" in Paris – which is part of a trilogy started in Marseille and finished in Lisbon. It's a laic representation of the Madonna: rather than religion, she symbolizes knowledge and scepticism (hence Newton's apple, instead of the Biblical apple).
Street Art in Paris > Jorge Rodriguez-Gerada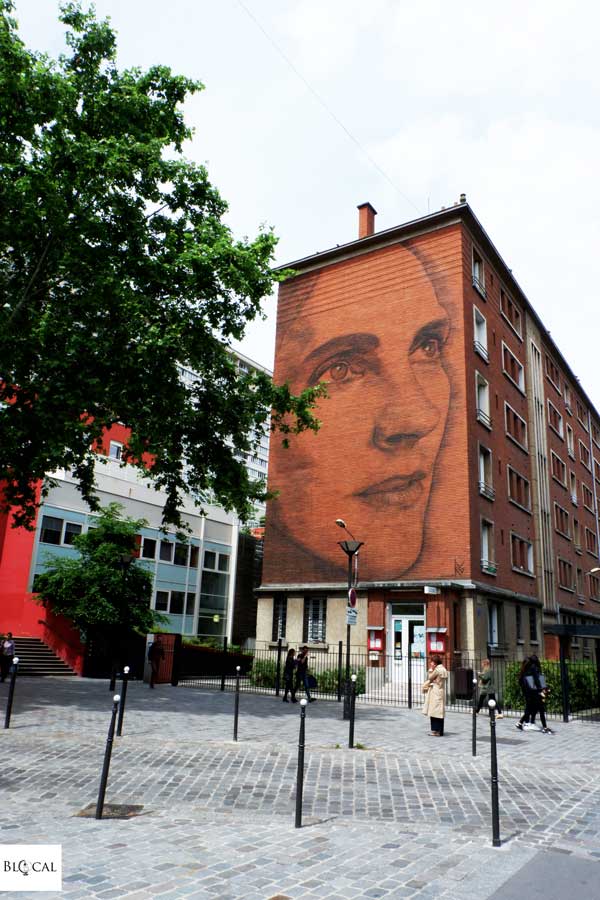 In October 2015 the Cuban-American artist Jorge Rodriguez-Gerada painted one of his "charcoal" murals in Paris. Usually, these murals are part of his 'identity' series, in which he portrays people from the neighbourhood who are somehow related to the building he is working on. This time, however, local residents were asked to select an image from a few proposals. The chosen image was of the artist's wife, and muse, Ana.
Street Art in Paris > Julien Malland a.k.a. Seth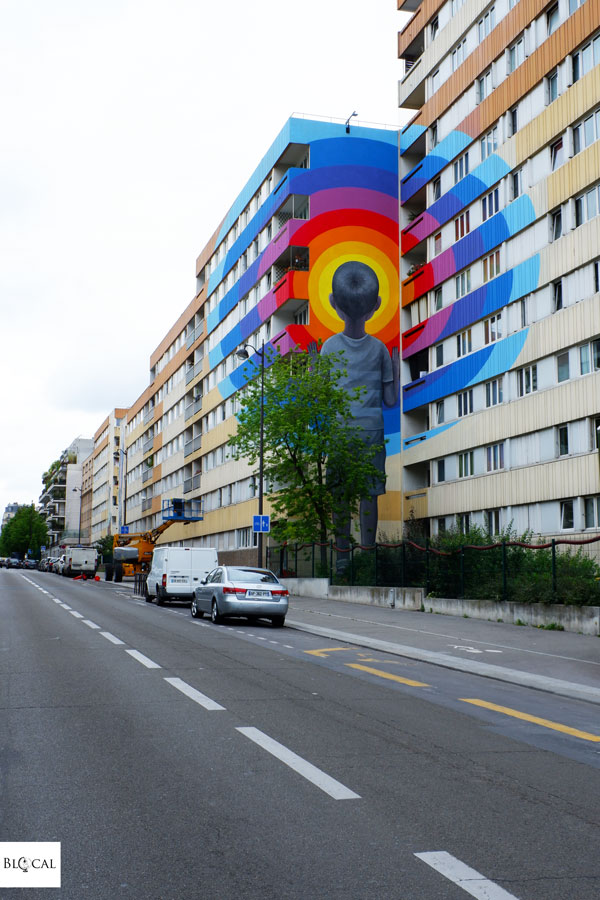 Born in Paris in 1972, Seth brought his playful characters all around the world. Here in the 13th district, he has just completed "Enter the Vortex". It depicts one of his iconic children escaping the chaotic environment around him through his colourful imagination. Moreover, when seen from a lateral point of view, the big vortex swallows up the character.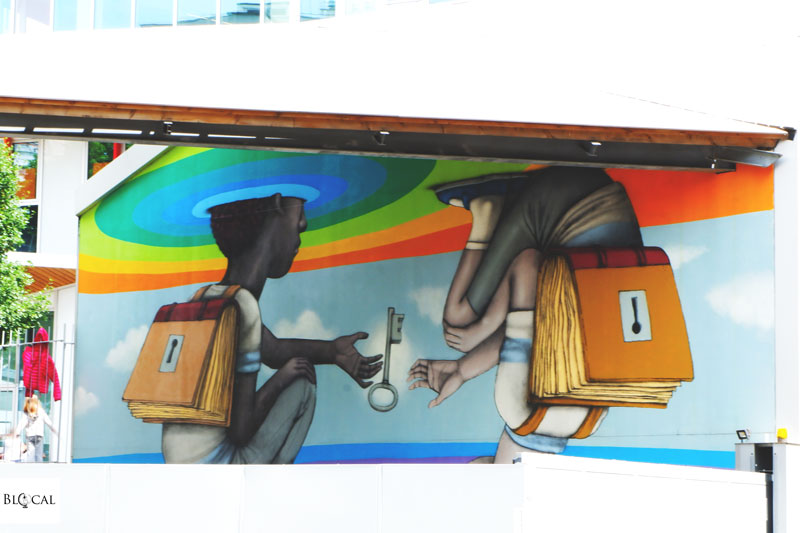 However, the piece by Seth that I liked the most is hidden inside a primary school. Titled "La Clef" (French word for 'key'), it's about the 'key of knowledge'.
Street Art in Paris > M-City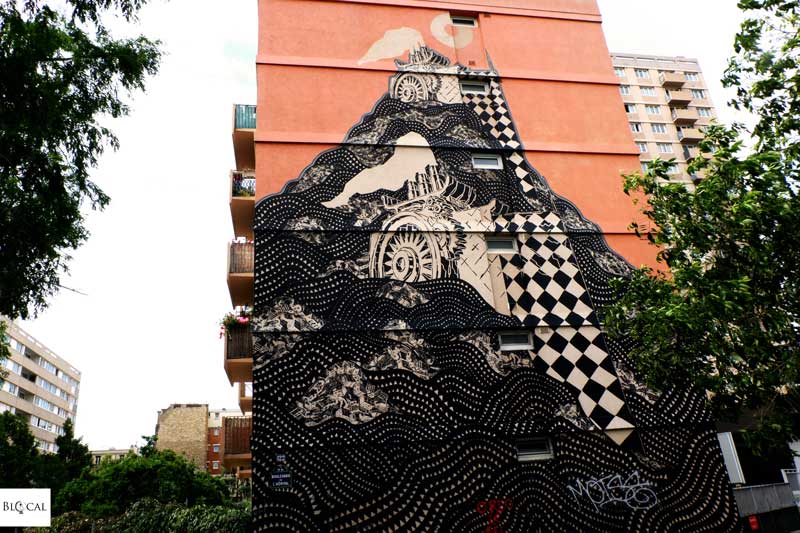 The work of this Polish artist recalls pixel art, thus managing to be – at once – both poetic and mathematical. Built through the addition of numerous stencil layers, M-City's infinite landscapes unfold on walls all around the world. This mural was painted in October 2010, when he had a show at Itinerrance gallery.
Street Art in Paris > Maye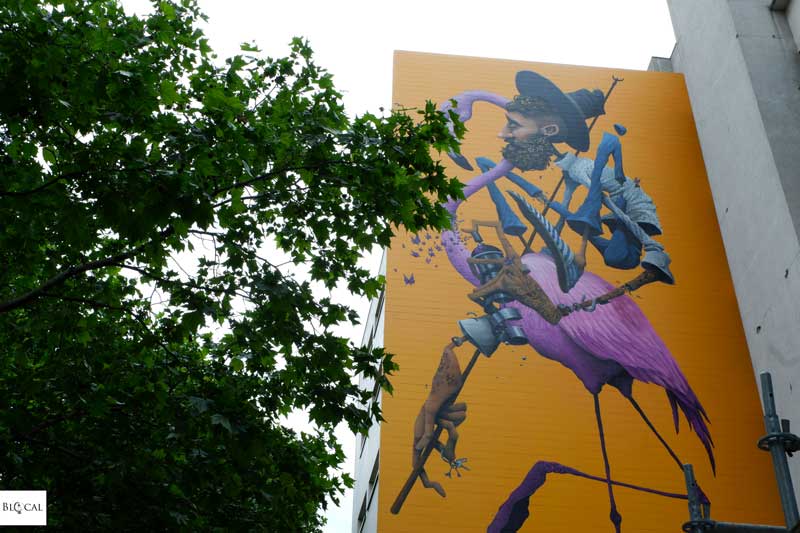 In "Etang de Thau" we find Maye's typical attention to details and his willowy characters made of both natural and mechanical elements. This graffiti writer from southern France painted a homage to his region (the Camargue), whose symbol is the pink flamingo. On it, there is a Camargue rider dressed in the traditional costume and typical shoes of the area.
Street Art in Paris > Okuda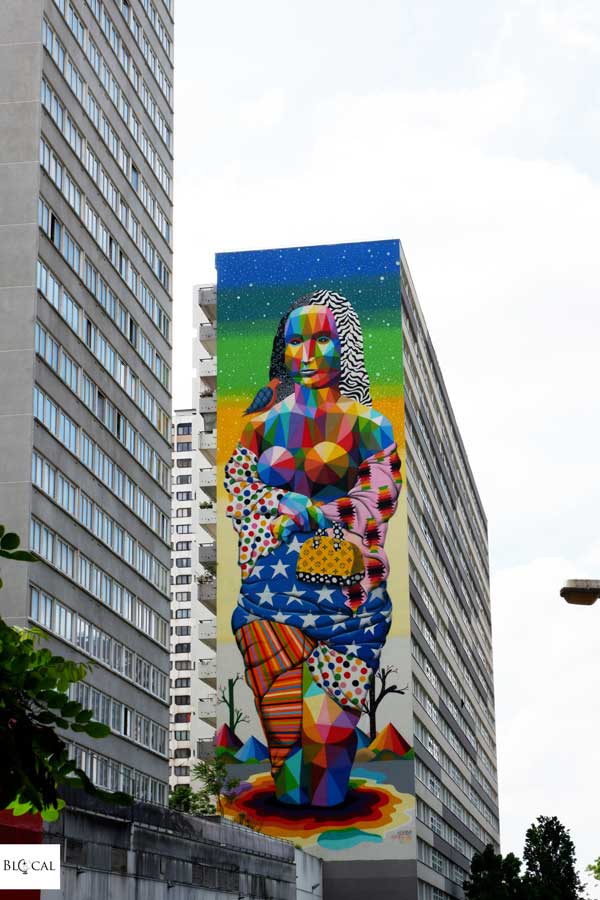 Invited by By Night gallery, Spanish artist Okuda painted an iconic figure of Paris – "La Joconde" – in his pop surrealist style made of geometric patterns and psychedelic colours. The subject was chosen by the residents of the area.
Street Art in Paris > Pantonio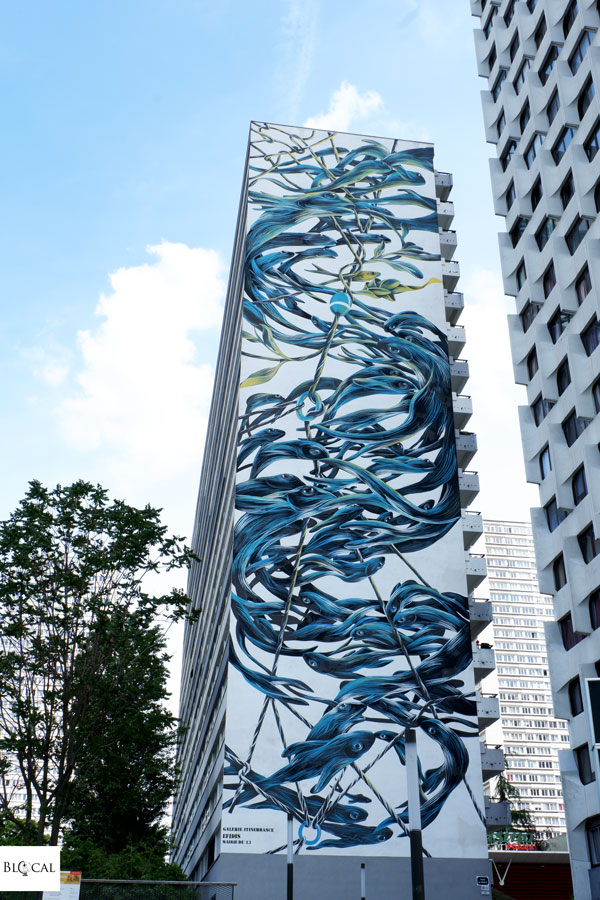 Pantonio's dancing compositions first appeared in Paris in June 2014, when the Portuguese artist painted "North". It took him one month to complete what's – supposedly – the largest mural in Europe. He played with the impressive height of the building (66 meters) by making his iconic fish "swim" upwards. The fish are a metaphor for the population density of the neighbourhood, but also a very important symbol for the most represented culture in Paris' Chinatown.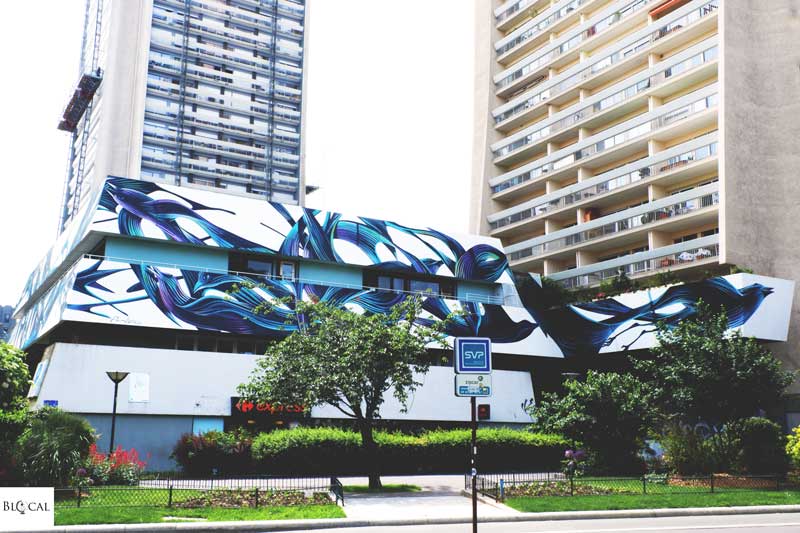 Back in Paris in May 2018, Pantonio played with the atypical architecture of a building on Boulevard Vincent-Auriel. Full of grace and delicacy, the birds in "Fragile Agile" represent agility and freedom of movement. Unlike the previous mural, this one is built horizontally, as to follow the movement of the passers-by, the cars and the trains.
Street Art in Paris > Reka One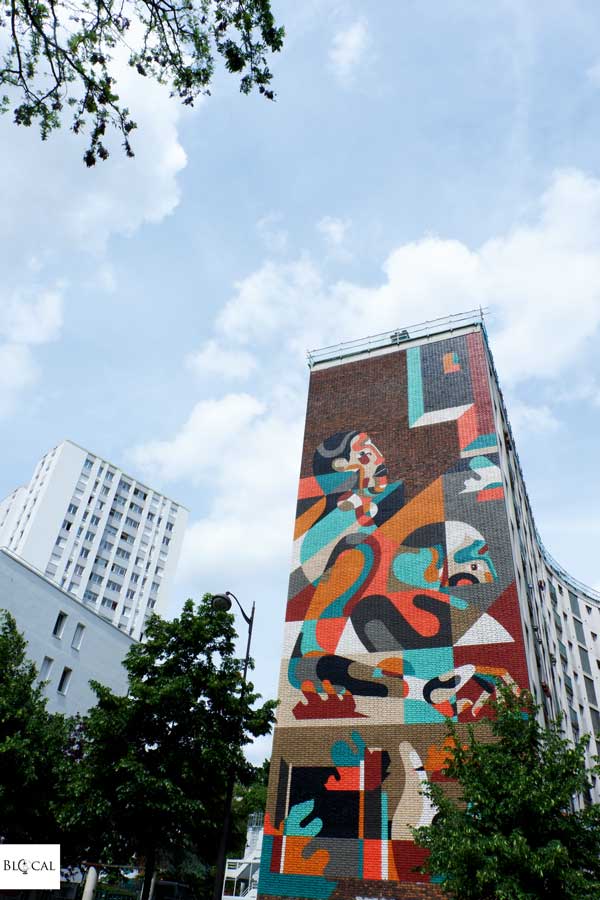 Through bold colours, dynamic movement, and strong lines, the Australian artist Reka One reinterprets his own subconscious. His strange, almost surreal figures are made of abstract, flat coloured shapes, like the one he painted in July 2015 on a council housing building in Paris' 13th district.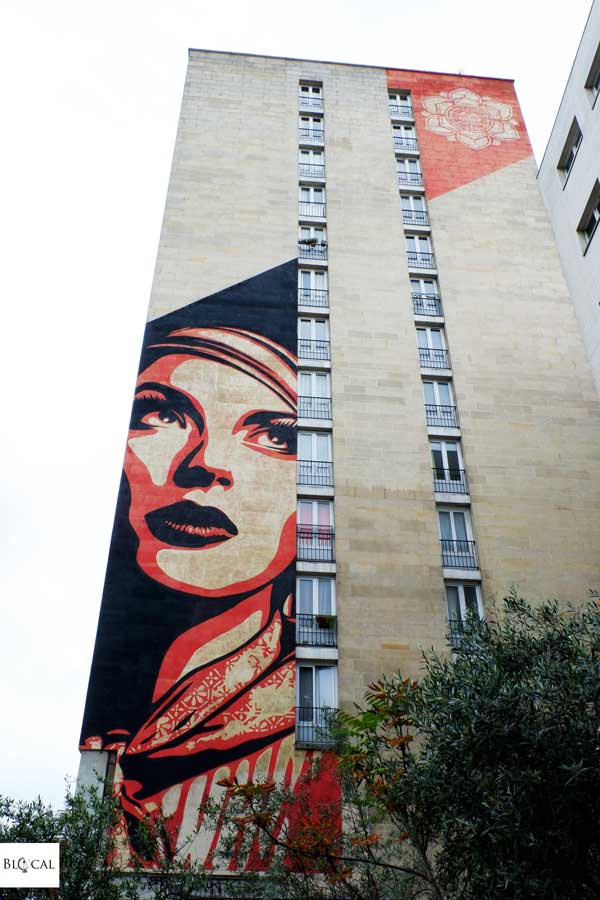 Obey painted his first wall in the area back in 2012. "Rise above rebel" is an empowering mural for those who are oppressed, yet continue to persevere and rise above.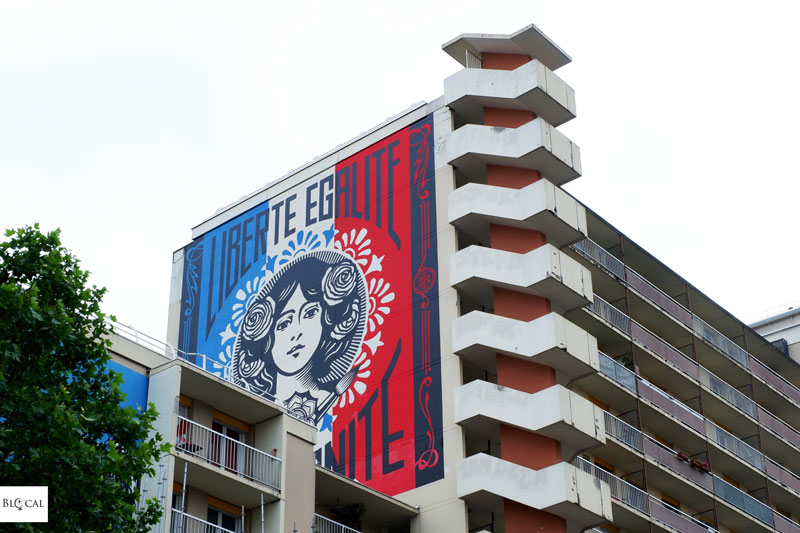 Back in Paris in June 2016, he realized "Liberté, Egalité, Fraternité" – a touching piece inspired by the terrorist attacks of November 2015.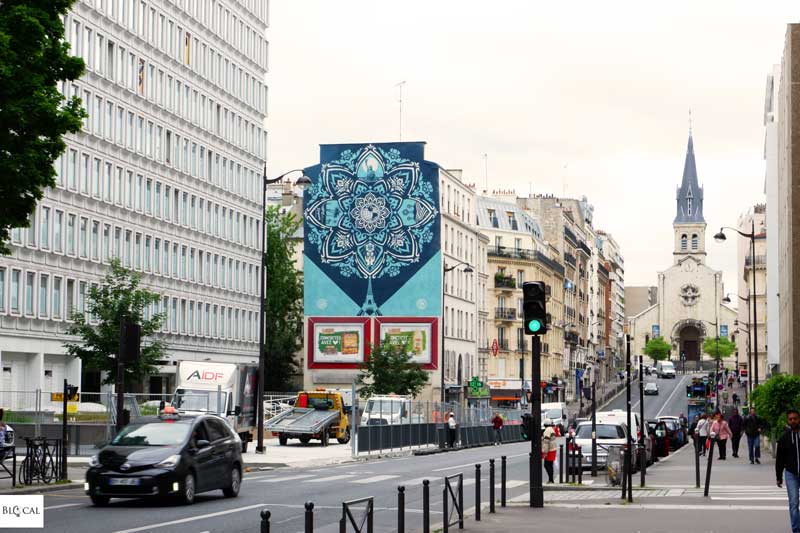 Finally, he painted "Delicate Balance" after the international climate summit COP21. The piece is part of his series on ecological emergencies; this is the image from which his Eiffel Tower "Earth Crisis" installation evolved. That installation was ephemeral, so it's important to have this mural to permanently remind us about the damages we are doing to the planet.
Street Art in Paris > Space Invader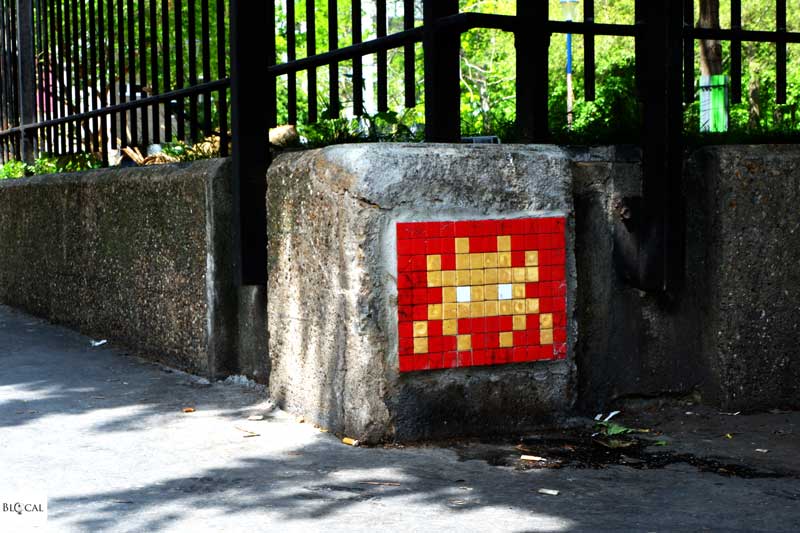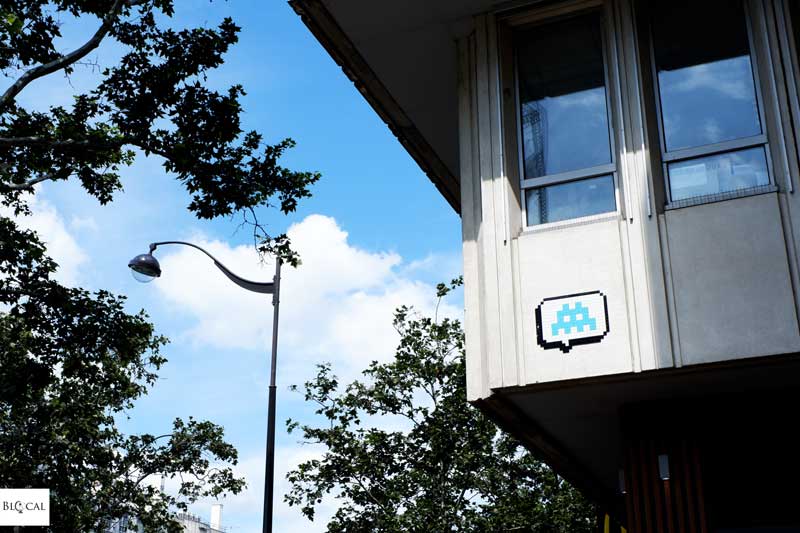 Local legend Space Invader painted a few big mosaics for the project Street Art 13. However, the ones that I liked the most are the spontaneous, smaller pieces he hid around.
Street Art in Paris > SpY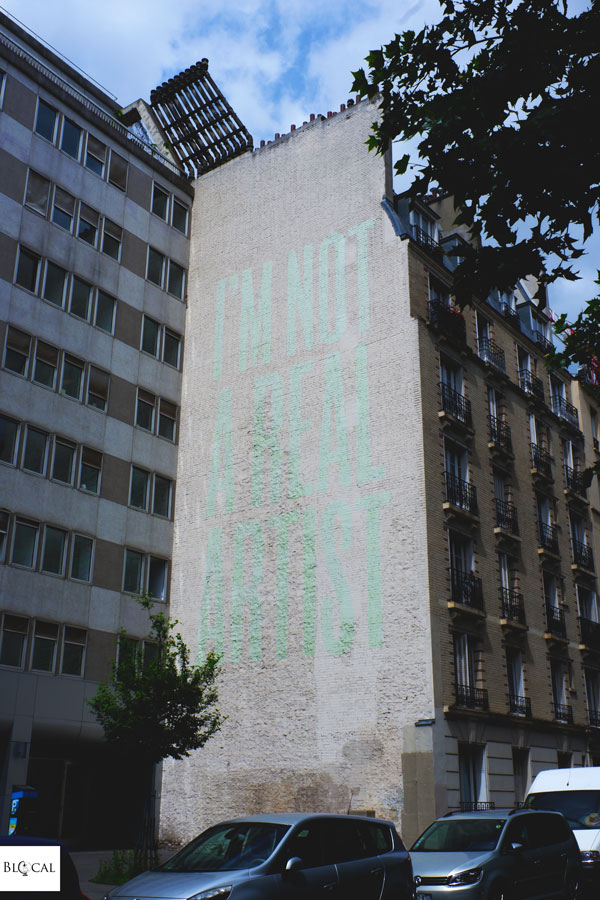 Invited for the White Night in 2014, Madrid-based interventionist SpY painted a phosphorescent mural saying "I am not a real artist". The special paint he used is replenished throughout the day by the light of the sun and shines brightly on its own once night falls.
Street Art in Paris > Stew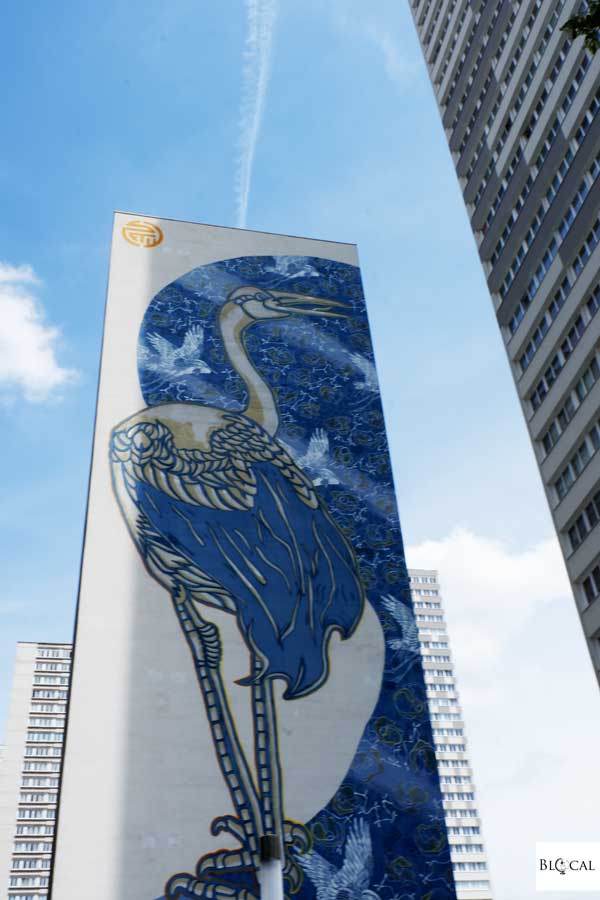 A graffiti artist originally from Vitry-sur-Seine (a Paris' suburb boasting superb street art), Stew is well known for having painted the external facade of the legendary "Tour Paris 13". His complex and detailed graphics are inspired by Japanese culture and prints, as we can see in "Heron Bleuté" (2014), located at the heart of Paris' Asian district.
Street Art in Paris > Tristan Eaton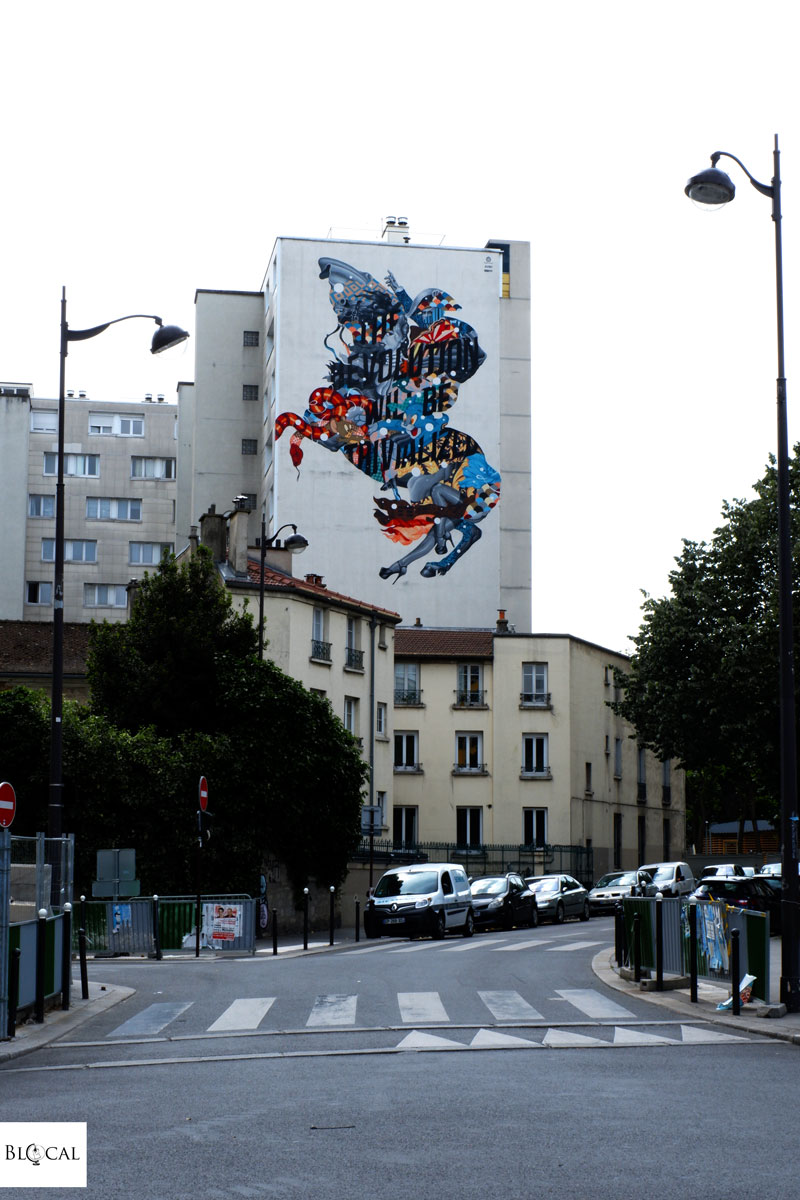 American street artist Tristan Eaton brought his pop art imagery to France for the first time in 2014. Drawing from sci-fi, cinema, advertising, and comics, his multiple collages are characterized by a variety of textures. "The revolution will be trivialized" was painted during Paris' White Night in 2014. It is based on Jacques-Louis David's iconic "Napoleon crossing the Alps", and was built by juxtaposing seemingly unrelated images, such as the face of an actress, Tom and Jerry, a horse, and a pin-up.
Street Art in Paris > Vhils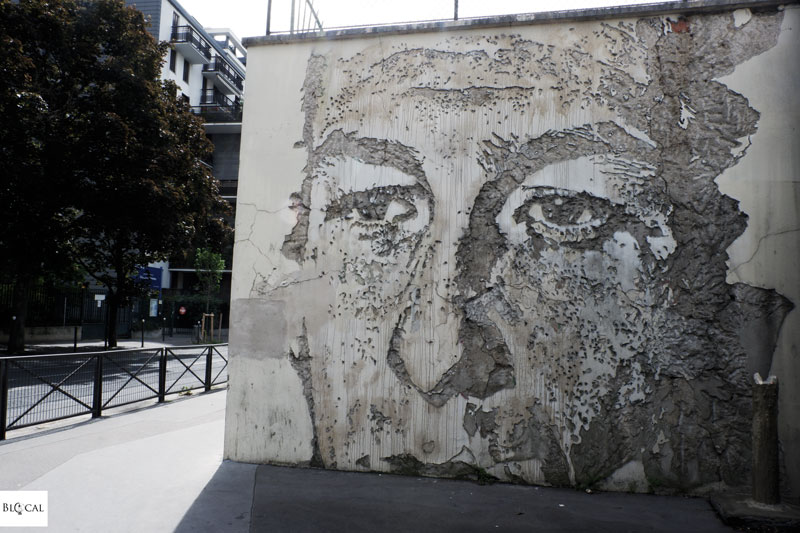 Portuguese artist Vhils was invited to Paris by the Magda Danysz gallery in June 2012. He realized one of his typical portraits, where he 'takes' from the wall rather than 'adding' to it. His carving technique, which results in stunning portraits between lights and shadows, made him famous worldwide.
Street Art in Paris > Yseult Digan a.k.a. YZ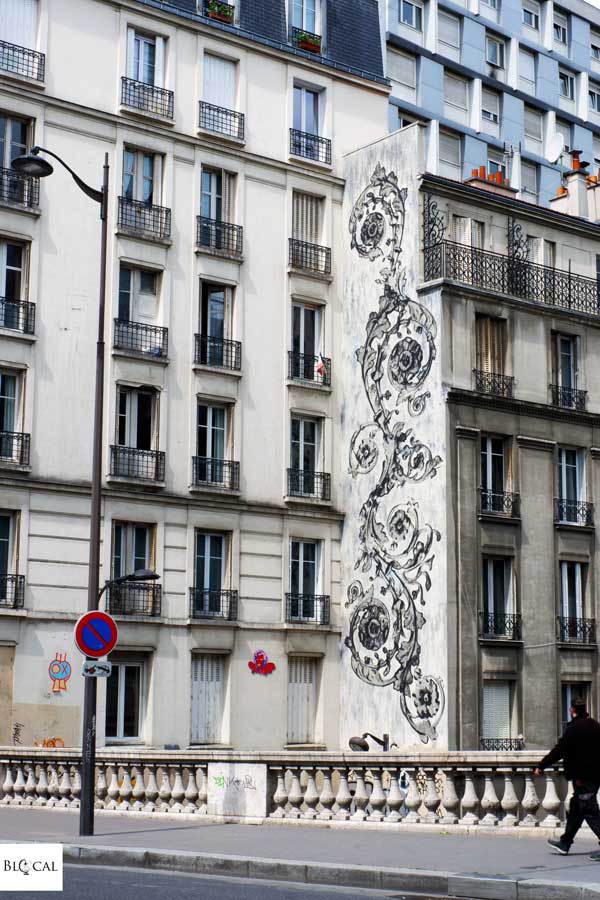 Best known as a socially engaged poster artist, for Paris' White Night in 2014 Yseult painted a floral composition. Simple and monochromatic, "Ornament" still shows the artist's characteristic poetic fragility.
Bonus Track: Vapski Graffiti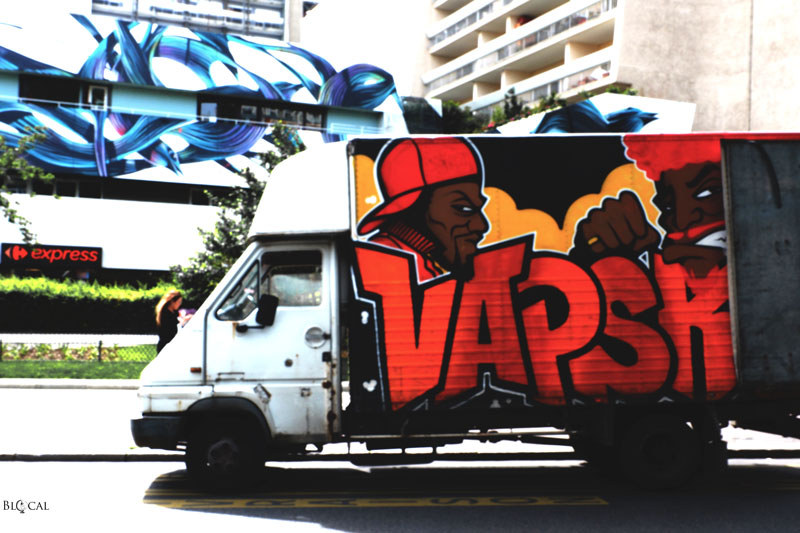 While street art hunting around Paris' 13th district, I couldn't help but notice several vans that were painted over by local graffiti artist Vapski, who represents the crew MDC. Originally from Bulgaria, Vapski has been painting colourful pieces on Paris' van-trucks since 2000.
Find these (and many more) murals in my Paris street art map!