THE ABANDONED MENTAL ASYLUM AND 'SAN FINOCCHI' CEMETERY IN VOLTERRA
After wasting one whole month to get in touch with the ASL5 local hospital (the local organisation that is still responsible for the former psychiatric complex on Volterra hill) and collecting a series of rejection protocols, I decided to visit the abandoned mental asylum on my own.
Opened in 1887, the hospital started on a relatively good path: its "guests" worked in different fields -from gardening to archaeological digging (their help was crucial to bring to light the Etruscan theatre of Volterra)- both to feel productive and to sustain the hospital. But the no-restraint therapy slowly shifted into a military regime: patients were abused and mistreated, and the place became infamous for its use of electroshock and other harsh treatments. Moreover, among the patients internalised, there were also some orphan kids who didn't have a more suitable place to stay and happened to grow up in such a disconcerting atmosphere.
My exploration was evocative of particularly strong emotions, definitely something I will remember for a long time (in my nightmares as well). The ghostly and disconcerted atmosphere shook me emotionally, my heart was beating fast and my head spinning even more quickly, and every little rustle (obviously made by myself) was giving me a start.
I peeped into broken windows and walked between wheelchairs and iron beds covered with tumbleweeds and rust (which -by the way- kinda looked as they were theatrical props). I somehow could empathise with those who were locked inside this place and this uncomfortable feeling lasted for many hours after the urban exploration.
A bit depressing, maybe, as in the small, green cemetery down the valley -now abandoned as well- are buried all patients whose bodies weren't claimed by anyone.
VOLTERRA
Being there off-season, I experienced an extremely relaxed and calm Volterra where all bars, restaurants and shops close in the evening: it was kind of challenging to find a place to go for a beer.
THE COPPER MINE IN MONTECATINI VALDICECINA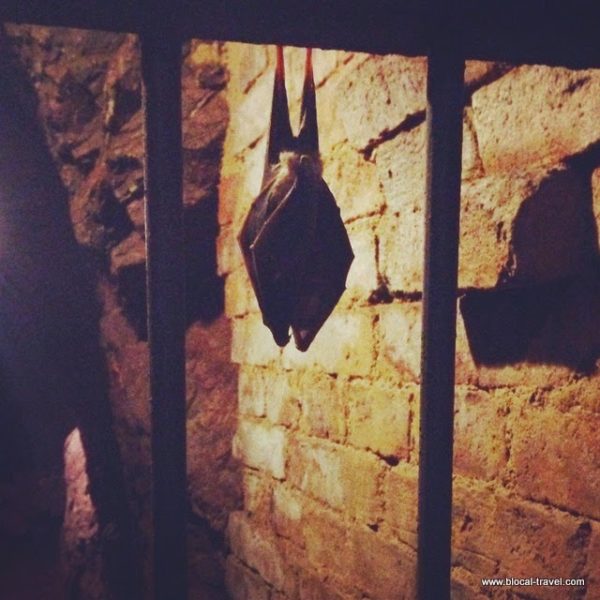 Hallo!
MONTECATINI VALDICECINA
After the underground tour of the copper mine, I visited the tiny village of Montecatini Valdicecina, which has the traditional characteristics of a medieval village. At the Pretorio Palace, a small building from the 1300s, you can find the documentary section of the Mine Museum.
From here it's easy to understand that the Cecina Valley lies in the centre of Tuscany, which makes it the perfect spot to stay and plan day-trips for visiting many areas of interests, seaside included.
Volterra & Valdicecina || more information:
Black & White pictures of Volterra mental asylum
Volterra & Valdicecina – Tourist Information Point
More about Volterra here
Book your dinner at Volterra State Prison here
Directions:
Just the kind of information I would have loved to find on-line before my arrival (and trust me when I say that I've been looking for it all around the web…) 
PEEK THROUGH | You find both the abandoned mental asylum of Volterra and the former copper mine of Montecatini in my video "6 days in Tuscany…in 60 seconds"
Check out my 'Abandoned Italy' series!
You can hover over these (or any image) to quickly pin it!
////////// MORE ABOUT //////////