Searching for authenticity in Florence can be quite a hard challenge: averring that the town is overcrowded with tourists would be an understatement and the fact that I had screenings to attend at fixed times in the city center made my off-the-beaten-path exploration of Florence trickier. Moreover, that weekend I spent at the Balkan Florence Express film festival was exceptionally rainy, and so now and then I was forced to stop and shelter in some nice café.
However, between a screening and a Q&A panel, I managed to visit two cemeteries and to check out some street art.
I wish I had seen more spots but, as a matter of fact, Florence is a fantastic place to just wander through and bath in its beauty.
And so I just marveled at the iconic churches and got lost in the maze of charming, cobbled alleys that, on that rainy weekend, were reflecting the pale sunlight as if they were covered over with a silver carpet.
You can find al these spots in my Google Travel & Street Art Map of Florence
Off the beaten path Florence > Cemeteries
Cimitero Delle Porte Sante
This monumental cemetery was open in 1848 next to the Church of San Miniato al Monte, atop one of the highest points in the city, so it comes with a magnificent view over the town.
Walking past neo-gothic chapels and neoclassic sculptures, I couldn't help marveling at the odd mix of architectural styles that shapes the Porte Sante Cemetery.
Away from the touristy city center, this place feels peaceful and quiet, and it reveals a particular sort of dramatic beauty with every single stunningly ornate graveyard.
Here many notable Italians rest in peace, among which two children's book authors I love: Carlo Collodi, the writer of "The Adventures of Pinocchio", and Luigi Bertelli, who is well-known for writing "Il giornalino di Gianburrasca".
Cimitero degli Inglesi
This small, hilly cemetery is in the middle of Piazzale Donatello, an area that used to be rural at the time when the cemetery was founded.
Thanks to its location outside the city walls, the place was chosen as a burial site for not-catholic people but, as the city grew, this tiny cemetery has been absorbed into the town, and it now looks like an island of dead people.
Moreover, the fact that it is in the middle of a roundabout with cars driving fast all around it creates a striking contrast with the quiet atmosphere of the cemetery.
Street Art in Florence
Even if Florence isn't famous for its street art scene, there are still several spots worth checking out.
Murals by Jorit in Florence
Nelson Mandela Mural by Jorit in Florence
[Update 2018] Jorit painted a large-scale mural celebrating Nelson Mandela on the 100th anniversary of his birth. This large-scale street art project was commissioned by the Nelson Mandela Forum in Italy.
The mural is in Piazza Leopoldo, in the outskirts of Florence.
Read also: Interview with Italian street artist Jorit
Antonio Gramsci Mural by Jorit in Florence
[Update 2020] Jorit painted this stunning tribute to Italian Marxist philosopher Antonio Gramsci to celebrate the 130th anniversary from Antonio Gramsci's birth and the 100th anniversary of the Italian Comunist Party, which was co-founded by Antonio Gramsci.
The mural is in Via Canova 25/22, in the outskirts of Florence.
Murals by Bosoletti in Florence
[Update 2021] Bosoletti painted six large-scale murals next to each other in the Galluzzo neighborhood. Titled "Last Judgement", Bosoletti's murals are a homage to Dante. The murals are in a social housing compound in Via Corbinelli, Firenze.
Jef Aerosol street art in Florence
Among the smaller street art pieces in Florence's city center, my favorite artwork is the one by the French artist Jef Aerosol, located on Via dell'Orto just before the river. "Rock 'n Roll is here to stay" is one of the few works left from the urban art project "Finestra con vista" (= window with a view), which saw local and international artists realizing some street art on the blind windows in the city center back in 2014.
Clet Abraham street art in Florence
Still French but Florentine by adoption is Clet Abraham, well known for his ironic reinterpretations of road signs. By gluing his stickers on road signs all over the city, Clet plays with the rigidity of the rules and the anonymity of road signs, bringing playfulness, elements of surprise and smiles into the lives of passers-by.
Exit/Enter street art in Florence
Another protagonist of Florence's street art scene is Exit/Enter, whose stick men can be spotted all around the city. His art is genuine and pure, with the simpleness of the drawing catalyzing all the attention towards the meditative-ish message.
Blub Poster Art in Florence
Wandering around Florence city center you will likely stumble upon Blub's well-known 'series' "L'arte sa nuotare" (= Art knows how to swim), which features famous artistic figures, such as Botticelli's Madonna or Michelangelo's David, stepping off the museum's pedestal to enjoy a swim under water.
Street Art by Michelangelo in Florence
But the most ancient street art in Florence is by none other than Michelangelo! Carved into the wall of Florence's historic Palazzo Vecchio there is the simple outline of a man's face that Michelangelo himself realized on a dare and with his hand back-turned, according to the rumors.
Sottopasso delle Cure
For a street art immersion, I headed towards the Sottopasso delle Cure, an underpass connecting Via Don Minzoni with Piazza delle Cure.
This 'hall of fame' is (literally) an underground street art gallery entirely covered with graffiti and surveilled by Totò, the clochard who takes care of the underpass by cleaning and upkeeping its alleys.
Among my favorite works down here, there is a huge mural by Hopnn Yuri, which focuses on political and ecological issues, as it is typical for this artist.
A stunning mural by Basik and RUN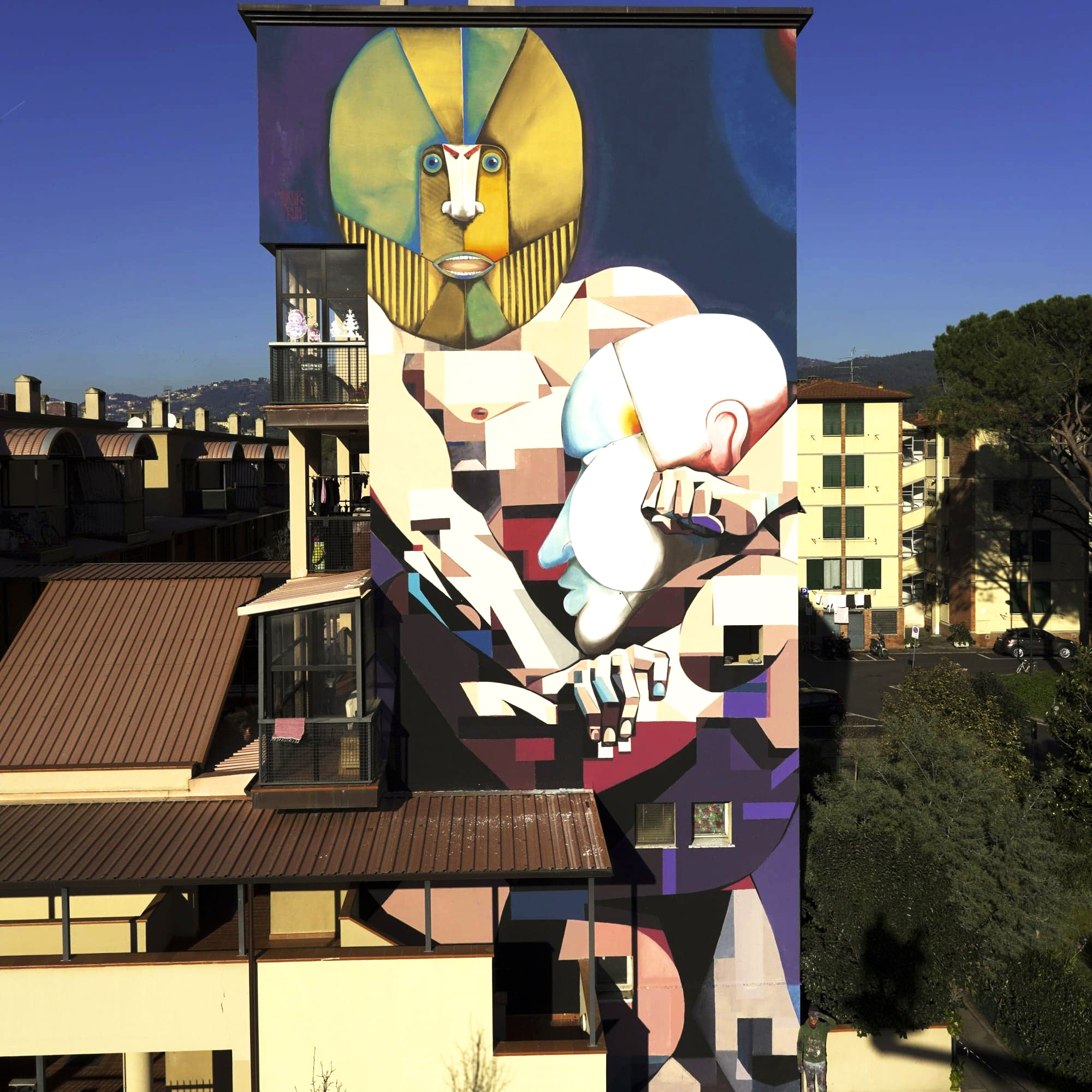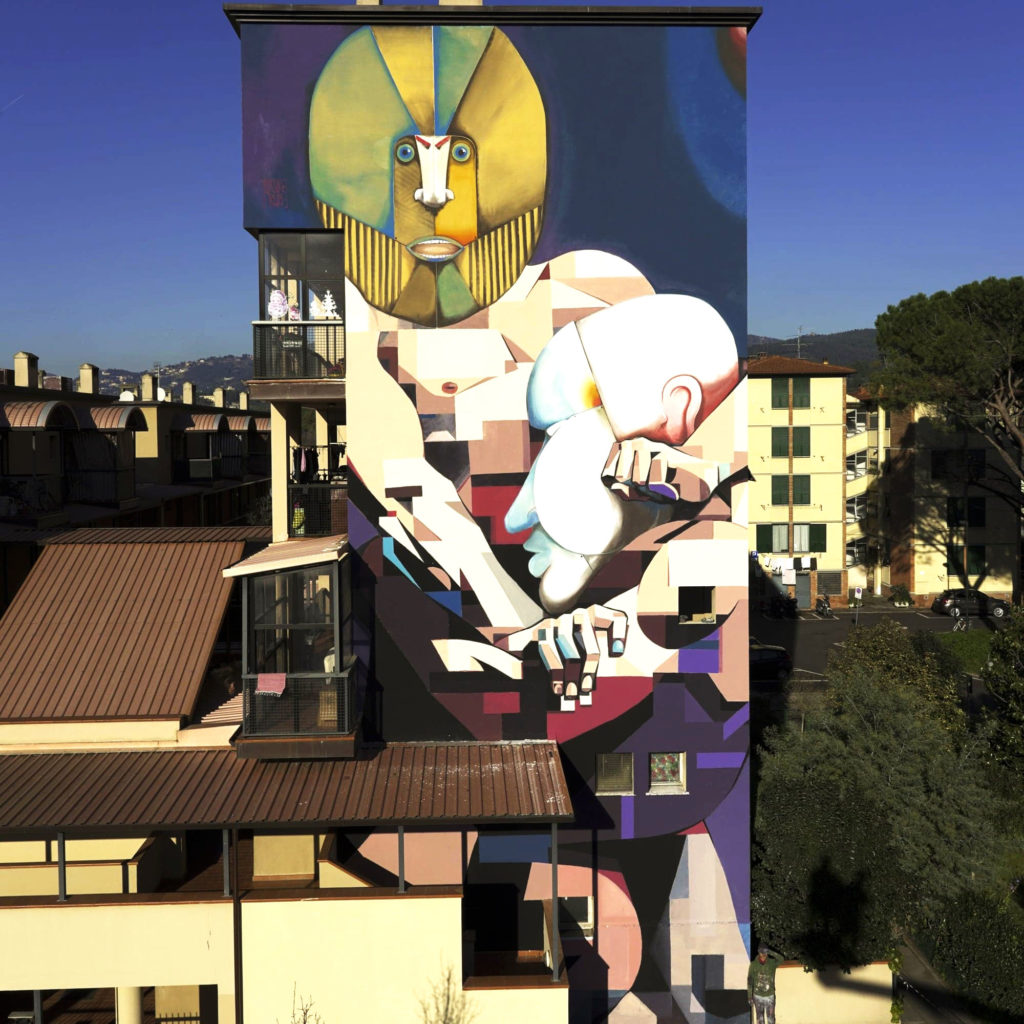 [Update 2020] Basik and RUN teamed up to paint a beautiful mural in Rovezzano neighbourhood, in the outskirts of Florence. The two street artists developed the given theme of "boxing" through a symbolic representation of "Confrontation / Clash".
Curated by Street Levels Gallery, the mural by Basik and RUN is in Via Rocca Tedalda.
More Street Art in Florence
Street Art at The Student Hotel
Street Art in Scandicci
Street Art in Sesto Fiorentino
Street Art in Isolotto (just google: Istituto Tecnico per il Turismo Marco Polo)
Urban Art Galleries and Graffiti Shops in Florence
Street Levels Gallery, Via Palazzuolo, 74AR
ARTiglieria, Via Cittadella, 4
B.East Gallery, Via di Mezzo, 40/A
Manifattura Tabacchi, Via delle Cascine 35
Ninotchka shop, Via dei Pandolfini, 29R
Florence Street Art Map
You can find these (and many more) murals in my travel and street art map of Florence:
Eating out in Florence
The Sant'Ambrogio food market bustles with locals browsing around stalls offering fresh food and other goods. This market is way more authentic than the central market. Here I stopped at "Il Trippaio" to try some traditional street food, such as the lampredotto (calf's fourth stomach boiled in a broth of herbs and tomatoes) with beans, which was greasy and spicy as I expected it to be. The neighborhood itself is worth a visit for its genuine atmosphere: grab a sandwich at the food market and enjoy it while indulging in people-watching from the church steps in Piazza Sant'Ambrogio!
Soul Kitchen is a trendy, cinema-themed restaurant in the city center, where locals hang out during their lunch break or for the Aperitivo.
Procacci is an iconic shop in downtown Florence, which is well known for its wide selection of truffles. Here I had a glass of red with a couple of delicious truffle sandwiches: the classic one and the one with truffle and fegatini, the traditional chicken liver paté.
Brac is an independent bookshop with a vegetarian restaurant in it. Here I had a tasty pasta with pesto and spicy curry sauce and a red cabbage salad.
L'Appartamento is a residence in the city center turned lovely café for youngsters to sip coffee or drink wine. I went there to enjoy a live music concert and came back on the next day to work from my laptop, finding a pleasant, laid-back atmosphere on both occasions. Moreover, the main room hosts a huge mural by Hopnn Yuri!
All'Antico Vinaio is one of the best-known places in Florence to go for a tasty sandwich, and pair it with a glass of exceptional wine.
La Ménagére is a concept store, a flower shop, a café and a restaurant, so basically a meeting point for all Florentine hipsters.
La Milkeria is a cozy café that smells of vanilla. I loved the retro furniture, the colorful tiles and the tasty crepes.