Athens, seen from above, is a white ocean of roofs meeting the Mediterranean sea somewhere at the horizon.
Athens, street view, is a very colourful town: posters, installations, kiosks and a lot of street art (a lot, really a lot!), including several large outdoor murals. Some of them were made possible through various creative projects set up by the Athens Municipality (especially before the Olympic Games of 2004), which involved some well-known local street artists, many of whom are from the Athens School of Fine Arts (which runs a programme of street art studies, by the way).
If this effort to beautify the city is the sparkle that transformed Athens' street art from a niche subculture into something the whole town can relate to, the economic crisis is the fuel that made Athens' street art grow and evolve. Nowadays the scenario is that of a town full of colour-washed energy: street art hunting around Athens can reveal both large, colourful and majestically painted murals and also rebellious, more spontaneous and protest-driven street art, sort of "social comments" on walls; and the most amazing thing is that often the same talented street artist is making both.
Unlike other towns, street art in Athens is particularly common to be found downtown, especially in the neighbourhoods of Exarchia, Psyrri, Anafiotika and Gazi, which is very close to another area full of street art: Metaxourgeio district.
Athens Street Art Map:
Download my Athens free google map and start planning your alternative trip!
Do you want a personalised travel itinerary based on your interests and passions?
Then check out my concierge service ;)
Athens street art guide > METAXOURGEIO
Right from my first afternoon in town, Metaxourgeio became my favourite district of Athens: it started out as an industrial district at the beginning of the 19th century and, after a long period of abandonment, Metaxourgeio is now becoming the artsy neighbourhood of Athens. But although Metaxourgeio is currently reinventing itself, a somewhat grungy heart still beats beneath its art galleries and brand-new hip restaurants.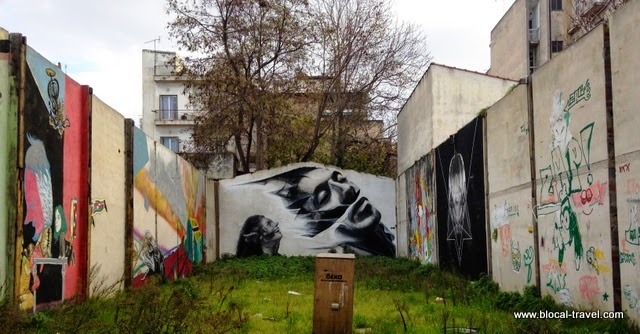 Many people tried to discourage me from entering Metaxourgeio and yes, there are some drug users around who may not like you taking pictures while they are doing their business… but, apart from that, Metaxourgeio is an area full of creative energy and is definitely worth a visit, especially if you are into street art. An area to visit right now, before it gets gentrified.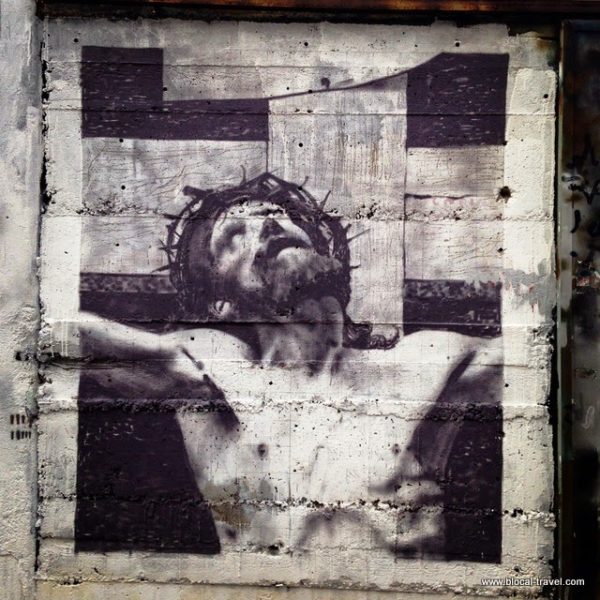 While the redevelopment of other districts in Athens -such as Psyrri and Gazi- was due to new laws encouraging the establishment of night clubs and restaurants, Metaxourgeio's transformation owes a great deal to the efforts of many individual artists, bar owners and cultural organizations, such as The Breeder Project and the Rabbithole Theatre (both worth a visit, not least for the great street art covering their buildings).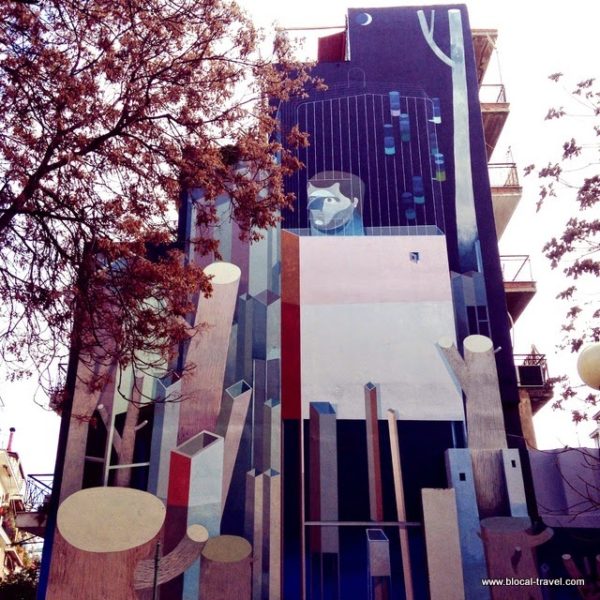 Another great feature of the hood is the village-like atmosphere: have a coffee on Avdi Square or a walk along the cobbled pedestrian alleys and you will enjoy a relaxed atmosphere you are unlikely to find anywhere else in Athens.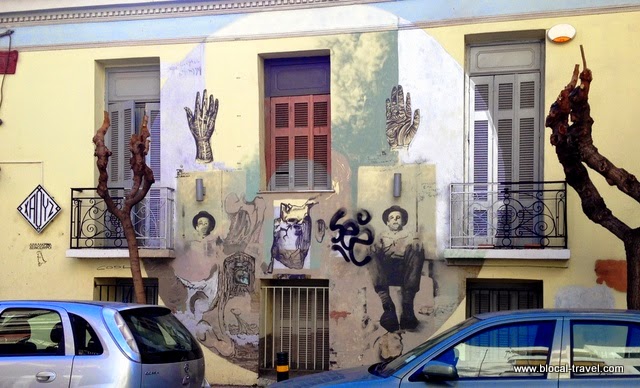 In Metaxourgeio I found a mural by my beloved Borondo and I had my first glimpse of INO's art, and he immediately became my favorite street artist from Athens.
Here is an unpretentious map of my favorite street art in this district, but be sure to also wander aimlessly around Metaxourgeio and explore it far and wide: I bet this area will surprise you! (and for an updated, interactive map of street art in Athens, you can download my free street art google map of Athens!)
Street Art Athens > PSYRRI
The Psyrri area had a make-over before Olympics games in 2004, transitioning from a neighbourhood with a dangerous reputation and a criminal past to a gentrified district full of tastefully designed bar and restaurants, becoming maybe the most fashionable and trendy area in the centre of Athens.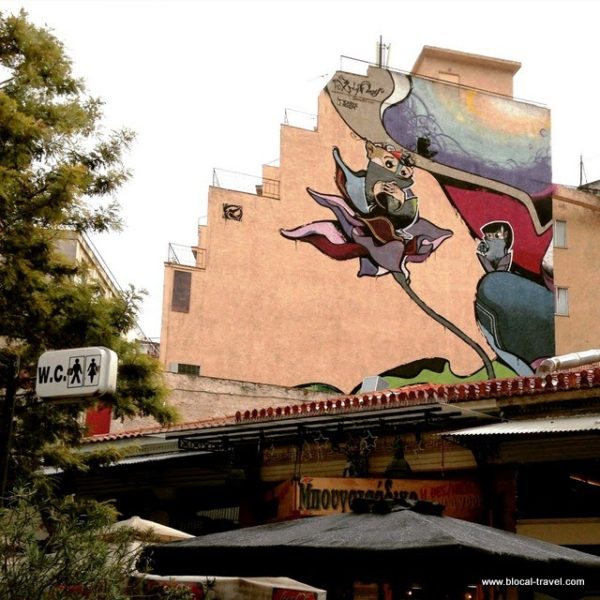 But, even if the Municipality of Athens made it an area designated for nightlife, wandering around Psyrri during the day you will discover authentic craftsmen's stores (a testimony to its past as a working-class neighbourhood full of leather workers' shops and small factories) and you will come across beautiful large murals.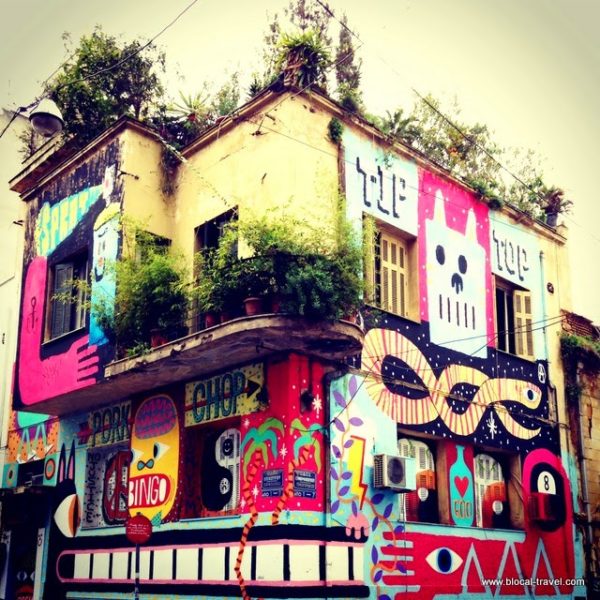 Psyrri is a very colourful neighbourhood where you can find great street art and some interesting art galleries as well (such as AD gallery).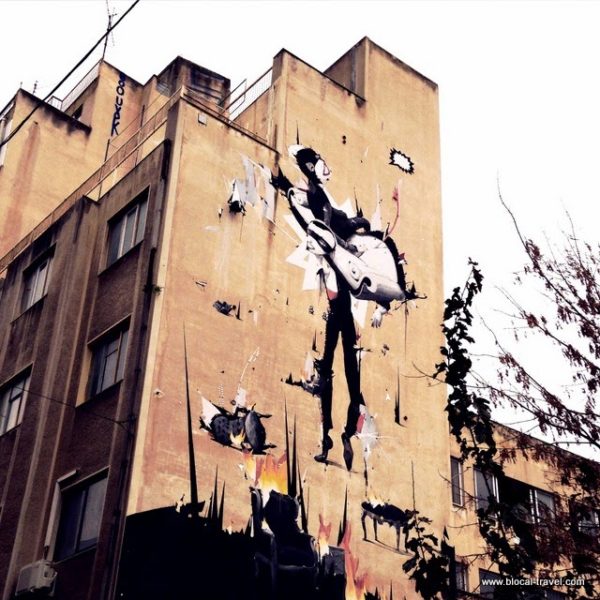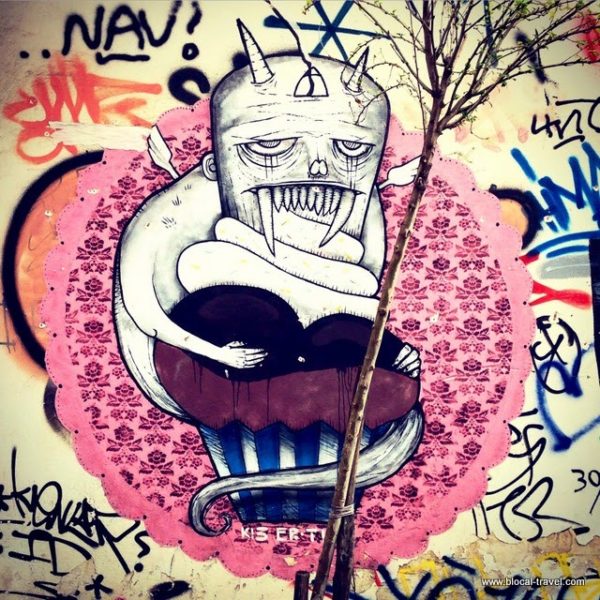 Look for Alexandros Vasmoulakis' and Vangelis Hoursoglou's art: they are both from the pioneering generation that brought public art into the streets of Athens for the very first time.
Here is a street art map of Psyrri :) (for an updated, interactive map of street art in Athens, you can download my free google map!)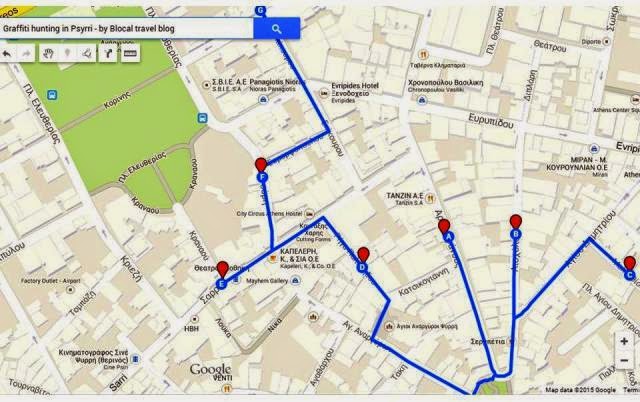 Street Art in Athens > ANAFIOTIKA
Nestled under the Acropolis, Anafiotika is a village-like neighborhood of few small typical Greek houses which make you feel as if you were on an Greek island. But the real surprise is that within Anafiotika's maze of narrow streets and stone houses you find a lot of street art!
Despite the fact that almost all street artists you find in Anafiotika are from France (go figure), the first piece I found at the beginning of my hunt is one of Dimitris Taxis' poetical and melancholic characters.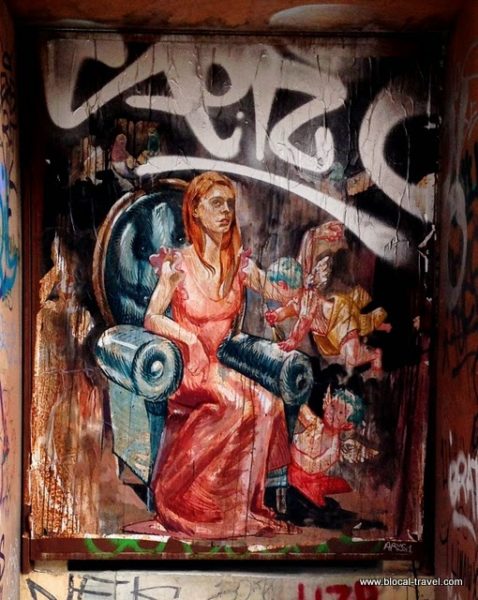 A few steps forward, I stopped to look at the panoramic view over Athens' roofs and I was surprised to see a Gregos' mask stuck on the corner of a building, which reminded me that the French artist spent a couple of years in Athens when he was younger and that he still has a strong bond with the town.
I entered Anafiotika's maze from a narrow alley hidden between Prytaniou and Stratonos street all covered by LOAF's artworks, whose bright colours look even brighter on those Greek-white walls.
As I had the farsightedness to venture close to the Acropolis on 1st of January morning (when everybody else was still recovering from NYE and all souvenir shops were firmly closed), I had the village-like atmosphere of Anafiotika all to myself; I was amazed by the authentic charm this small area of Athens still retains, hidden somewhere within its characteristic tiny houses, and I meditated on the fact that this very touristic and very central hood has a lot of street art! For some reason, this still seems surprising to me: I've always found street art in outer areas (the further from the historic centre, the better) but Athens definitely breaks this rule.
Here is my street art itinerary around Anafiotika (…and that's the closest I got to the Acropolis!) (for an updated, interactive map of street art in Athens, you can download my free street art google map of Athens!)
Street Art Athens > GAZI
Gazi is the neighbourhood developed around the former gas factory, which was transformed by the Municipality of Athens into a trendy cultural centre (Technopolis).
The Municipality also designated Gazi as a night-life district and the area is now full of clubs and restaurants (as seen here).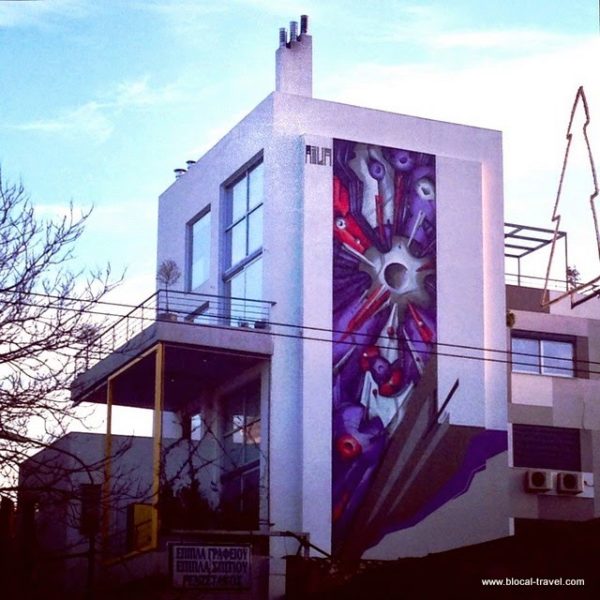 Street art played a great role in this transformation: you can find many large murals along Pireos street by INO, STMTS and many others, while, if you venture as far as Konstantinoupoleos street, you will see a few windows of Borondo's "Shame" left intact, a work-on-glass originally showing eight tormented, faceless and naked bodies engraved majestically.
For some more street art head to the southern and western exterior walls of ILPAP, the bus depot, beside the Kerameikos archaeological area.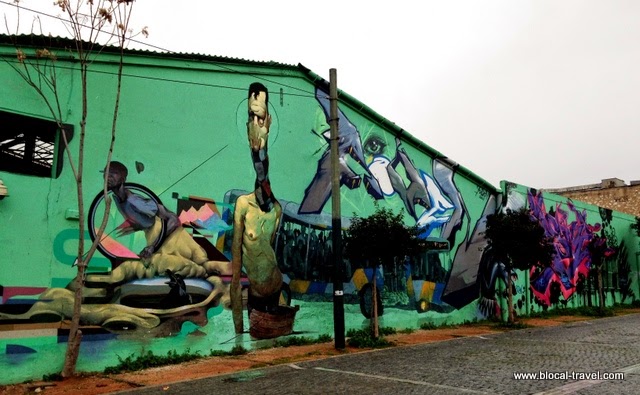 Here is the street art itinerary around Gazi. For an updated, interactive map of street art in Athens, you can get my free street art google map of Athens!
Athens street art guide > EXARCHIA
As I said last time, I chose to stay in Exarchia during my week in Athens, despite many locals trying to scare me away from this hood, a "stronghold of dangerous anarchists" according to many. But I figured that beginning every day from Exarchia's colourful streets would allow me to explore local street art far and wide, as far as the last hidden pedestrian alley. :-)
Exarchia's walls attract both internationally renowned street artists -such as Borondo and INO– and rebellious kids coming from Athenian suburbs with a spray can in the jacket.
Some very colourful spots you really shouldn't miss are the Polytechnic, the Alexandros Grigoropoulos memorial (a shrine to the 15-year-old guy shot dead by a policeman in 2008), the autonomous park at the intersection of Navarinou street and Zoodochou Pigis street (a tiny park which was meant to be turned into a parking lot but was taken over by activists and turned into a garden instead, on the cry of "their parking, our park") and one more "autonomous area" at the end of the stairs on Koundouriotou street.
Besides the street art, what I liked about Exarchia is the communal spirit, a sort of neighborhood pride and mutual self-help, or -as my Greek friend Nikolas put it- "we are all anarchists, when there is the need to", meaning that even in other parts of the city Athenians are sympathetic with the social and political fights taking place in Exarchia.
The hood is inhabited by students and politicised youth, left-wing movements and intellectuals, a pretty interesting fauna mirrored by a bunch of pretty interesting shops and alternative businesses such as independent bookshops, bo-ho cafés, vinyl shops, co-ops and social enterprises.
You are now entering free Exarchia ;) For an updated, interactive map of street art in Athens, you can download my free street art google map of Athens!
Bonus Track: NEOS KOSMOS (and beyond!)
Still on 1st of January, from Anafiotika I walked all the way to Neos Kosmos, going through all those underrated residential neighbourhoods behind the Acropolis where tourists never go, such as Koukaki and Makrygianni. My destination was the Onassis Cultural Centre, where INO painted a large outdoor mural with the image of a woman's face on crushed paper.
Wandering around the inner part of Neos Kosmos, which –by the way- I found to be a very "Balkan" area of Athens, I arrived as far as Kasomouli street, where I spotted a beautiful and very colourful large mural by A. Kouvari (painted by M. Anastasakos and Kretsis Crew).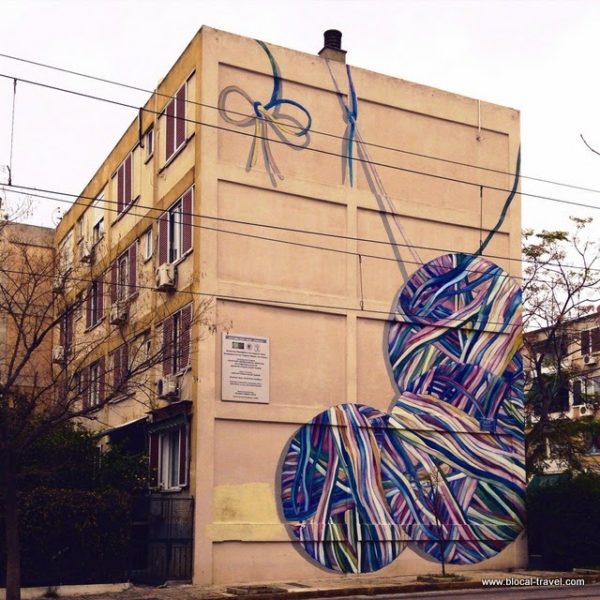 This mural was painted in 2011 as part of the project "Art & public space – paintings on the buildings of Athens" by the Athens School of Fine Arts and the Greek Ministry of Environment, Energy and Climate Change. Two other large murals were also realized thanks to this project and they are located in two completely different areas of Athens but, as this is already a "bonus track", I will include them here. ;-)
The first is the one I used as an opening picture and it speaks against Greek economic crisis. It's an artwork by P. Tsakonas,located on Piraeus street, and it is based on Albrecht Durer's drawing "Praying Hands" (1508).The other one, again from 2011, is near Syntagma square: "No Signal", from an artwork by P. Sklavenitis, painted by M. Anastasakos and Kretsis Crew.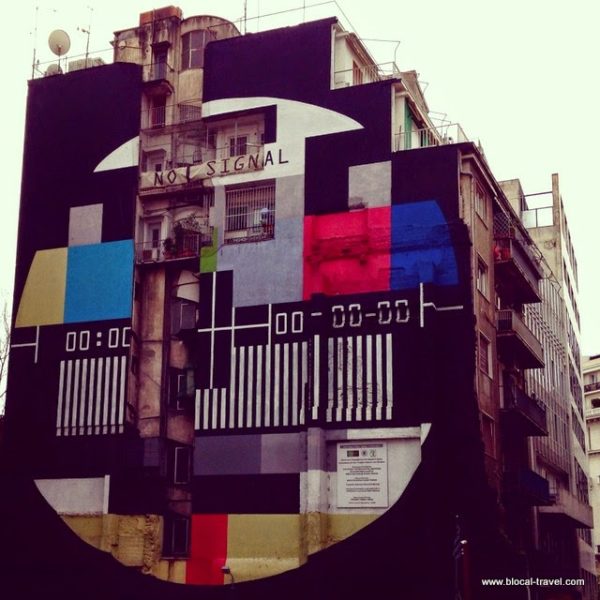 Hunting for street art was one of my favourite activities in Athens, not only because I love street art but also because, as INO put it in an interview for the New York Times, "if you want to learn about a city, look at its walls".
Athens Street Art Map:
Find these murals and many more cool things to see in Athens on my Athens Travel and Street Art Map!