Athens, street view, is a very colourful town: posters, installations, kiosks and a lot of street art (a lot, really a lot!), including several large outdoor murals.
Some of them were made possible though various creative projects set up by the Athens Municipality (especially before the Olympic Games of 2004), which involved some well-known local street artists, many of whom are from the Athens School of Fine Arts (which runs a programme of street art studies, by the way).
If this effort to beautify the city is the sparkle that transformed Athens' street art from a niche subculture into something the whole town can relate to, the economic crisis is the fuel that made Athens' street art grow and evolve.
Nowadays the scenario is that of a town full of colour-washed energy: graffiti hunting around Athens can reveal both large, colourful and majestically painted murals and also rebellious, more spontaneous and protest-driven street art, sort of "social comments" on walls; and the most amazing thing is that often the same talented street artist is making both.
Unlike other towns, street art in Athens is particularly common to be found downtown, especially in the neighbourhoods of Exarchia, Psyrri, Anafiotika and Gazi, which is very close to another area full of street art: Metaxourgeio district. 
Athens street art guide > METAXOURGEIO
Right from my first afternoon in town, Metaxourgeio became my favourite district of Athens: it started out as an industrial district at the beginning of the 19th century and, after a long period of abandonment, Metaxourgeio is now becoming the artsy neighbourhood of Athens. But although Metaxourgeio is currently reinventing itself, a somewhat grungy heart still beats beneath its art galleries and brand-new hip restaurants.
The Psyrri area had a make-over before Olympics games in 2004, transitioning from a neighbourhood with a dangerous reputation and a criminal past to a gentrified district full of tastefully designed bar and restaurants, becoming maybe the most fashionable and trendy area in the centre of Athens.
Athens street art guide > ANAFIOTIKA
Nestled under the Acropolis, Anafiotika is a village-like neighborhood of few small typical Greek houses which make you feel as if you were on an Greek island. But the real surprise is that within Anafiotika's maze of narrow streets and stone houses you find a lot of street art!
As I had the farsightedness to venture close to the Acropolis on 1st of January morning (when everybody else was still recovering from NYE and all souvenir shops were firmly closed), I had the village-like atmosphere of Anafiotika all to myself; I was amazed by the authentic charm this small area of Athens still retains, hidden somewhere within its characteristic tiny houses, and I meditated on the fact that this very touristic and very central hood has a lot of street art! For some reason, this still seems surprising to me: I've always found street art in outer areas (the further from the historic centre, the better) but Athens definitely breaks this rule.
Athens street art guide > GAZI
Gazi is the neighbourhood developed around the former gas factory, which was transformed by the Municipality of Athens into a trendy cultural centre (Technopolis).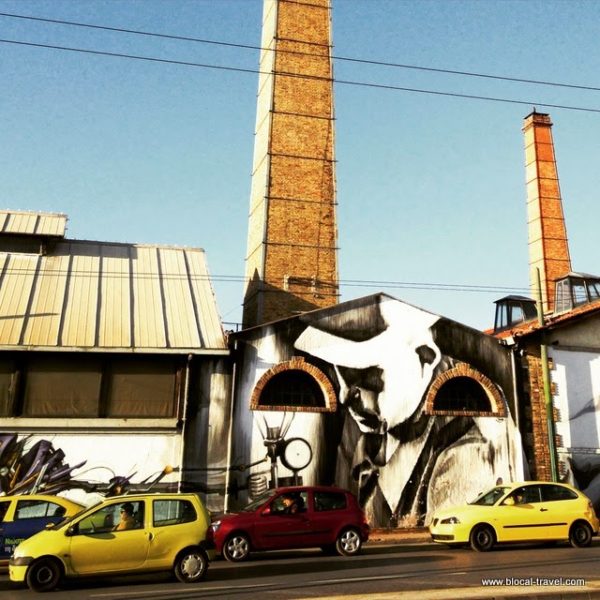 Technopolis, the former Gas Factory of Athens
The Municipality also designated Gazi as a night-life district and the area is now full of clubs and restaurants (as seen here).
Athens street art guide > EXARCHIA
BONUS TRACK: NEOS KOSMOS (AND MORE!)
Find these murals and many more cool things to see in Athens on my Athens Google Map!
UPDATE 2016: NEW WALLS, NEW SPOTS! 
https://www.facebook.com/media/set/?set=a.1281452468584028.1073741834.212419292154023&type=1&l=a17a443999
SalvaSalvaSalvaSalva
SalvaSalva
SalvaSalva
SalvaSalva