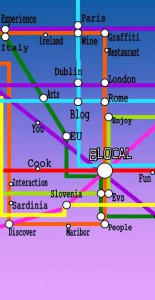 Cultural manager, world foodie and budding travel blogger, I'm passionate about arts, food and people from different cultures. Born and raised in the most touristic district of the world (the area surrounding the Vatican City State), no wonder I'm terrified of a tourist like I've seen a UFO! Huge buses stocked in the middle of the streets, noisy families eating defrosted pizzas with plastic cutlery, overcrowded streets where hundreds of pedlars sell small Coliseums in mixed -as well as unconvincing- colours and patterns… my childhood in Rome nearly traumatized me!
As soon as I've been allowed to go out alone, I bought a guide of Rome and tried to experience the same places all those weird people were visiting, but in a totally different way. Taking my own time to visit each and every site indicated on my guide, I found myself sketching the façade of a building or writing down the imaginary story of someone who could have lived there many centuries before, while the UFOs were getting the lead out, popping off their huge buses and popping on again few minutes later. What those tourists didn't get was that my town is a huge and colourful kaleidoscope, changing day by day, and I was grateful I could look at it enough time to appreciate the change of its shapes without having to hurry somewhere else.
Discovering Rome not only taught me many things about the town itself, but it also taught me a different way of travelling, of getting in touch with the soul of a place, with its personality and with its inhabitants. That's the spirit I've kept in the following years while moving to London (UK), to Madrid (Spain) and then to Dublin (Ireland), coming back in Italy to finish my studies in Bologna and moving abroad again to a little village in Slovenia from where –two years ago- I came in Turin (in the north of Italy, close to the border with France).
Soon I will leave again; I still don't know where I'll go from here, but what I know is that I'll look at that place with a not tourist eye.