Originating from the Netherlands and creating art in Norway, Miss.Printed has made a name for herself as an artist who bridges the gap between collage, photography, and street art. Through her artistic practice, which has been deemed "Locative Collage", Miss.Printed creates small paper collages and displays them in a natural setting to emphasize the narrative of her work.
I had the pleasure to encounter Miss.Printed's little figurines in the streets of Aberdeen, Scotland, during the world-leading street art festival Nuart Aberdeen. On that occasion, I sat down with her and talked about her art practice, the widespread community of collage artists, and the impression that collage art is considered a craft by most because many practitioners are women.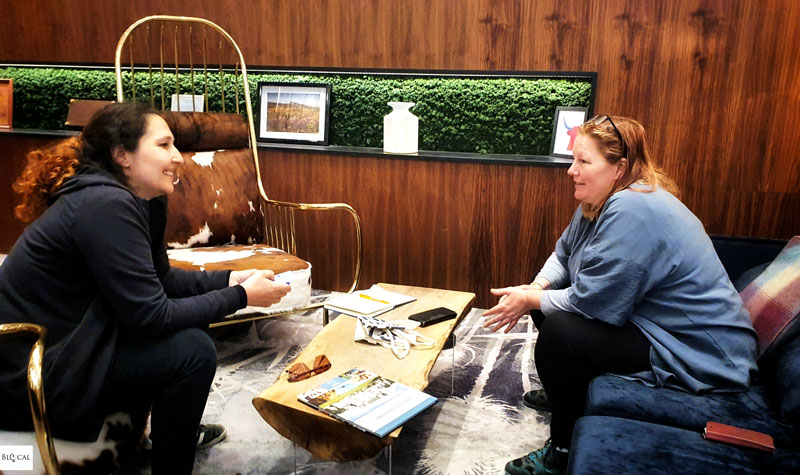 "When I started, I noticed that nobody dared to tell anybody that they were doing collages, because collage art wasn't seen as high art, more like a craft -like every kind of artistic outlet associated with women. Now, collage art is getting the attention it deserves, it's beginning to be considered as an actual art form."

Miss.Printed
Exploring the realm of mixed media, Collage Art is a way for people -myself included- to have fun and express themselves through visuals. It involves combining different elements to form one unique image that conveys something significant. This interesting form of visual art has its roots in the early twentieth century and can include not just paper collages but also painting and drawing.
At Nuart Aberdeen 2022, I had the pleasure to meet collage artist Miss.Printed, who kickstarted a relatively new and niche genre of collage art: Locative Collages.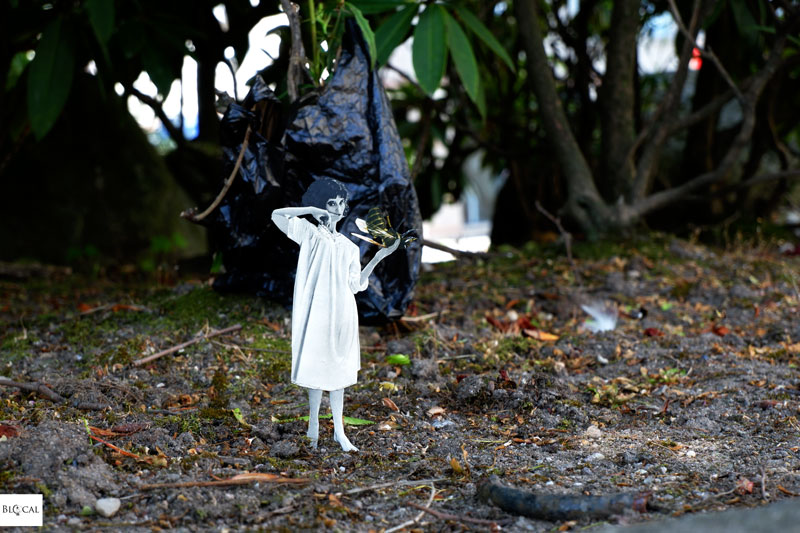 Creating Locative Collages is a form of art that consists of making and photographing miniature paper collages in outdoor locations. This often produces a striking contrast between the natural beauty of nature, and the gray structure of urban settings -even grayer in Aberdeen, which is known as the Granite City. It is a way to bring vibrancy to a sleepy environment while expressing one's poetry through art.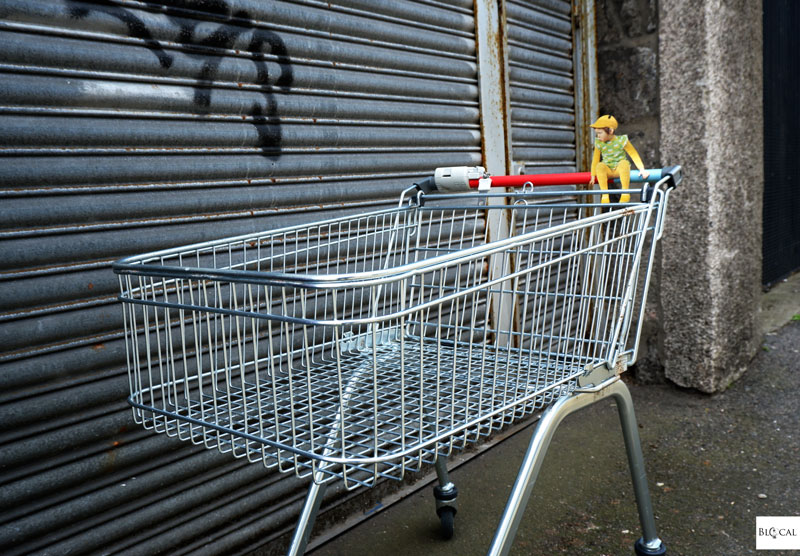 Miss.Printed has worked with Locative Collages since 2010. Exploring the natural elements of the environment, Miss.Printed carefully crafts collages on location, no matter how much Mother Nature throws her way. She takes paper elements and incorporates them with their predators; water, fire, snow, wind, and sky. And it's within a metropolitan backdrop that she leaves behind her pieces for onlookers to observe and contemplate.
Besides adding elements to the narrative, the locations chosen by Miss.Printed for her figurines are very expressive -although, at a first glance, they might look just regular corners, the kind of spots that we overlook on our daily journey to the office.
"The location is crucial and, sometimes, it's the element that comes first. I might find a particular corner interesting, and then go home and start browsing my old magazines to find the perfect figurine to fit it. The light is very important, too: it should be coming from the right direction, otherwise the picture won't work."

Miss Printed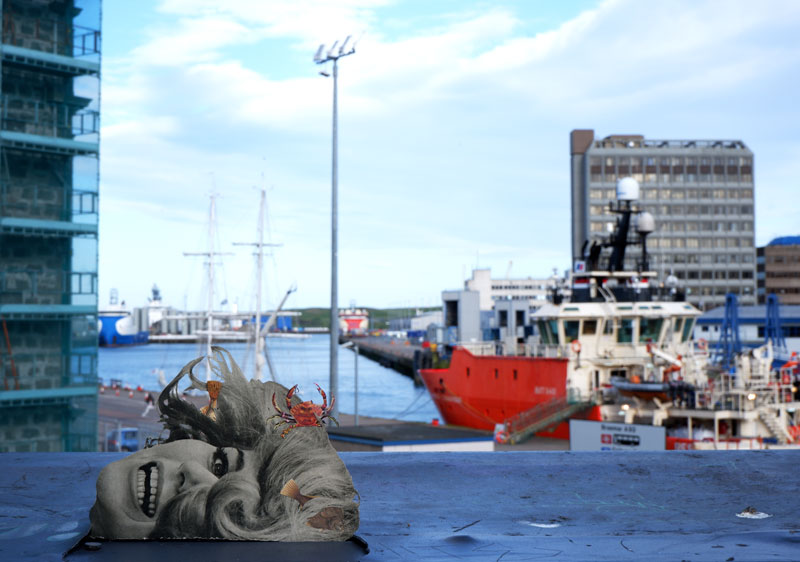 Another characteristic is the visibility of the spot. The artist is looking for interaction with the passers-by, to the point that, sometimes, she operates in daylight, to be seen and start a conversation -either about her art or the topic of the artwork she is staging at that moment.
Miss.Printed's artworks are often about topics she is angry or concerned about. For example, she placed around many birds to stress that 40% of bird species have disappeared. Other figurines interact with trash on the streets, speaking against pollution.
Such messages grab the passers-by's attention thanks to the surprise that can arise from her tiny artworks, as locative collages aren't so widespread. Miss.Printed still hasn't met anyone else doing the same thing. The journey that led her into it it's -for sure- serendipitous:
"I had no intention to be a street artist, or an artist whatsoever. Back then, my very good friend Mihelma lost the big love of her life: her partner and the father of two small children. I had just moved to another country and had a baby; I felt I was a bad friend because I was away and couldn't help her with her loss. So I started making postcards for her -because I couldn't draw, nor do embroidery or any fine arts whatsoever, but I could use the scissors. I started sending her small collage postcards, with our kind of humor. One day, I was on a holiday in northern Norway and I didn't have the material I used to create my postcards, so I just made a small figure, placed it outside, and took a picture of this new setting. I liked it so much that I left it there, hoping that someone would stumble upon that little world I had just created there."

Miss.Printed
Since then, Miss.Printed has left many papercuts behind, amusing all those who incidentally stumble upon these story fragments. She has had several exhibitions in Norway, the UK, and the USA. In August 2016, she opened The Scandinavian Collage Museum. She is the founder of The Collage Club, an international group of collage artists.
"In 2016, I launched the collage club: it's a group of 57 collage artists working with the same book. We pick one book per year, and then we pick one page of it every week. All participants will then create a collage artwork starting from the same page, of the same book. They have to do it and share it on Instagram by the end of the week -every week. For me, this is an amazing playground: my works for the collage club aren't outstanding, but that's how I experiment with new things and, most of all, interact with the community of fellow collage artists worldwide."

Miss.Printed
Miss.Printed tells me there's a huge, strong-knit community of collage artists all around the world, a community made mostly by women. Nevertheless, when a collage piece is recognized as artwork and showcased in a museum, that piece is very often signed by a man. That's even the case at the Aberdeen Art Gallery, which hosts one collage artwork by Matisse.
"I definitely meet more female artists doing collages than men. That's also why it is not respected as much because all the female art forms are seen as crafts. The ones who got famous with collages are men, even though they are a minority in the collage artists community."

Miss.Printed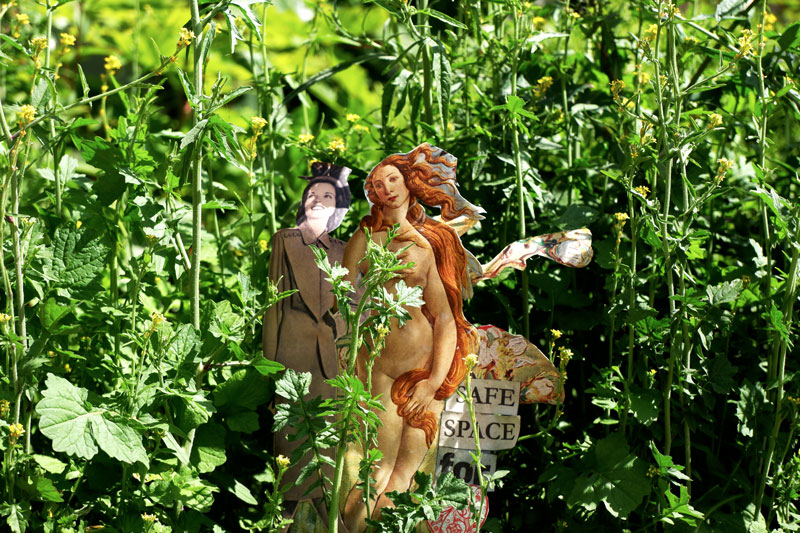 Miss.Printed is also the founder of The Collage Garden, a project which grows paper gardens all around the world.
"There is a large community of collage artists, it's a nice community of friendly people, and I love to run artistic projects that go across the community. For example, I'm organizing The Collage Garden: it's an open call project, a traveling project that sees collage artworks, which are mailed from all over the globe, pasted onto the same wall."

Miss.Printed
Among the many projects that Miss.Printed runs for the worldwide collage community, there's Februllage, which she organizes together with Rhed Fawell, the founder of The Edinburgh Collage Collective. After a long collaboration and online friendship, Miss.Printed and Rhed Fawell finally met in person at Nuart Aberdeen festival. Together, they held a two-hour collage workshop I had the pleasure to take part in. On that morning, I learnt how to create paper figurines that tell a story and -most importantly- how to find the perfect setting that will reinforce that story.
"I was expecting a lot of rain in Aberdeen, so I made some figurines that should be placed on water, but then there wasn't any water! So I created some Locative Collages that play around the festival theme, "Reconnect," and placed those around Aberdeen. I also made three face-in-hole boards to allow people to be part of a collage. The face-in-hole boards have a connection with the city: in the past, you could find many of them at Aberdeen beach, and along the UK coastline. People were sticking their faces in it for fun, while today you only see them for advertisement purposes -that's why I wrote the sentence 'your ad here' on it, while on the back of the board, I sprayed the sentence 'your art here'."

Miss.Printed
Of course, I had to stick my face into Miss.Printed's face-in-hole installations.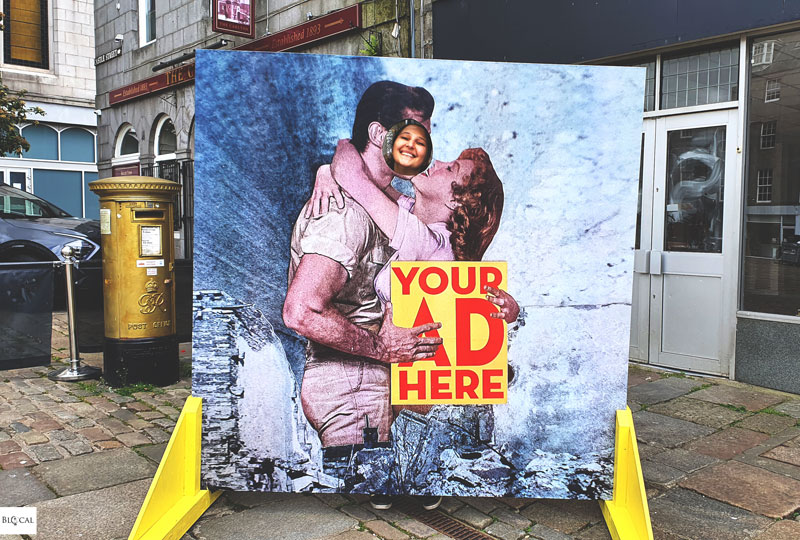 For me, Miss.Printed's interactive artworks are a perfect embodiment of the spirit of Nuart festival, and street art as a whole. They represent a call to action to reclaim and transform the urban public space into a playground where rules are challenged and personal expression is celebrated. With their playful yet powerful message, Miss.Printed's art serves as a poignant reminder of the importance of creativity, humor, and subversion in shaping our collective understanding of social norms and values. Her figurines, despite their tiny size, shout out loud, inviting us all to embrace our inner child and playfully question the status quo.