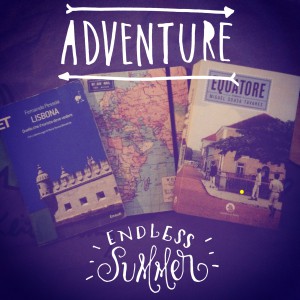 As I've mentioned in some of my latest posts, this summer began with a big and unsolicited change in my life. At first I tried to resist, but eventually I decided to go with it.
And so, I've now embraced the concept of change in travelling too and, this summer, I'm doing something completely different. For a change, you know ;-)
First of all, I won't be travelling solo but with two friends. Second, I won't go East as usual, but I am going West.
To the westernmost point of Europe, actually.
This summer, I'm going to Portugal.
Portugal travel plan > LISBON
7 nights
The longest stay will be in Lisbon and it will include a day trip to Sintra and Cabo da Roca. I've already been in Lisbon but there are still so many things I want to see and write about, that's why we will spend there one whole week and take our time to breath it in. I made a google map with some things I don't wanna miss and it includes street art (of course!), architectures, restaurants, panoramic spots and much more.
Portugal travel plan > ALENTEJO
1 night
I've been invited to try 'rural tourism' in Alentejo, which is the off-the-beaten path region of Portugal where cork trees and vineyards grow. I will stay at Herdade da Matinha, a refuge from converted farmers' buildings and barns located in a valley near the ocean.
Portugal travel plan > LAGOS
2 nights
I know Algarve is very touristy, but my plan doesn't include overcrowded beaches.
Actually my Lagos plan revolves around street art, as I will spend there only two days and so I'm going straight to the essential stuff. Lagos street art scene includes works by some of my favourite street artists ever, such as Borondo, ROA and C215. I pinned some of the best murals in my Lagos map, plus some additional places I want to see, such as the Church of Saint Sebastian and the slave market, which was the first slave market in Europe.
For a more visual plan of my upcoming trip, check out my Portugal board on Pinterest!
Ps. I can't put this song out of my mind since when I've started planning this trip…
Now, you won't either. ;-)