After attending so many urban art festivals in the last year, it was so refreshing to wander around the alleys of Tel Aviv! Here the street art is still young, spontaneous, and new to my eyes.
Known as the city that never sleeps, Tel Aviv has a growing street art scene that is vibrant and very diverse. While some artists directly address political issues, others just want to beautify the streets and use their colourful art to make people forget about their problems (and the fact that they are living in a war zone).
Do you want a personalised travel itinerary based on your interests and passions?
Then check out my concierge service ;)
Tel Aviv street art guide > Florentin neighbourhood
The best place to hunt for Tel Aviv street art is the southern area of the city, especially around the hipster neighbourhood of Florentin. This area is full of vintage boutiques, artisanal workshops, cozy cafés, craft beer pubs and –it goes without saying- ubiquitous urban art. This is so widespread, it makes you wonder if street art is still illegal in this area of the town.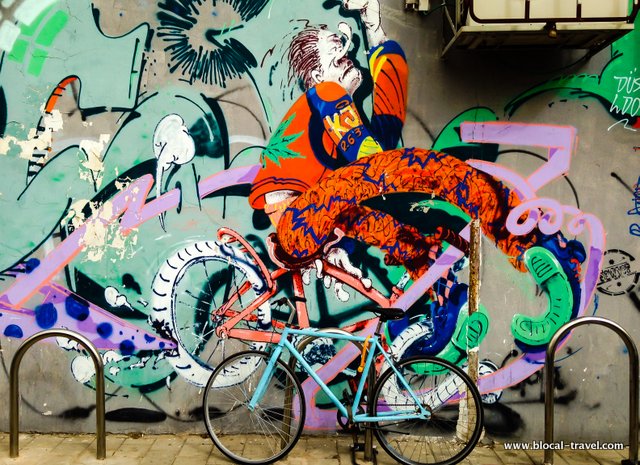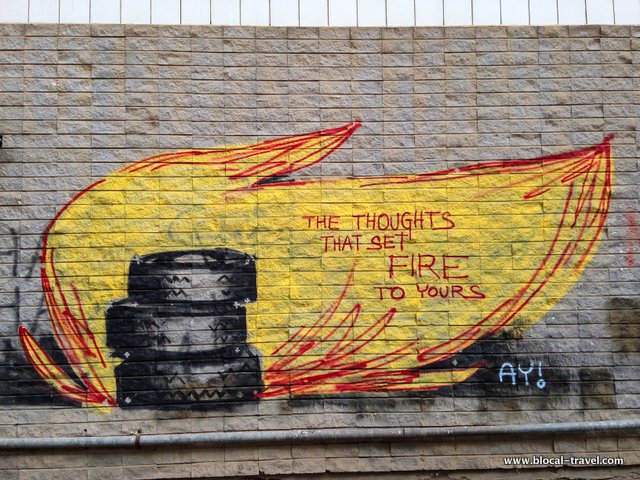 I spent two days maniacally examining each and every alley of the hood. First, all the main roads (Salma, Elifelet, Schoken and Florentin). Secondly, the streets departing from them, then the streets parallel to Salma, Elifelet, Schoken and Florentin. Finally, I explored the parking lots, hidden alleys and abandoned buildings.
It took me two days, but it was worth it! ☺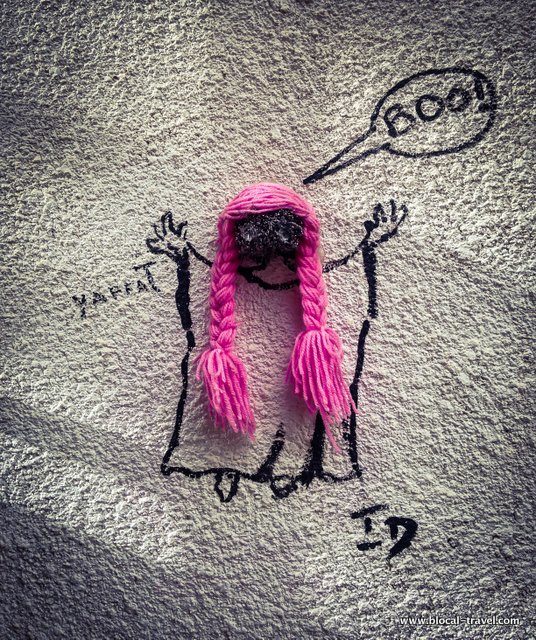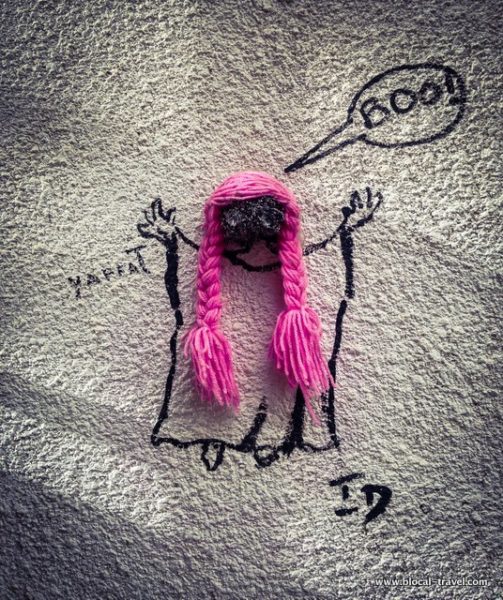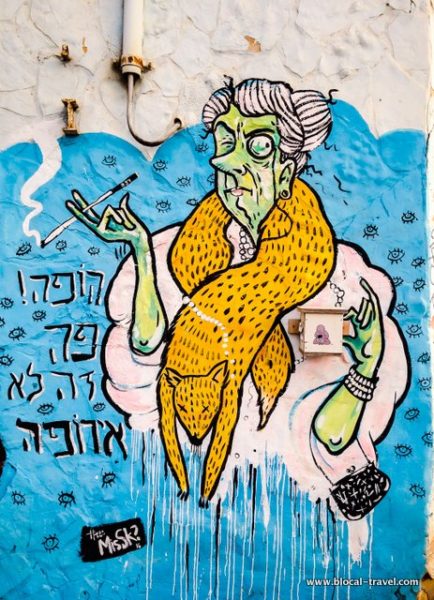 What I noticed during my wanderings is that the smaller the alley, the grungier the artwork. Here, you won't find the same large-scale, commissioned, fancy walls that are currently mushrooming all around the world. Instead, Tel Aviv's modest alleys are filled with unconventional, small-scale, wild, and often naïve artwoks made with different styles and materials.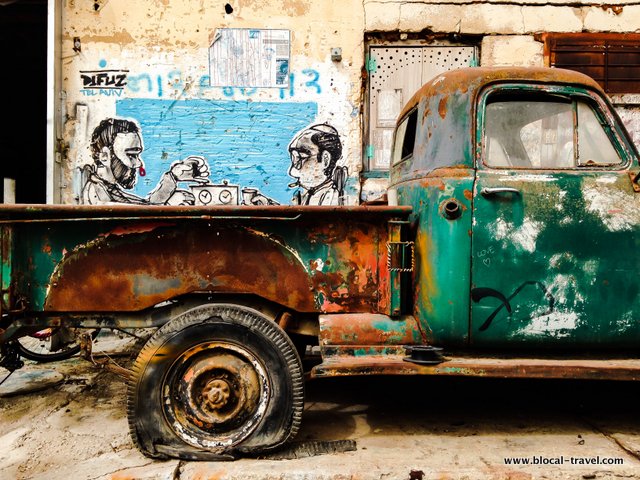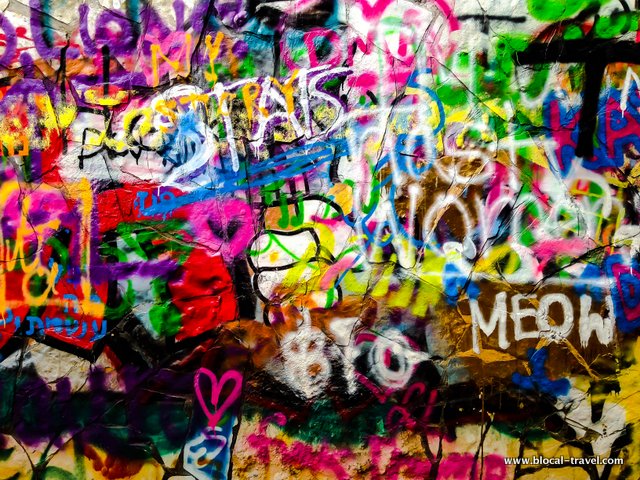 Tel Aviv street art guide > Top 20 street artists you shouldn't miss
Tel Aviv Street Artists: Adida Fallen Angel
Adi Khavous, a.k.a. Adida Fallen Angel, is a visual artist and a musician born in Israel but currently living in Montreal. As a musician, he plays with Spoonlicker, while as a visual artist he is best-known for his 'love concept' murals, which he began painting in 2015. With his love concept murals, Adida is exploring what love means and how he can mix it into his art. By using abstract repetitive typography, he examines common problems we all face today in the world, i.e. we are surrounded by love but cannot see it or feel it, even if it's right in front of us.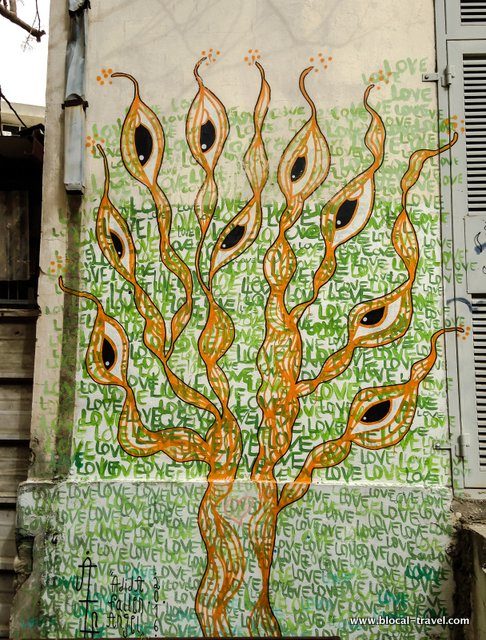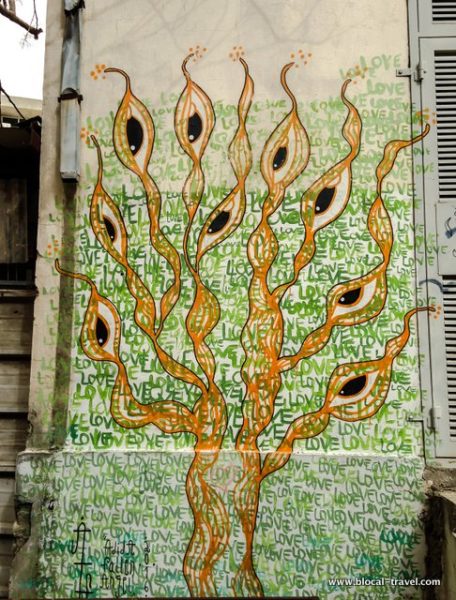 Here is what Adida Fallen Angel told me about Tel Aviv street art scene: "It's a mixed scene, all depending on when are you there and where you are. It is like the waves of the ocean, some years you will experience a massive rise of street art with a crazy variation of styles and new talent and some years it will all fade away to sad empty walls or walls packed with horrible pieces which bring nothing to the soul. There is no question that the scene is growing, since now you have many artists starting to put pieces outside and galleries starting to exhibit street artists; there are books coming out, videos and great documentations. The scene is growing and I hope it will get even bigger when other towns will start seeing the power of street art and muralism."
Tel Aviv Street Artists: Broken Fingaz Crew
Broken Fingaz is Israel's best-known graffiti crew. This psych-pop collective, which was founded in Haifa in 2001, is made up of three artists (Unga, Tant and Deso). They also work individually as street artists, illustrators, graphic designers and painters.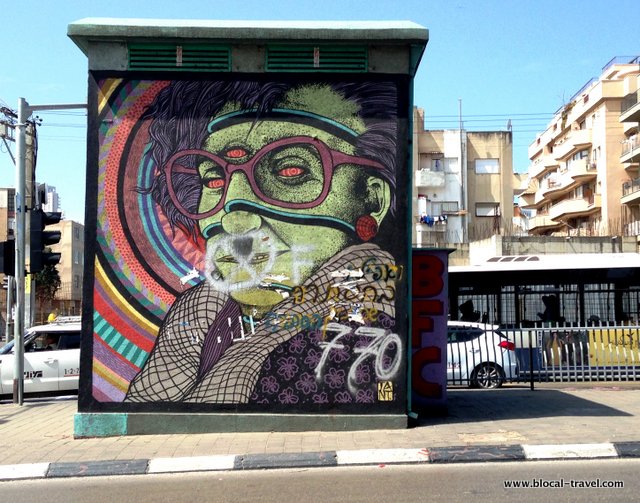 Their work, which is typified by marked lines and acid pop colours, focuses on erotic, fashion and retro styles from American comic-book covers, pulp horror from the '80s, old-school skateboard graphics and tattoos. Through their controversial, humorous and sexually explicit images, they explore the concepts of death, decay and repressed desires.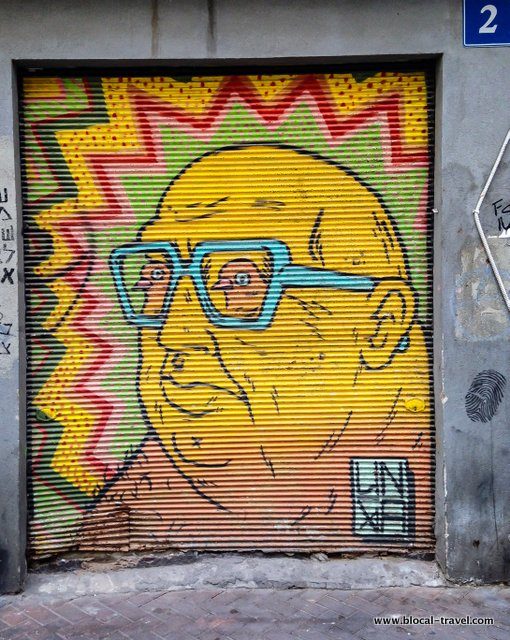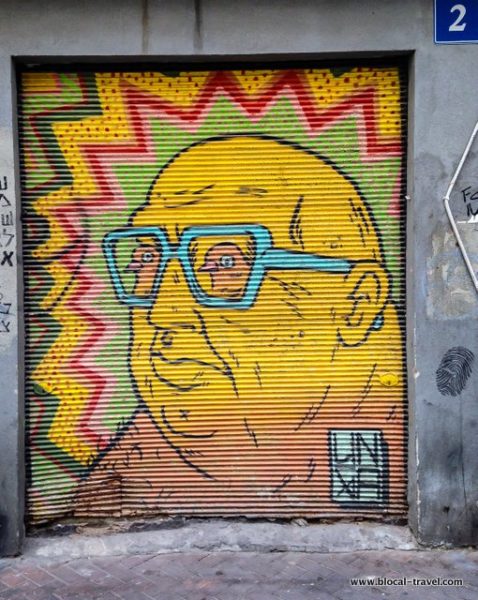 Their style and themes are inspired by 'Shunga', erotic prints that gained popularity during Japan's Edo era. They later added hints of Indian spirituality to represent the duality of the holy and the profane. Enigmatic and mysterious, their psychedelic imaginary is highly provocative and subversive.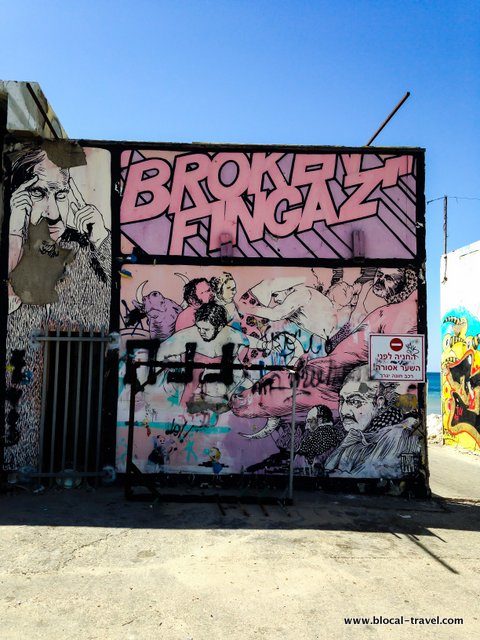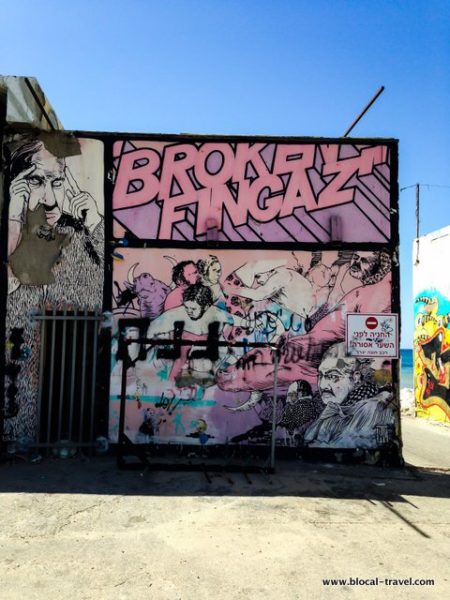 Tel Aviv Street Artists: Damian Tab
As a street artist, Damian Tabak likes to experiement with different kinds of materials. His cartoonish characters are all around the city and look as though they were sketched, thanks to his peculiar technique of using the spray-can as if it were a pencil or charcoal.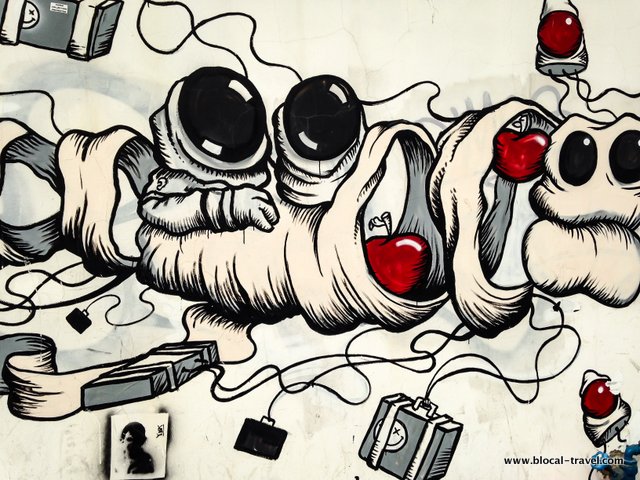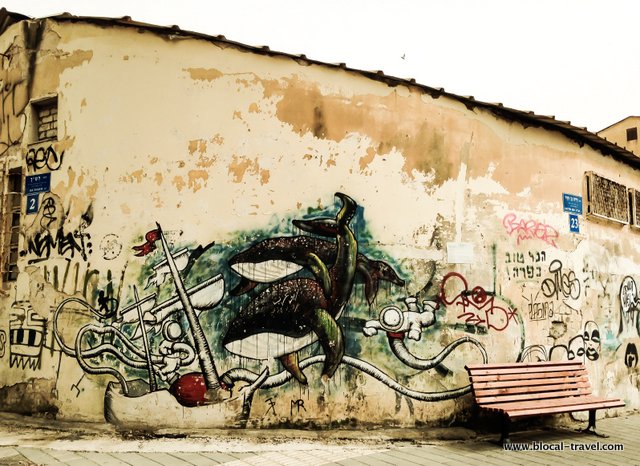 Besides the murals, he is also creating 3D art with different types of software.
Tel Aviv Street Artists: Dede
Since 2006 Dede has been active on the streets of his hometown of Tel Aviv, developing his style from heavy stencil use to freestyle drawing and wheat pasting.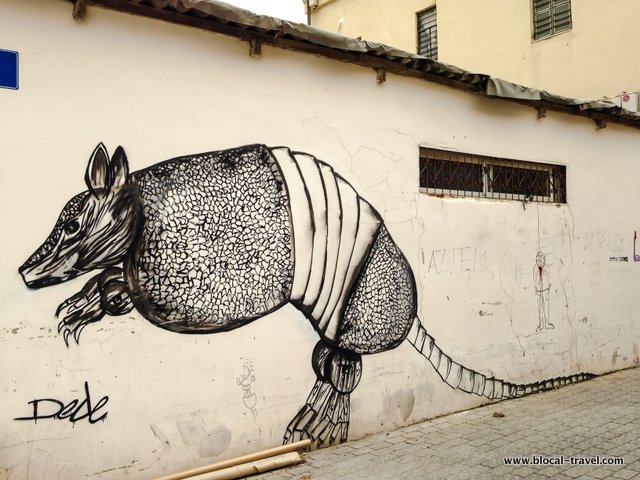 His creations re-examine personal and societal conventions, questioning the manmade urban lifestyle. His art revolves around issues of identity, belonging, loneliness, alienation and the consequent desire to escape reality, either physically or spiritually.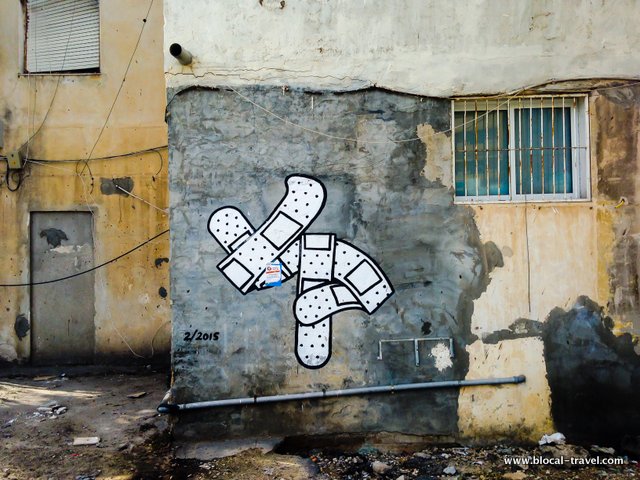 The urban landscape is part of the creation process, as is the final chosen location, which is an integral part of his art.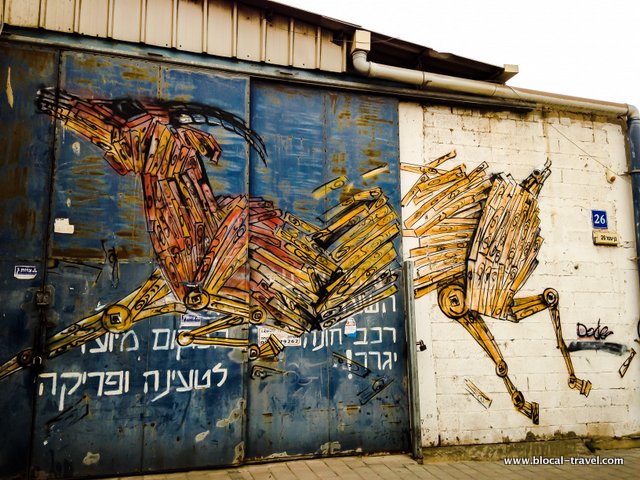 Tel Aviv Street Artists: Dioz
Dioz is well known for his grotesque, trashy portraits dotting the streets of Tel Aviv. His huge, rough countenances painted in a cartoonish style are inspired by people he meets, his neighbours and fellow artists.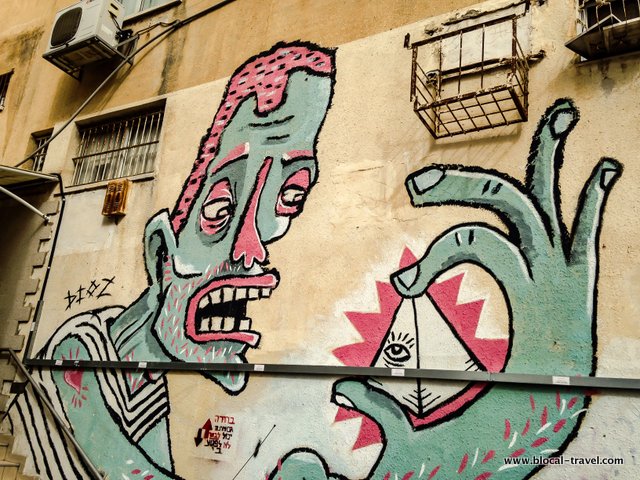 His favourite object of investigation is pain. His colourful works aren't political, rather they're more laid-back. He just wants to put some colour and some fun into the streets.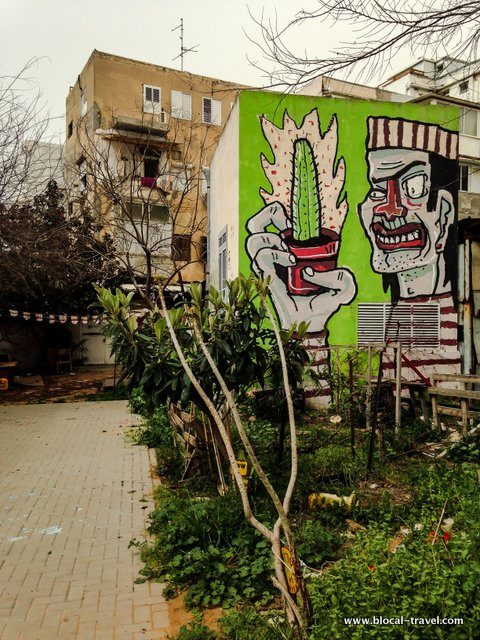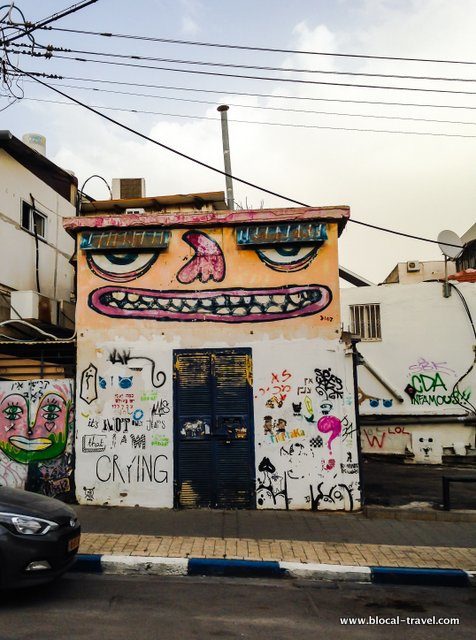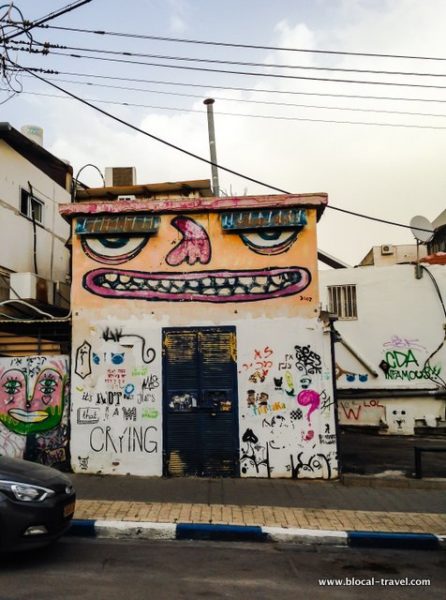 Besides his street art activity, he is also a graphic designer and an animator.
Tel Aviv Street Artists: Frenemy
Kristopher Kotcher, a.k.a. Frenemy, is an illustrator and street artist from Austin (Texas), now based in Ho Chi Minh (Vietnam), a place he finds inspiring and refreshing. His work is highly influenced by the children's books and cartoons he loved as a child. He also grabs influence from graffiti, street art and skateboarding. He works both digitally and in traditional mediums and is well known for his wide-eyed, jaw-dropping colourful creatures set in chaotic environments. With his goofy characters, he aims "to take viewers away from all the crap in the world" and invite them into his mind for a moment to smile at the weird monsters. He began creating his imaginary universe when he was a child, drawing his own comics to escape his rough home life. This eventually evolved into graffiti art.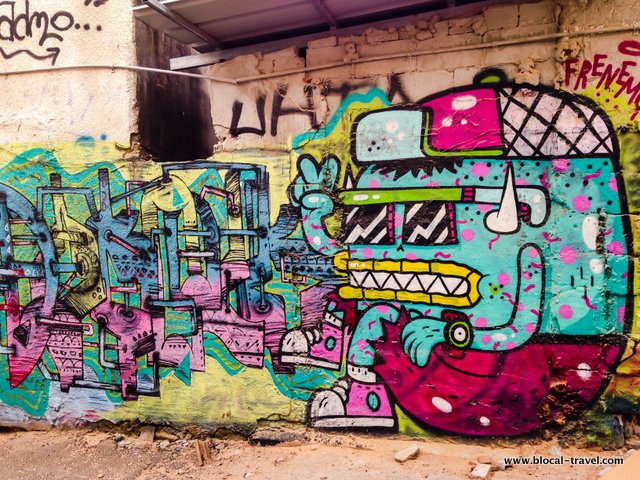 Here is what Frenemy told me about Tel Aviv street art scene: "The art scene in general I think has a ton of amazing stuff going on. The street art scene there is really strong too for such a small place. There are a lot of really talented artists. But also there is a ton of pretty bad work. So it's a mix, like any major city, I guess. A lot of people get a hold of some spray paint or some markers and decide they are street artists and paint a lot of crap all over the city. It kind of comes with the territory of street art becoming the cool thing. So you will see a lot of bad stuff. But there is also a lot of good stuff if you know where to look. Klone, Zero Cents, Da Kool Kid are all doing cool stuff. Prettimess crew is a group of artists from there who really kill it. Dioz, Untay, Elna and Gab to name a few constantly putting out good work. I really respect all the stuff they are doing."
Tel Aviv Street Artists: Jack (TML)
Shahaf Ram, a.k.a. Jack outta the TML crew (which stands for 'three meaningless letters'), composes distorted portraits full of emotional content.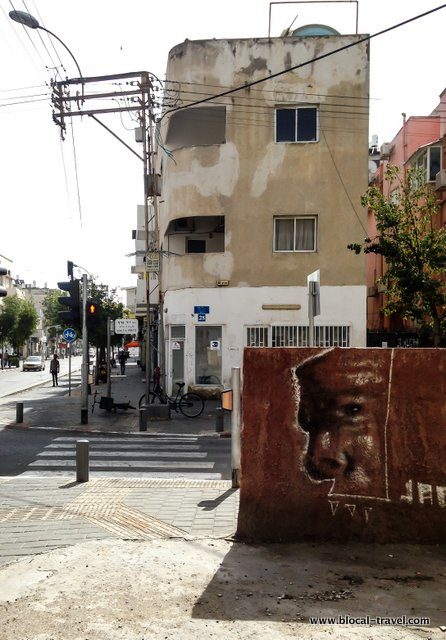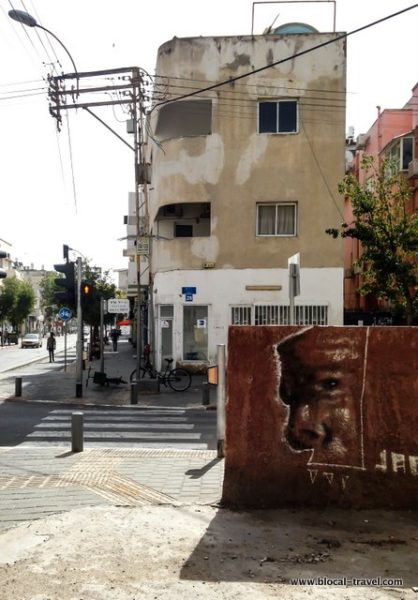 The power of their expressiveness arises from the contrast between the comic, tragic or ridiculous and the fact that they take themselves very seriously, as we all do in our own dramas.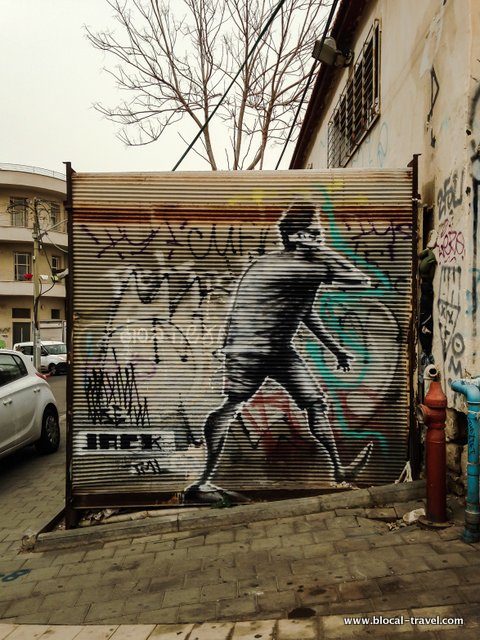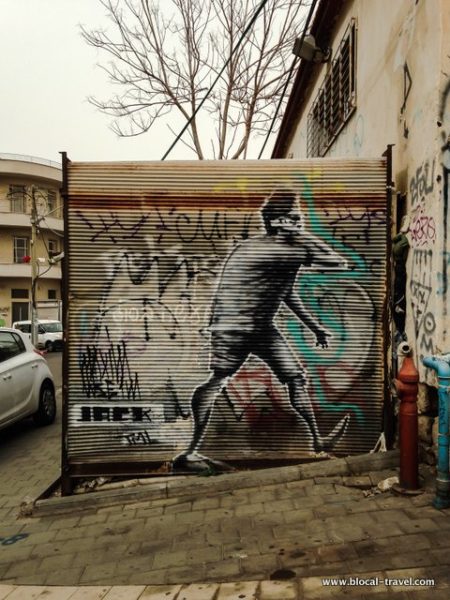 Tel Aviv Street Artists: Klone
Originally from Ukraine, Klone's art is influenced by his childhood emigration to Israel. He began tagging and graffiti-writing to make his foreign settings look more familiar and, although his style has evolved and has integrated more complex traditions of art history, the theme of 'home' and the concept of 'diaspora' are still at the core of his work.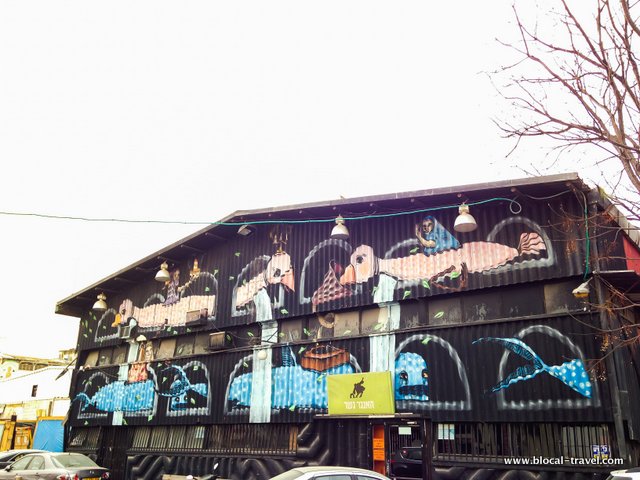 His recent works deal with humans creating an animalistic, almost monster-like front to survive. The bigger and sharper our teeth, the higher the chance people have to survive in predatory and tough environments.
Tel Aviv Street Artists: Mas 972
Mas has been a graffiti artist since 2002 and his works can be found all over his hometown of Tel Aviv. His graffiti characters are typified by strong lines and bold colors.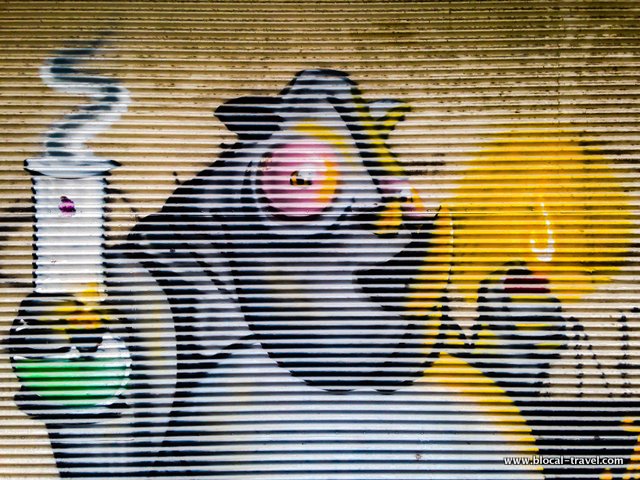 Tel Aviv Street Artists: Michal Rubin
Michal Rubin, who tags her works simply with MR, is a tattoo and street artist.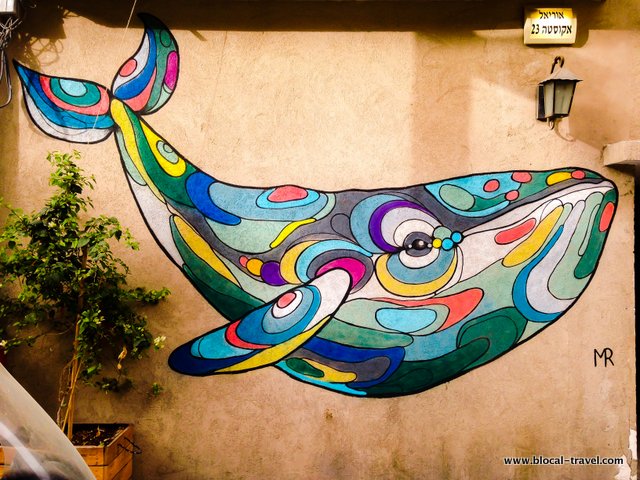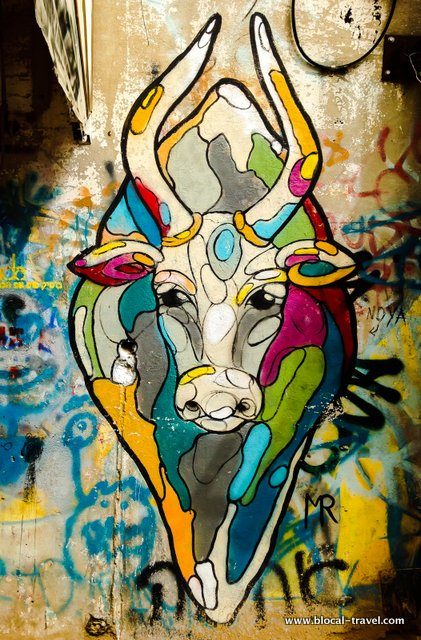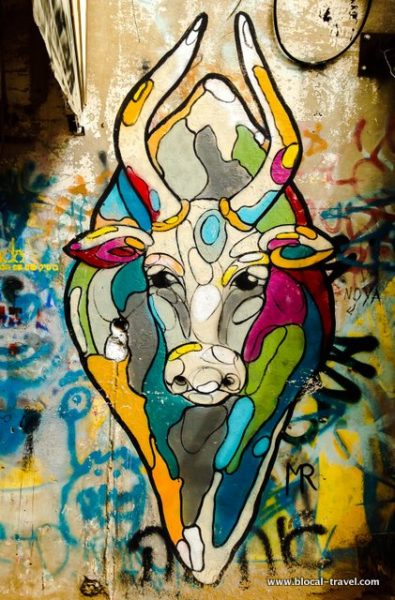 The streets of Tel Aviv are dotted with her colourful animals, which are painted to resemble stained glass.
Tel Aviv Street Artists: Murielle street art
Murielle Cohen was born in Montreal and is currently living in Israel. She began sketching portraits of people without looking onto the page when she witnessed the twin towers fall in New York (where she was living at the time). From these quick portraits, her art evolved into colourful collages made up of short sentences jotted down beside the portraits.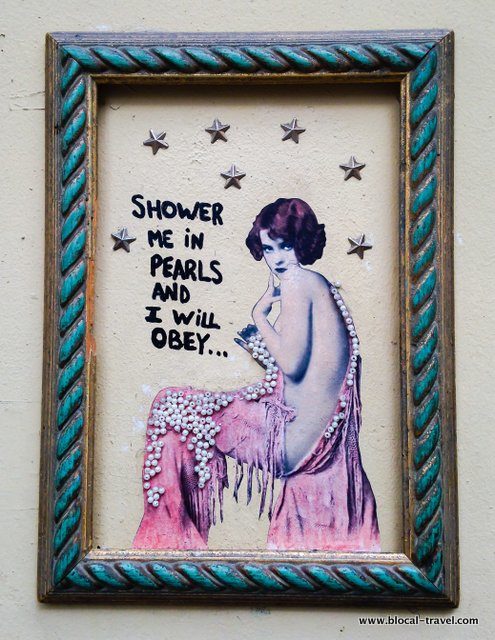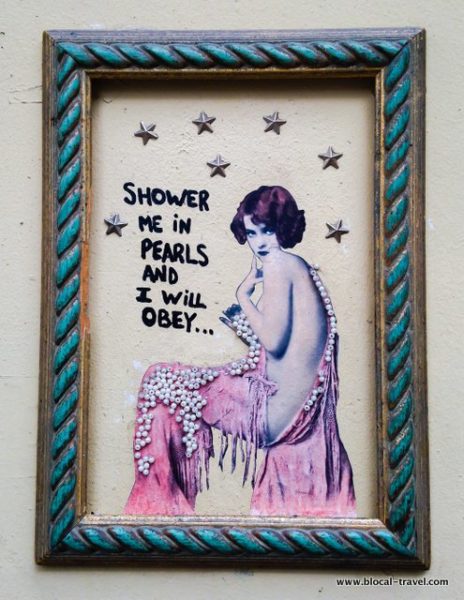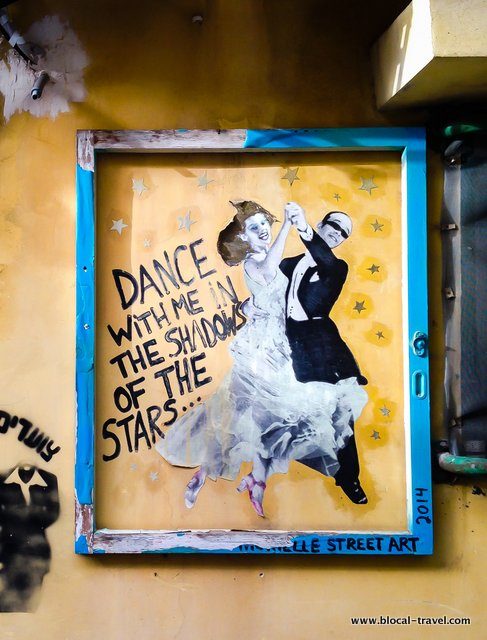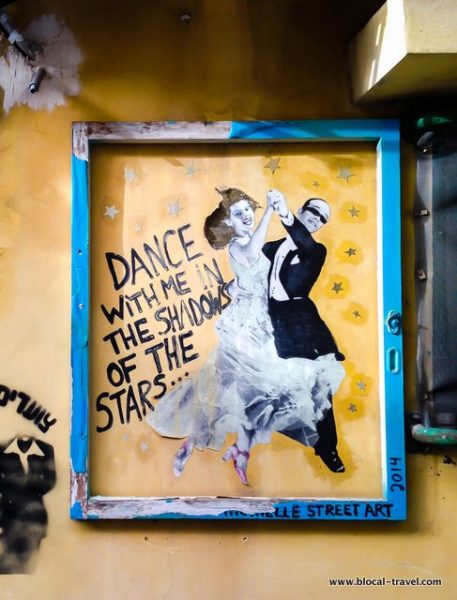 The sentences describe the hidden secrets of each soul that she draws. Her works, which are usually set inside colourful wooden window frames, are definitely one-of-a-kind. She uses a lot of discarded and recycled materials and things that had a life before being replaced by advanced technology.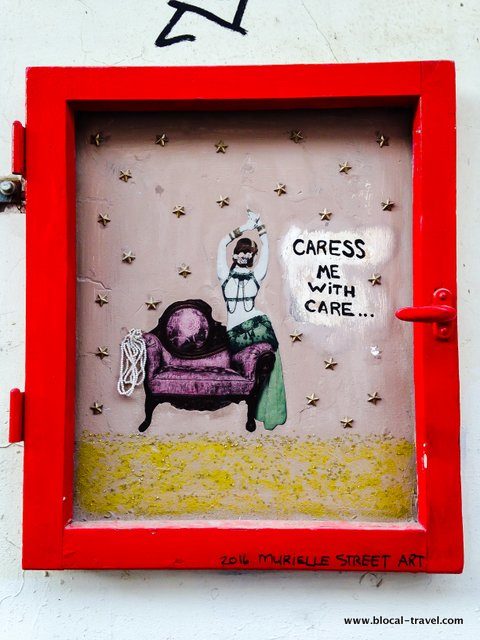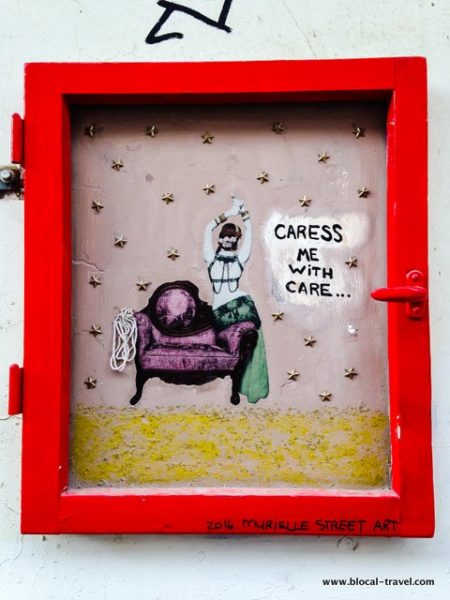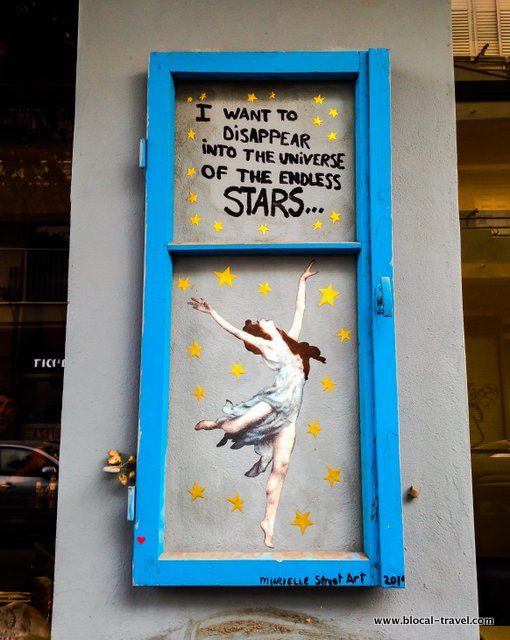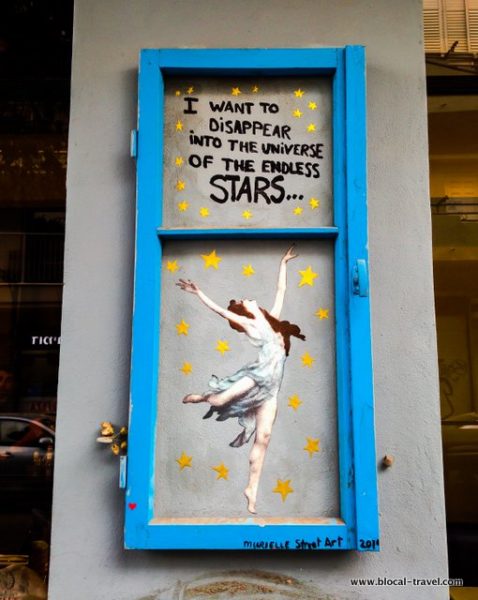 Here is what Murielle told me about Tel Aviv street art scene: "It's beautiful! There are always new creative artists emerging and it's always exciting for me to see their development. It's making its way up into the global street art scene. It's just taking a little more time because it developed later. A lot of my friends are fellow street artists and we support each other as a community."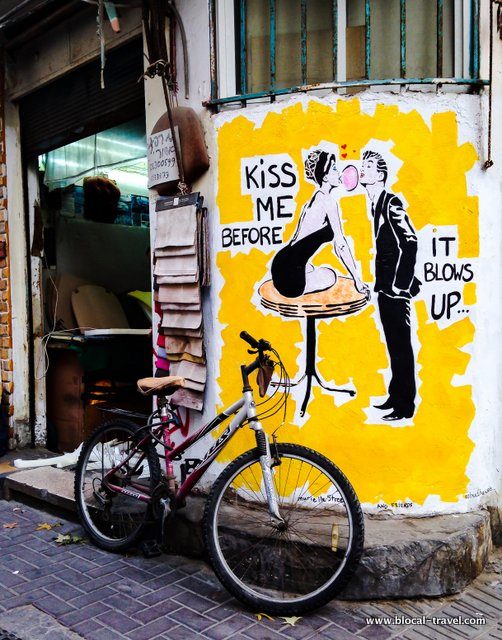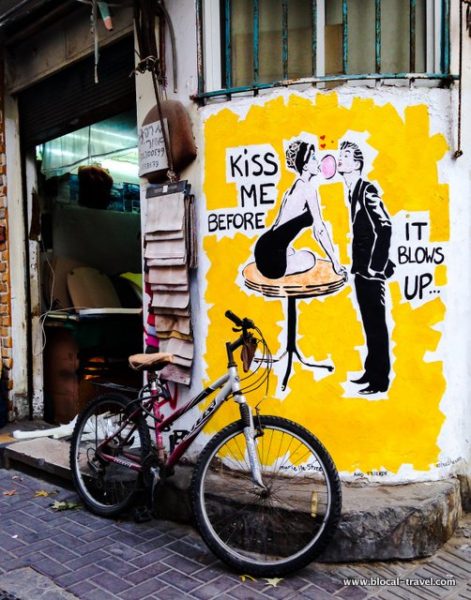 Tel Aviv Street Artists: Nitzan Mintz
Nitzan Mintz is a street poet and often works closely with figurative street artists, embroiding their figures with her poems. I'm fascinated by the Hebrew font –squared and, at the same time, sinuous. So spotting her painted poems around the city was exciting, although I couldn't understand what they said. Later on, I discovered she writes about society, God, sexuality, politics, relationships, failure, dreams and social attitudes towards women, just to list a few.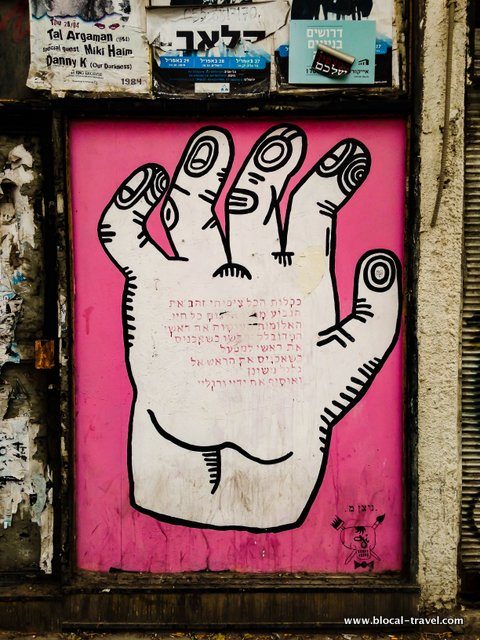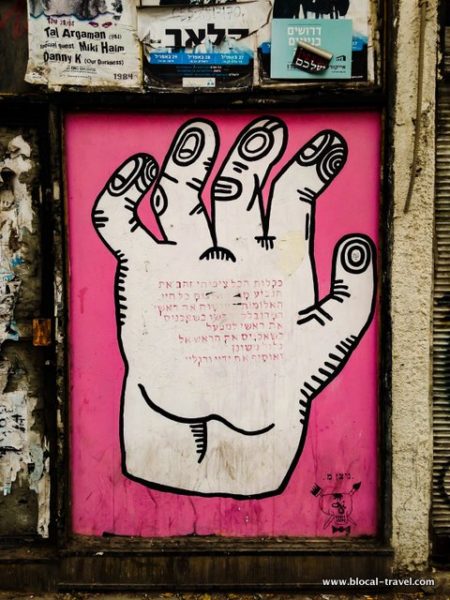 Her poems combine the personal with the political: they are written out of an internal urge to verbalise mental processes in response to the outside world. Her choice of specific locations within the urban landscape to place her work is what charges them with their social and political meanings.
Tel Aviv Street Artists: Rami Meiri
Hitting the streets since the early '80s, Rami Meiri is the precursor of the Tel Aviv street art scene. He is well-known for his evocative, realistic murals in pastel tones that play with trompe l'oeil. He plays with perspective, creates optical illusions and sketches refined, colourful characters who interact with their environment.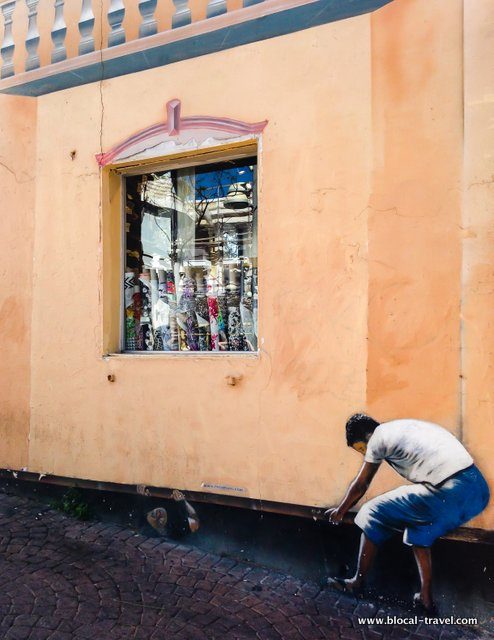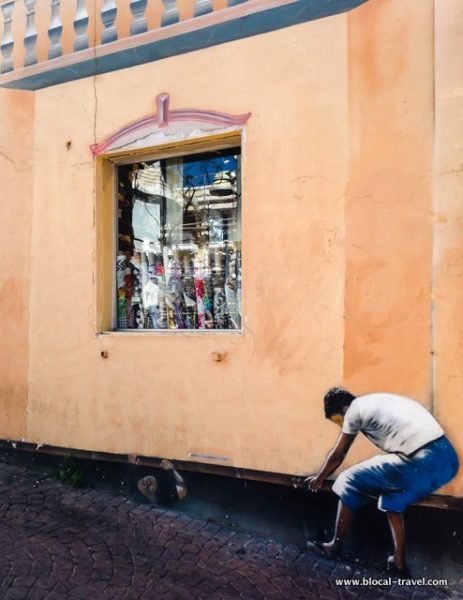 Meiri's bright, acrylic works spread goodwill and cheer by mirroring Israel's lighter side portraying pub culture, nightlife and images of beachgoers lazing in the sand. His mission is to show to Israelis and the rest of the world that beyond politics, wars and violence, life is going on and can be filled with art and beauty.
Tel Aviv Street Artists: Sened
Since 1998, Adi Sened has painted his iconic 'kufsonim' (literally: mini-boxes) all around Israel. These are characters developed from an abstract of a cube from ready-made stencils.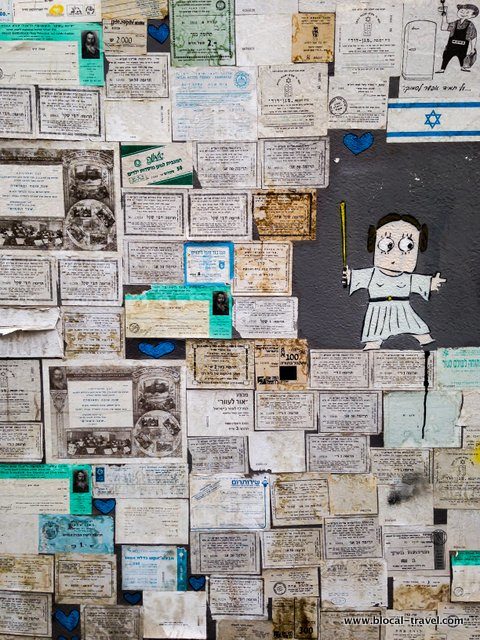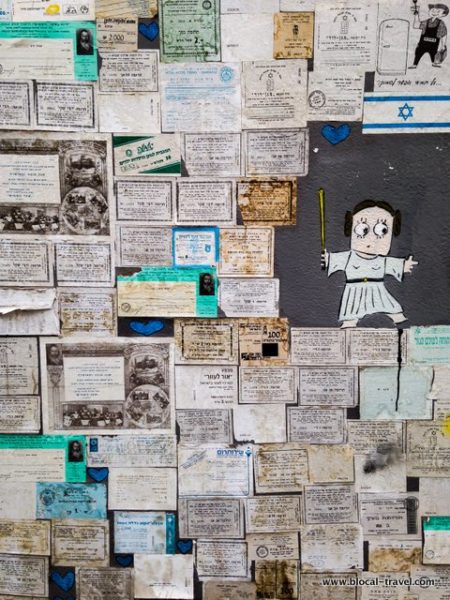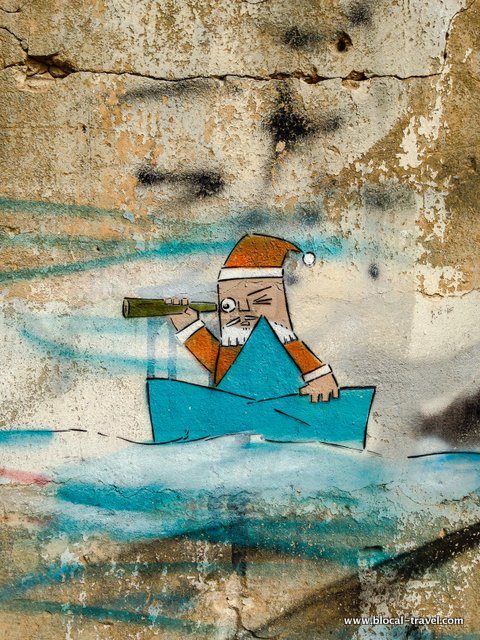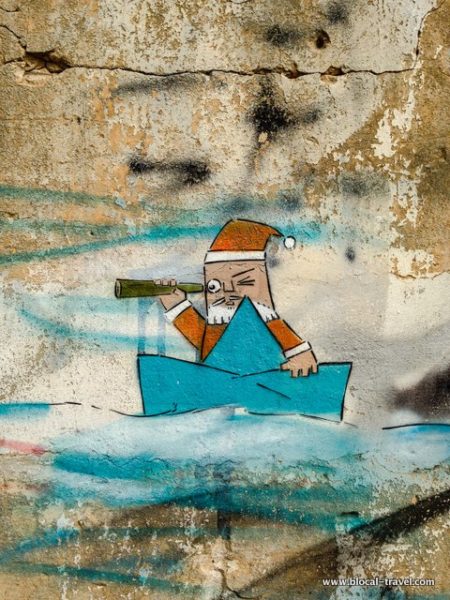 These simple animation figures are defined by a unique artistic vocabulary and cast in a range of narratives. They depict pirates at sea, children playing with dolls, wild animals and more.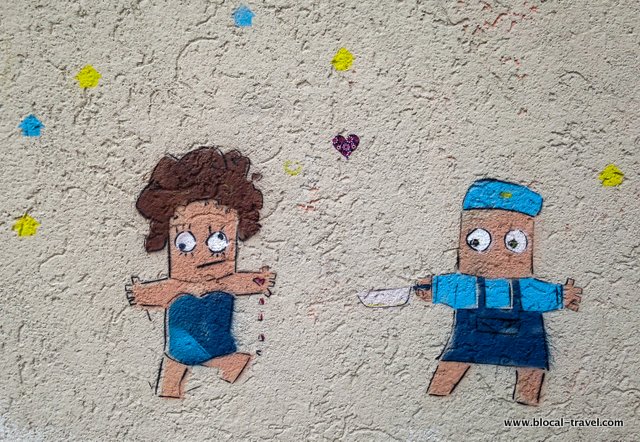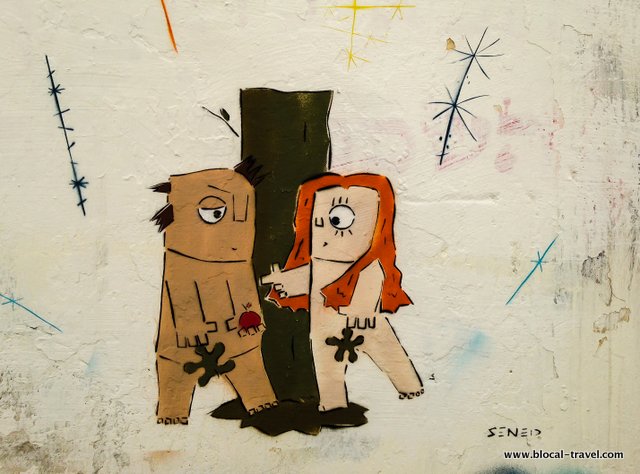 Sened's stenciled figures are small and unintrusive, they décor the city in a subtle and humorous way and are often interacting with a surface or their surroundings. Over the years, his 'kufsonim' figures transformed from painted figures into stencil, whose complexity then grew through the addition of layers and colours.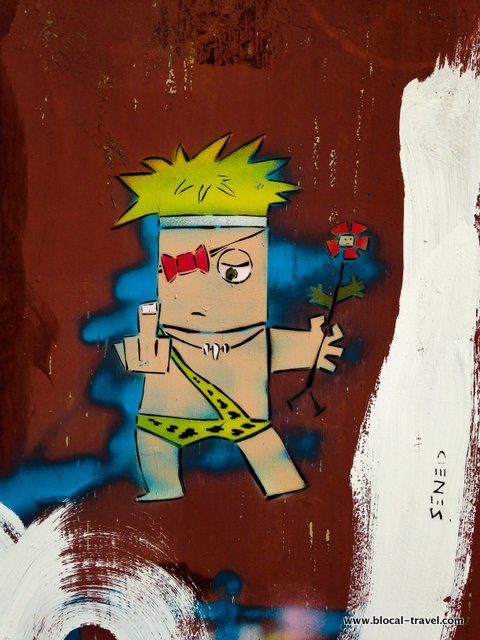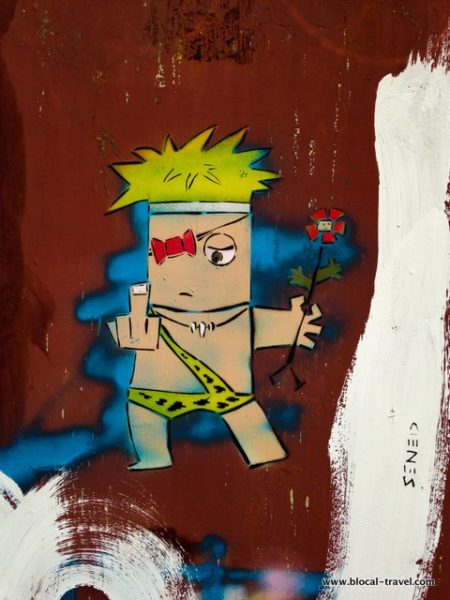 Tel Aviv Street Artists: Shiz
Shiz is an illustrator and graffiti artist from Haifa. He mostly paints surrealism with touches of pop art and abstract. He finds his inspiration in the most unexpected stuff and he especially likes painting noses, as he is fascinated by their shapes and goofiness.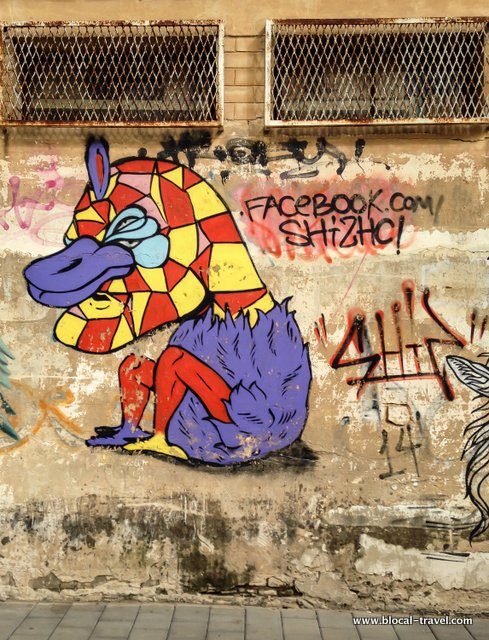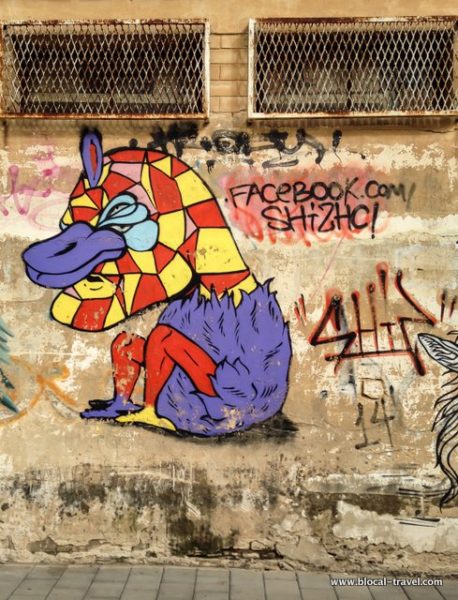 Here is what Shiz told me about Tel Aviv street art scene: "Tel Aviv art scene is very interesting and I admire some parts of it, to me it is a symbol. In the past, the city hall in Tel Aviv was not a fan of street art at all – they would have every graffiti piece erased and the scene just fought them until theygave up, stopped erasing and gave freedom – in a way. Nowadays when you walk around the streets of Tel Aviv, it's all covered with colours and the freedom is literally bursting from the walls. That is very positive and inspiring to the people, even if you're not a graffiti artist – this winning over the city hall means much more and can be interpreted into many different aspects. For me that is amazing."
Tel Aviv Street Artists: Signor Gi
After a short period of stencilling, Signor Gi's art evolved into his current paintbrush technique, which is often accompanied by tongue-in-cheek statements. His works deal with the concept of identity (a hot topic in Israel) and the interpretations and consequences of the common perceptions that relate to its construction.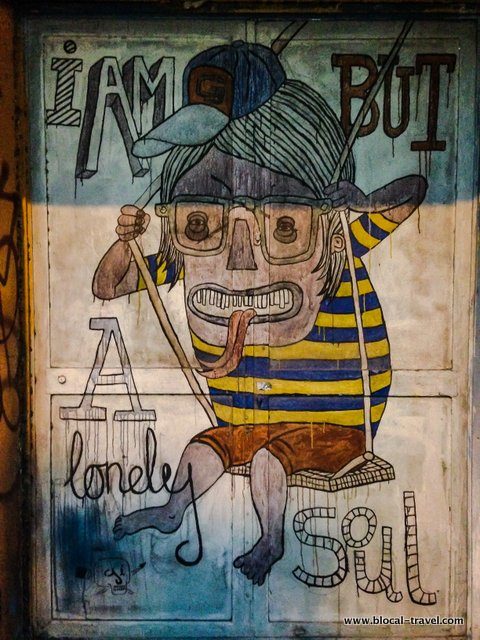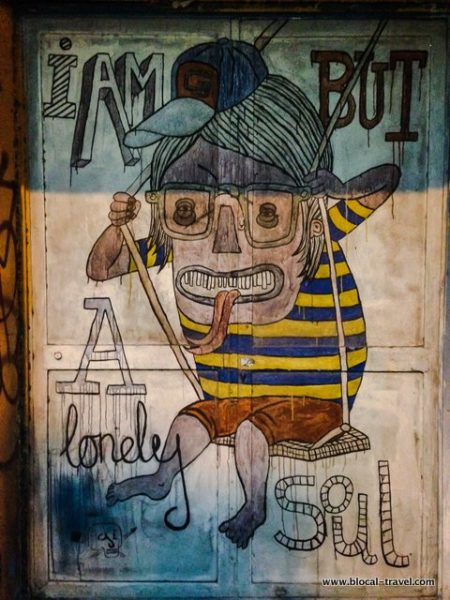 He uses appealing colours and blunt imaginery, like in commercial ads, to provoke an immediate reaction in passers-by. His work encourages them to reflect and think critically, bringing forth truths that are usually kept hidden.
Tel Aviv Street Artists: Solomon Souza
This British-Israeli street artist comes from an artistic family (his mother is a painter and daughter of the founder of the Bombay Progressive Artists' Group) and got into graffiti at the age of 15, when he was still living in Hackney (London). He is best known for spraypainting portraits of contemporary and historical Jewish figures on the shutters of the Mahane Yehuda Market in Jerusalem. Solomon Souza captures his subjects accurately and effectively, while the splashes of color make his works vibrant.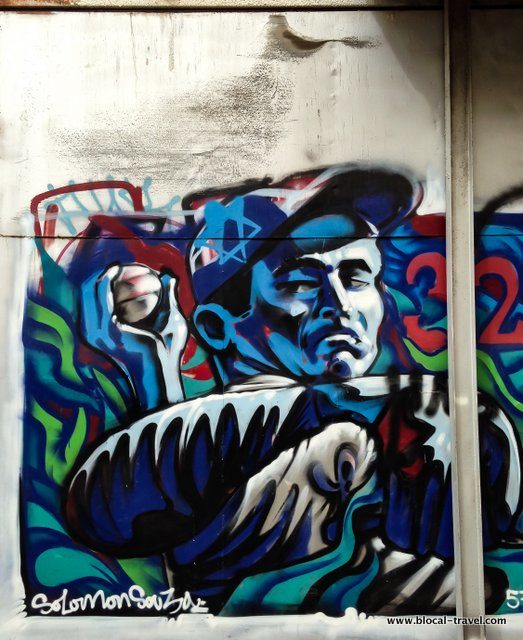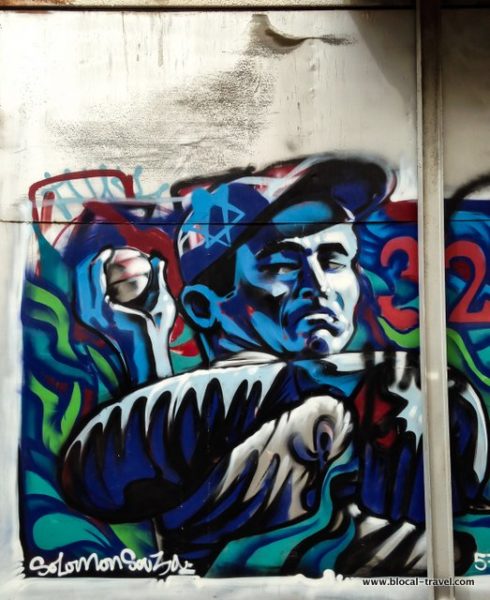 Here is what Solomon Souza told me about Tel Aviv street art scene: "The Tel Aviv scene can be many things: it can be grimey and fun, it's quite active. And there are many crews crushing it all over the place at the moment, there's also a nice blend of street art and graffiti. Sometimes the two clash, but it's generally all love."
Tel Aviv Street Artists: Tag
Previously known as #Thug, #Tag is a paste-up artist very active on the streets of Tel Aviv.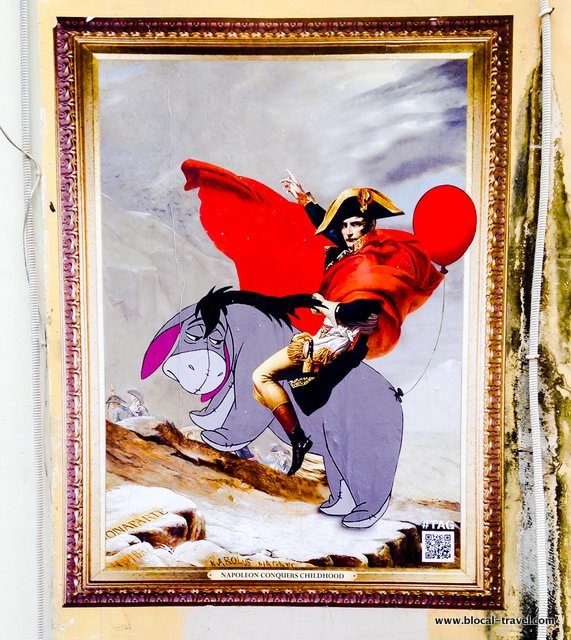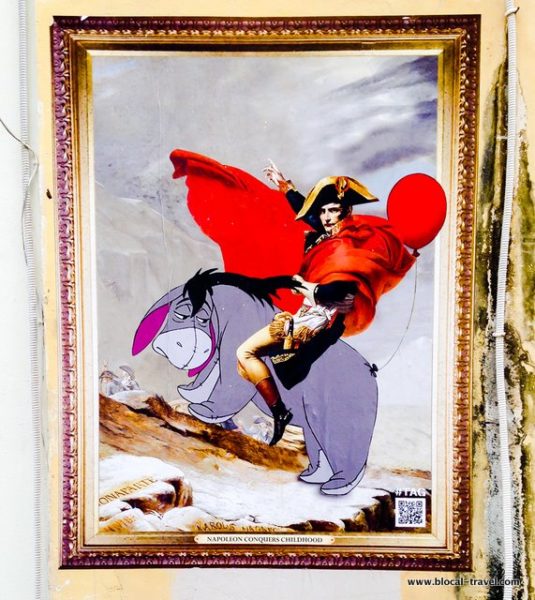 His main inspiration is social life, where we 'tag' people, which is what he is also doing in his work.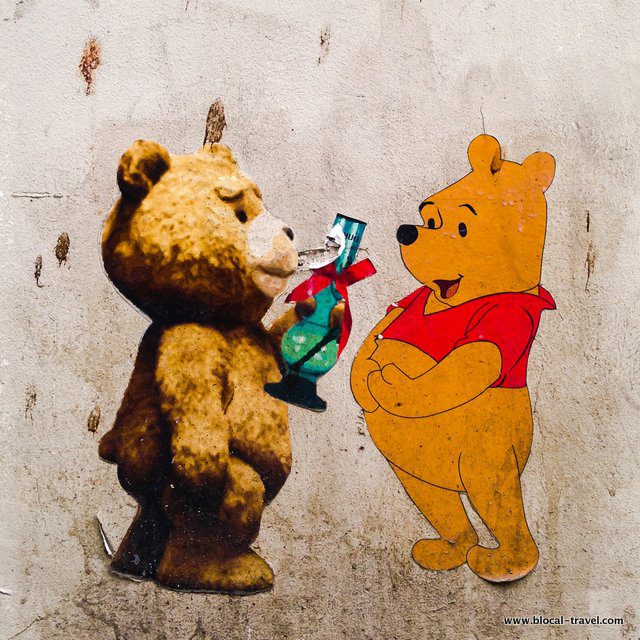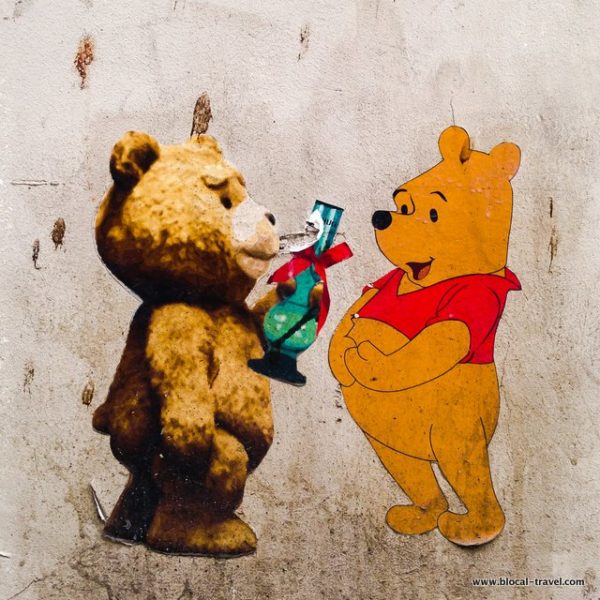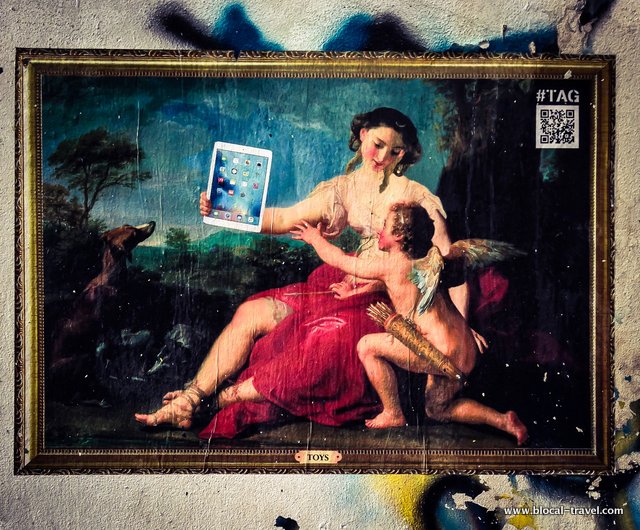 His posters are mash-ups of well-known classical paintings and pop references (especially from cartoons), a quirky juxtaposition from which irony originates, often followed by brazen social commentary.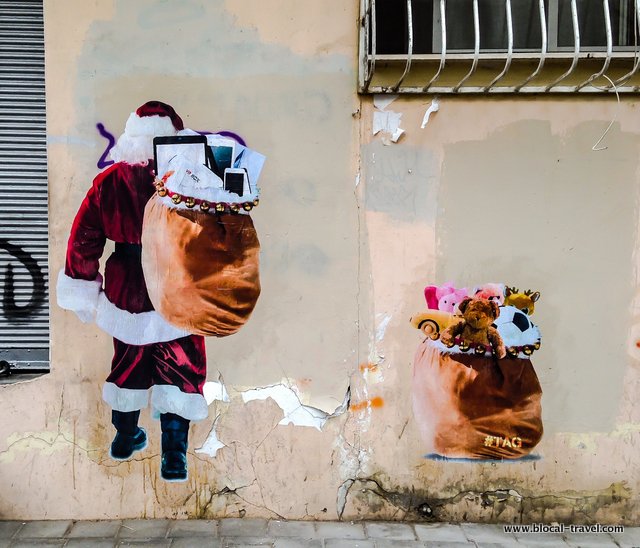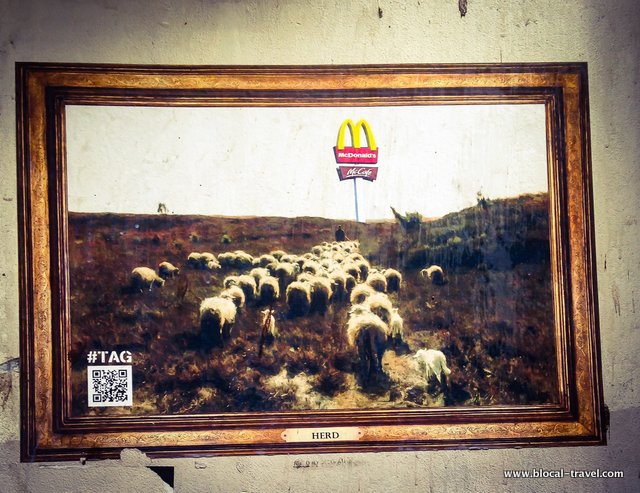 Here is what #Tag told me about Tel Aviv street art scene: "I think Tel Aviv's Street Art scene is in a good place. When you speak about street art, you have to mention Florentine neighborhood, that in my opinion and many more will agree, is the center of Tel Aviv's street art scene. Many international artists grow in Tel Aviv's Street Art scene. It is also important to mention that alongside the well-known street artists, a young generation of street artists is growing and you can see them on the streets every week, making them more beautiful. You can also see that many of the art exhibitions are street art exhibitions, for example Banksy's exhibition that is on right now, so Tel Aviv's Street Art scene is definitely going in the right direction."
Tel Aviv Street Artists: Untay
Boaz Sides, a.k.a. Untay, studied visual communications and graphic design and, since 2009, has been painting the walls of Tel Aviv. His work has been influenced by the protests against the high cost of living and social inequalities that took place in 2011, which he represents through bandanas shown in the air.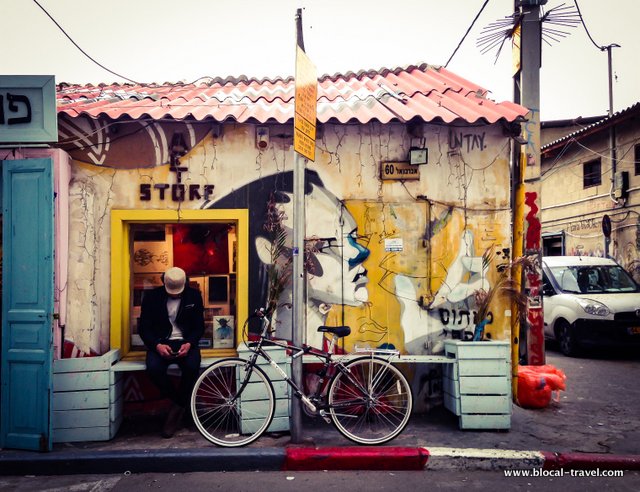 Other sources of inspiration for Untay's art are music, contemporary illustration and design, his personal experiences, and expressionist artists such as Egon Schiele and Gustav Klimt. His figurative approach perfectly combines classic drawings and illustration, spicing them up with a pinch of grunge.
Wonky Monkey
Originally from Be'er Sheva, Wonky Monkey studied visual communications at the Academy of Art and Design in Jerusalem and is now based in Tel Aviv.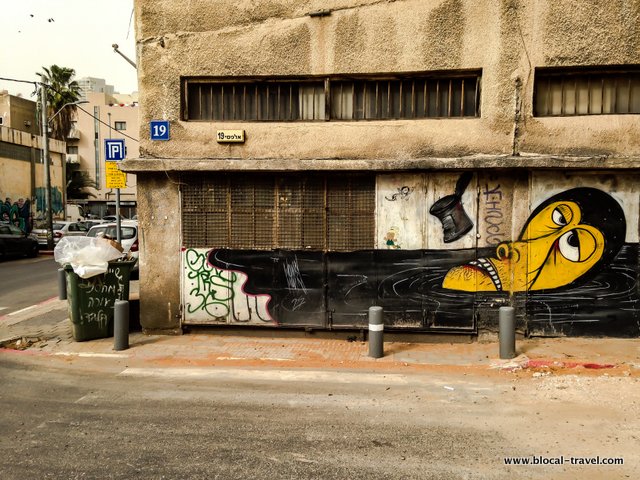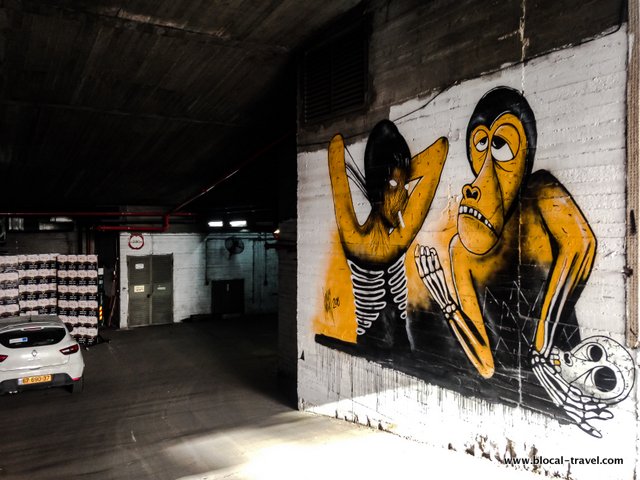 His works are typifyed by the ubiquitous monkey character, which is an "allegory of the human condition in contemporary society" and a representation of the devolution of humanity.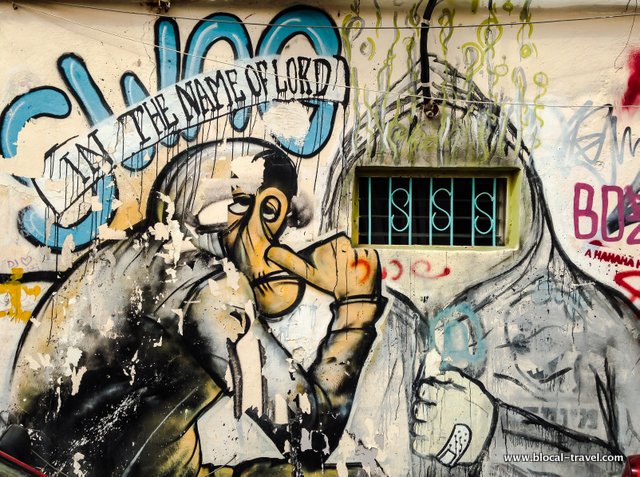 Wonky Monky paints scenes of a post-apocalyptic world that question the idea of progress, next to images of boredom, loneliness, sadness and violence.
Tel Aviv street art guide > The Central Bus Station
The walls of the 7th floor of Tel Aviv's central bus station have been spraypainted by more than 160 street artists, both Israeli and foreign.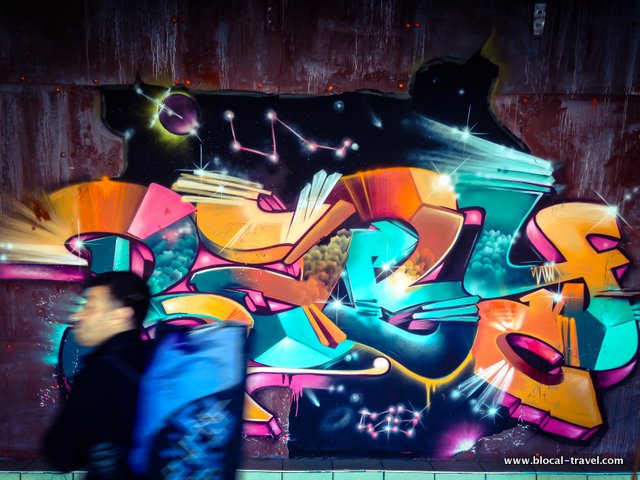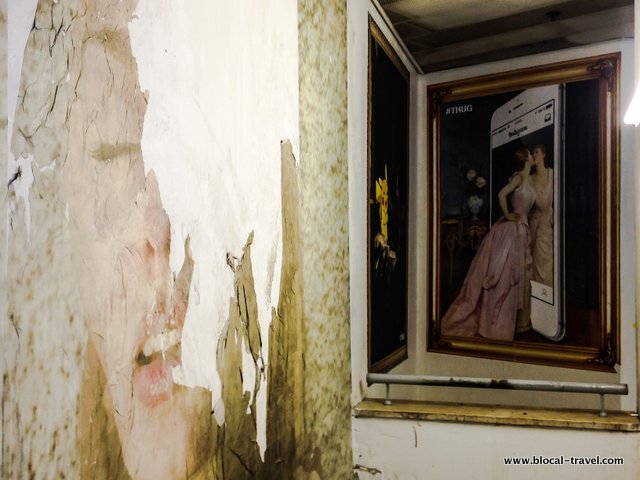 It started in 2013 and since then this area has become the biggest graffiti show in Israel.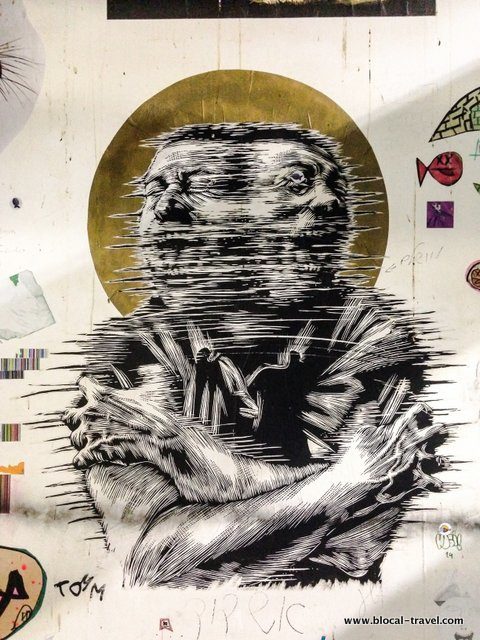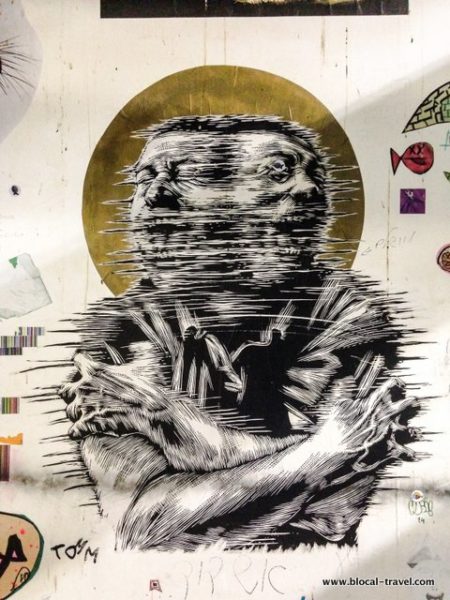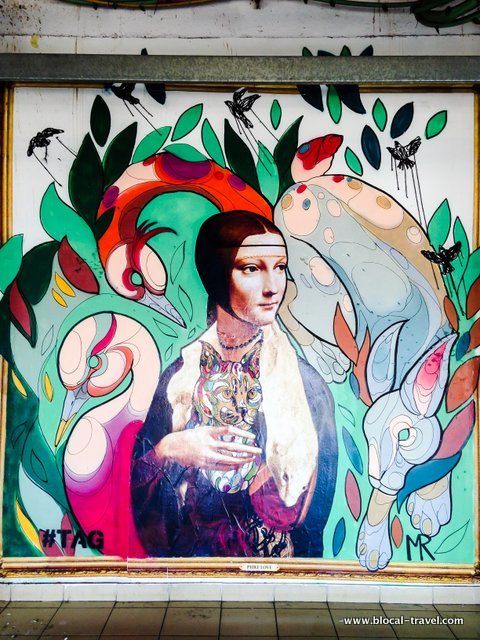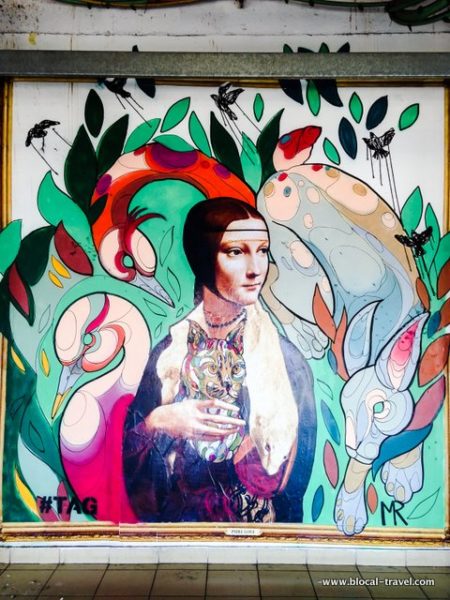 But, although this project is undoubtedly cool, 'The 7th Floor' is literally the tip of the iceberg of the total awesomeness of Tel Aviv's central bus station. Inside the pretty bizzarre architecture of what used to be the largest bus station in the world, there is a yiddish museum, a corner with all Filipinos need, a no-longer-usable war shelter and a whole floor that has been sealed off, which is home to an abandoned cinema and more quirky attractions.
But that's another story and shall be told another time… stay tuned! :-)
SalvaSalvaSalvaSalva