Liverpool astonished me with a grassroots scene where both graffiti and street art have found their own space. On the legal side, walls are provided to both graffiti writers and street artists by a young yet kick-ass festival named Contrast Mural; on the illegal side, writers share the streets with the members of the Secret Society of Super Villain Artists, which was founded in Liverpool in 2012. Enjoy my guide to graffiti and street art in Liverpool!
Where to find street art in Liverpool: around the city center
My first day in Liverpool began at the only reasonable place to start exploring the city: Zap Graffiti, the graffiti shop behind the organization of Contrast Mural festival, as well as many other graffiti-related activities, including workshops, jams, and exhibitions. Rumor has it that the stencil on the door of the shop is an original –albeit 'unofficial'- Banksy piece.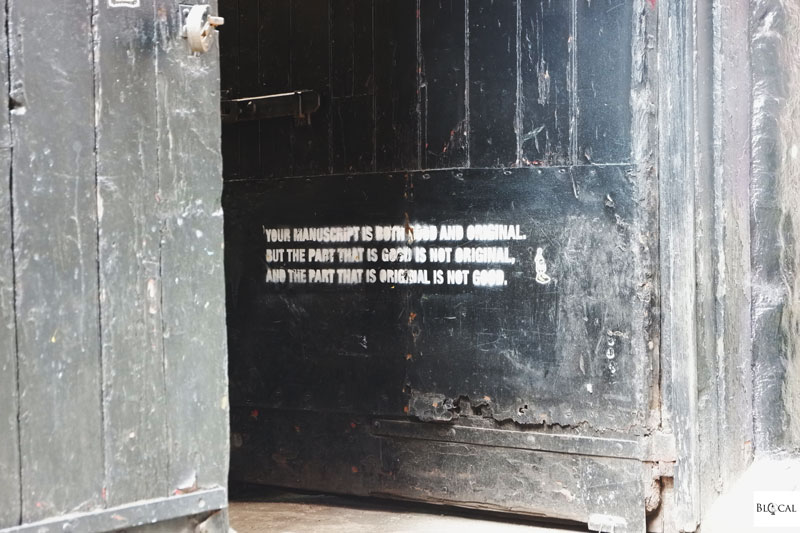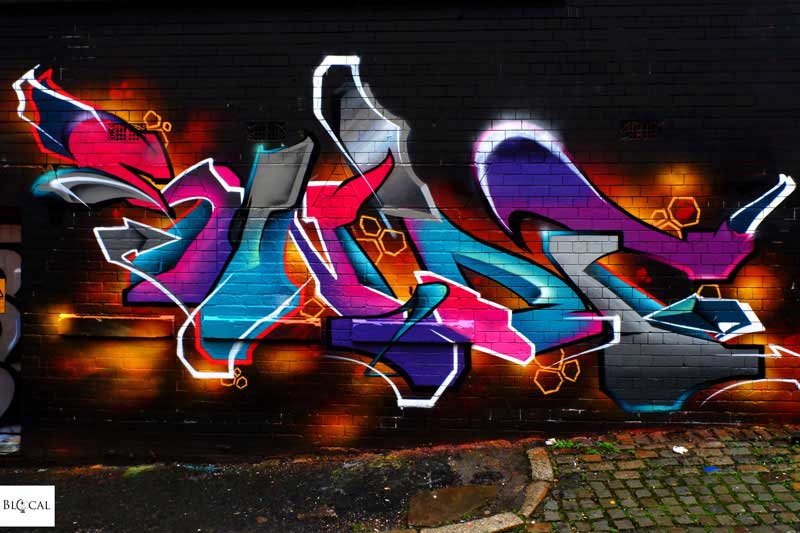 Many more artists left their signs on Oldham Place and in the parking lot behind the shop, turning it into the best Hall of Fame in Liverpool. My favorite piece is by Snotone: I love how letters overlap in it.
Zap Graffiti produced several large-scale murals that are scattered across the city center of Liverpool, like this stunning piece by Bristolian legend Inkie. In his iconic style, the artist has interpreted the mytological tale of the Liver Bird, which is the symbol of the city.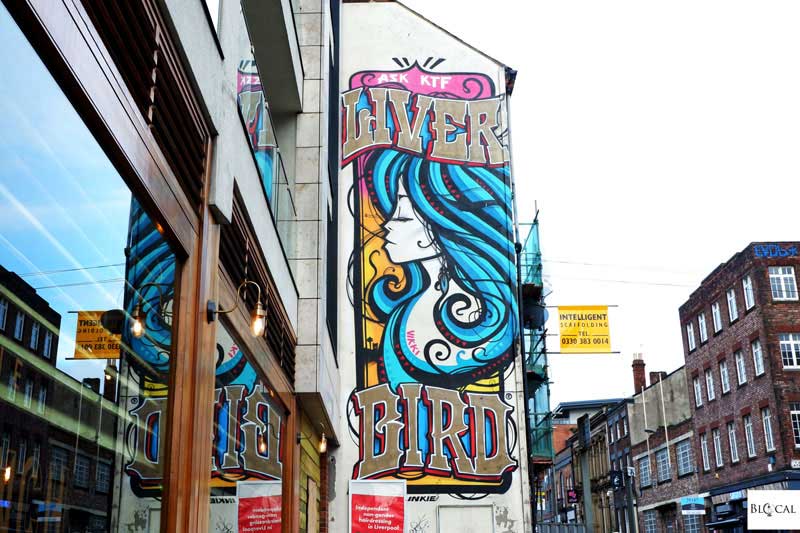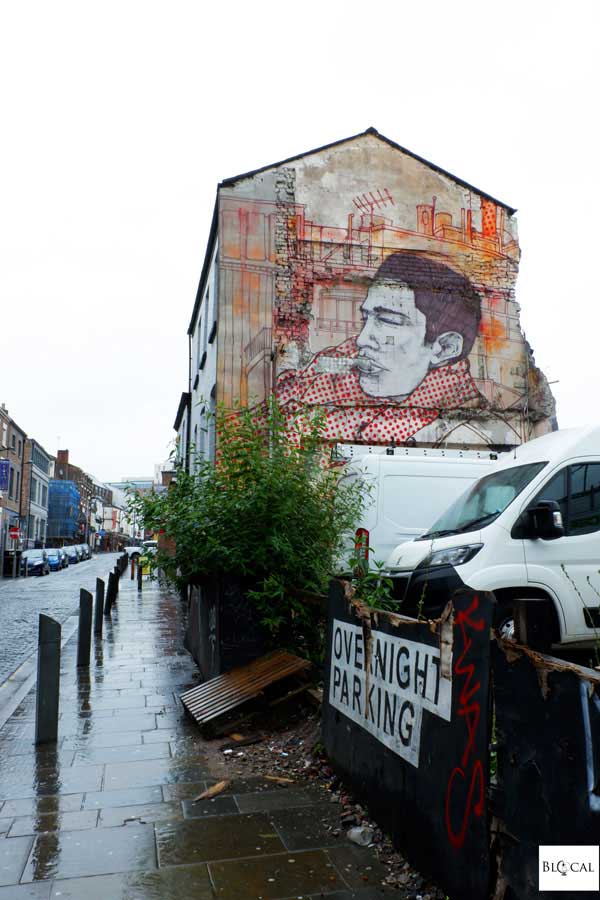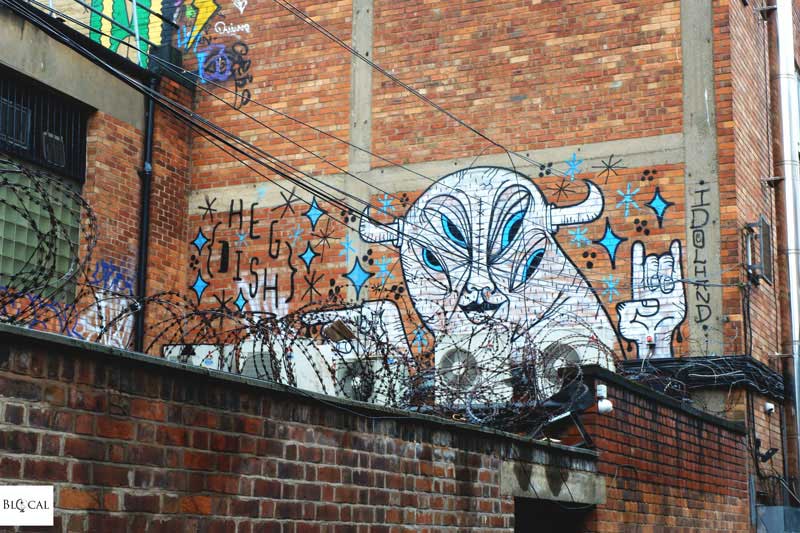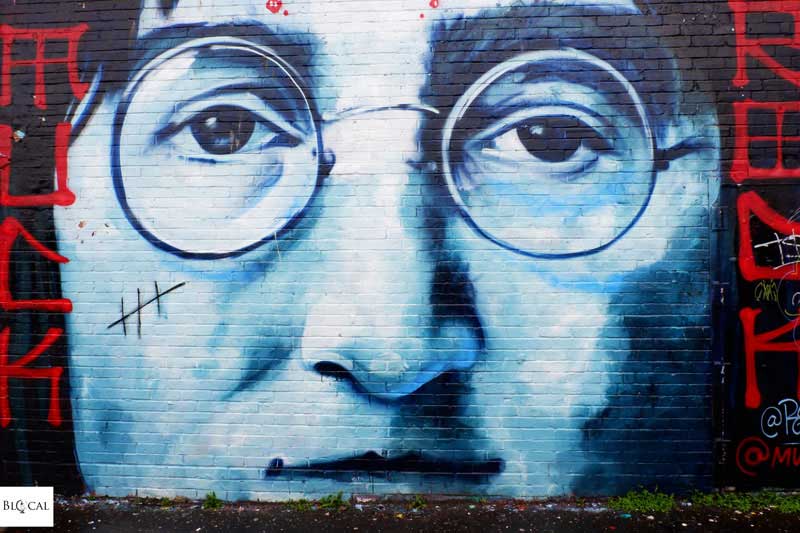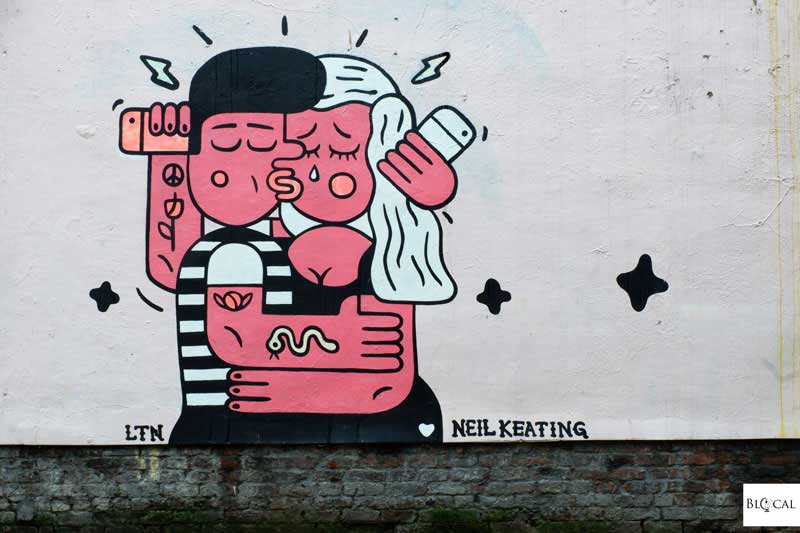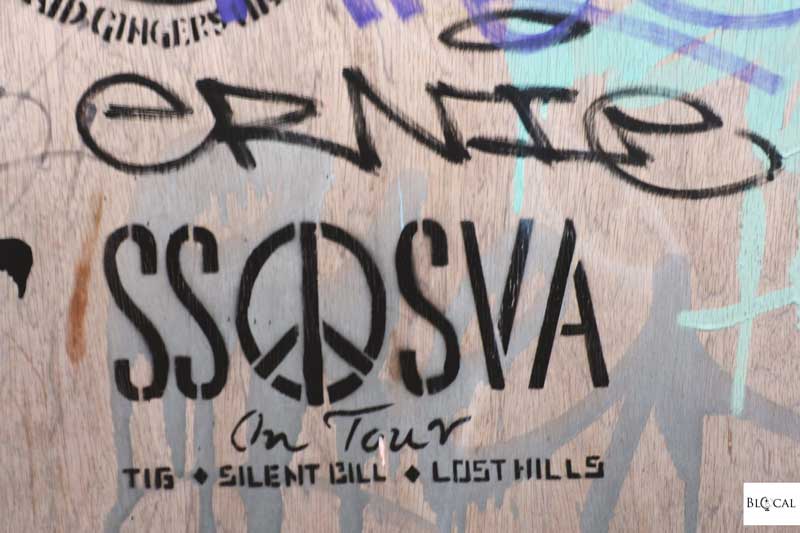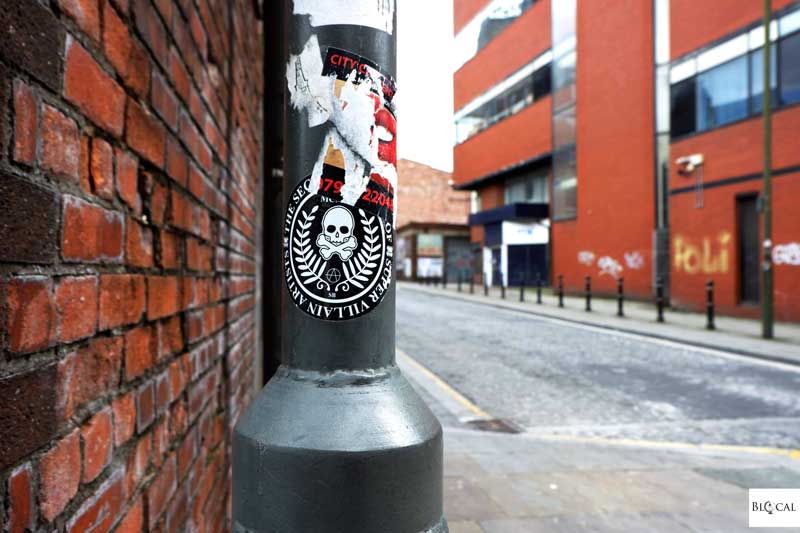 On a small building in a parking lot on Parr Street, there are three pieces produced during the first edition of Contrast Mural festival (2018). When I visited, the spot was quite crowded with cars, so the only decent photo I could take was of the mural by the Scottish artist Elph. However, the one by TeaOne at the bottom and the one by Pese1 around the corner are also pretty cool.
Around the city center, you'll find many illegal pieces by local artist Hegdish.
There is a back alley, in particular, which is fully covered with his multi-eyed monsters, and there you can also find a portrait of John Lennon by Jules Muck. All the way from Los Angeles, Jules represented the local legend bleeding underneath a crown of thorns.
My favorite street art piece in the city center of Liverpool is by local designer Neil Keating, who painted a couple of lovers in his iconic style.
Moreover, all around the city center, you can spot stickers, stencils, and posters by local and international members of the Secret Society of Super Villain Artists. As the founder of the Society told me in a recent interview, the funny thing about the SSOSVA logo is that "once you see it, you cannot unsee it". Have fun spotting all the different SSOSVA logos in the city center of Liverpool!

Where to find street art in Liverpool: The Baltic Triangle
The Baltic Triangle is probably the best area in Liverpool to spot some graffiti and street art. Like many similar areas all around the world, it is transitioning from an industrial past to a redeveloped –albeit gentrified- future. It is not too late to visit the Baltic Triangle, though. Wandering around its post-industrial streets, you can still come across independent street art and end up in some genuine pubs like
HoBo Kiosk
.
HoBo Kiosk is managed by supporters and members of the Secret Society of Super Villain Artists. At the time of my visit, there was an exhibit of works by Lost Hills going on. Lost Hills is a local artist whose humorous paste-ups featuring his iconic character (Jake the Dog, from the cartoon Adventure Time) are scattered all around Liverpool. Here is my favorite one, which quotes Miyazaki's animation movie "My Neighbor Totoro".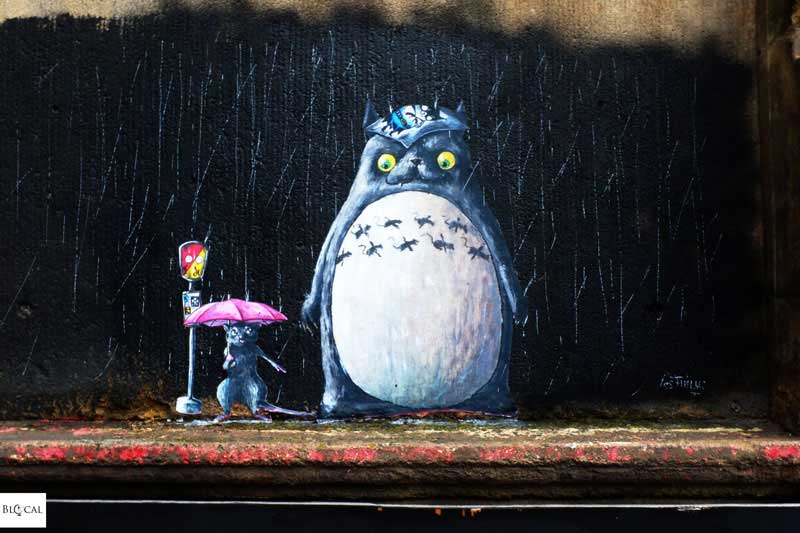 Street Art in Liverpool: John D'Oh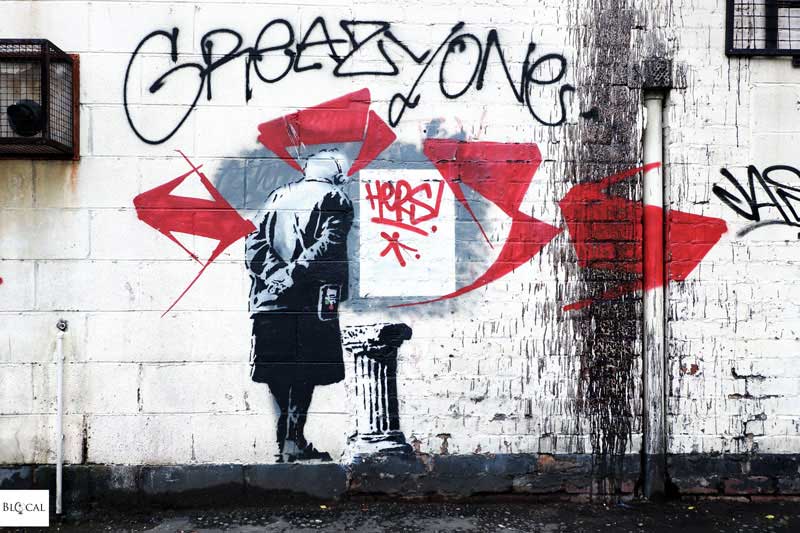 Before heading to the most colorful wall in the Baltic Triangle, let's take a quick detour to check out a mural I really loved. Mimicking a Bansky piece, this artwork by Bristolian John D'Oh was realized to protest and raise concerns over the removal and sale of high-profile pieces of public street art in Liverpool, including Banksy images, by corporate groups.
Street Art in Liverpool: Silent Bill + John D'Oh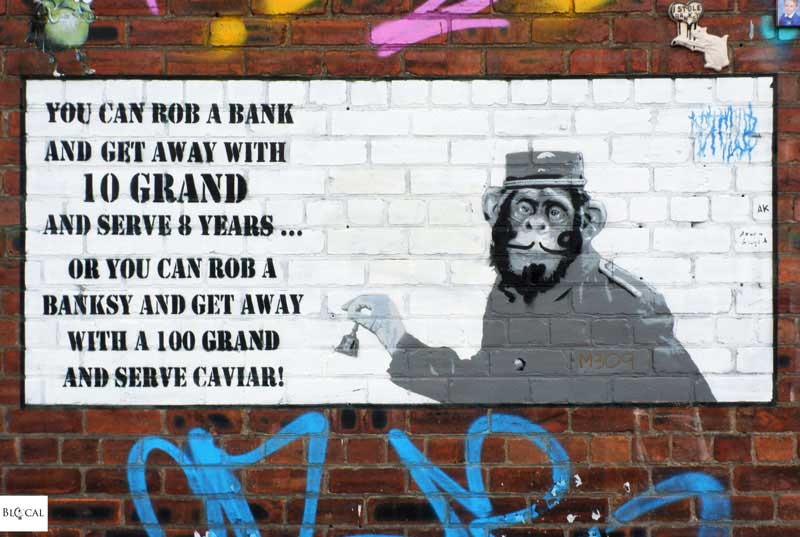 Read my interview with Silent Bill, founder of the Secret Society of Super Villain Artists
Street Art in Liverpool: Chinagirl Tile – "I stole a Banksy"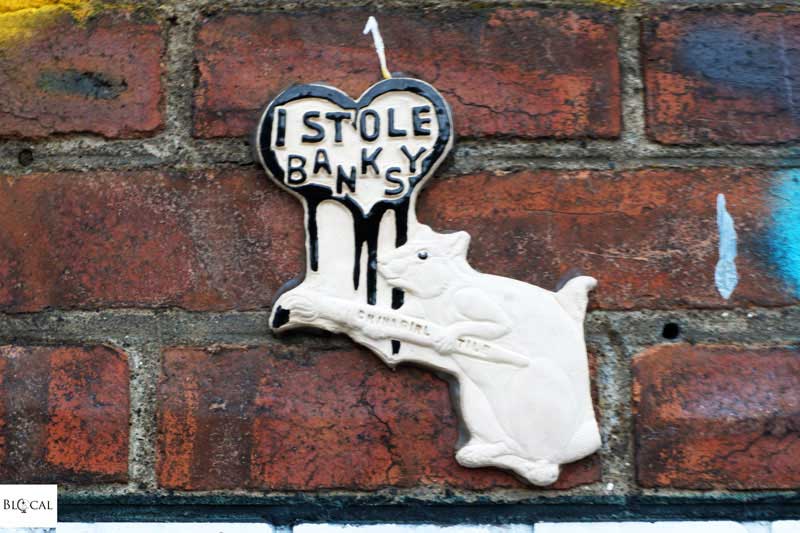 The same issue is addressed by fellow SSOSVA member Chinagirl Tile from Vienna. I've already seen her cute tile of Banksy's iconic rat before, but here –in the original context- the artwork makes so much more sense!
Street Art in Liverpool: SSOSVA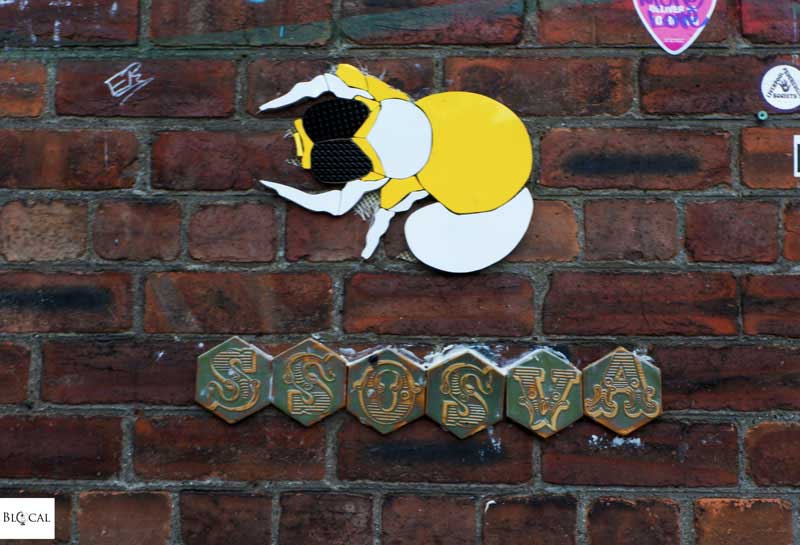 On the same wall, you can spot various logos of the Secret Society of Super Villain Artists, each one realized by a different Villain Artist with their own design and medium. My favorite one is made of ceramics, and it was created by artist HEX.
Street Art in Liverpool: Irony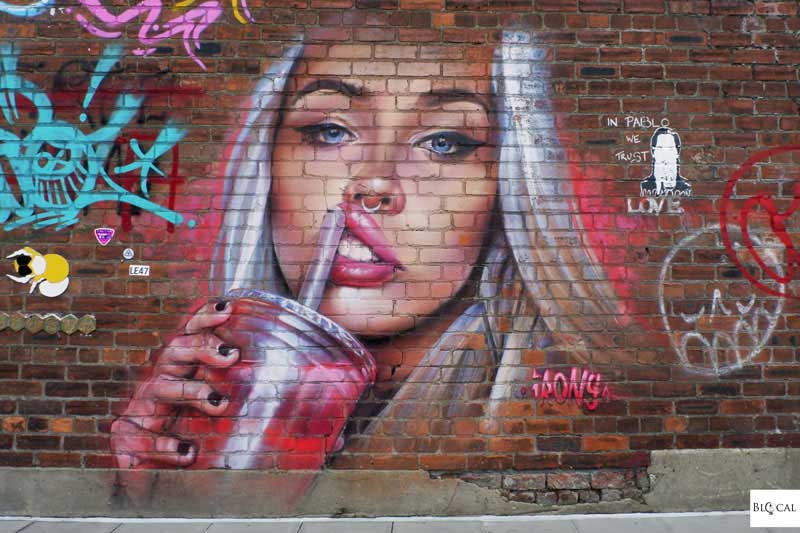 It's not a secret that I love Irony's realistic style. Here, the London-based street artist portrayed the daughter of a member of the Secret Society of Super Villain Artists.
Street Art in Liverpool: Paul Curtis – "Wings"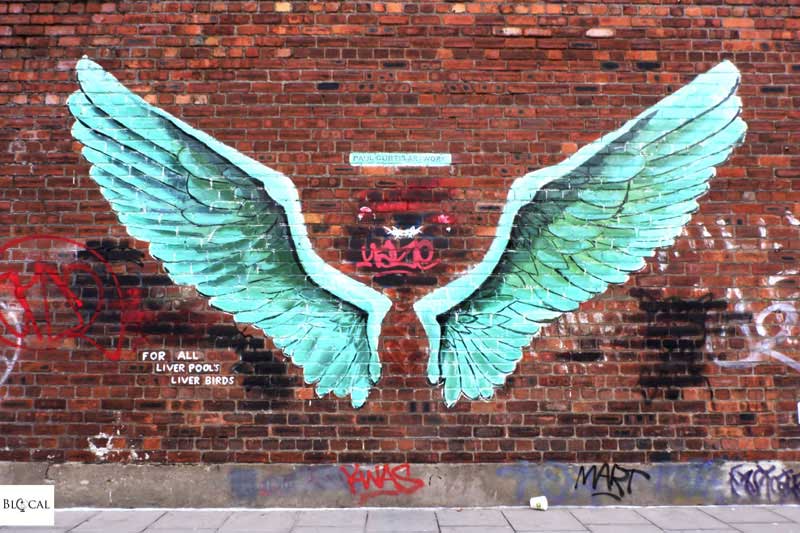 Still on the same wall, you'll find the most photographed piece of street art in Liverpool. Following an annoying trend that took over walls all around the world, Liverpool-based artist Paul Curtis painted yet another pair of wings in front of which local and international Instagrammers take the very same photo over and over again. (Is your Instagram feed polluted with 'street art wings' like mine?) In his defence, the former-geologist-turned-artist depicted wings of the mythological Liver Bird, the symbol of the city of Liverpool.
Street Art in Liverpool: Paul Curtis – "Evolution of Man"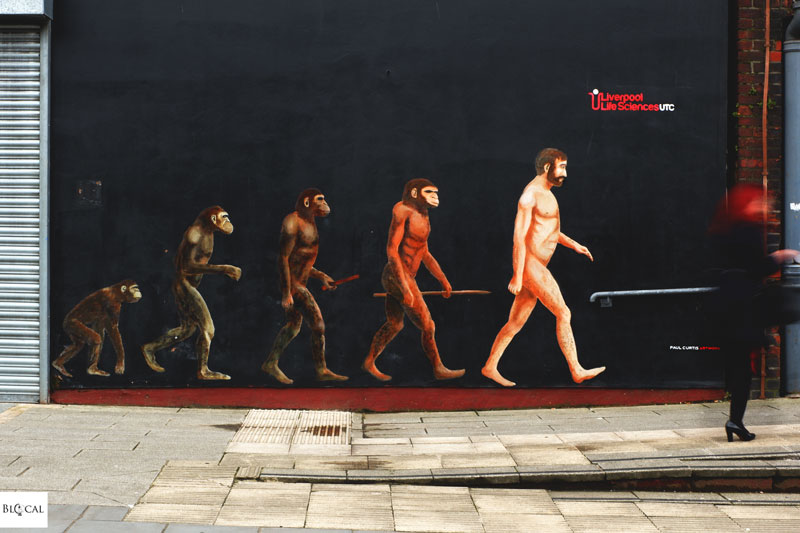 Commissioned by Liverpool Life Sciences and Observatory, this other piece by local artist Paul Curtis represents the growth of their students: from primates to college attendees heading into Liverpool Life Sciences UTC.
Street Art in Liverpool: Dave Bonzai – "All you need is love"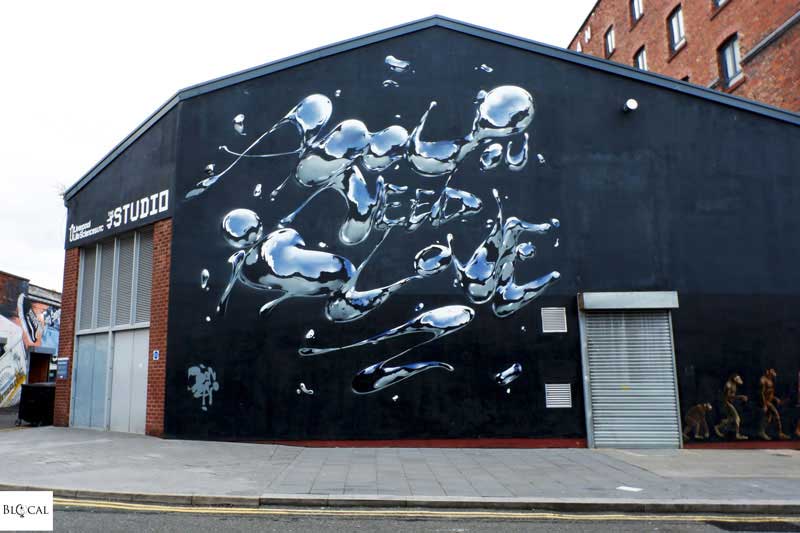 Also on the Liverpool Life Sciences UTC building, there's this nice piece by English graffiti artist Dave Bonzai, who painted lyrics of the popular Beatles song "All You Need is Love" in his iconic style.
Street Art in Liverpool: Kiwie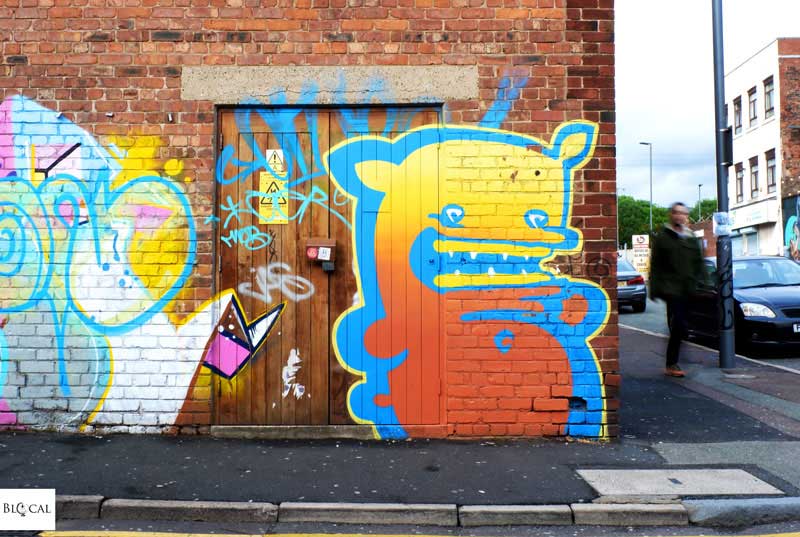 Kiwie is a street artist from Riga (Latvia) well known for his 'Fat Monster' character, which he has been painting all around Europe (and beyond) since 2004.
Street Art in Liverpool: Hegdish
Another character-based artist you'll spot all around his hometown of Liverpool is Hegdish. His characteristic monsters have multiple eyes, and are realized with a quick trait and only a few colors. Here in the Baltic Triangle, he left several monsters on the blind windows of an abandoned building.
Graffiti in Liverpool: Betarok75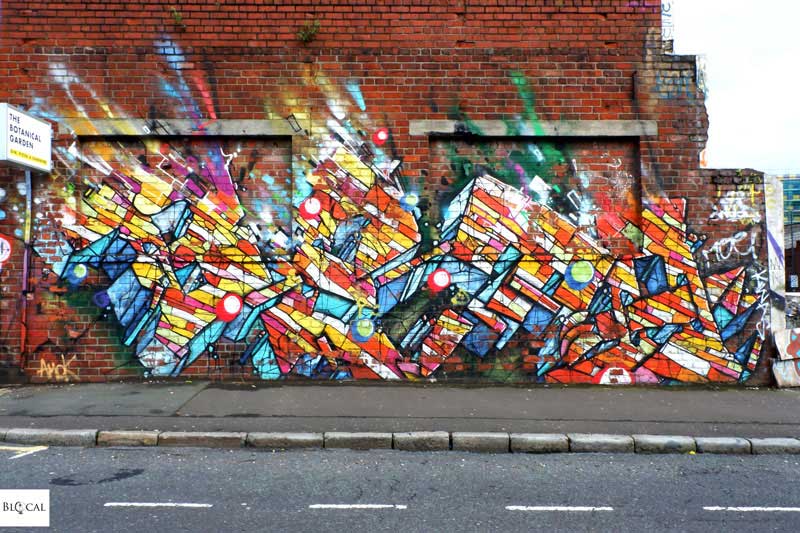 Originally from Scotland, Liverpool-based graffiti artist Betarok75 specializes in deconstructed, often abstract, graffiti. I saw several pieces by him all around Liverpool, often on wooden construction panels; fortunately, this old one in the Baltic Triangle is definitely not going away anytime soon!
Street Art in Liverpool: Aches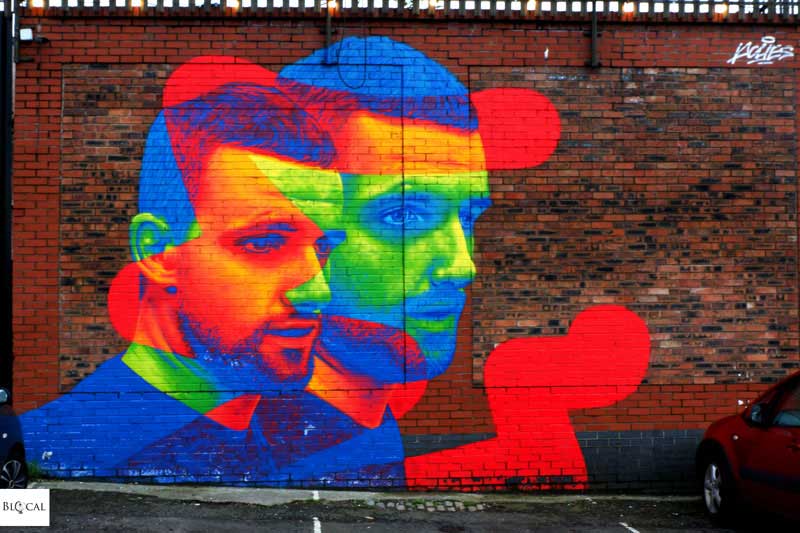 Produced during the first edition of Contrast Mural festival (2018), this artwork shows that Irish artist Aches, who is mostly known as a graffiti writer, is also a talented muralist.
Poster Art in Liverpool: Face the Strange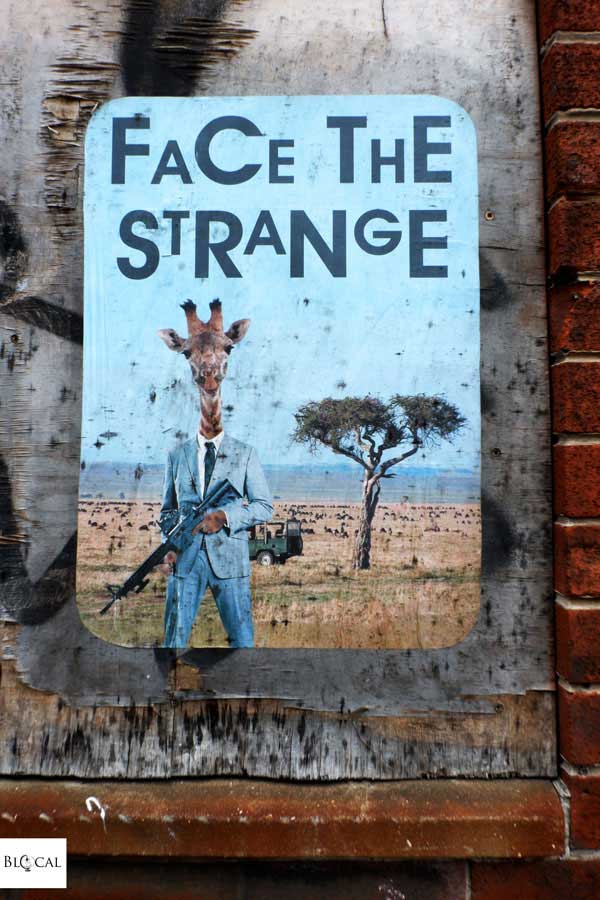 I've always loved the message of this poster artist from Derby, who chose his artist name based on the concept of "everyone else may look strange to us, as we may do to them". I see it as a great message of tolerance and acceptance, which he aims at spreading across the country through his bizarre designs.
Street Art in Liverpool: Richard Wilson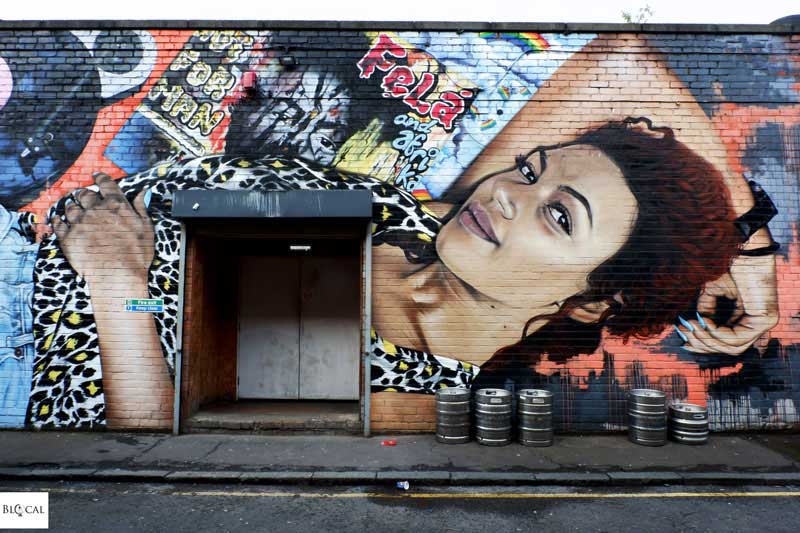 Self-taught artist Richard Wilson began painting graffiti in 1984. Since 2016, he has also been spray-painting large-scale portraits on walls all around Europe, like this massive one he left in Liverpool in 2017.
Street Art in Liverpool: Akse – "We are Liverpool"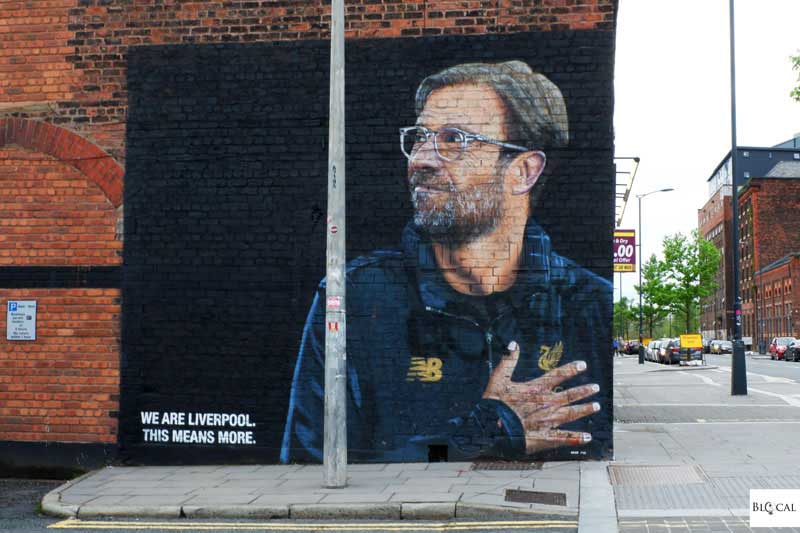 Manchester-based artist Akse portrayed Liverpool Football Club's manager Jürgen Klopp, a beloved figure in the city. The mural was created in December 2018 to celebrate the impressive 2017-2018 season of Liverpool's team.
Street Art in Liverpool: Akse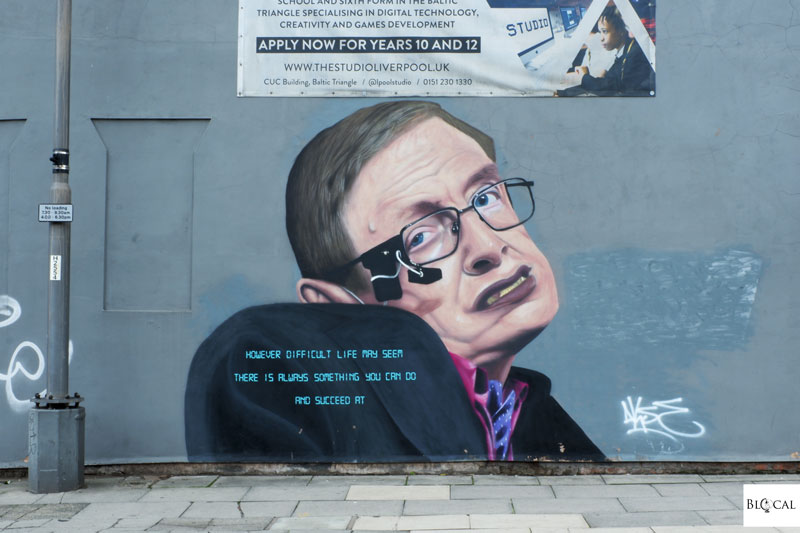 Also by Akse is this tribute to Stephen Hawking painted just outside the Baltic Triangle, on Parliament Street. In it, we can read the inspirational quote by the scientist: "However difficult life may seem, there is always something you can do and succeed at".
Graffiti in Liverpool: New Bird skatepark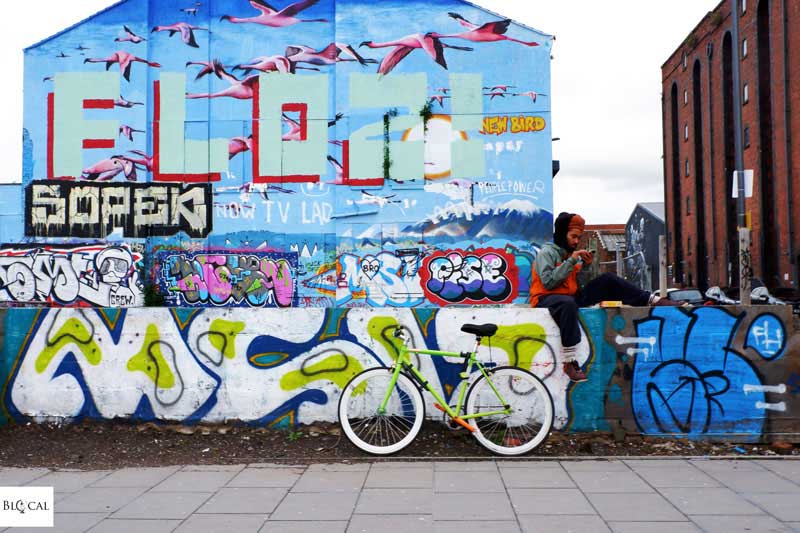 Skateparks are always a good spot to find some graffiti and independent street art, and this one at the hearth of Liverpool's Baltic Triangle is no exception. Against a background of flying flamingos (a quite controversial mural produced by Netflix, which is clearly disliked by local artists), you can spot a series of tags and figurative pieces.
Where to find street art in Liverpool: Islington (The Fabric District)
This area in the Eastern part of Liverpool is undergoing a massive transformation, hence the seemingly endless maze of wooden construction panels on which graffiti writers from all around the world painted during the second edition of
Contrast Mural festival (2019)
. The event produced a total of 50 artworks, including several murals located in the so-called Fabric District, which was the heart of the city's rag trade.
Street Art in Liverpool: Cheba – "Blue Moon"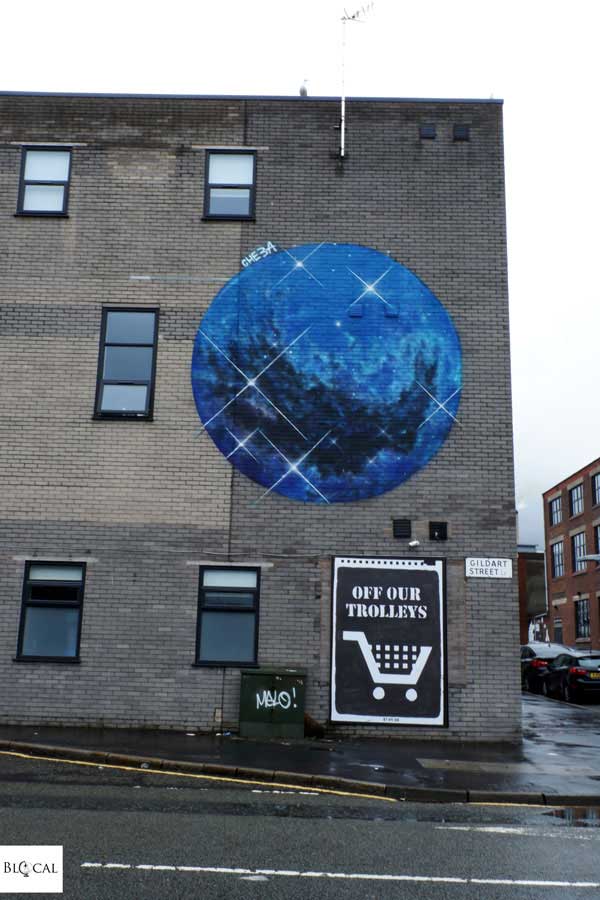 Bristolian artist Cheba painted a giant blue moon in his iconic style, which is inspired by the space and 'futuristic expressionism'.
Street Art in Liverpool: Darren John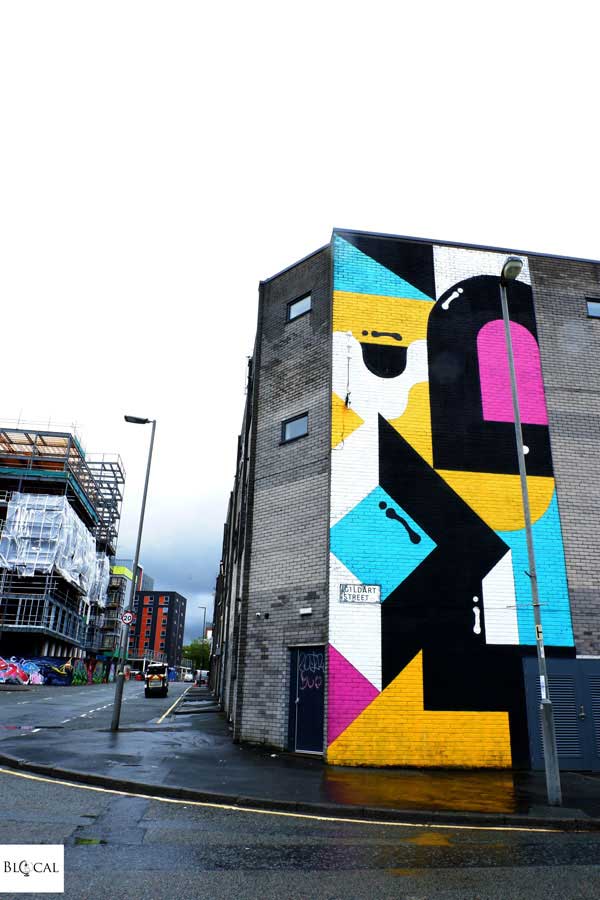 Darren John is a London-based artist well-known for his use of bold, bright colors and abstract shapes, which arise from his untamed, spontaneous creativity.
Street Art in Liverpool: Shane O'Malley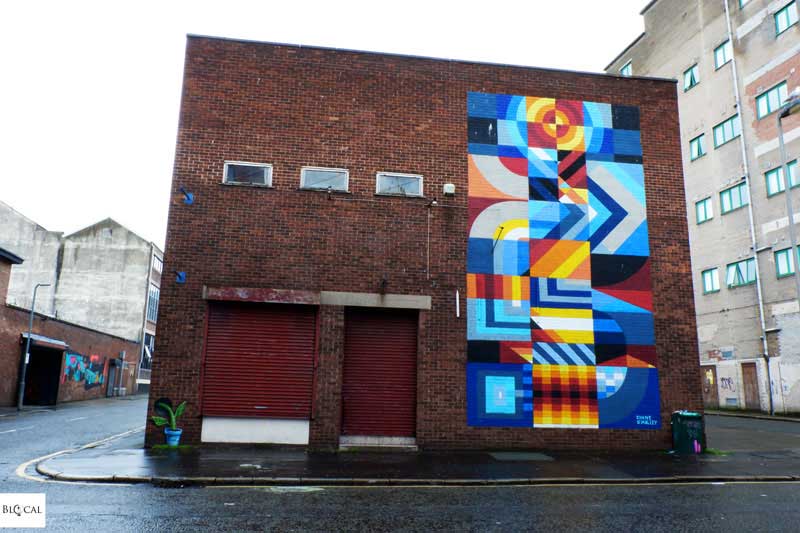 Yet another abstract and colorful artwork was realized by Irish artist Shane O'Malley, who began painting graffiti in 2001.
Street Art in Liverpool: Finbar McHugh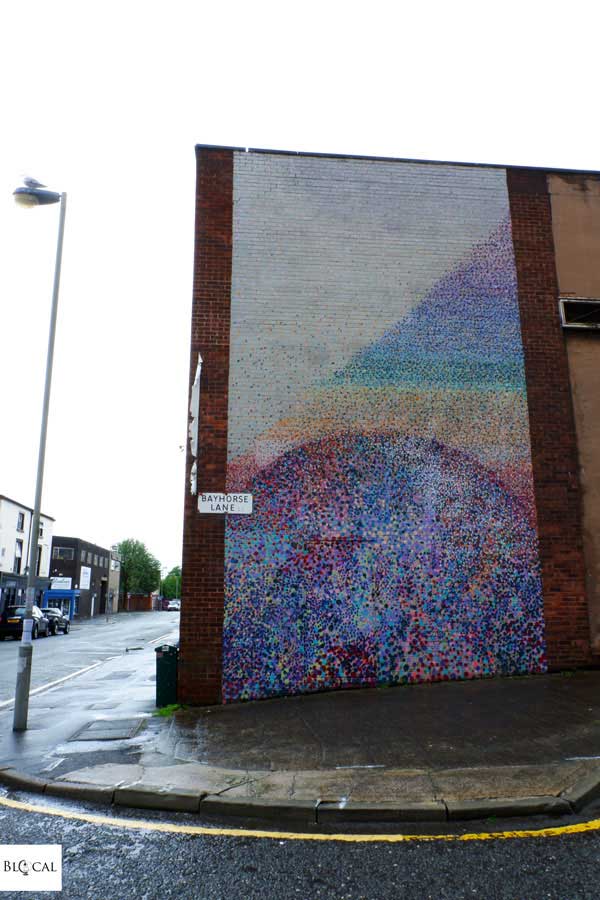 Also from Galway (Ireland) is Finbar McHugh, who painted an abstract piece made of thousands of colorful little dots.
Street Art in Liverpool: Akse – "Jah"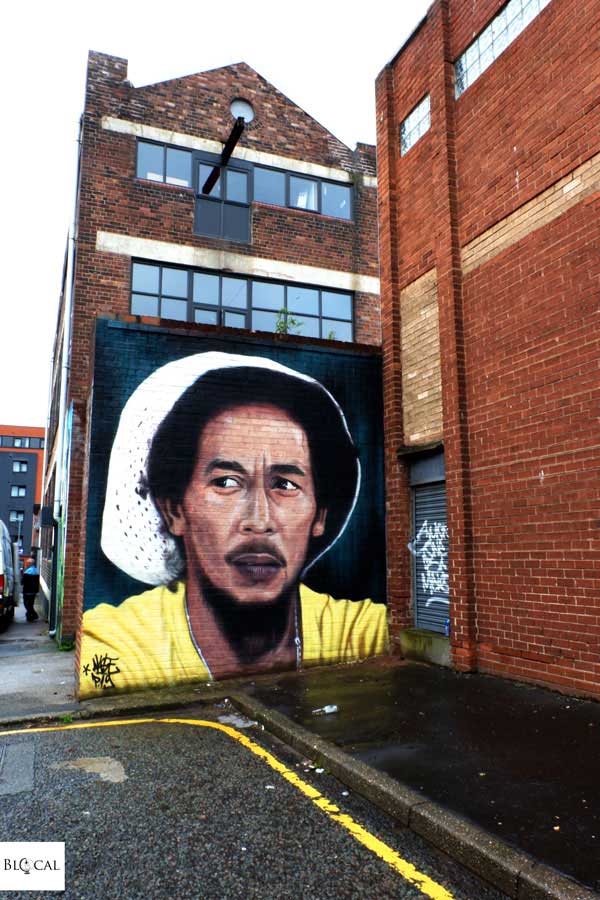 French artist Akse painted a tribute to Bob Marley. As usual, the artist did it free-hand, starting from an original photograph.
Street Art in Liverpool: Ed Hicks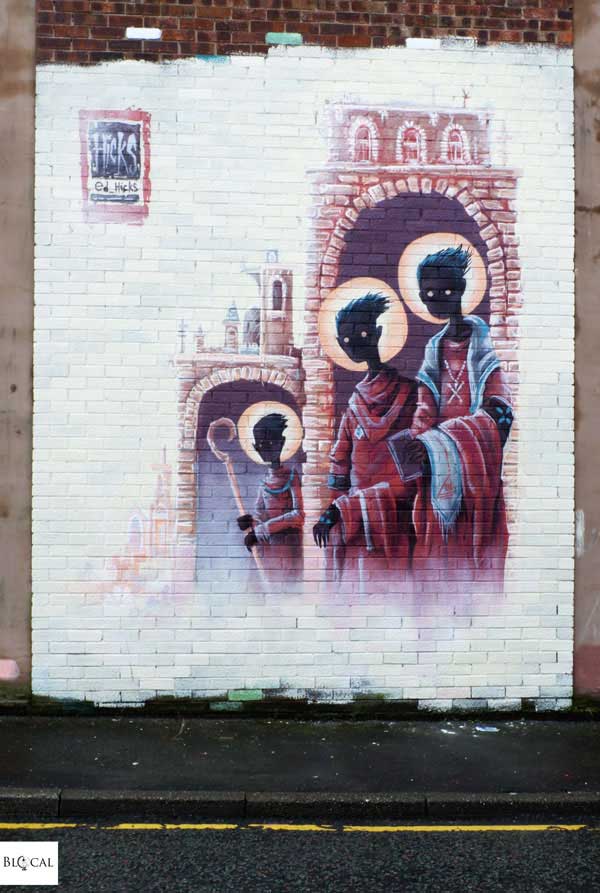 British muralist, graffiti writer (Hicks54) and illustrator Ed Hicks is well-known for his obscure themes and articulated narratives.
Street Art in Liverpool: Dead One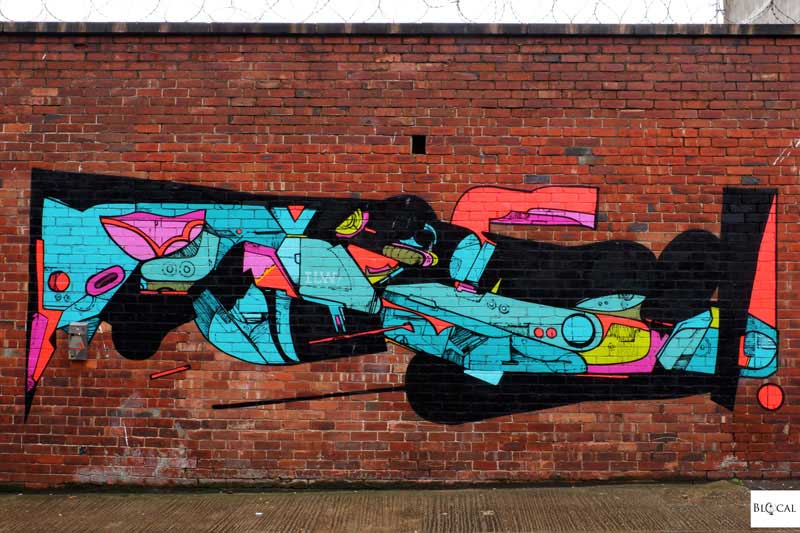 Representing the Infamous Last Word Crew, this artist paints with vivid colors. He can either create a stunning abstract piece or paint one of his impressive skulls.
Street Art in Liverpool: Philth – "Never Ready"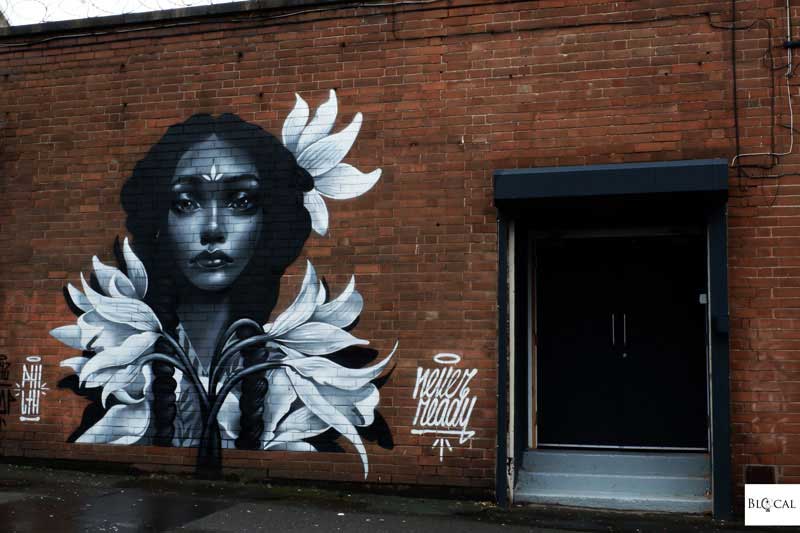 I liked the massive mural Philth painted at Upfest 2018 more than this piece he did in Liverpool. I was amused by his color palette there, and a bit less impressed by this black and white piece.
Street Art in Liverpool: Sicovecas – "Sun worshipper"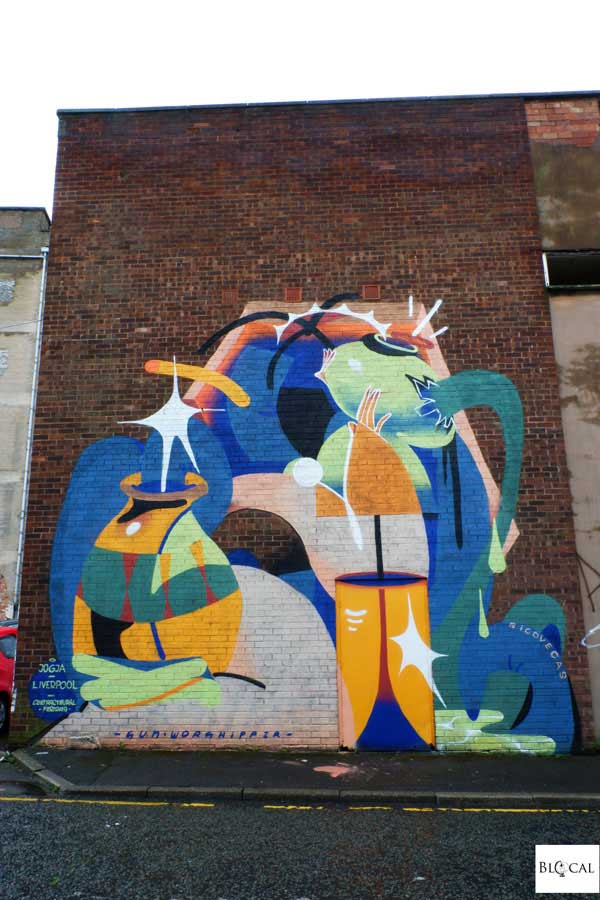 All his way from Indonesia, Sicovecas painted both in the mural area and in the graffiti area of the festival. The mural he painted on the Fabric Distric is inspired by Stonehenge as a place for sun worshipping in the summer solstice.
Street Art in Liverpool: TeaOne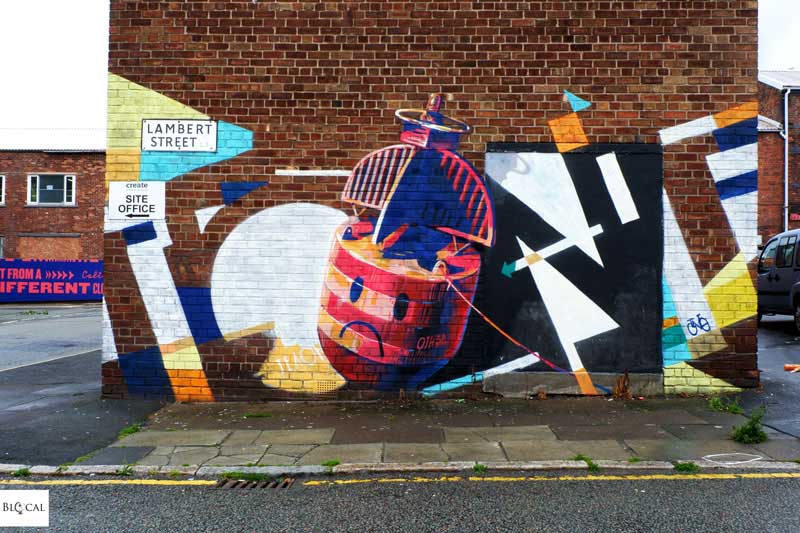 Created for Contrast Mural festival 2019, this colorful piece by NSA Crew member TeaOne was one of my favorite pieces at the parking lot on Lambert street, which is a popular area for legal graffiti.
Street Art in Liverpool: Hixxy + Lost Hills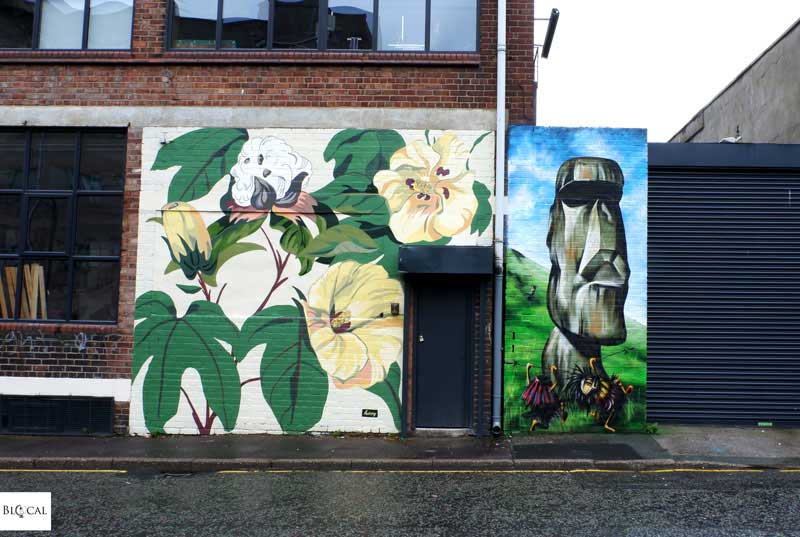 These two different artists painted so close to each others during Contrast Mural festival 2019 than the outcome is an 'unintentional' combo. On the left, the self-proclaimed 'botanical muralist' Josephine Hicks (aka Hixxy) painted a Cotton plant, drawing on the context of the Fabric District. On the right, Lost Hills did something quite different from his iconic posters featuring the Adventure Time's dog.
Street Art in Liverpool: Neil Keating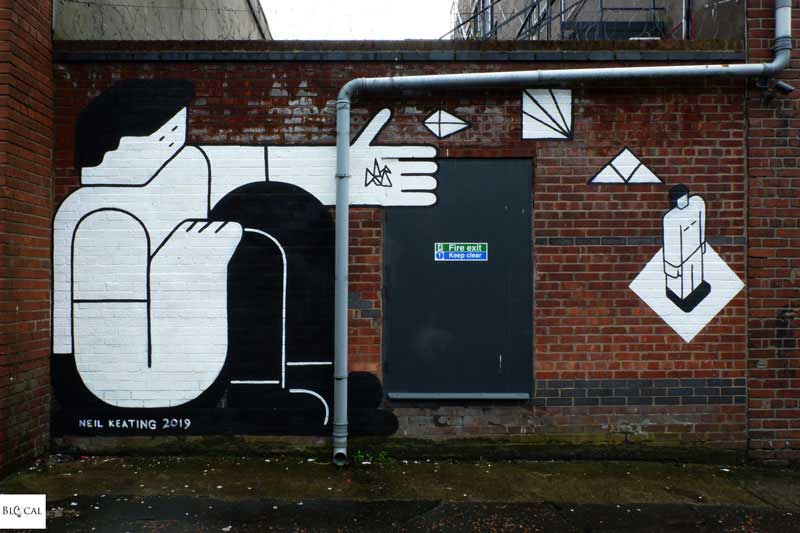 Yet another amazing piece by local illustrator Neil Keating. I love his clean style, which is especially neat here in a black-and-white palette.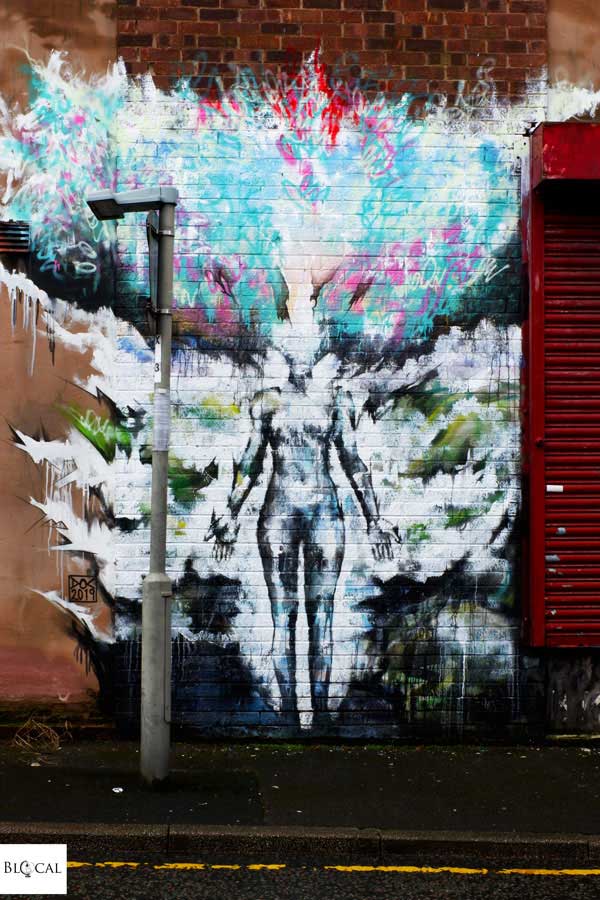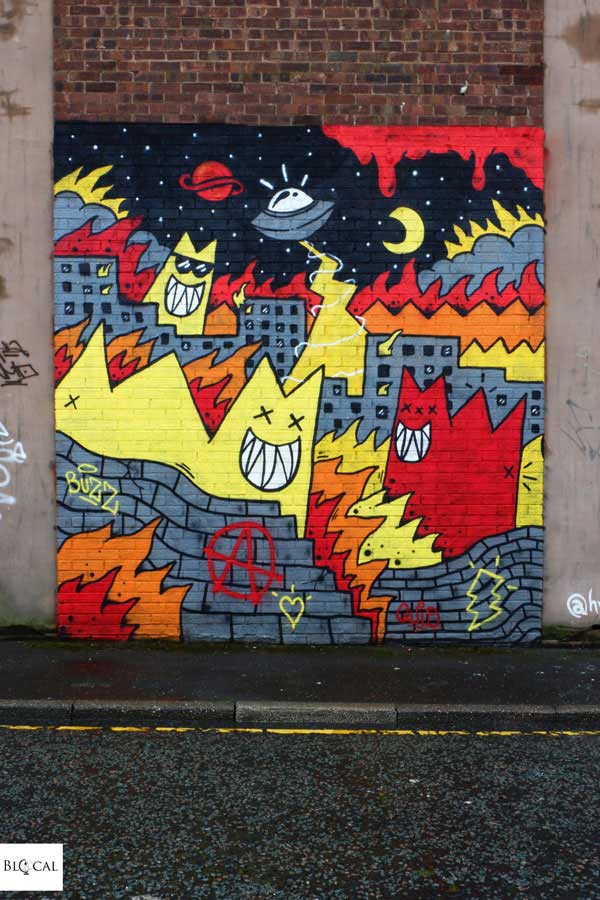 More artists invited to take part to the festival were: Danny O'Connor (aka DOC), Max Mallander, Les Paranoia, Marcamix'31, Peter Sheridan, Andrew Wolfenden and Catch22.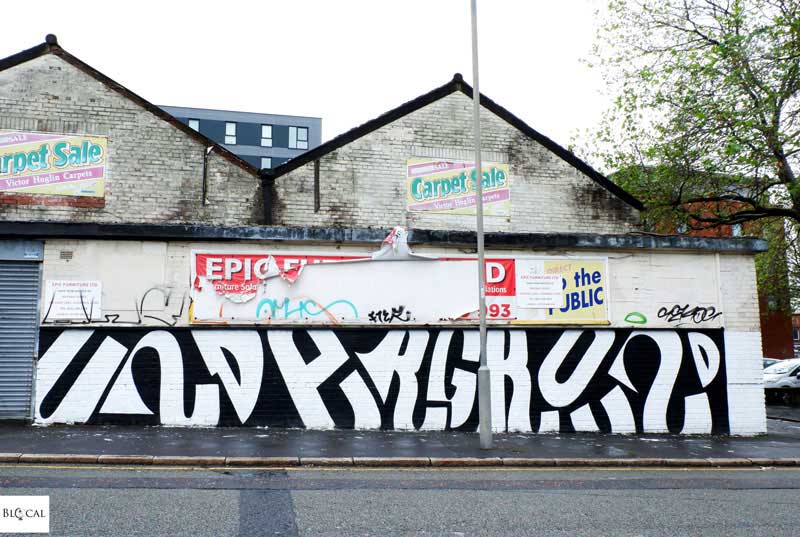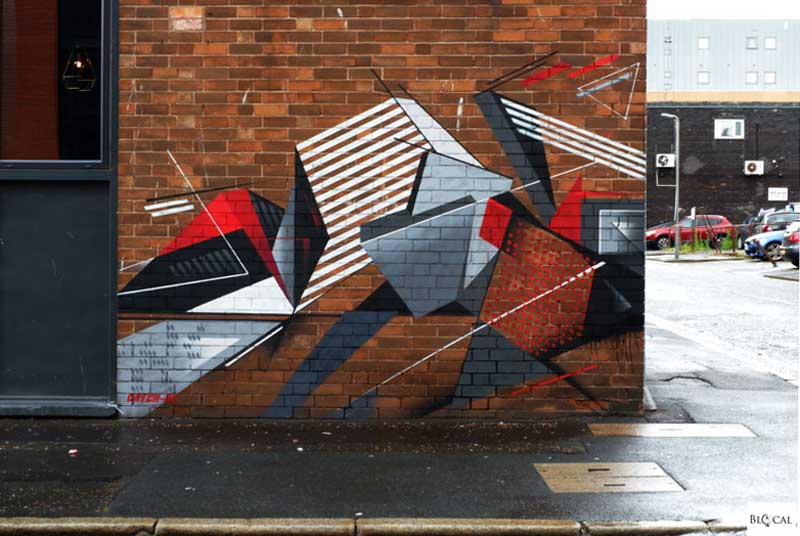 Street Art in Liverpool: Bryan Biggs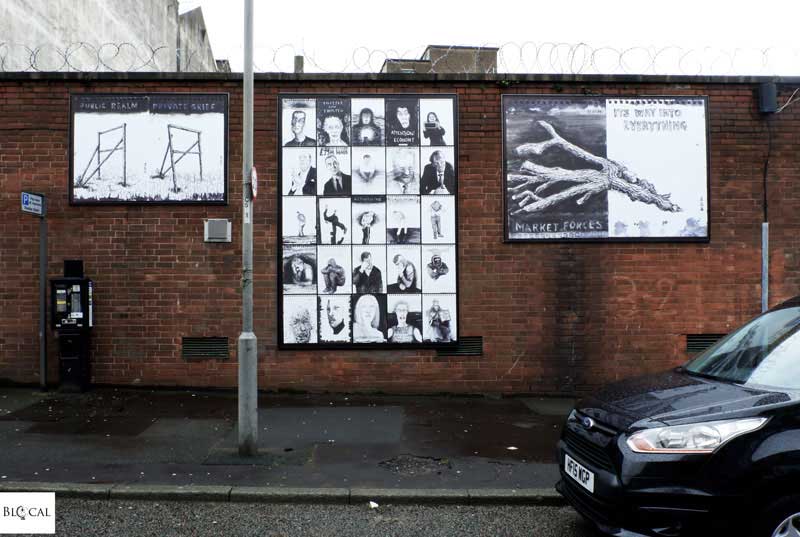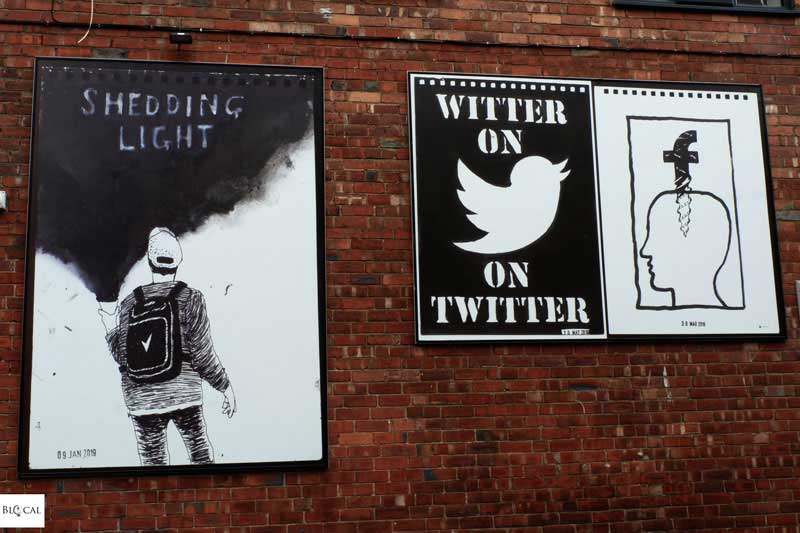 However, my favorite artworks in the Fabric Distric area were the poster-like, monochromatic pieces by Bryan Biggs, a local artist who is also the director of the renowned Bluecoat Art Centre (another go-to place in Liverpool, btw). His drawing practice has recently turned into food for thought, with this series about social media and contemporary society.
Moreover, spaced out from the festival area, I found two more pieces by well-known street artists:
Street Art in Liverpool: Dotmasters – "Rude Kids"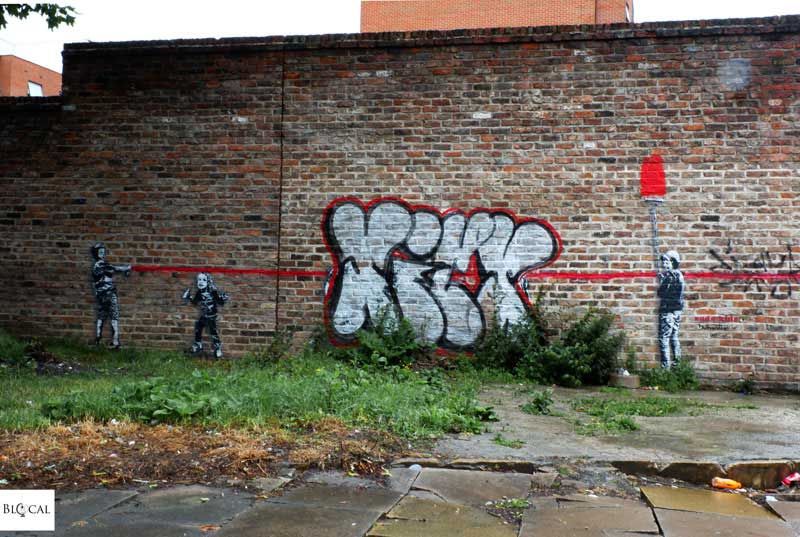 I spotted Dotmasters' Rude Kids (a series of naughty kids making obscene gestures) in several locations around Liverpool, but the ones he stencilled in 2018 by the Royal Liverpool Hospital are the best preserved ones. I love his cheecky stencils, which can tell a humorous story with just a few layers.
Street Art in Liverpool: Mr. Cenz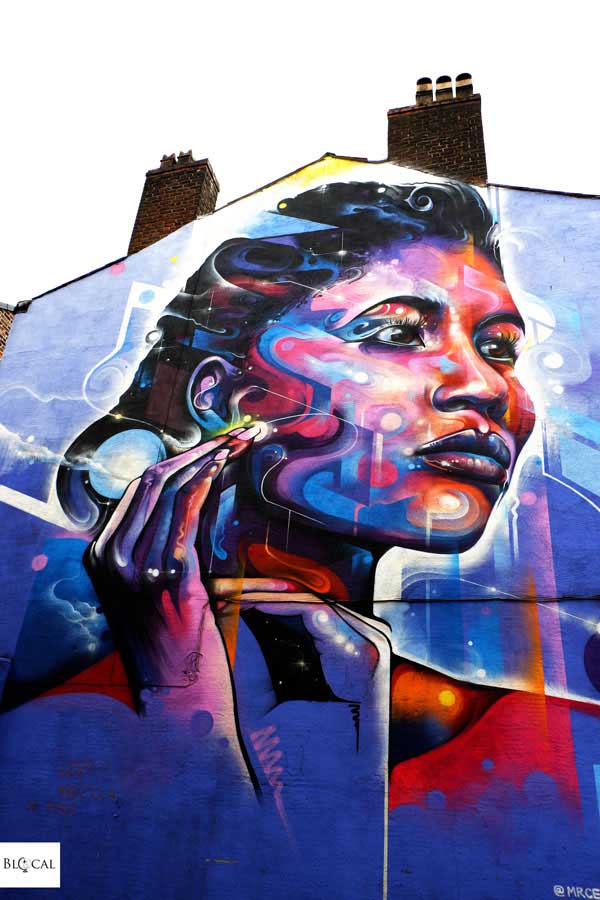 On London Road, I spotted one of Mr. Cenz's iconic women, which are abstracted from reference photos. Evolving from graffiti, his trademark style now focuses on female countenances, which are broken down and then reassembled with the addition of psychedelic lights and bright colors.
More street art in Liverpool
Street Art in Liverpool: Nomad Clan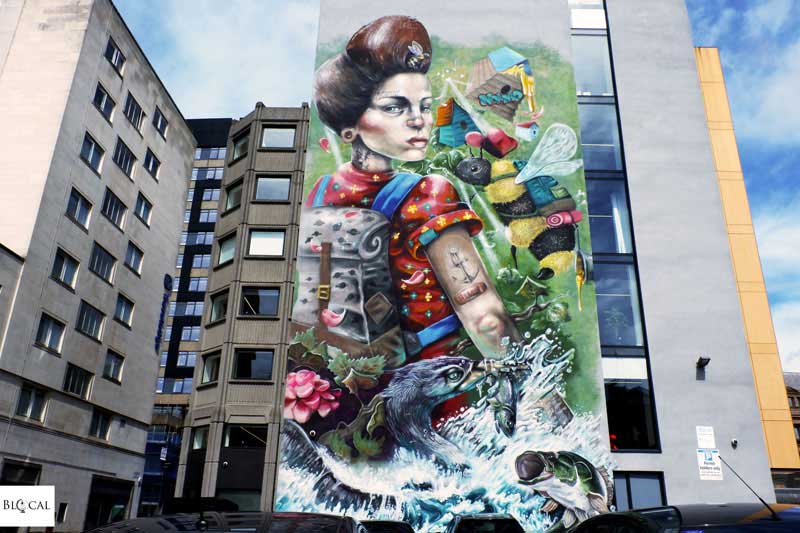 One of my favorite murals in Liverpool is on the "Tempest Building" on Tithebarn Street. It was created by the English duo Nomad Clan as a empowering piece, depicting the struggles and growth of start up businesses in the city.
Street Art in Liverpool: SSOSVA – "Bye bye Banksy"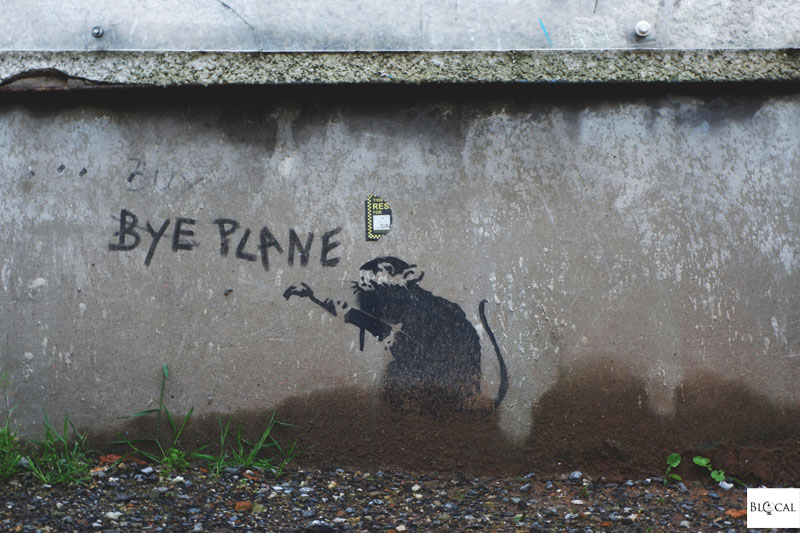 Before the massive mural by Nomad Clan, this parking lot was already on street art hunters' radars because this is where you could have found a piece by Banksy. The artwork was taken off the wall and sold to an "anonimous Qatari builder" for millions of pounds. Today, on that same spot, you can find an outraged piece by the SSOSVA, next to several stencilled logos of the Society.
Street Art in Liverpool: Unknown Artists
At the other end of Tithebarn Street, there is another parking lot with some very cool street art. Here, I spotted some colorful pieces. Even though I've been asking around about who the artists are, I still haven't got any answers. If you know who they are, please let me know in the comment area below!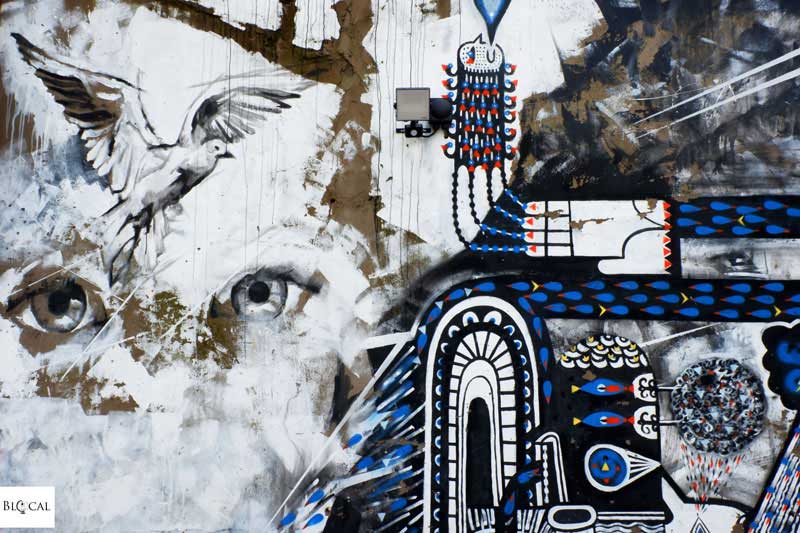 You can hover this (or any) image to quickly pin it!