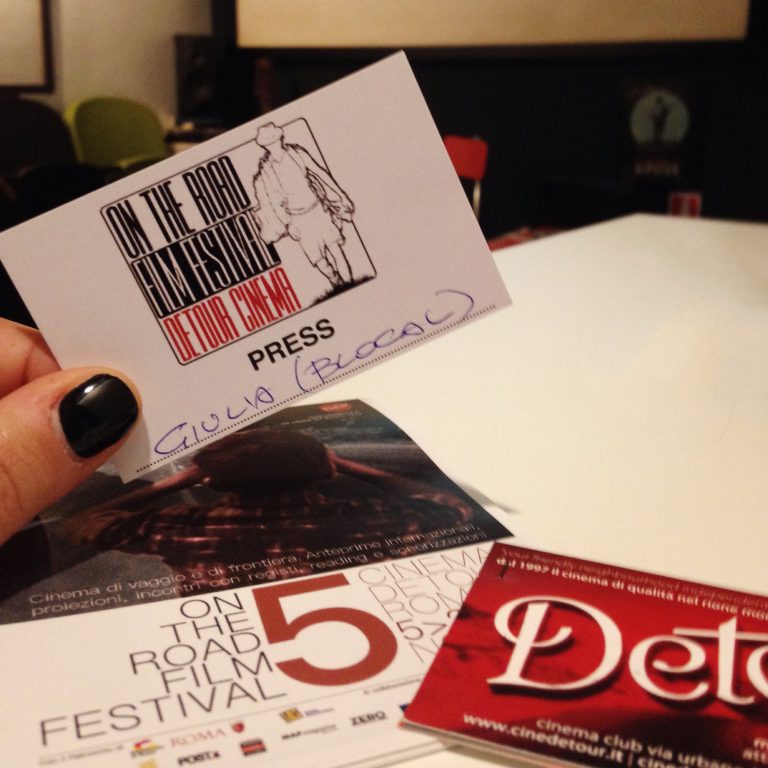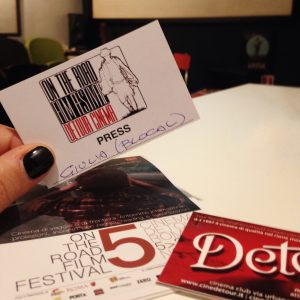 Despite the fact that I lived just around the corner for a few years, this is my first time at Cinema Detour, the independent cinema in Monti that is currently hosting the 5th film festival "On the Road".
The location itself is lovely: with its multiple couches, tables and cushions it looks more like your own living room than a cinema. Usually, the movie is screened both inside the cosy theatre and in the foyer, which was my favourite spot as it's very homey and intimate.
Here are my personal notes about the screenings I've attended so far… I'm already looking forward to the next weekend!
On The Road Film Festival > POESIA SIN FIN (Endless Poetry) by Alejandro Jodorowsky (2015)
Ideal sequel of 'The Dance of Reality' (which was about Jodorowsky's childhood in Tocopilla) 'Endless Poetry' reflects the artist's youth in Santiago del Chile, his coming-of-age as a poet and young man. Fighting against his father's bourgeois ambitions, Alejandro literally cut his genealogical tree and joined a bohemian circle of artists that included Enrique Lihn, Stella Diaz Varin and Nicanor Parra, who were still unknown back in the 1940s. From this moment, Alejandro began an exciting inner journey discovering his own way of being an artist -and of being alive. This surreal autobiography is filled with vivid characters and theatrical, almost circus-like, settings and it shows his creative quest for beauty and inner truth through a series of dream-like adventures aimed at escaping a world without poetry.
On The Road Film Festival > A PARADISE TOO FAR by Denis Langlois (2017)
Having lost their mother in a car accident, Samuel and Emilie run away from the group home where they were taken care for as they both are on the autism spectrum. The two siblings leave on a skidoo to find the paradise a priest said their mother has gone to. This adventure, which is also a magical, introspective journey into their unique relationship, tests their physical and mental limits, as well as the limits of the society they live in. The movie is dotted with long silences that underline their loneliness, while the snow, which is candid like the souls of the two siblings, muffles everything and amplifies their isolation.
On The Road Film Festival > 7 DAYS' GRAFFITI by Liang Hanjian and JIA Junyuan (2017)
Sam, who has just got out from prison, travels through the poorest areas in China looking for Chelsea, his long-lost girlfriend. Accompanied by his friend, Sam goes to a mountainous area where the landscape is foggy and depressing, many buildings are abandoned and neglected, the hospital is overcrowded and the hard rain has destroyed several houses, although all the TVs on the background announce prosperity and economic growth. The movie is slow and definitely not thrilling, like the empty lives of the two protagonists. The two loafers, who do nothing but play billiards and videogames, are compared to the generation of their fathers, who worked in the coalmine and made a lot of sacrifices to pay for their education. After discovering that Chelsea has become a prostitute, Sam eventually leaves to Beijing hoping to escape the depression typical of China's contemporary society by finding a prestigious job in the capital.
On The Road Film Festival > Next Screenings
Wed 22nd h. 9pm > DOLPHIN MAN
Fri 24th h. 8.30pm > ISTANBUL ECHOES
Sat 25th h. 5pm > SHORTCUTS (Entre Deux Eaux, The Troubled Troubadour, Dino or something, The Edge, Dear Jayne, Adavede, Chryzantemy, Ana, Welcome, Distancia, Shadows of Endurance, The Train The Forest)
Sat 25th h. 10.15pm > LIFE
Sun 26th h. 6pm > PUNK A CHIEN
Sun 26th h. 7pm > ANISSA 2002
Sun 26th h. 8.30pm > ALICE IN WONDERLAND
More info: www.cinedetour.it
See you there! 
Find Cinema Detour and many more Rome's cool spots in my Rome Google Map!