Silent Bill: "I started making art a few years ago. Low-brow art with a political/social twist. One day I made up the society's logo and wrote on it "coming soon". Immediately I noticed that people were intrigued by it, so I took the next step and made an application form. People had to fill it out in order to "join the society" and post it back to the Tate Museum. I did it as a joke; I wasn't expecting anything out of it, but a big laugh. However, people did start filling it. I was getting some really good application forms, which were works of art themselves: drawn, engraved… one guy even screen-printed it on a glass!"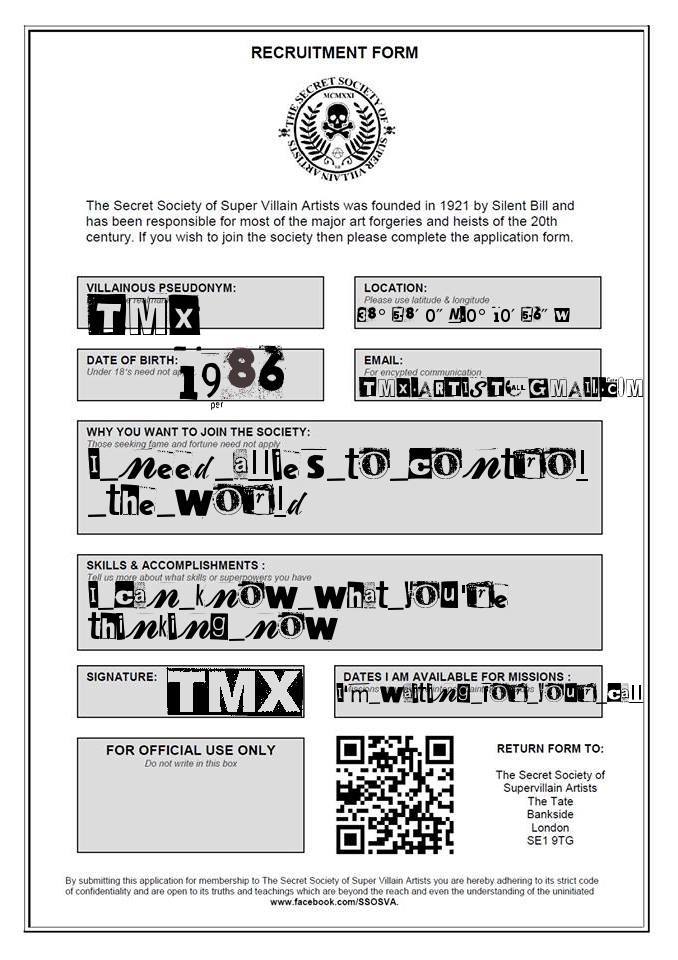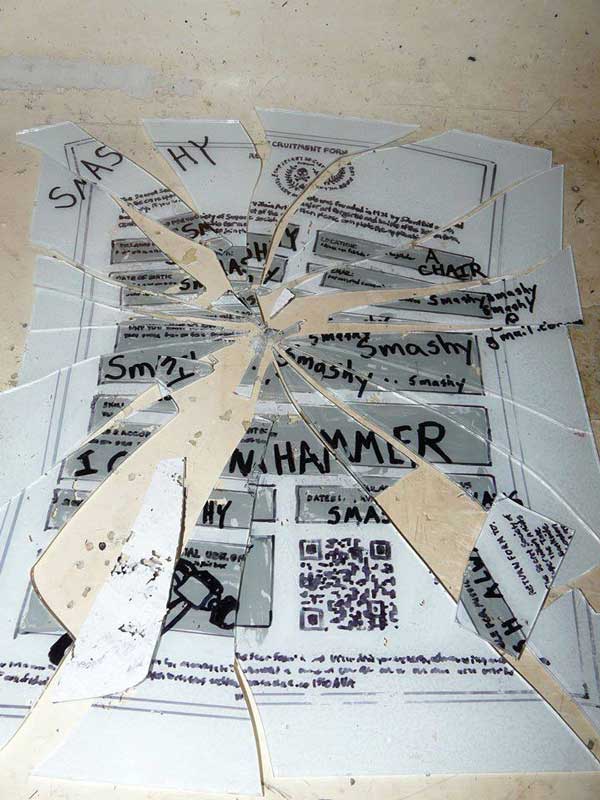 The application form for the Secret Society of Super Villain Artists first appeared on Facebook in 2012, and it spread through online artist groups like wildfire. Aside from leaving Tate Museum's employees quite puzzled, these bizarre application forms turned out to be a great way to discover underrated artistic talent worldwide.
Silent Bill: "There are many artists out there who are very talented but still on the 'ground level'. By gravitating together, it's easier to do things like group shows or other initiatives."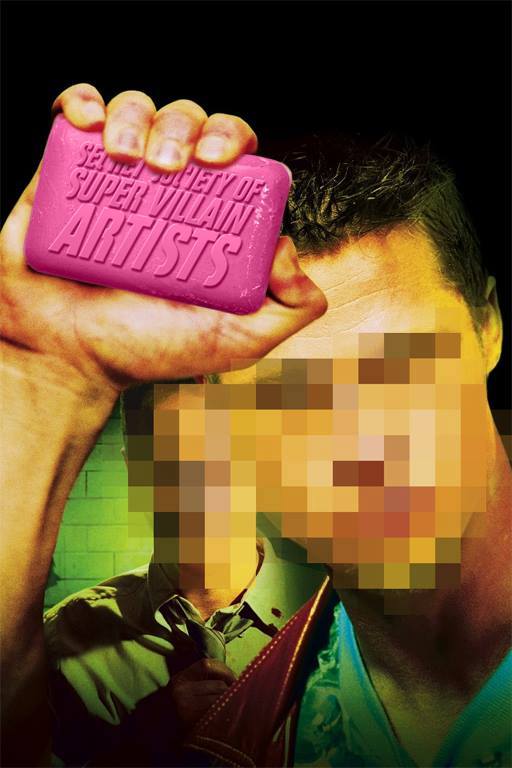 The first group show of the Secret Society of Super Villain Artists took place in 2014 in the Spanish city of Valencia. Sponsored by the popular spraycan brand Montana, the exhibit was organized by a gallery owner who happened to be a member of that society.
Silent Bill: "I was meant to fly over, but when I got to the Liverpool Airport, I found out that my flight was on the day before. Since then, I have this reputation of being 'mad' or something, but the truth is I'm just terrible with numbers and dates."
After this first exhibition abroad, there was a second exhibition in Brick Lane, London in 2014, followed by an exhibition in Liverpool at Zap Graffiti the next year. Members of the Secret Society of Super Villain Artists flew over from everywhere for the Liverpool show where they realized that, besides bring a "collective", they had also become a family. More shows followed in Australia, Miami, Scotland, and London, all spontaneously organized by members of the society who had simply gravitated together. More recently, Vienna-based member Chinagirl Tile secured a space in the Wien Museum to represent over 40 members.
Silent Bill: "We'll name it, but our shows don't have a common 'theme'. They are organized by members of the society and are under the logo of the society, but then it's just whatever. Everyone contributes with their own 'artistic universe'. Moreover, artists of the Society are on different levels; there is often someone who 'elevates' the others and someone who 'gets seen'. There are also artists that, although they could go their own way, still enjoy doing a group show and the feeling of being part of it."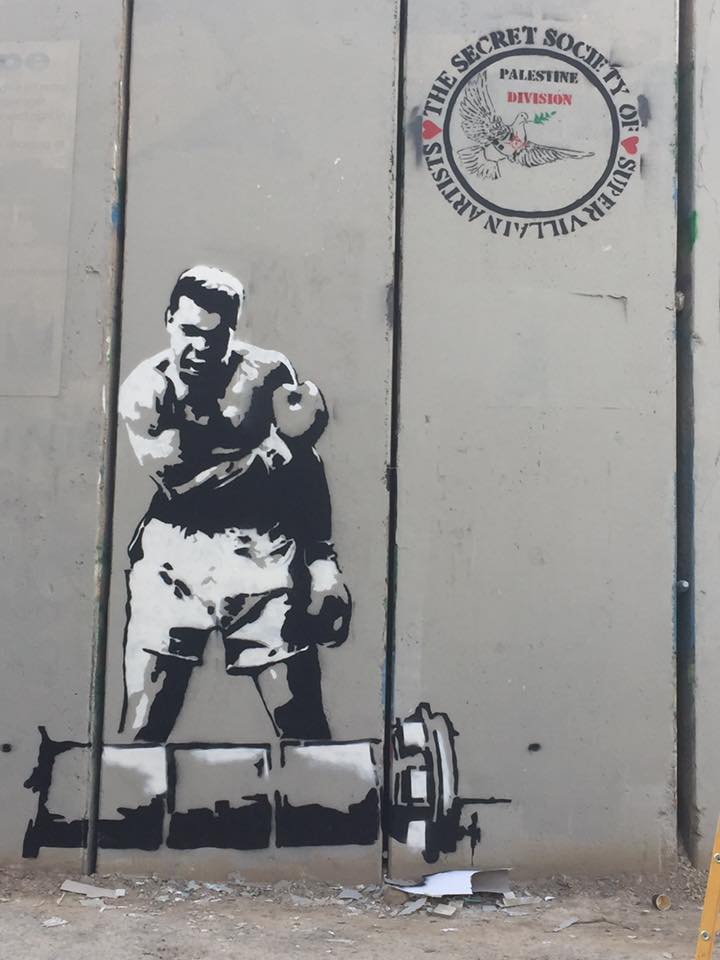 Apart from group shows, the Secret Society of Super Villain Artists also does a lot for charity–everything from a charity T-shirt for the Palestine Division to purchasing musical instruments for the children's charity "Sound of Palestine". Recently, they were very active in supporting the community that suffered from a massive gas explosion in Merseyside, when several businesses had to shut down and many people lost their homes.
Silent Bill: "Usually, when someone does something for charity, we'll all get behind it. Personally, I'm very concerned about homelessness, so I often dedicate a day when each member goes out and makes a sandwich for a homeless person."
According to their Facebook page, The Secret Society of Super Villain Artists has around 8,000 members.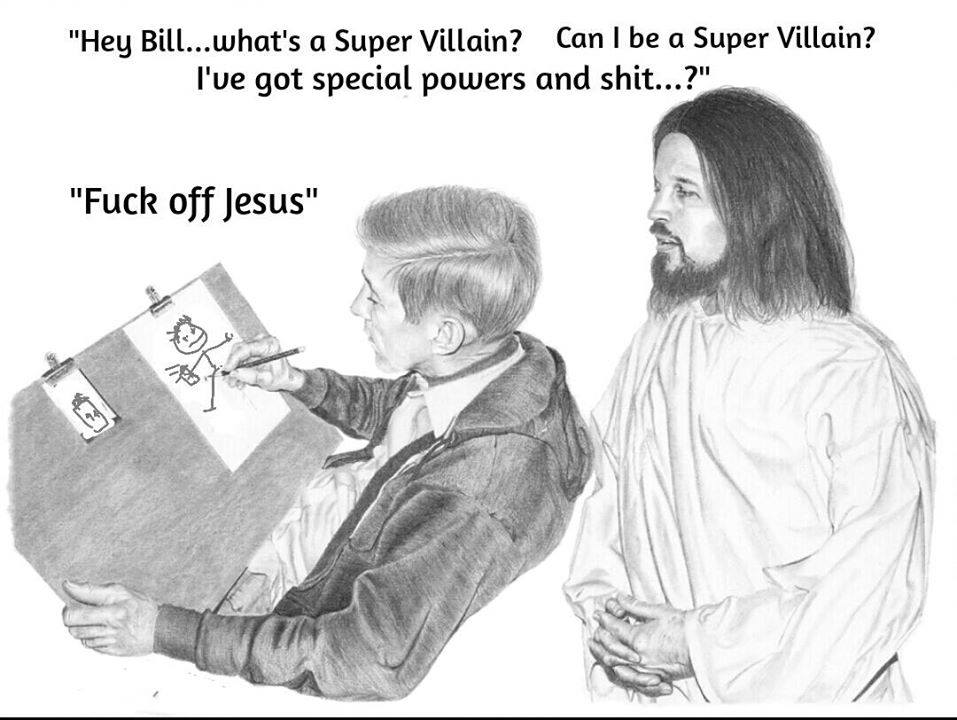 Silent Bill: "It amuses us that there are people we don't even know; they are out there, they do things, and I'm not even aware of them. We come across images of other division's logos in remote locations; they have never contacted us and we don't know if they realise there are thousands more of us all dotted around the world. I recently began pin-mapping all the photos I receive from members all around the world and the map is filling up very quickly. However, in terms of actual members that do stuff and are quite active, we probably are around 1,000."
Ultimately, the Secret Society of Super Villain Artists isn't just about art, but largely about being part of a "movement"; a movement that engages with charity and more social interventions, although the founder is quite reluctant to call it a "political" movement.
Silent Bill: "Lots of members are very political, but we tend to keep the society out of that because we might not have all the same beliefs about all the political matters. However, I would say that we are more left leaning. Also, the anarchy symbol we have on the logo isn't fully political. We are not anarchist in the traditional sense, but we do not want to be told what to do. The society has no leader and we all do what we want."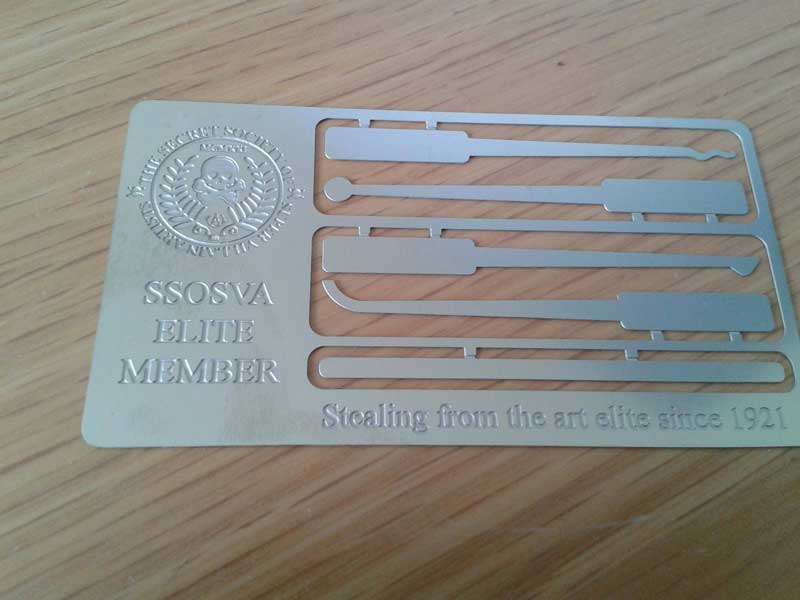 Villain Artists also believe that it is important to help their neighbours.
Silent Bill: "I think that all creative people got it in their nature; they will all genuinely gravitate into some form of helping people. This is also why we want to stay anonymous: not because we think it's cool, but because in our "real life" many of us are teachers, social workers, care workers, and such. We have to stay hidden because we cannot be seen helping people at our day job and then 'committing crimes' after work."
Except the group shows that , in fact, all of the street activity carried on by the Secret Society of Super Villain Artists appears to be illegal.
Silent Bill: "I do encourage members to put up their artwork in places where street art is 'tolerated', as it might be Brick Lane in London or the Baltic Triangle in Liverpool. But then again, I can't control what they do and where they do it. And I don't want to. I don't believe in "go out and vandalize". There's an unwritten code that makes members understand "why here, but not there". I can't explain it; it's something you'll get only through experience –by going out, doing it, and seeing it. Generally speaking, I invite members to ask themselves "Whose wall is this?" and if it's someone's private property to step back. Moreover, the advantage of being a worldwide family is that whenever members are travelling to a new city they can always ask local members where to go to put up their stuff. We don't just wander the streets in a city that we don't know, especially nowadays with all these CCTVs and cameras."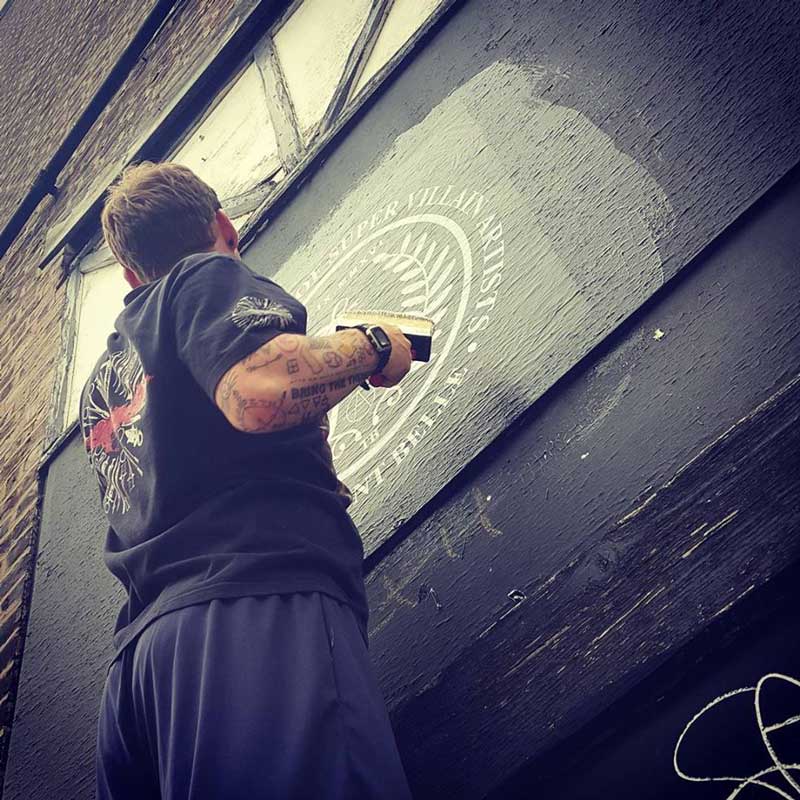 Along with the unwritten code of how to pick a spot, other rules shared by all members of the Society are that they won't tell each other their names and they won't go over other people's pieces, which is, in turn, what you are called to do in the streets when you "practice" graffiti.
Silent Bill: "There is always space, so just go around it. Some members get very annoyed by it, but I don't care. Why go over something when there is the space next to it? I think you have to respect other people, either fellow artists or people who can walk past and look at both pieces –yours and someone else's. Just leave it."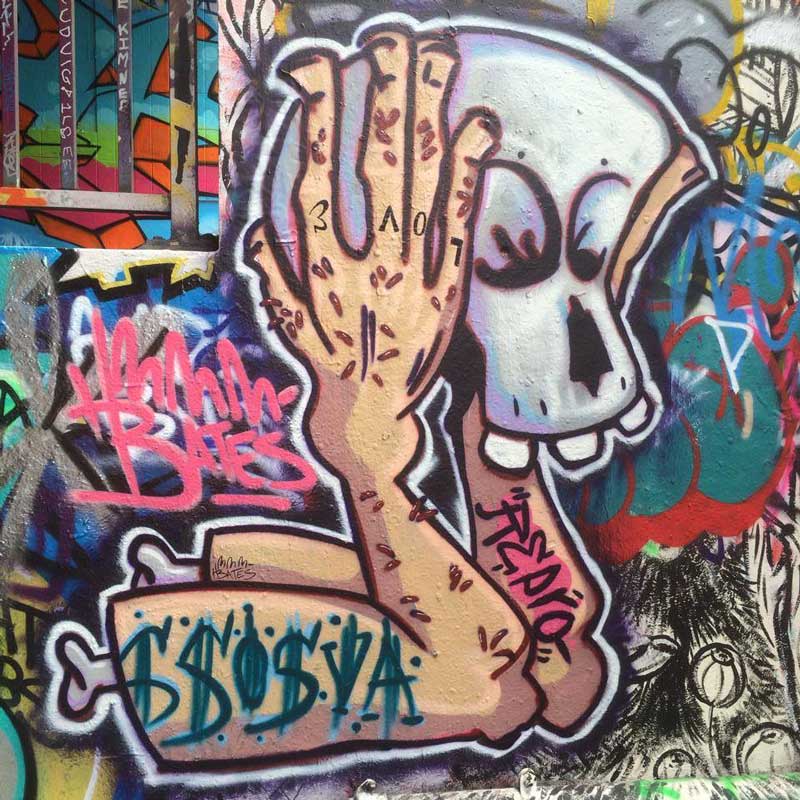 Either next to other pieces or spaced out, the logos of the Secret Society of Super Villain Artists are unavoidable.
Silent Bill: "Everyone says that once you see it, you cannot unsee it. That's the joke in calling the society 'secret': it's definitely not secret, because you're gonna see the logo everywhere."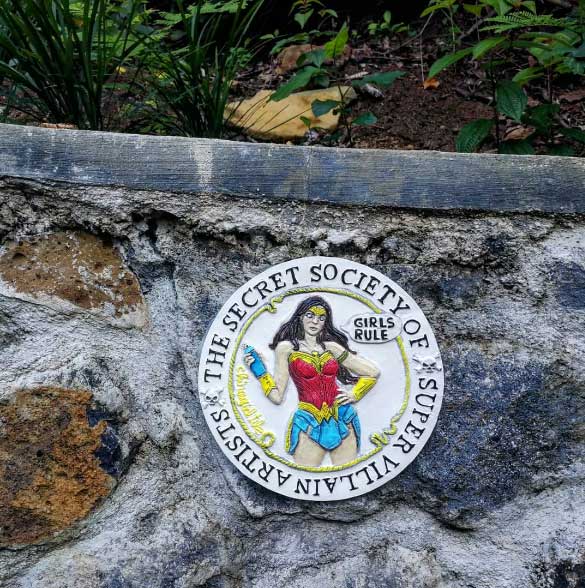 Every Villain Artist adapts the acronym of the Society (SSOSVA) to their preferred mediums and unique artistic style. Just wondering around Liverpool, I've seen SSOSVA stickers with many different designs, as well as a logo made of tiles. During one of my previous trips around Europe, I've seen SSOSVA logos made with stencils and on posters, and by browsing through social media I found photos of SSOSVA logos in the most bizarre shapes and unsuspecting locations–including museums.
Silent Bill: "The logo I use right now is slightly different from the original one I made seven years ago. Back then, the inspiration came from my love for typography and icons, such as the skulls –they are cool, aren't they? The skull in my SSOSVA logo stands for pirates, who weren't thieves as people may think, but simply people who looked after their own. Their now iconic flag was simply a way to say 'Keep the fuck away.' "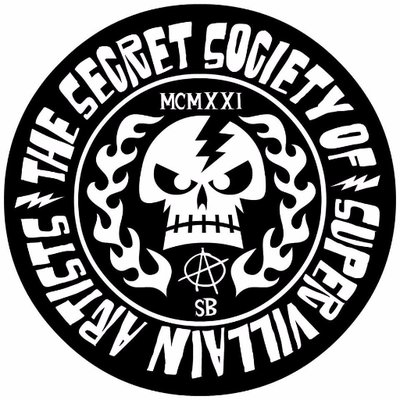 Over the years, the logo of the Secret Society of Super Villain Artists appeared in the most unexpected places, including the inside of an archaeological database of coins.
Silent Bill: "I wanted to make a coin for a very long time. Once I did it, I got in touch with an archaeologist who had access to a database of ancient coins. For that mission, I even made an 'ancient' version of the SSOSVA logo."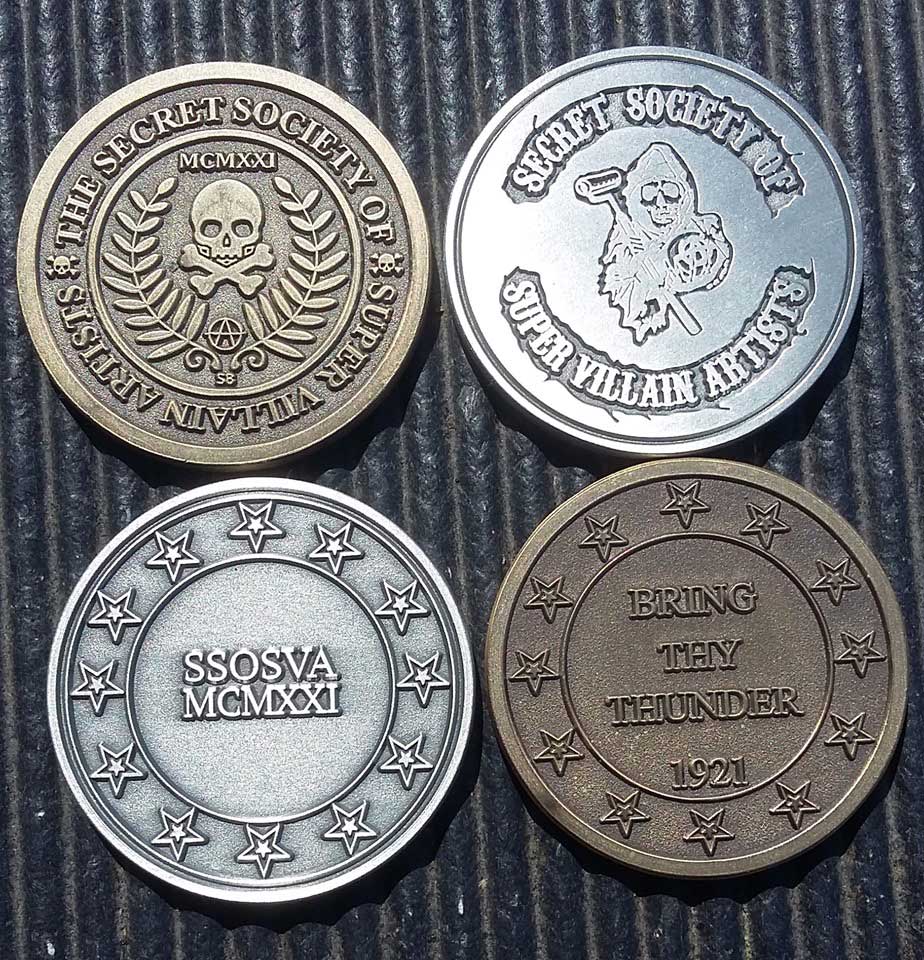 More extravagant projects are about to become a reality. Silent Bill is currently brewing the Society's beer, which he plans to distribute in bars like HoBo Kiosk –a homey bar in Liverpool's Baltic Triangle that is managed by huge supporters and members of the Secret Society of Super Villain Artists.
After that, Silent Bill plans to send the SSOSVA logo to the space and film the whole journey with a camera. His plans are big and they go way beyond mere street art.
Silent Bill: "I like street art, but I think street art is dead now. There are not enough people out there doing it for the doing: their ultimate motive is selling a silkscreen print of the street work –which often they have ready even before painting the actual piece in the street. Also, it's nice that artists get paid for painting in the street, but often they are not painting what they would like to. Lots of artists don't like to be told what to do, but when you get a commission it is the client who decides what you are going to paint. That kills creativity."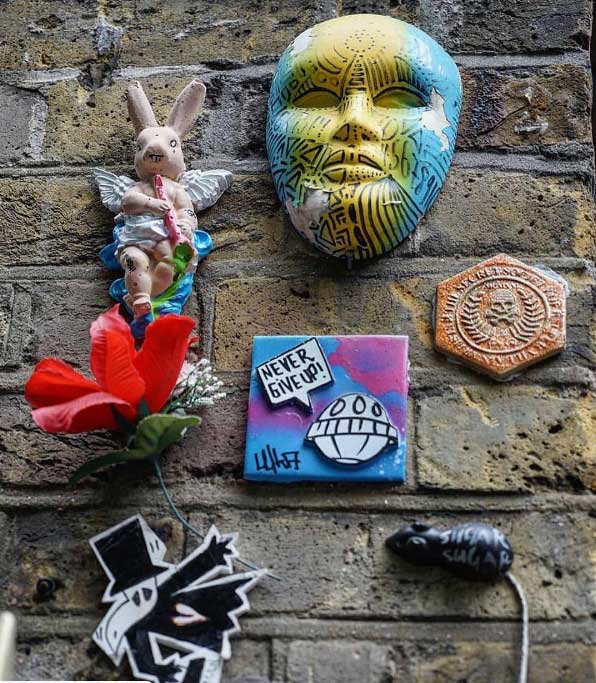 Another thing that is killing creativity nowadays is the pressure to be constantly "producing" content. This is something I can especially relate to on a personal level: each day I'm not posting here or on this blog's social channels, I feel as though I'm failing.
Silent Bill: "People don't even think about it anymore, they simply assume that 'it's got to be constant' On the contrary, I believe that less is more. How often does Banksy do a piece? Every five months or so… And it still is very relevant. As long as your content has some quality –personally, I like to see art with a message – there will be people caring about it. You feel like you are doing nothing with your blog, but then to other people it's like 'OMG, she doesn't stop.' Sometimes I also feel that I'm not doing enough, but then people go 'You constantly do some.' You are probably doing loads and you don't see it, but everybody else can see it. Moreover, if you would be coming up with fresh content everyday you probably won't have the time to actually think about what you are doing. I like to ponder ideas and I often discuss them with fellow artists. Often I enjoy discussing the ideas behind the artwork more than putting it up."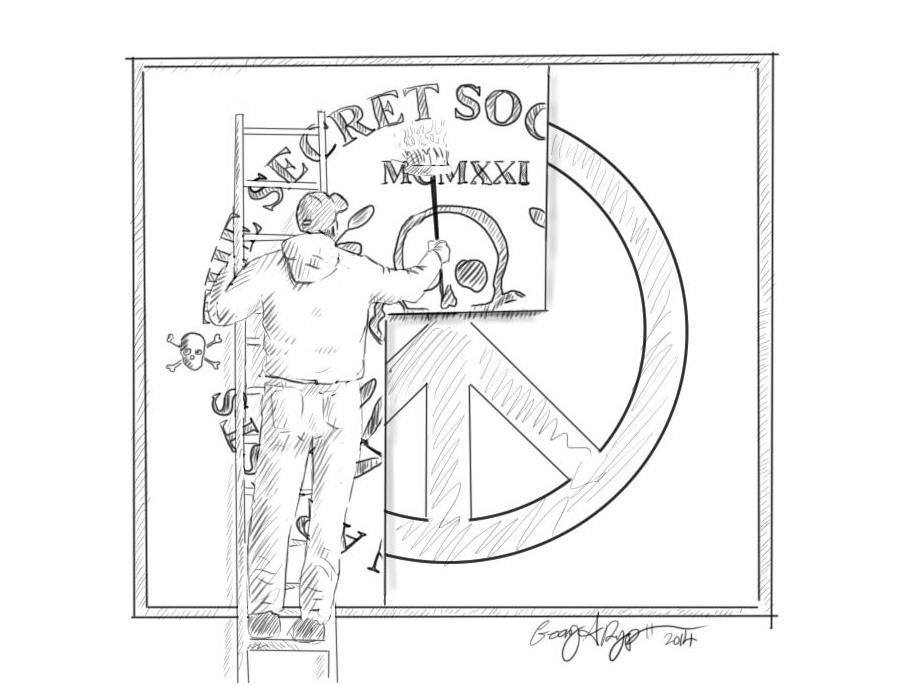 However, the thing that Silent Bill enjoys the most about the whole Secret Society of Super Villain Artists experience is the family feeling.
Silent Bill: "We don't get to see each others that often, so when we do it's like a big family reunion. Last time I was in London we had a big gathering of us–although I can't remember now what it was. I just remember at some point we were out in Brick Lane, with a ladder, and the wind was blowing SSOSVA's paste-ups everywhere. There's this kind of electricity when we gather, and this applies both to new members and old members. People got tattoos of it, not only because they like the design of the logo, but also for what the society means to them. Also, it happened that in difficult times members were there for other members. It's like a family. It's not so much about the art as it is about the people."
Needless to say, you can join the Secret Society of Super Villain Artists by simply filling out this application form and posting it back at the Tate Museum!
– All pictures are from the Society's archive
Enjoy my vlog from Liverpool!