Back in Civitacampomarano to document the 8th edition of the street art festival CVTà Street Fest. As the festival's media partner and social media manager, my purpose was to capture the artists' creative processes and delve into the stories behind their remarkable artworks.
Having the opportunity to observe the behind-the-scenes action of the street art festival's 8th edition, it became evident to me, as previously stated last year, that the fundamental elements contributing to the festival's triumph are active community involvement and the artistic guidance of Alice Pasquini.
"The fact that the festival's artistic director is herself a street artist implies a curation of the event that takes into account the context of the artworks and the specificity of the village. By painting in many different cities worldwide, Alice learned that walls aren't canvases, meaning that there is no one alike. This influenced her approach to street art and the criteria she used to choose the street artists for the festival she has been curating in her mother's hometown since 2016."

From the article I wrote last year (read it here, if you hadn't already).
This time, I'll try to write something I haven't already said last year, as I bring you behind the scenes of CVTà Street Fest 2023: let's go!
The Artworks of CVTà Street Fest 2023
The arrival of Alice Pasquini in Civitacampomarano marks the most highly anticipated moment of the year: when street artists descend upon this secluded, medieval village of nearly 300 inhabitants, and yet another edition of the festival is about to begin. As Alice stepped out of the car, she was met with open arms and warm embraces from the people working on festival preparations on that street. The love and admiration were evident as everyone greeted her affectionately.
Undoubtedly, Alice Pasquini has revolutionized the destiny of this Molisan village, starting from her initial artworks painted here in 2015, and progressing to her visionary approach of organizing a street art festival in an abandoned town, effectively combating depopulation and revitalizing the community. Her curatorial prowess transcended the borders of Southern Italy, serving as an inspiration for festival organizers throughout Europe.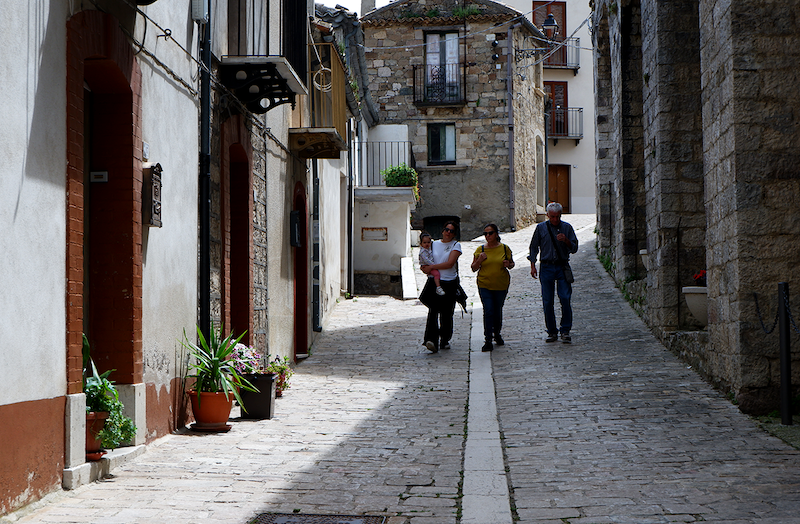 Moreover, her exceptional talent for handpicking artists whose poetic sensibilities seamlessly harmonized with the essence of the village should not be overlooked. This year, such synergy was evident as each artist crafted non-invasive, human-scale artworks alongside their main pieces, spearheaded by street art pioneer Dan Witz.
Dan Witz street art at CVTà Street Fest 2023
Dan Witz's artistic journey began in New York City in the late 1970s, when his elaborate hummingbirds stood out against the bold, quickly-executed graffiti lettering that was proliferating around him. Since then, his site-specific practice has consisted in placing impactful yet minute artworks within overlooked corners of urban spaces, surprising viewers and drawing their gaze to forgotten places.
In Civitacampomarano, Dan Witz has affixed ten pieces from his #isitsafe series to weathered doors. These works give voice to migrant children who were separated from their parents under the directives of the Trump administration.
This is just the latest in a series of numerous collections based on the trompé-l'œil technique, in which the artist portrays individuals trapped behind bars.
Hidden in plain sight, Dan Witz's installations on Civitacampomarano's aged doors tend to go unnoticed due to their subtle nature. In fact, more than once I pointed them out to visitors who inquired about their whereabouts, witnessing their faces light up with delight.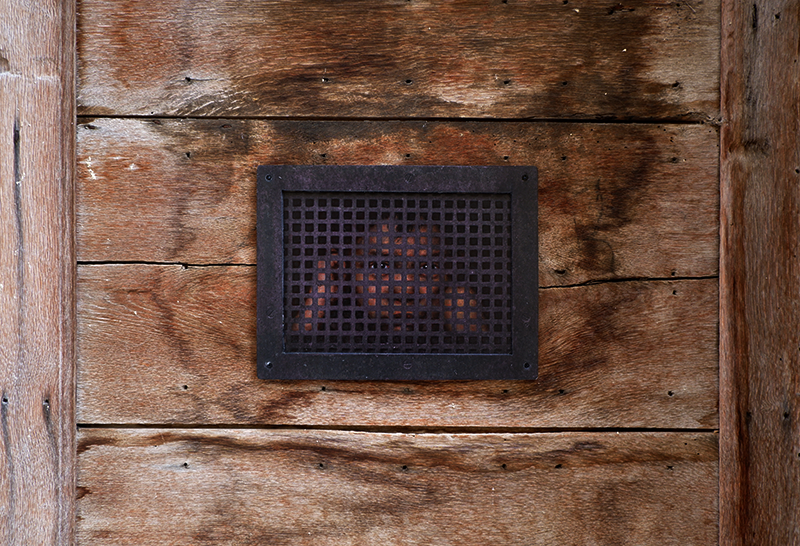 Dan Witz joined a longstanding tradition in Civitacampomarano, where numerous street artists have painted on the village's old doors. Instagram might have deleted my main account, but I still have the door video from last year available on YouTube—check it out:
For the eighth edition of CVTà Street Fest, Dan Witz has also painted a poignant memorial titled "Peace Out". Initially dedicated to victims of COVID-19 and later expanded to include victims of mass shootings, the lanterns now serve as a universal symbol of remembrance, guiding spirits to their eternal rest.
During my time in Civitacampomarano, I had the pleasure of engaging in a lengthy conversation with Dan Witz. He reminisced about the early days of street art and shared captivating anecdotes from the nascent New York City scene, when it had yet to become a "scene." Stay tuned for the forthcoming interview on the blog—coming soon-ish!
Helen Bur street art at CVTà Street Fest 2023
Dan Witz was not the sole artist to leave hidden street art treasures within the labyrinthine streets of Civitacampomarano. Alongside her main piece, Helen Bur painted her exquisite tiny portraits of local community members, including Barbara and Ylenia, the festival organizers.
I've always loved Helen's tiny portraits, so filled with poetry and expressiveness. To me, they possess an even greater impact than her larger-scale murals. However, in both formats, what truly shines through in her artworks is her remarkable sensitivity.
Having known Helen for many years, I eagerly anticipated catching up with her. It was a delightful moment when I finally had the pleasure of meeting her adorable daughter, the little Maude, whose infectious giggles provided endless entertainment throughout the week. I spent hours observing her playful attempts to capture the elusive local cats, failing in her pursuit. Meanwhile, her mother worked nearby, painting a piece that captured the profound bonds she witnessed within the local community.
The mural painted by Helen Bur for CVTà Street Fest 2023 is part of a series titled "HOLD," born from the yearning for reconnection, intimacy, and physical touch in a post-pandemic world. The depiction of two bodies intertwined symbolizes our innate desire for support, both emotionally and physically.
The artist chose to portray interdependence through the intimate act of an embrace, a universal emblem of connection and vulnerability. Helen found this imagery particularly resonant and relevant in a close-knit, family-oriented village like Civitacampomarano.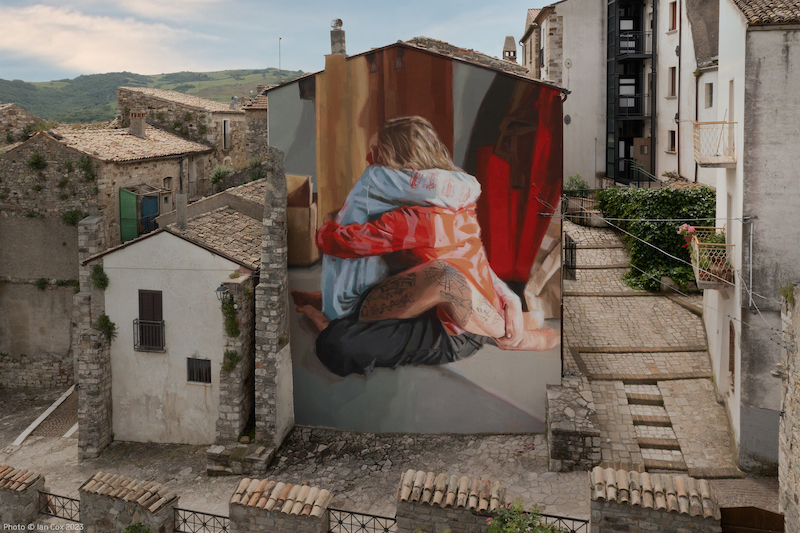 Ellena Lourens street art at CVTà Street Fest 2023
The connections within the local community and their relationship with the surrounding space are also at the core of both pieces painted by Ellena Lourens for CVTà Street Fest 2023.
In her murals, Ellena Lourens beautifully captures the devotion exhibited by the residents in preserving and nurturing their beloved village.
Using just three shades of her signature color—a fusion of orange, salmon, and pink—Ellena employs a minimalist approach that reminds me of the essence of Haikus, those concise yet profound Japanese poems. With a few well-placed colors and lines, she manages to convey deep emotions.
Through an intuitive process that allows the composition to emerge from the portrayed emotions, Ellena skillfully juxtaposed the tender care given by residents to every nook and cranny of the village with the haunting sense of loss and abandonment left behind by families compelled to migrate.
Hera street art at CVTà Street Fest 2023
Many of Civitacampomarano's population had sought employment opportunities abroad. Among them was Gino's son, who had spent several years working in Germany and had become fluent in the language. He shared captivating stories about the village with Hera, thus playing a crucial role, as Hera is known for finding inspiration for her murals in the surrounding context through engaging conversations with the locals.
Indeed, I witnessed a heartfelt exchange between Hera and the local children. She playfully shared her artistic dilemma, unsure of how to depict her feline character in the mural. Ideas bounced back and forth as the children eagerly participated in a collaborative brainstorming session. Eventually, they suggested the cat could be portrayed delightfully savoring a cup of milk—an elixir of feline delight. Hera embraced their suggestion, leaving the children ecstatic that they had contributed to the mural's concept. Whenever they passed by, they would proudly recall their involvement in its creation.
Hera's street art is a powerful tool for storytelling, and the self-contained narrative she created for CVTà Street Fest 2023 explores the experiences of foreigners who have chosen to reside in Civitacampomarano. Since the street art festival has been shining a spotlight on the village, in fact, several people have been drawn to relocate there.
Foreigners, especially, were snapping up houses in droves. Canadians, Americans, Norwegians—we chatted about it over our first lunch together. Dan Witz, a Brooklyn artist who had personally experienced the negative effects of gentrification, inquired about the attitudes of long-time residents towards the newcomers. Our hosts explained that as long as the newcomers respected the traditions and essence of the village, the locals welcomed them with open arms. In their genuine curiosity and willingness to welcome new cultures, the villagers demonstrated their determination to combat depopulation—an ongoing threat that the street art festival sought to counter.
In this context, Hera was struck by the determination of the foreigners to live in a picturesque yet often inconvenient place, given its isolated location that complicates daily life in many ways. However, as Hera beautifully emphasizes in the poetry that invariably accompanies her figurative work, it is precisely these challenges that "make the good things taste even sweeter." To portray these wild spirits, Hera chose the image of one of the village's many resident cats.
Observing Hera's painting process was mesmerizing. The image unfolded before our eyes like a time-lapse as she swiftly brought it to life, leaving us in awe of her skill and speed.
After completing her main masterpiece, Hera ventured into the abandoned part of the village, where she painted three more pieces. Smaller in size but no less significant, these spontaneous and hidden artworks fully embody the essence of street art.
I especially loved the two pieces hidden inside Civitacampomarano's abandoned houses. I find that those dilapidated walls, burdened with history, held a certain poetic charm. I love when these remnants of history became the canvas for the present, where art breathed new life into forgotten spaces.
Lastly, but certainly not least, a captivating site-specific creation for CVTà Street Fest 2023 came in the form of a performance by DJ Gruff, a trailblazer in the Italian Hip Hop scene. On Friday night, DJ Gruff delivered an exclusive performance that seamlessly intertwined video and music. Through a harmonious fusion of imagery, recollections, sensations, and sounds, including the sampled and recorded voices of the village residents, the performance served as a reflection of Gruff's personal experiences in Civitacampomarano over the years.
Set against the backdrop of the radiant full moon, on a balcony overlooking the picturesque valley, adjacent to the medieval castle, the atmosphere was truly enchanting and filled with magic.
CVTà Street Fest 2023: Community Engagement and Powerful Synergies
During our interview, Hera expressed her admiration for the festival's all-female team, emphasizing how it provides a unique opportunity for young girls in the community to witness women taking charge and giving instructions to men while coordinating the festival production. This empowerment, which is not commonly seen in small villages in Southern Italy, is complemented by the inclusive nature of the festival's organization. Everyone has a role to play, and no one is made to feel useless or marginalized.
Elderly women contribute by preparing meals for the artists, crew, and visitors. Throughout the festival, traditional street food, such as "scrippelle" (a fried pizza dough delicacy from Civitacampomarano), is available throughout the village as the matriarchs open their homes to share their culinary creations.
Youngsters assist the artists with various tasks, while teenagers lead street art tours—an accomplishment that fills them with pride. They shared with me how, in the nearby town where they attend school, they are often told that there is nothing of significance in Civitacampomarano, not even a school. However, during the festival, those same classmates and their families descend upon Civitacampomarano. In fact, people from all over Italy and even abroad come to the festival, which is a tremendous source of pride for the residents.
This vibrant energy also motivated Biancoshock, an artist who strongly believes in the transient nature of street art (he even coined the term "ephemeral art" to describe his style), to restore some of his installations around Civitacampomarano. This includes his iconic wall piece, "Il Molise non esiste resiste," painted in 2016. The artwork has not only become a landmark for Civitacampomarano but also an emblem and a source of pride for the entire Molise region. After the red letters faded, as ephemeral art does in the street, Biancoshock understood the significance of the artwork to the community. Consequently, the vibrant red hue has been restored to its former glory, further instilling pride in the hearts of the residents.*
This festival has generated a sense of pride and belonging, not only for Civitacampomarano but also for the entire Molise region, as it has put them on the map for the rest of the world. Reflecting on the festival's impact, it becomes evident that it has reversed the trend of depopulation in Civitacampomarano. The village has become a magnet for those seeking a slower pace of life and the poetic soul that emanates from its streets.
During the 8th edition of the festival, the 300-inhabitant village welcomed over 10,000 visitors, despite the inclement weather. However, the true measure of success lies in the fact that visitors come throughout the year to discover the village's public art collection, either on their own or through guided street art tours. This continuous influx of visitors represents a significant achievement, exemplifying the transformative power of street art in revitalizing the village and attracting people from around the world.
"After Alice painted a series of images inspired by old photos on rusty and shattered doors in the old part of the village, visitors arrived at Civitacampomarano to take pictures of her street art. Eventually, locals started dreaming about a second life for Civitacampomarano, a regeneration that sparkled after Alice Pasquini inaugurated CVTA' Street Fest in 2016."

From the article I wrote last year (read it here, if you hadn't already).
With this dream turned into reality, the seed has been planted for an even more ambitious rebirth—a transformation of the festival into a year-round creative hub that reflects and pushes forward the cultural values of the community.
Civitacampomarano Street Art Map: Where to find the artworks?
Find these, and many more, murals in my google map of Civitacampomarano!