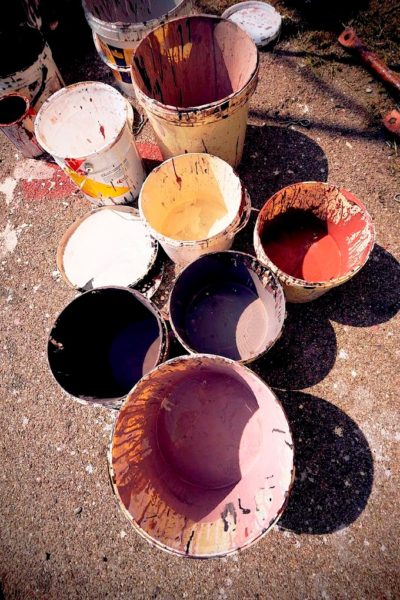 Last year I published a post about my
graffiti hunt in Arcidosso
, a medieval village near Grosseto (Tuscany). As I got a great feedback on that post, I thought to share more information about this colourful summer festival, asking to the guys behind
Alterazioni Festival
a few questions about the project, especially regarding the street art theme.
Enjoy the interview!
Tell me about your festival: how would you describe it?
Alterazioni is a cross-arts festival which takes place in July in Arcidosso, a medieval village on Amiata Mountain (near Grosseto, Tuscany).
It focuses on new artistic trends and young talents and it crosses different cultural fields: from exhibitions to theatre and from street art to music, food and more! No one of these sections is more important than another and we don't want to make it all about a big name, for example inviting one popular dj… we want the festival to stand for itself, as a whole.
One of our main goals is to promote the local territory through new artistic expressions, which at first might clash with the medieval traits of our village but at the end of the day contemporary arts melt into Arcidosso's ancient history.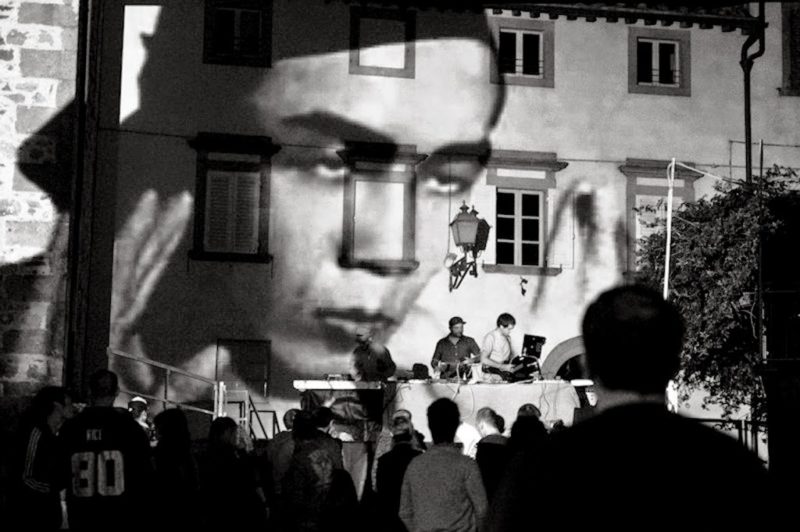 photo by Alessandro Baldoni
Is there a specific goal of the street art section?
We want to create an outdoor museum in order to let the festival live all year long, allowing people to discover about our work and what we are doing.
It is also a matter of aesthetics: until few years ago those areas of Arcidosso were so grey to overpass the medieval beauty of our village, but thanks to Alterazioni Festival those concrete walls turned into canvas for some of the most important street artists from Italy and from abroad.
Another goal is to bring new contemporary trends into our territory, to start a dialogue between local people and the international street art scene.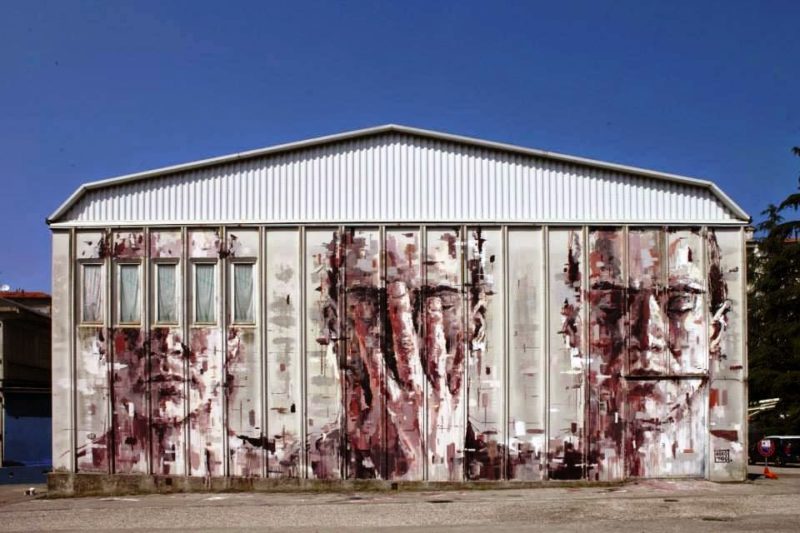 Borondo in Arcidosso || Alterazioni Festival – photo by Club Fotografico Circolo di Confusione
How does the local community take part to the festival?
Some people volunteer during the festival, joining the staff according to their spare time; others are taking part to it just as spectators, contributing to the success of the festival.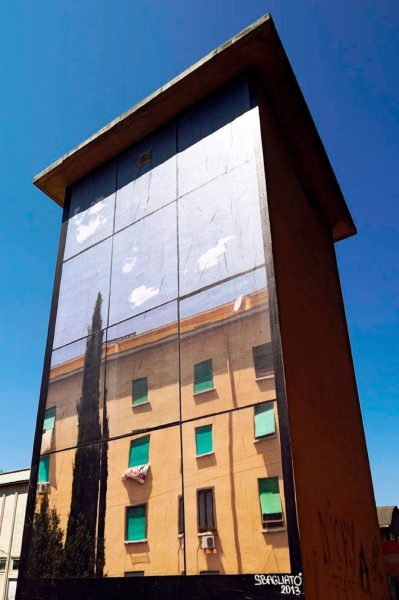 Sbagliato in Arcidosso || Alterazioni Festival 

– photo by Club Fotografico Circolo di Confusione
Which is the procedure to obtain a legal wall? Who is choosing the walls and the artists?
First we select the walls according to our idea of which areas should be "coloured" and we discuss with the local administration about the availability of those spaces; we should apply with a written request indicating which walls we want to paint on and then wait for the authorization. So far the local administration worked with us, they never tried to make it difficult for us.
After obtaining the wall we start thinking about who could be the best artist to paint on it: we start from our own opinion on what's going on in the international scene, then we think on how to bring those experiences to the specific spaces we selected and of course we need also to check the availability of the artist.
Then we ask to the artist to send us a sketch, which should be approved by the local administration as well: also in this case, they never frustrated our plans.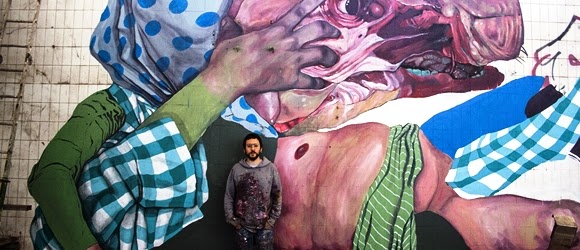 Nicola Alessandrini in Arcidosso || Alterazioni Festival 

– photo by Club Fotografico Circolo di Confusione
How long will the murals stay?
As long as the weather conditions and further works on the buildings will allow them to stay.
JB Rock's mural was destroyed because the building hosting it was restored. The work was titled "Quiet Storm" and it was realized using 15 different stencils representing hand and fists, repeated for more than 200 times to create a huge wave 10 meters high and 20 meters long. The artist was inspired by Japanese engravings and especially by Hokusai's work.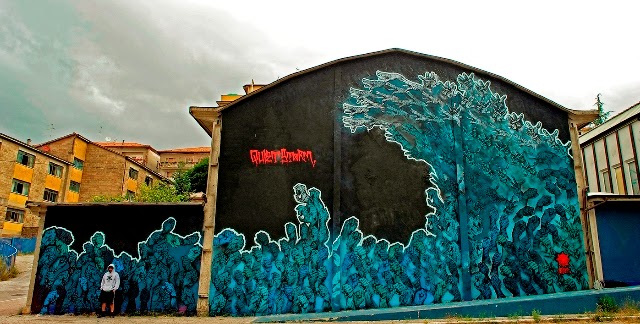 Quiet Storm, by JB Rock || Alterazioni Festival 

– photo by Club Fotografico Circolo di Confusione
Thank you guys for your time! 
See you next summer in Arcidosso! 
////////// MORE ABOUT //////////