Welcome to Blocal blog, a home for independent travellers.
I am Giulia and I blog about unconventional destinations, abandoned places, street art, outskirts, urban landscapes, weird spots and basically all the places I happen to visit and become very enthusiastic about.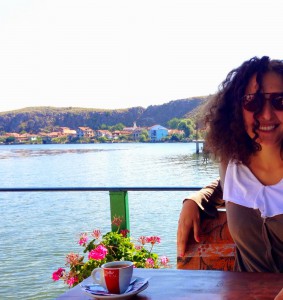 Who am I?
The most amazing experience I've had was living in Slovenia for two years. It was then that I became addicted to the Balkan countries, a destination you are going to find often on this blog. I had already lived abroad before (in London, in Madrid and in Dublin), but somehow my life kept to being linked back to Rome, as I had to come back regularly to attend my exams at the University.
Slovenia was different.
I wasn't simply "currently-living-elsewhere", but able to reshape my own idea of belonging, and I discovered something very important about myself: I don't want to live a life always in the same place, doing the same thing. What I want is to be forever on the move.
Why do I do what I do?
I collect my travel stories on-line to help fellow independent travellers discover some curious and unconventional spots, which they won't find in travel guides, to share my emotions and point of view on a destination and to inspire people to travel off the beaten path.
Where will all this bring me?
I quit my desk job to do this instead. My life-goal is to be location independent, even if I end up spending most of the year in Rome. It's a matter of principle: I want to feel free to jump on a flight whenever I wish.
How can we stay in touch?
Write to me using this contact form
My favourite way to stay in touch is via my newsletter: I will send the link to my latest blog-post in your inbox, telling you what's up in my life and where I am heading next. As a subscriber you are always welcome to drop me a line about your future travel plans and I will help you to find unknown gems and unusual spots to visit.
(No spam. Never.)
I am also on social networks!
Please follow my Facebook page, but note that Facebook may not publish all my posts to your newsfeeds, that's why the only way to be sure you will hear about my new blog-post is to subscribe to the newsletter. Plus, it is way more intimate than a box on the newsfeed, isn't it? ;-)
I'm also on Twitter, Instagram and G+. My travel videos are on YouTube and my travel bucket list is on Pinterest.
Do you want to work with me? Check out my Linkedin profile!
To get an idea of what I write when I'm not here, check my freelance travel writer portfolio.
I love to hear from fellow independent travellers and read their travel stories, so don't be shy and if you feel you can add some travel tips to my blog-posts please go ahead and leave a comment!
More About Me
– July 2017 – Interview by Birds of a Feather
– June 2017 – Interview by The Random Project
– Feb 2017 – Cosa Pensano Le Ragazze (by Concita De Gregorio) [ITA]
– Jan 2017 – Upside Downtime (by Jennifer Piazza)
SalvaSalva