Likewise the blog, my blogging manifesto is a process.
[Update 2020]
I've updated this blogging manifesto throughout 2019, so it makes sense now to update the introduction too ;) I have no resolutions to add but keeping this page lively and coming back here every now and then with further thoughts on blogging, either by me or my fellow street art bloggers and independent creators. (scroll down to read them all).
I'm aware I'm neglecting the blog lately, and I totally disappeared from social media, but I haven't quit: I'm just trying to re-focus on who I am and where I want to bring this blog in 2020. And I'm sure this blogging manifesto will help me with that :)
Here goes the original text, scroll down for the updates ;)
My blogging resolutions for 2019 arise from the fact that my freelancing years have just ended: I have an office job now, which I love but –still- it takes away lots of time from blogging, hence the need to focus on what I consider my blogging priorities (an authentic interaction with you and writing great stories) and let go of everything else (social media and wasting time over the opinions of little ponies).
On the other hand, my office job gives me the opportunity to 'play more' in here: as my 'professional' writing is ending up somewhere else, here on the blog I'm now free to experiment without bothering about schedules, keywords, outreaching, virality and digital marketing.
Which is exactly what this blog needs at this point: more spontaneity, more focus on telling good stories and me going back to 'writing as I am'.
---
19 BLOGGING RESOLUTIONS FOR 2019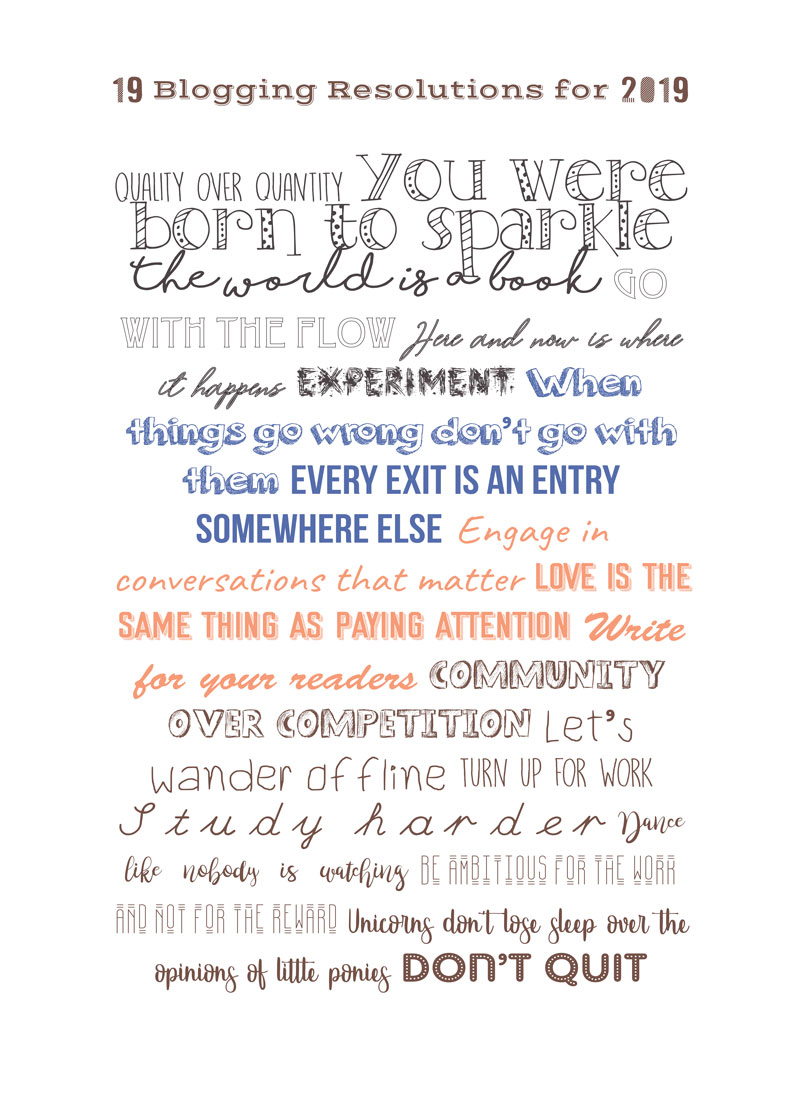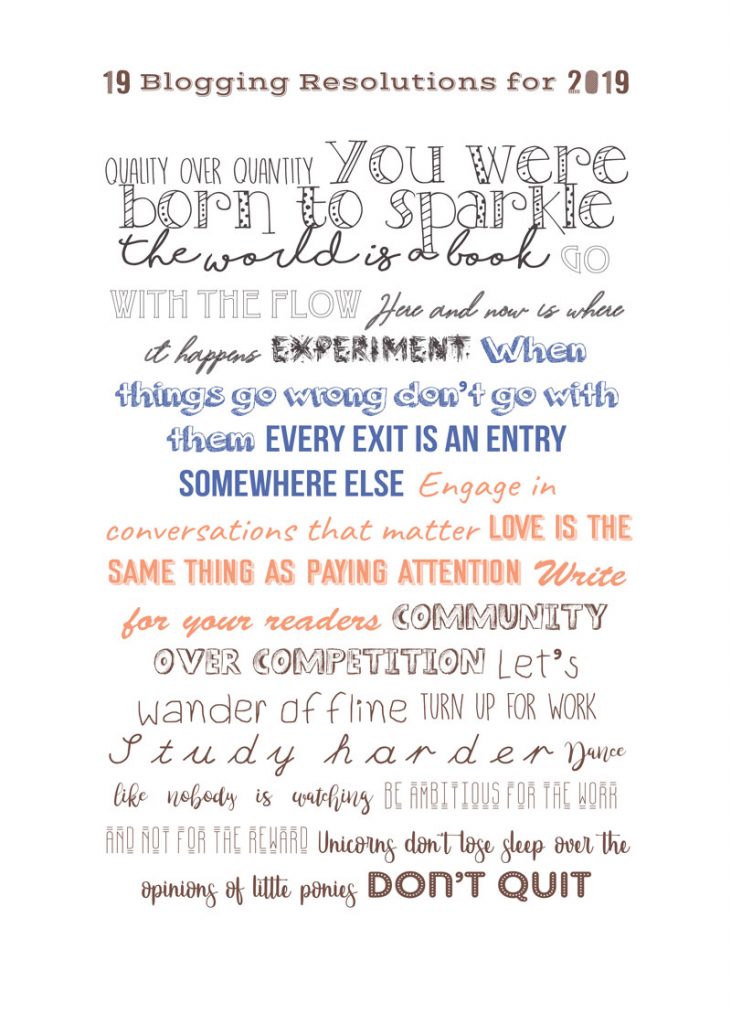 About CONTENT CREATION
1. Quality over Quantity: only publish great content, no matter if "semiocassionally"
2. You Were Born to Sparkle: write more personal posts and develop a stronger voice in not-so-personal posts
3. The World is a Book: travel to new places
4. Go With the Flow: don't over-plan but follow the inspiration and pay attention to synchronicity
6. Experiment: create new formats, try different styles and research new topics
About SOCIAL NETWORKS
7. When Things Go Wrong Don't Go With Them: think of social networks simply as micro-blogging platforms and avoid all the superficiality
8. Every Exit is an Entry Somewhere Else: weight the consequences of quitting social networks by the end of the year
About THE COMMUNITY
9.
Engage in Conversations that Matter
: every month craft the
best newsletter ever
, take your time to thoroughly reply to emails, comments and direct messages, build up on authentic interactions
10. Love Is the Same Thing as Paying Attention: listen to your community and add value to the conversation that is going on
11. Write for Your Readers: and not for other bloggers and/or artists (seriously, you don't need to impress anyone)
About JOB ATTITUDE
12. Community Over Competition: collaborations with like-minded bloggers
13. Let's Wander Offline: networking, attend events and shows, live the streets
14. Turn Up For Work: discipline allows creative freedom
15. Study Harder: 2019's quarter focuses:
Writing (Jan – Feb – Mar);
Photography (Apr – May – Jun);
SEO (Jul – Aug – Sep);
Video Making (Oct – Nov – Dec)
16. Dance Like Nobody is Watching: don't check stats, views and likes, just create the content that you want
17. Be Ambitious for the Work and not for the Reward: strive to improve and to write at your best, not for compliments
18. Unicorns Don't Lose Sleep Over the Opinions of Little Ponies: write as you are, with professionalism and passion, follow your own path and don't let other people's opinions hold you back
19. Don't Quit: blogging is definitely worth every minute of hard work you put in it (actually, it's worth so much more!)
---
Since many of you wrote me that you are coming back to this blogging manifesto whenever you feel a bit frustrated about the social media / blogging scenario, I though it would be nice to update it every now and then -with further thoughts on blogging I might have throughout the rest of 2019 and with the wise words of fellow street art bloggers.
UPDATE April 2019
I've recently interviewed street art blogger Jon Reid who, besides having been an inspiration for me, is also the host of Nuart Aberdeen festival.
Jon Reid: "I'm not an art critic. I write about the stuff I like and I only share the art that I enjoy. I don't share anything negative, because taking something down takes energy. Rather than doing that, I just ignore it or put it to a side. This allows me to better focus my energy into building something great. I'd rather be the guy who is always excited about stuff than the guy who rips everything apart. Especially because I do this in my spare time, I'm not getting paid for it. It's really counter-productive to spend an evening writing about something I dislike when there are so many other things I do like in Aberdeen"
Why am I sharing this quote here? Because being "too enthusiastic" is the most common feedback I get from you. I've never been able to 'justify' myself by correctly expressing why I don't write anything negative on this blog, but Jon did say it majestically :) Check out the whole interview with Jon Reid: he does share many more interesting insights about blogging!
UPDATE July 2019
During an interview with the founder of the Secret Society of Super Villain Artists we ended up talking about the pressure to be constantly "producing" content.
Silent Bill: "People don't even think about it anymore, they simply assume that 'it's got to be constant' On the contrary, I believe that less is more. How often does Banksy do a piece? Every five months or so… And it still is very relevant. As long as your content has some quality –personally, I like to see art with a message – there will be people caring about it. You feel like you are doing nothing with your blog, but then to other people it's like 'OMG, she doesn't stop.' Sometimes I also feel that I'm not doing enough, but then people go 'You constantly do some.' You are probably doing loads and you don't see it, but everybody else can see it. Moreover, if you would be coming up with fresh content everyday you probably won't have the time to actually think about what you are doing. I like to ponder ideas and I often discuss them with fellow artists. Often I enjoy discussing the ideas behind the artwork more than putting it up."
Why am I sharing this quote here? Because this is something I can especially relate to, as a blogger: each day I'm not posting here or on this blog's social channels, I feel as though I'm failing. Moreover, when I got the text of the interview back from my proofreader, I found a sympathetic note by him next to this quote :)

UPDATE October 2019
With my fellow street art bloggers we often talk about social media. Here is what Stuart, founder of the London-based street art blog Inspiring City, has to say about it. Go to the full interview to read more about him and his pieces of advices on blogging (such as: "stop looking at the stats").
Stuart Holdsworth: "I don't think blogging is dying: people still want it, they still consume it. True, Instagram particularly took over, because that's how people are passing information nowadays: just as quick as it is happening. Instagram is a major media channel, especially among artists. They are using it and they are not going out of it. But for me, my major channel is my blog, so I want to move people to the blog. There, they can actually read a lot more and see lots more pictures. But a blog is just not the "go-to" place anymore, so I'm very much relying on search on Facebook or on people sharing my articles. And then I use Instagram as a tool to bring people to the blog, for example by posting a fancy graphic to announce a new blogpost. My next big thing is the newsletter, though, and I was inspired by you, actually. Now I'm trying to grow the mailing list and to write a really quality newsletter. That's cool, better than social networks and it makes it easier for the reader, because going to the blog and leaving a comment has become a barrier in the latest years. We need to 'adjust' our strategies if we want to keep going"
Why am I sharing this quote here? Because lots of my 'blogging frustration' comes from social media and the fact that sometimes people don't see past your Instagram account. That's what triggered this series of interviews with my fellow street art bloggers in the first place: I needed to hear their opinion, and somewhere along the way I thought you might be interested in it too.
UPDATE January 2020
With filmographer Kristina Borhes (MZM Projects) we talked about being independent VS mainstream, and what motivates her to keep up with the good work without being distracted by the likes.
Kristina Borhes: "Our priority isn't getting the views or likes. We know that we are not doing mainstream products and won't be popular for many reasons. We know those reasons and there is no point for us to try to do it in any other way. Yes, we could try to do those cool videos, but what's the point? There are so many things we want to do besides that, and when you invest so much time into something it should be something you care deeply about."
Why am I sharing this quote here? Because I often forgot those "reasons" and compare myself to bloggers and creators who have a whole team of professionals behind them. I'm frustrated I can't reach their achievements, while I should ask myself "what's the point?" and focus on my own path and the things I care deeply about.
UPDATE February 2020
During our chat Sami Wakim, founder of the street art blog Street Art United States, reminded me of a resolution I have written in the manifesto above, but I'm quite reluctant to actually do. I promise I'll try harder in 2020 ;)
"Even if our blogs are online, I feel it's important to make a connection offline. It's very important that people know who you are in person." 
UPDATE March 2020
Oh well, you all know what happened, right? I guess I will have to postpone my "offline connections"… Meanwhile, you can still reach me by email, or join up my monthly newsletter about street art, graffiti, travel and life ;)
You can hover over this image to quickly pin it!