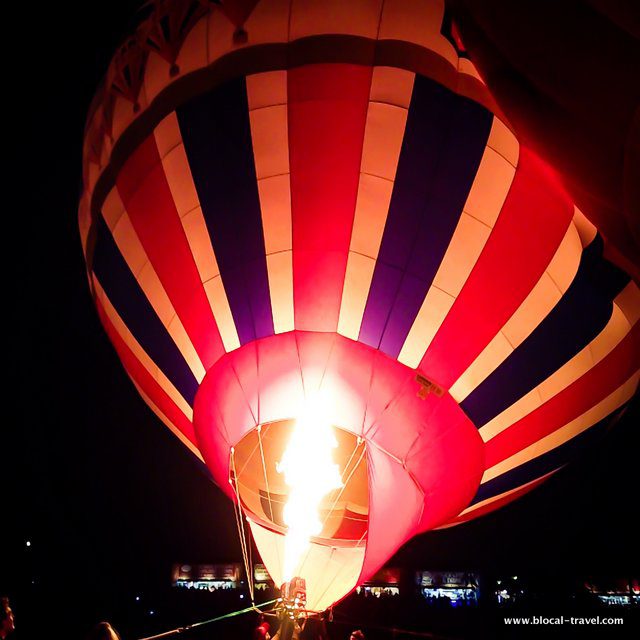 The declamatory voice of the announcer clanks out of the speakers, spreading across the 850 acres of the Ashton Court Estate. Children and adults, couples and families, youngsters and elders, tourists and locals, everybody is holding their breath as the countdown blows in the wind. The air is packed with excitement: we are all waiting for the magic that is about to happen.
9, 8, 7. I hold my breath as well, even if – being it my first Balloon Fiesta– I still haven't fully understood what the thing I keep referring to as "glowing something" is all about. But all those sharing this moment of anticipation with me look very excited and the entire summer, in Bristol, has been a pride-filled lead-up to this event, which is the biggest festival of the year. I feel I have a lot to look forward to since there is nothing more quintessentially Bristolian than a hot air balloon and it must be for a reason.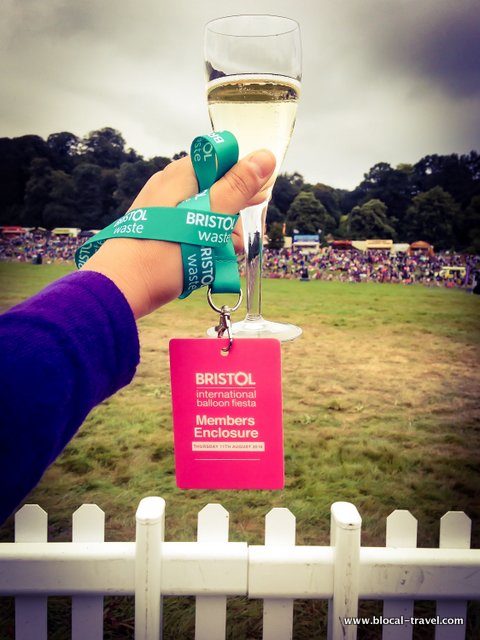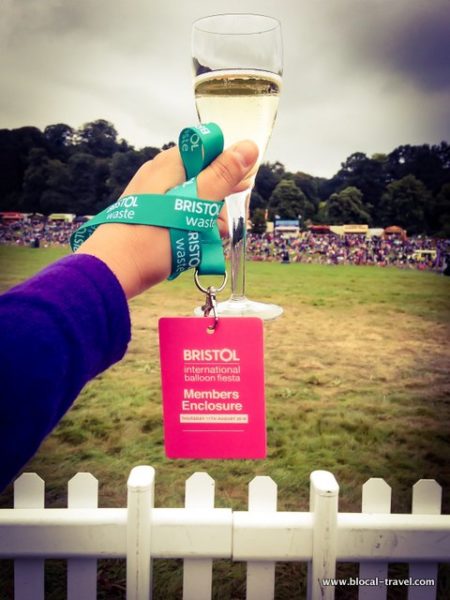 6, 5, 4. The balloons are lying on the grass, sleeping princesses waiting to be awakened. All baskets are set, scattered through the field on two opposite rows. Pilots and crews are now hurrying along, ringing around their balloon as busy bees, and looking at them getting things ready makes my expectations for this widely anticipated event almost unbearable. I'm so happy this special moment has finally arrived that I suddenly forget about the cold, the wind, the mist and the rest of this annoying weather, which was the reason that caused the cancellation of the 'special shape and ride balloons launch' -whatever that meant.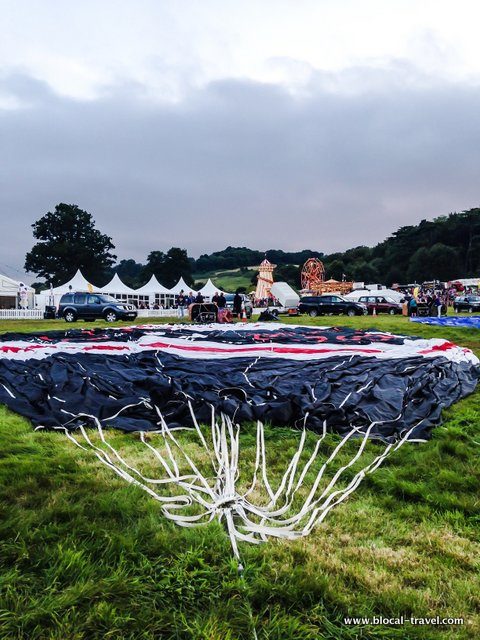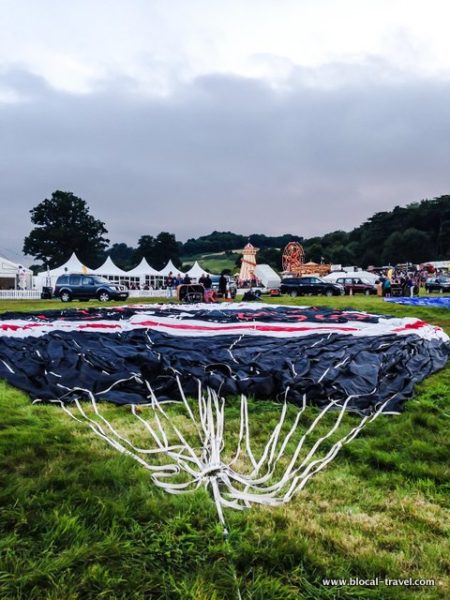 3, 2, 1. As dusk settles, one first fire lights up. Then a second one, and a third. The beat of the music spreads throughout the open field, but all I can hear is the noise of the flames munching the air; they sound like if they were speaking to each other, coordinating for tonight's glowing dancing. It's a matter of seconds, and all balloons are inflated, pointing to the sky but firmly kept on the ground by their crew.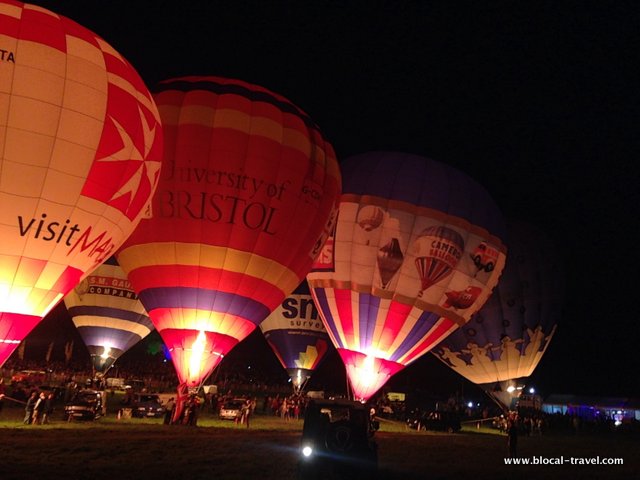 They are way bigger than I've expected, and it takes several people to bring them under control, some of which are in and around the basket, while others are a few meters away pulling a rope. I keep turning my head attracted to all those flames popping around me, I'm enraptured and my eyes are wide open. With my gaze firmly up, I go up and down on the uncut grass, somehow managing to avoid the above-mentioned ropes and several different obstacles hidden in the uneven ground.
It's extremely windy so, according to where I stand, I'm overloaded by either a pungent smell of propane or the smell of deep fried food coming from the trucks aligned at the foot of the hill. But, as I'm standing in the midst of all these powerful fires, I'm not cold anymore.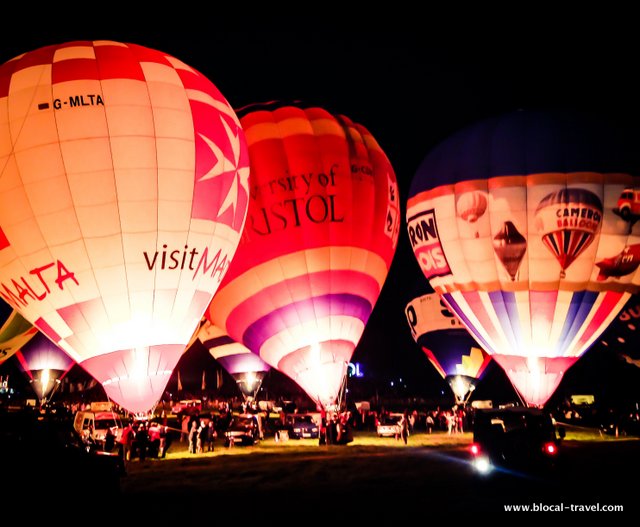 Like dragon flames, fires burns inside the balloons to the beat of the music. The show is spectacular and it hypnotises thousands of people. From where I stand, which is right in the midst of the 'balloon alley', I can sense the energy coming from the thrilled crowd. When the last balloon wilts on the ground, fireworks spring up from behind the hill, and I'm surprised by how quickly this fantastic show passed me by.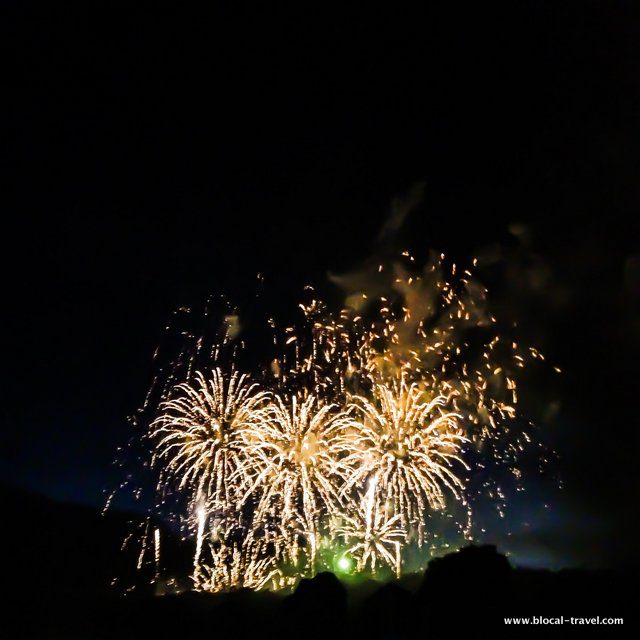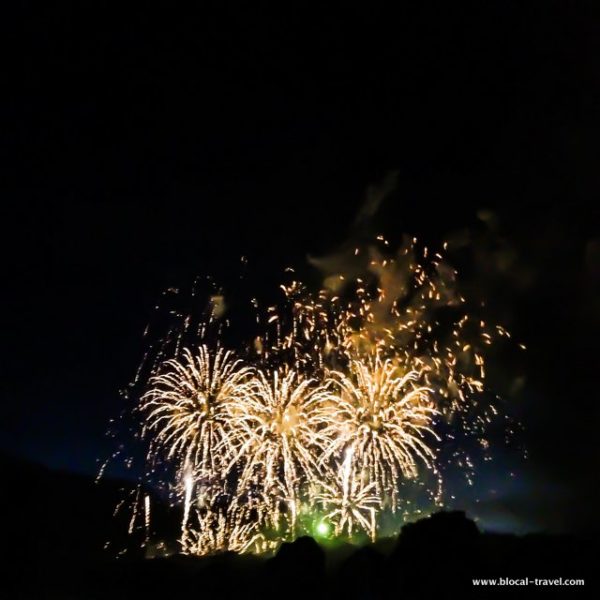 Still mesmerised, I walk my way back to the VIP area, joining my fellow blogger Becky and a bunch of friendly strangers we've just met for a last toast to such a magical night.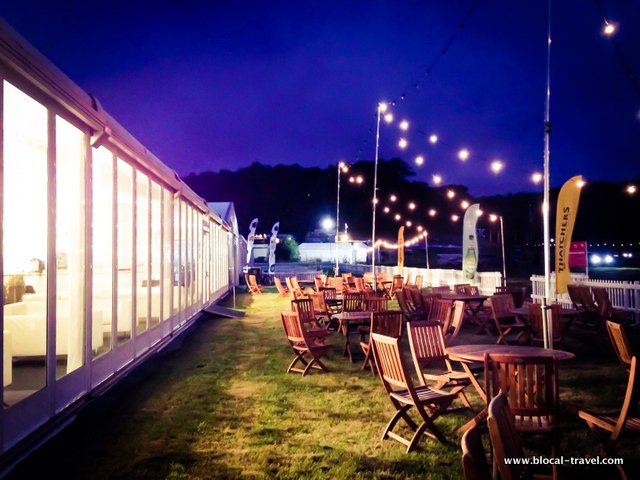 Enjoy the video of the night!
Prologue: On the morning after, I was supposed to fly over Bristol but, due to windy weather, my sunrise flight was cancelled. Then I wrote the perfect ending to this post, affirming that it's always a matter of expectations and, since when I stated that my summer goal was learning how to deal with them, Bristol is doing its best to provide me with a fair mix of unrealized daydreams and amazing things I would have never expected to happen, such as being in the midst of the balloons during Bristol International Balloon Fiesta's opening night glow. But as the days passed by and my summer in Bristol was coming to an end, I realised that I would have regretted that missed flight, as there is nothing more quintessentially Bristolian than admiring Bristol's colourful houses from above. After all, Bristol also taught me that there is a difference between dreaming and staying ambitious, and it's all about practicality and work for what you want. So I wrote an email to my lovely guest Red Letter Days UK, which got in touch with Bailey Balloons, and the flight was rescheduled. And then rescheduled a couple of more times, as the weather really didn't want to cooperate, but the point is that I didn't give up until I was asked to be in Ashton Court at 6 am. But that's another story… which you can read here!
I was a guest of Red Letter Days UK, a company that offers experience gifts for all tastes, including –of course- a hot air balloon ride.
Plan you trip to Bristol with my Bristol Google Map! 
You can hover over these (or any image) to quickly pin it!