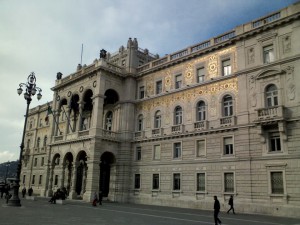 Connecting Italy and Slovenia by whatever form of public transport has to be
so 
complicated that since the very first time I went to Slovenia (in 2006) I keep getting suggested the most creative solutions; and usually the luckiest you can get, you'll still spend few hours in Trieste.
Time after time I started to consider this staging stop as a moment to collect my thoughts in order to better enjoy the feeling of crossing the border in whatever direction I was going to cross it (not the political one –which it doesn't exist anymore- but the border between two different sides of me: the italian and the slovenian one). For all those years Trieste has been a kind of limbo between those two lives (make it "identities"…), a place where to be in quarantine in order to switch my thoughts and reconnect them to the other me. When I was living in Slovenia, Trieste represented the first Italian outpost to my Slovenian life, the place where to go when I was aching for reading an Italian newspaper while drinking an italian coffee surrounded by italian chatters (together with a whole range of Italian noises). Now that I'm back living on the other side of the border, Trieste is the place where I can (already) find a glass of Slovenian wine or a "burek" at the supermarket, the place where I can chill out and slow my thoughts into a more Slovenian rhythm of consciousness.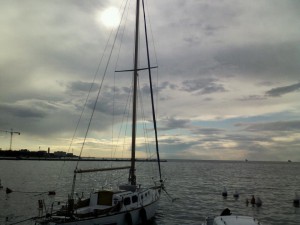 This time I stopped in Trieste less than a couple of hours, so I didn't manage to arrange a coffee with my local friends (who by the way last time I was "passing the border" were so nice to invite me to their place and cook for me a wonderful lunch…), I just had the time to head to the pier to breathe some (re)fresh(ing) air… There, writing and sipping the first glass of Slovenian wine, I thought that that corner of Trieste always had a peculiar melancholic appeal to me (no matter who was messing with my life at that very specific moment…) and that a pier –expecially at the sunset- always knows how to
be gloomy (no matter who is texting me weird messages at that very specific moment…); in other words: there will alw
ays be someone messing with your life (through very weird text messages) when you sit down in front of the sunset at the Trieste pier. But the good news is that there will also always be the wind (the
highest o
ne is called "bora", but there are many others) blowing all bad thoughts away; and when the wind blows (my messy thoughts away) my mind becomes a place so peaceful and rested like that elegant and austere town. And then, once the str
ong Triestine wi
nd has purified my mind, I'm ready to step across the other side of the border (the geographical
and 
the inner one).