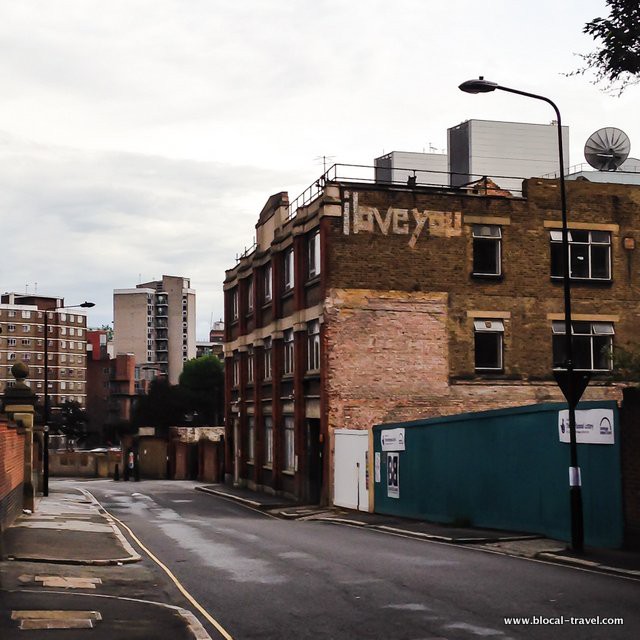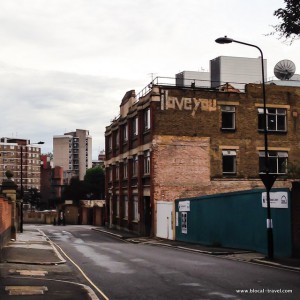 The bus entered London and headed towards Victoria Coach Station passing through the area where I used to live something like 12 years ago.
'If I made it back then in London, I can make it now in Bristol' I thought while collecting all my stuff spread throughout the seat and texting my super auntie that I was almost there. Our family reunion in London was about to begin, and I was feeling grateful for the sunny weather and definitely excited for being back to one of my favourite places ever.
With all that first-days-in-Bristol excitement I didn't have the time to plan my weekend in London and, to be honest, all I wanted was to let myself be wrapped up in my auntie's open arms, to check out some street art and to rebound with that 20-year-old me who left Rome for the very first time to go live in London.
Weekend in London > day 1
As soon as we met, we headed to Shoreditch, where the street art scene is so copious that we all agreed we must have had lunch before beginning to graffiti hunt. And so we sat down at Albion, a very friendly bistro serving sandwiches, salads and delicious cakes.
Shoreditch, which I like to call hipsterland, is one of the best areas in London to admire street art: from large-scale murals to smaller stencils, there is something on each and every wall! But as I'm going to write the usual, massive "street art guide" blogpost anytime soon, now I'm sharing just a couple of pictures of what I found:
Even if now Shoreditch is definitely mainstream, I still love to wander around its streets, which are full of beautiful boutiques and trendy bistros.
From Shoreditch, we carried on our graffiti hunt along Brick Lane, as far as Spitalfields. This area has always been among my favourites, especially for its street art, and even this time it didn't disappoint me.
Then we entered the Old Spitalfields Market, where we found stalls of antiques and vintage clothes.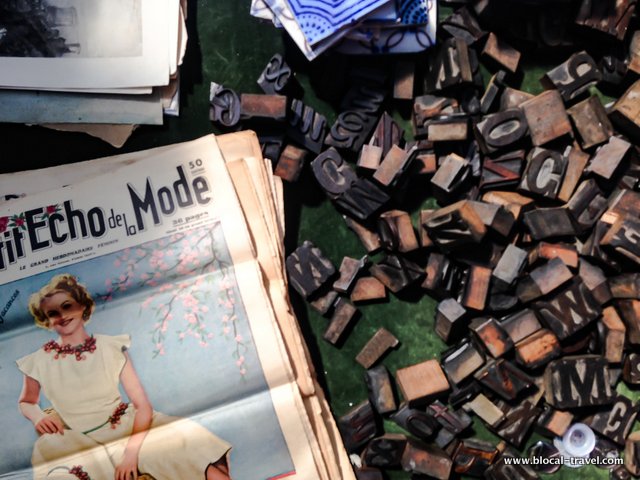 And even if I remember it a bit more authentic, it was fun to immerse myself once again in its colourful atmosphere.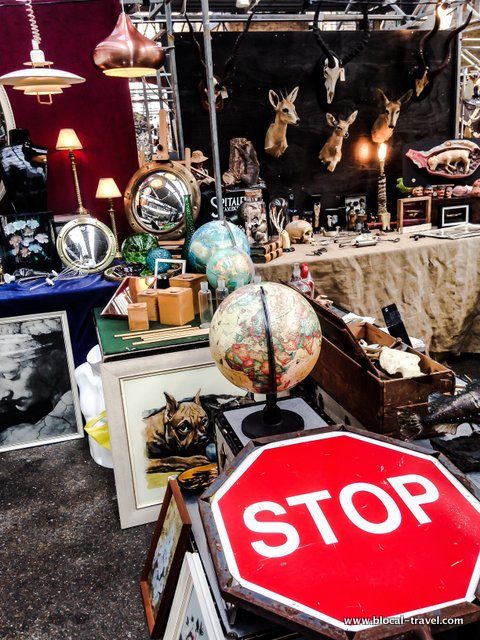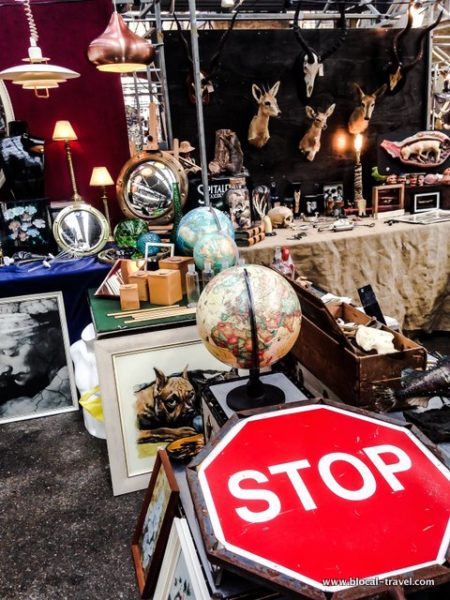 When it was time for some more conventional contemporary art, we headed to the nearby Whitechapel Art Gallery to visit its current exhibition on the bright world of Mary Heilmann, which is inspired by LA's surfers, pop songs and 1960s counterculture.
Then, just around the corner, we visited the StolenSpace Art Gallery, where we found artworks by Felipe Pantone and Alex Yanes.
I especially loved Yanes' art, which mixes skateboard graphics and vivid colours on wooden sculptures.
In the afternoon I kept wandering by myself, aiming at some more street art. I walked back to Shoreditch and headed to Cargo, a club covered with great street art (including a piece by Banksy) where I used to hang out a lot when I was living in London. But as soon as I entered the noisy courtyard and tried to order a beer yelling on top of the uzuzuz music, I realized that now I'm definitely too old to enjoy Cargo's clubbing atmosphere.
And so I headed towards Hackney, another East London dodgy neighbourhood full of street art and interesting, long-bearded people.
Besides the colourful street art, in Hackney I loved the pathway along the canals and the lovely terraced houses.
Another great spot in Hackney is the Victoria Park, which is the largest and most popular park in East London. Here I stumbled upon a quirky pub (The People's Park Tavern) falling in love with its outlandish garden where, among some games and an art gallery, you can enjoy tasty burgers and craft beers, some of which are produced in the Tavern's microbrewery.
From there I walked as far as the Hackney Downs Studios, where I was hoping to eat at Mazi Mas, a restaurant serving food inspired by a different country each night and whose chefs are migrant and refugee women. Unfortunately, once there I discovered that Mazi Mas was a pop-up restaurant and it shut down a few months ago. A bit disappointed I exited the building, looked around and suddenly realized that just a few doors away there was an art gallery opening an illustration exhibition.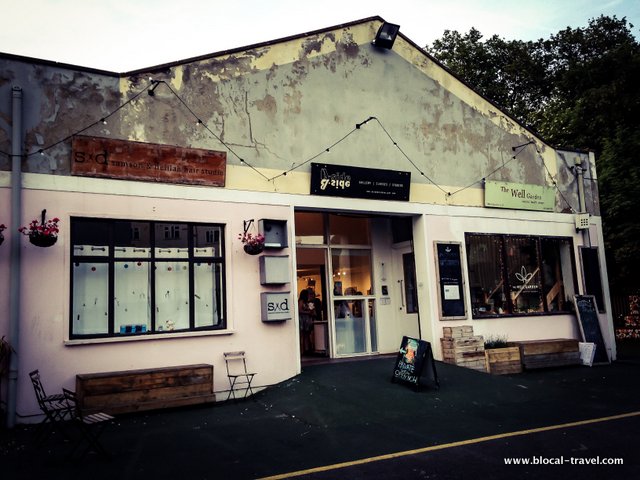 Yes. London, I love you.
While I was at the A-side B-side Art Gallery my auntie texted me that they were halfway the 'Mamma Mia' musical and they hadn't eaten yet, so we agreed to meet at the Sophie's Steakhouse in Aldwych, which is one of those places where you typically end up after attending a musical show in London. The place was noisy, but the meal was tasty, and I fell in love with the lighting: drops of light falling from the darkness of the high ceilings.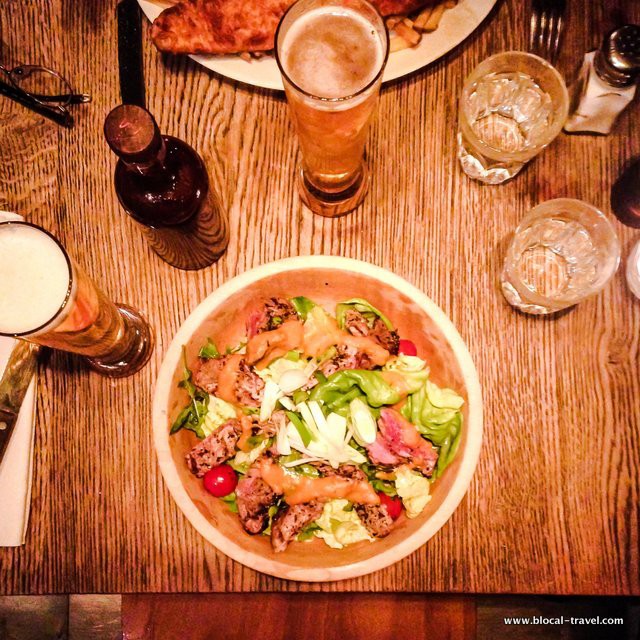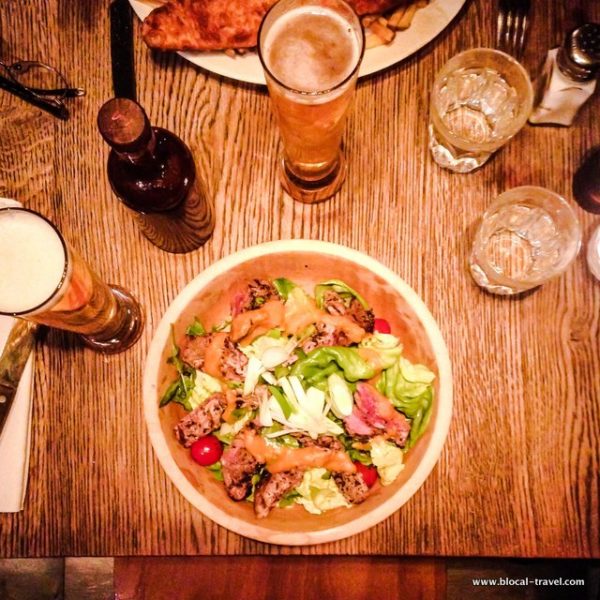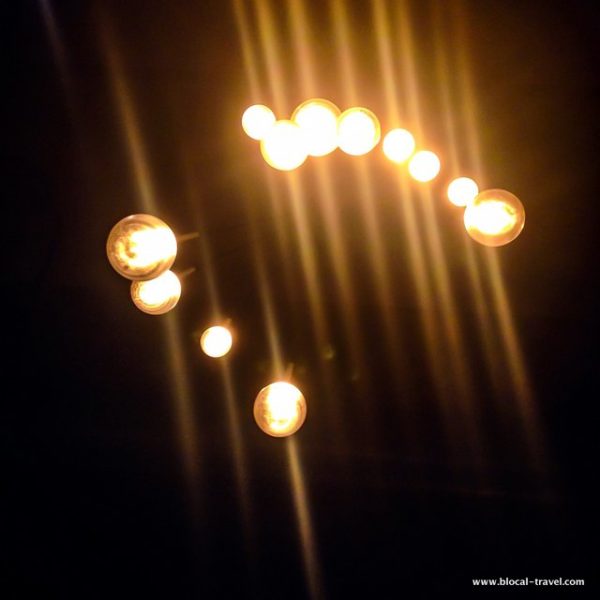 Weekend in London > day 2
We exited the subway and we found ourselves in an entirely different atmosphere. Richmond was so pretty on that Friday morning, the entrances to its elegant houses glowed reflecting an unusual sun, streets were quiet and locals were browsing the cute little shops on the square in front of the station. I stopped at a bakery kiosk for a delicious, cream-and-custard pastry, and then we headed towards the royal gardens walking past well-finished, terraced villas and tree-lined side alleys.
The Kew Gardens are a world apart from the busy city centre or, better, a universe apart made up of several different worlds. Each world has its own scent you can get lost into; I spent the whole time basically walking from one mind-blowing scent to the next one, sniffing around and letting my nose lead me forward.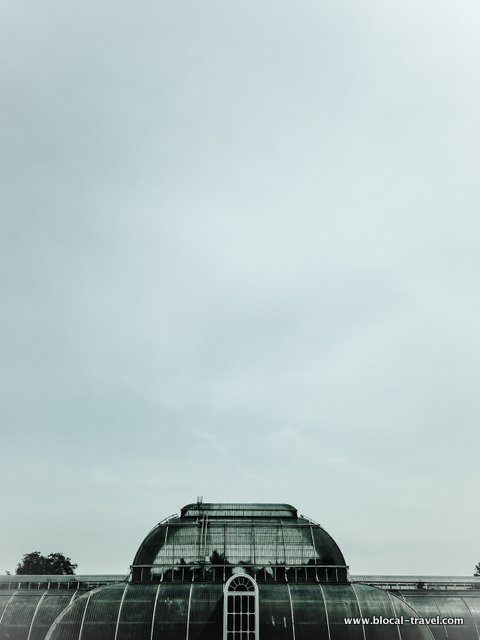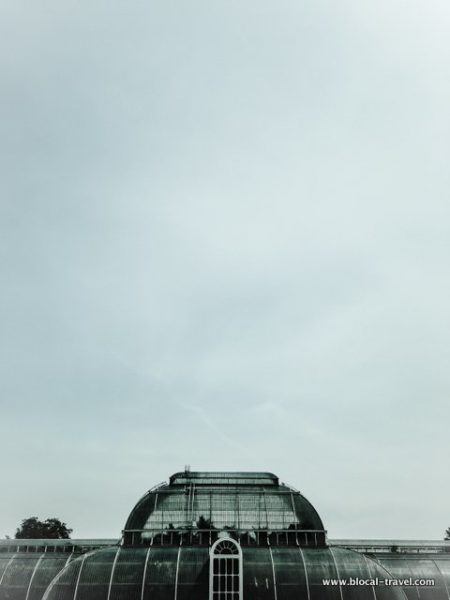 I walked among tropical plants from different continents, constantly marvelling at the variety of shapes and patterns designed by Mother Nature.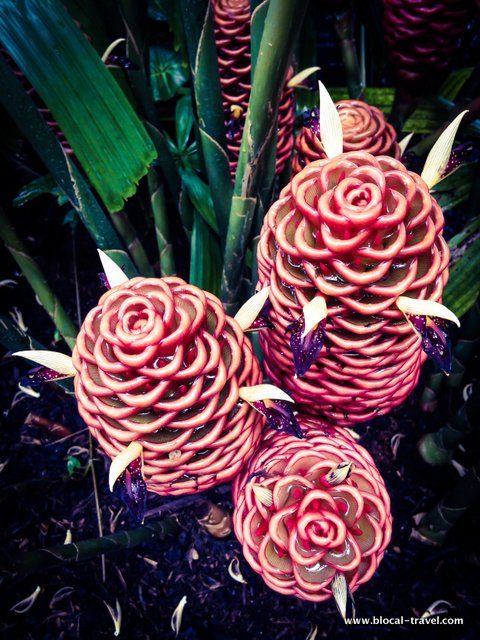 Like in a tropical forest the air was wet, thick and kind of sweet. Outside the greenhouse the sun was shining, warm and bright. I walked among bushes of roses, hawthorns and azaleas, I delighted in the calming atmosphere of the dry stone Japanese garden and I enjoyed the birds-eye view from the treetop walkway. I met a squirrel and I was surprised that it came so close to me I could almost touch its furry tail.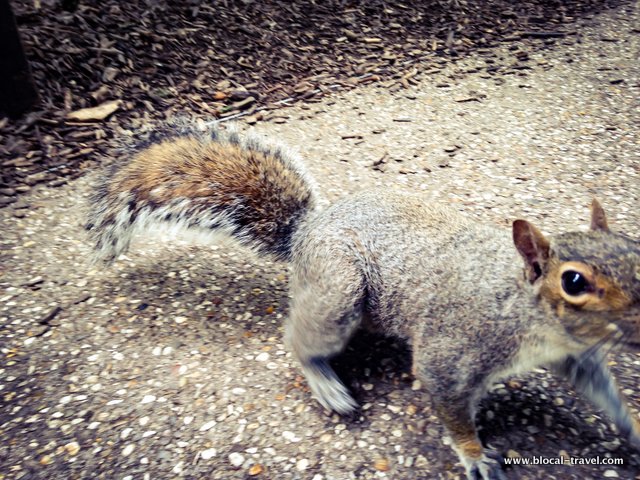 From Richmond I went to Twickenham, where I visited the eccentric Eel Pie Island, a tiny island well known during the 1960s for its always-up-to-party jazz scene, which attracted names such as Mick Jagger, Eric Clapton and David Bowie.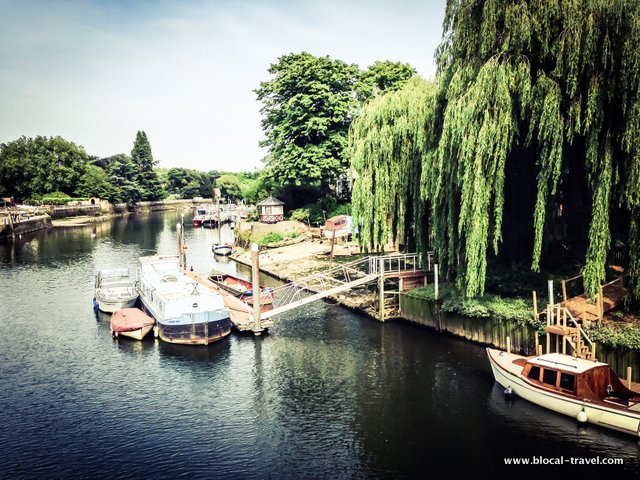 Nowadays the island hosts a creative community of artists and former hippies. The party days are over, and the island finally rests on the Thames, calm and magical, like yet another parallel universe I was meant to explore on that day.
The tour of the island took me just a few minutes; it basically is one single path running between two lines of wooden fences, beyond which the tiny, colourful houses sleep, as if they were cast in a spell.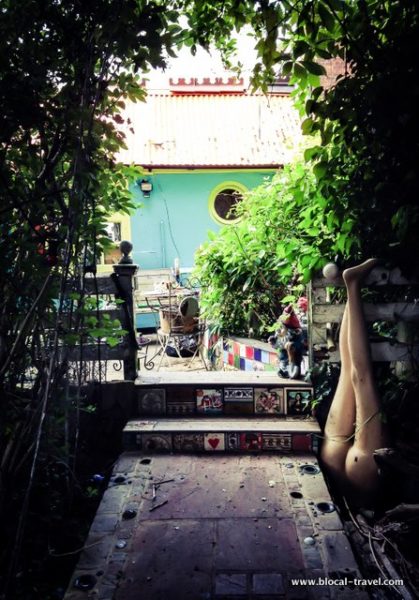 Back downtown, I was still longing for quiet, out-of-reality spots, so I headed to the Postman's Park, a pocket garden enclosed between King Edward St. and Saint Martin's Le Grand.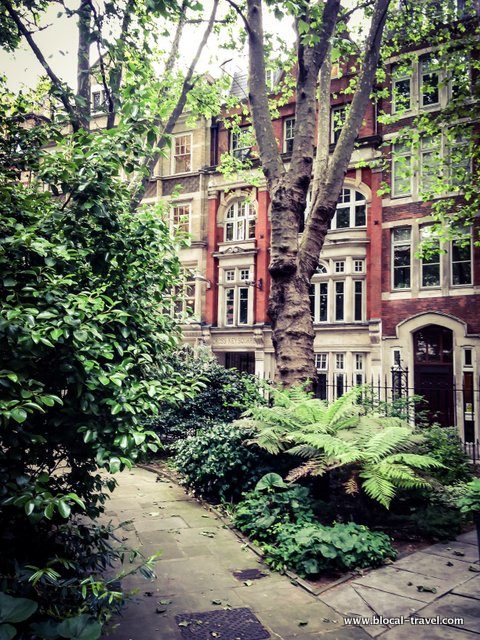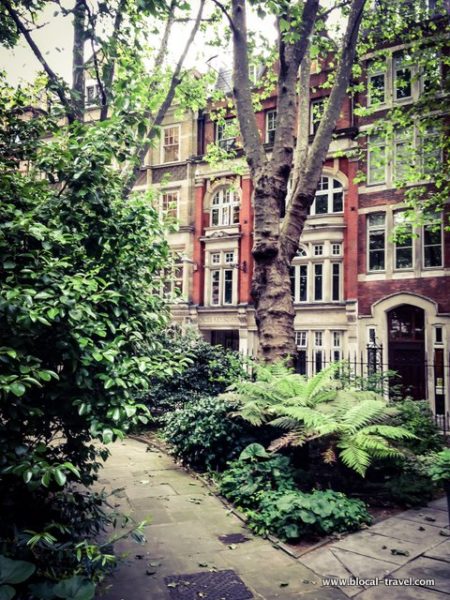 This tiny park is home to the Watts memorial, built in 1990 as a tribute to heroic men and women. I sat down on a bench and indulged in some people watching, enjoying an extremely calm atmosphere that is so unusual in downtown London.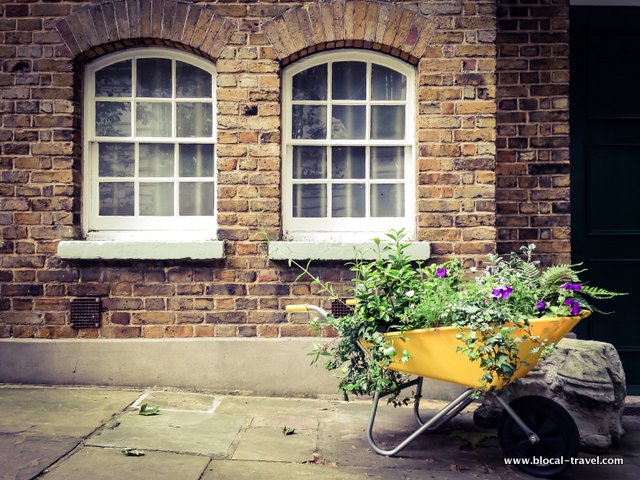 And just to carry on with that mellow mood, I visited the nearby Bunhill Fields Cemetery where, among many notable graves, I found William Blake's.
Eventually, it was time to spice up the day, which I did heading to Holborn to check out some street art and, with that hint of London's serendipity that always makes magic happen, I ended up at a street party organized by Deliveroo, the online food delivery company.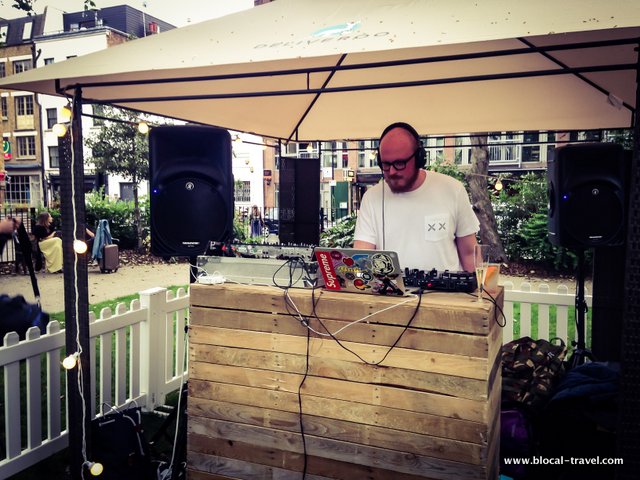 Here, among hipster string lights and recycled wood bench seats, I enjoyed a craft beer and some chillout music, taking advantage of the free Wi-Fi to brainstorm (me, myself and I) the plan for the next day.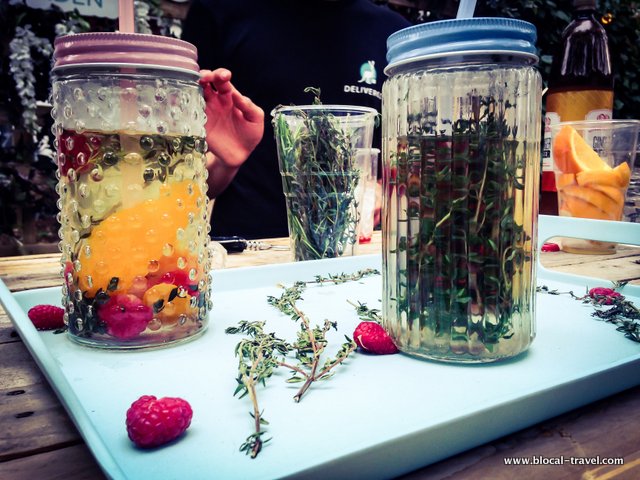 But the real magic of my Friday night in London hadn't begun yet. It did one hour later at Jamie Oliver's Fifteen, where we went celebrating my auntie's 60th birthday. (Yep, not only the Queen was having a birthday on day night!).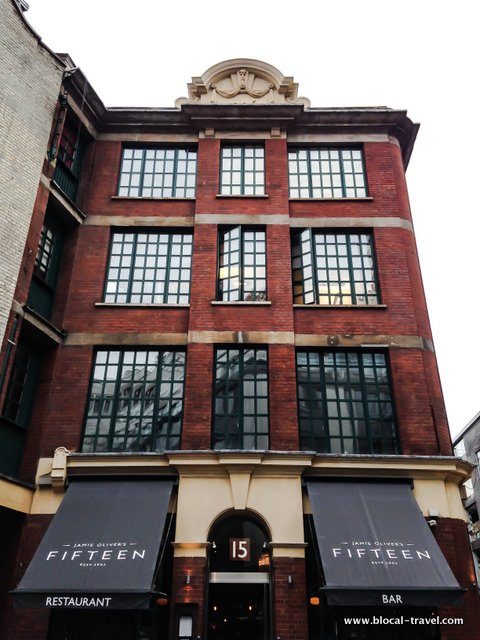 This restaurant is spectacular. It wraps you up with a comforty homely sensation, albeit the interiors of Fifteen are quintessentially East London: low hanging cable lights, Chesterfield sofas, many pictures all hung on the same wall and an overall retro style that made me fall in love with the place even before tasting Jamie Oliver's signature dishes.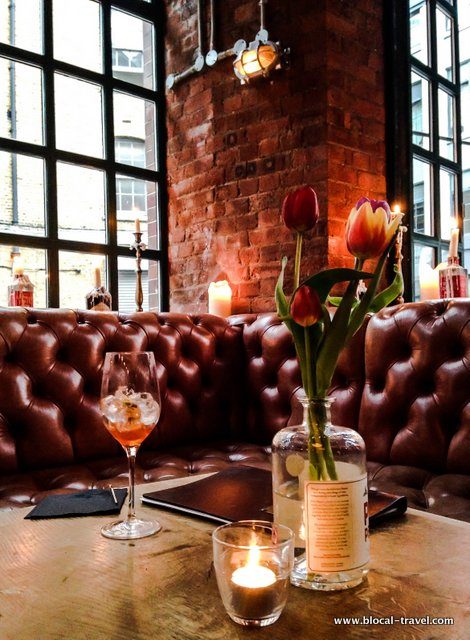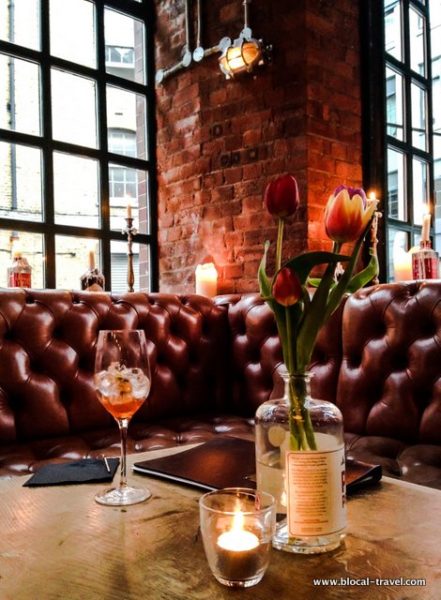 We started our meal at the cocktail bar. I'm not a big fan of cocktails, but that daiquiri with lime and coconut was delicious!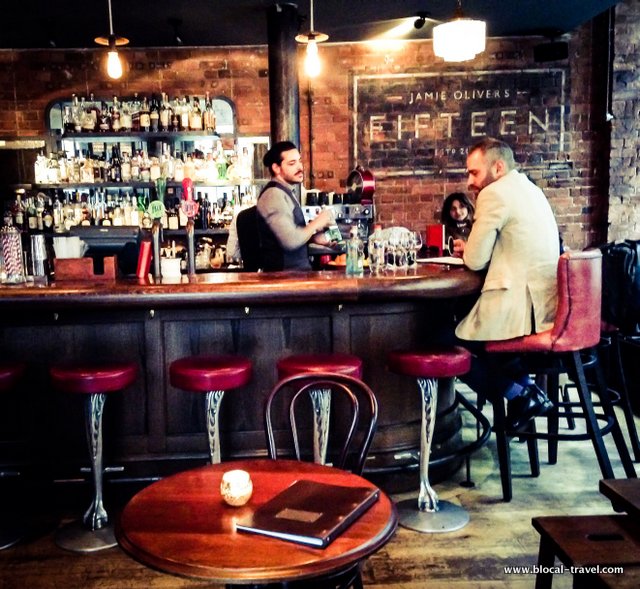 Then we moved downstairs and got a table next to the kitchen, from where I could see all the action. I had a Dorset crab with courgette, wild fennel and crème fraiche, which was excellent –flavoursome and fresh, with an interesting but still subtle sauce.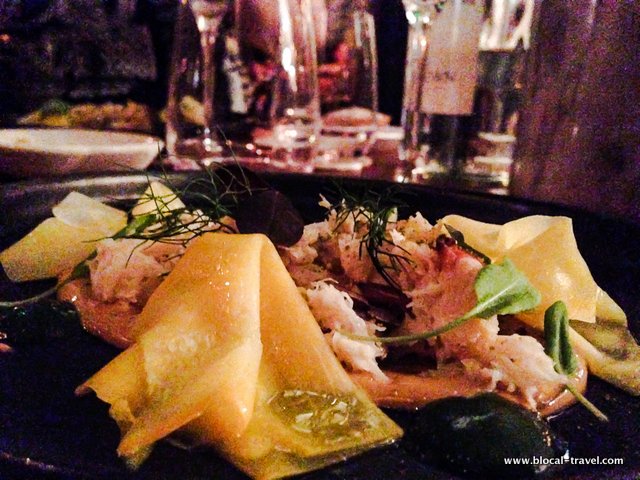 Next up were the Agnolotti with summer truffle, shallot and Parmesan: perhaps the lovely, creamy sauce was overabundant, but it was so tasty that I still appreciated it.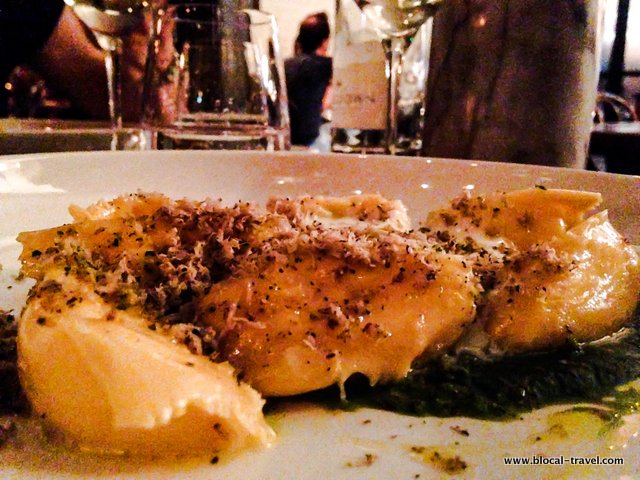 When we were leaving we met the restaurant manager on the staircase and had a quick chat about our meal and the not-for-profit ethos of the Fifteen restaurant, which trains disadvantaged apprentices in the culinary arts giving them, as stated in the restaurant's mission, 'the opportunity to discover their own potential and change their future through food and cooking'.
Weekend in London > day 3
The typical English pub's smell was exceptionally strong, but it didn't make me pound away from the Thai restaurant hidden inside the Churchill Arms, that pub in Notting Hill covered with many flowerpots. After all, the mere existence of that restaurant shows that you can't judge a book by its cover! The Pad Thai was good, indeed, a right balance between sweet and chilli, and the secret tropical garden was quirky enough to make the food look even tastier.
After lunch, I headed to North London. I exited the Camden Town subway station, took a few steps along the overcrowded street leading to the flea market and suddenly realized –for the second time on that weekend- that I'm not anymore the 20-year-old girl who could easily spend a whole day in Camden Town, strolling among the stalls, trying on some eccentric outfits and eating all different kinds of fried food –the more suspicious the origin, the better. Nope. This time, I lasted less than 10 minutes in the area, then I felt the urge of leaving the market and wandering around the neighbourhood as far as Chalk Farm looking for some street art.
When I was getting ready to climb Primrose Hill to enjoy the view over London, the weather suddenly changed. (so British!) And so I opted for a more urban tour and headed back to Islington, where I took shelter inside a craft beer pub called -with a touch of originality- the Craft Beer Co., a very cool pub with a great selection of craft beers.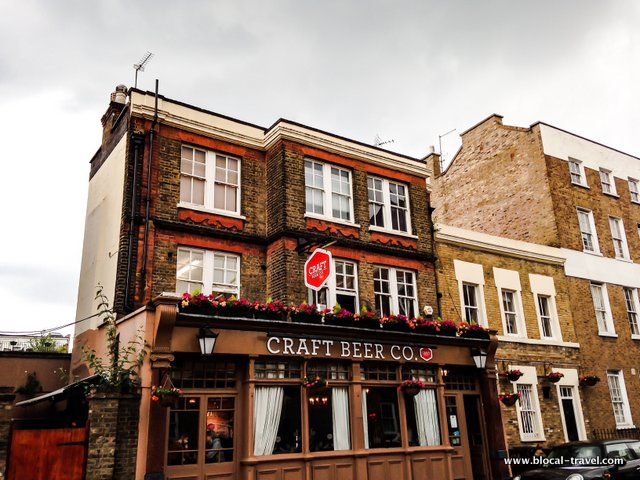 Looking through the wide window of the pub, I could see the storm powerfully taking over the street and that iconic British sky that is dark but, at the same time, enlightened from within by a pale sun. A sky that always feels so London to me. A couple of half pints later, the rain got quieter and I ventured again into the tidy streets of Islington, which by then were covered over with that silver carpet that… oh my London!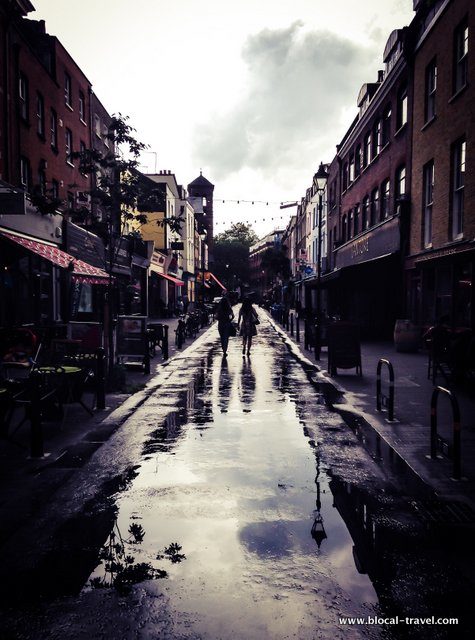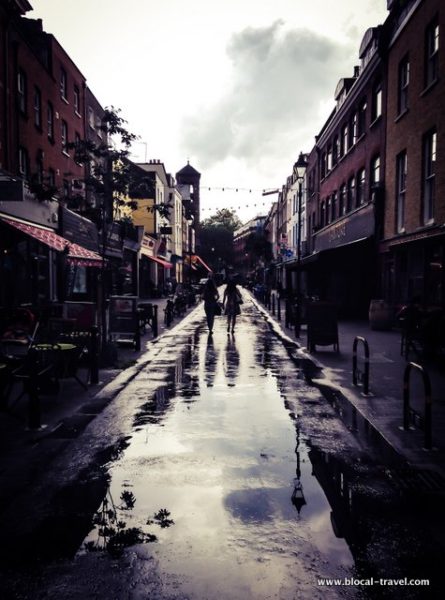 I walked to the Exmouth Market, which actually isn't a market but a street with nice bistros and trendy shops, a lovely place where I would have spent the whole evening if only I hadn't had a bus to catch.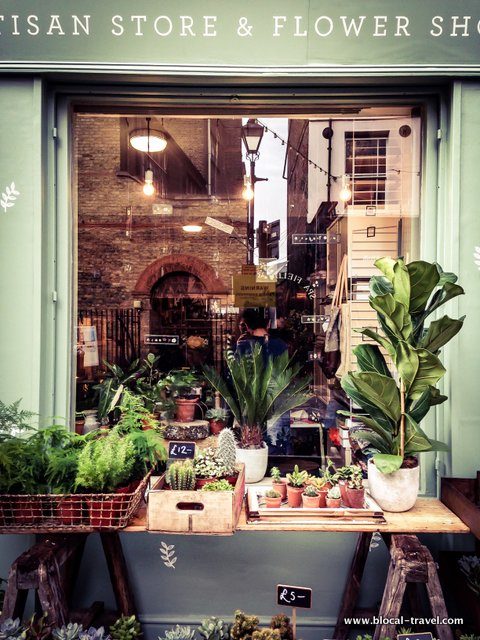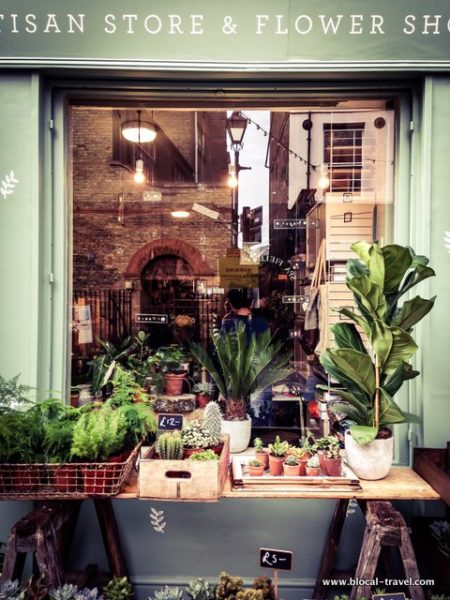 So I kept walking forward, heading toward the Victoria Coach Station on a very random path. Which is exactly what I used to do when I was living here: walking without caring too much about the direction. That's how I fell in love with this town in the first place and that's how I wanted to say goodbye this time.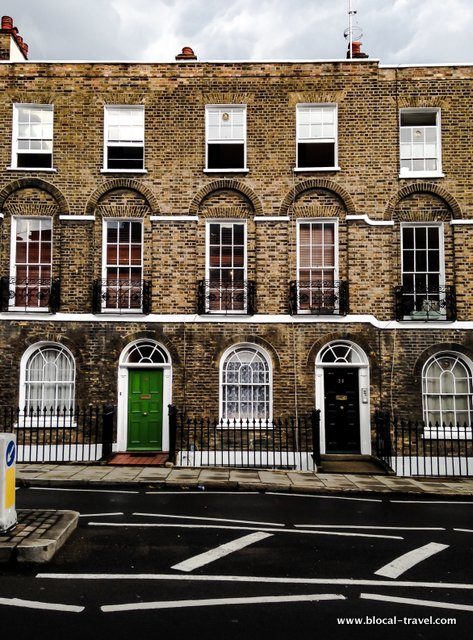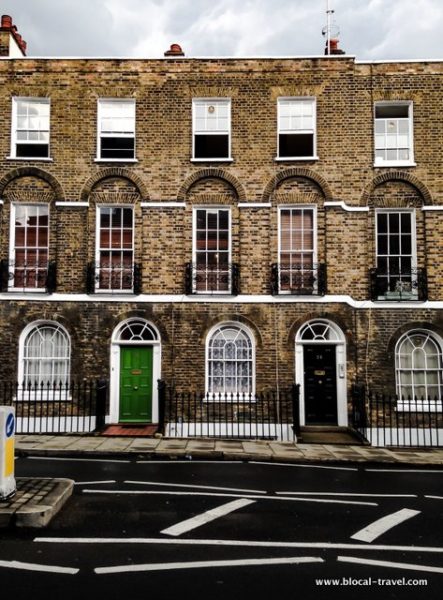 By wandering around the silver-washed city centre I reminded why I used to love this town so much but, at the same time, something pretty weird was happening to me: I realized that I was sort of missing Bristol. I have the whole summer to pop up again in London and remember the emotions of that life-changing experience that most of any others made me what I am. But now it's time to settle in a new place and begin a new season that, from what I can say so far, is going to be life changing as well.
Goodbye London, see you in a few weeks.
PEEK THROUGH || You can find these places in my short travel video "3 days in London… in 30 seconds"
You can hover over these (or any image) to quickly pin it!