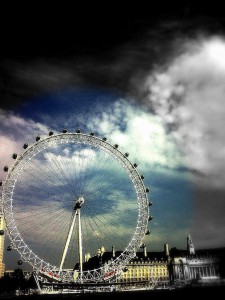 My lifelong dream is to move to New York City, but each time I've given it a chance I ended up somewhere else. My first attempt took place right after the high school. After experiencing five years of the worse English teaching EVER the situation was so bad I was hoping to enlighten it by persuading my parents that yes, I absolutely needed to find a summer job in NYC in order to improve (read: learn) the language. But my aunt, after witnessing one of our family / NYC-related dramas, found me an improve-your-English-suitable-summer job in the English office of the company she is working in, so my first somewhere else happened to be London.
Closer, easier, cheaper. It had it all.
The disappointment for not getting the Big Apple lasted less than one week: even considering all the difficulties coming from moving away for the first time in my young life, the London experience was turning out simply amazing. The City skyline from the Waterloo Bridge at the sunrise, the crisping peppers in the Neil's Yard salad, the Neil's Yard itself, the policeman approaching you because no, you are not supposed to have a bath in the Trafalgar Square fountains (even if the sunshine happens sometimes to be so surprisingly hot), the Big Ben's tolls, the street musician playing blues on the Embankment, the sound of the London traffic jam coming from the window, going downtown for a pint or a glass of local wine (ouch!), minding the gap, the rain and the rain and the rain (and to jump into the puddles!!), eating noodles & fried chicken at Camden Town, Camden Town itself, the roof garden on the top of the Virgin building in Kensington High Street, districts smelling of curry and spices, crying at Covent Garden in the night and suddenly hear a street musician playing no woman no cry just around the corner, the sunset from the London Bridge, the Banksy tag on Queen's Walk (and Bansky's graffiti all around the town), lavender bushes everywhere, my favourite tea flavour tasted in my favourite tea shop (Regent Street at the corner with Piccadilly Circus, in case you were wondering…), walking through Tate exhibition halls, hanging around at Portobello Road, EVERYTHING was making me fall in deep love for that town, making me happy only by realizing that I was in London, geezer!
////////// MORE ABOUT //////////