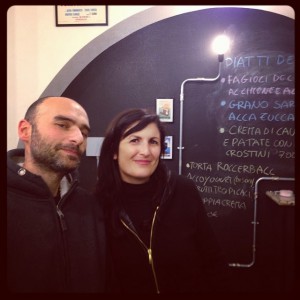 "So what?" vegan restaurant in Rome, Pigneto
Where to eat in Pigneto?
You can guess I'm not a big fan of Pigneto; it quickly became mainstream despite (and -in the same time- thanks to) its claimed undergroundness, thus I'm not going there so often, even if -when I do- I eventually end up by kind of liking the area. Surprisingly though, last week I've been in the Pigneto neighborhood twice, to attend the openings of two restaurants, both managed by people I somehow know: the vegan restaurant "So What?!" (via Ettore Giovenale 56/58) and the brewery with kitchen "Birstrò" (via Luigi Filippo De Magistris 64).
I've been waiting for so long to try Paolo & Alessandra's vegan restaurant! I met them almost one year ago, I was organizing their vegan cooking classes at my daily work, a weekly appointment that allowed me to get to know this amazing couple (in the kitchen, but also in life) and since then I've been hearing the ups and downs about their venue hunting and, in general, their ambitious project of opening a vegan restaurant in Rome. Eventually they did it, so last week we went to celebrate my vegetarian colleague's birthday at their brand new restaurant.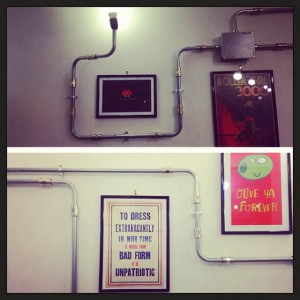 "So what?" vegan restaurant in Rome, Pigneto
The venue is small, ironic and colorful, with many references to cyborg/Godzilla/robot niche movies and punk culture, definitely not the usual pumpkins&lettuce furniture you find in a vegan restaurant. This kind of easy-going humour is also at the very core of their interpretation of veganism: Alessandra and Paolo (a.k.a.
TheVegan Riot
) want to demonstrate that vegans are not starving, not living in denial and not forced to an extremely strict regime based on privations; rather, they are happy food lovers who enjoy what is on their table without cruelty towards animals, but also without fundamentalism. They do love to eat and they do love food, they just care more than average people about what is inside their meal and the consequences of the cook's choices. This is not supposed to be a weakness, right? So, thanks to them, I discovered that vegan cuisine is not a pale, colourless version of "normal" cuisine, but it can be even tastier! (let alone healthier…).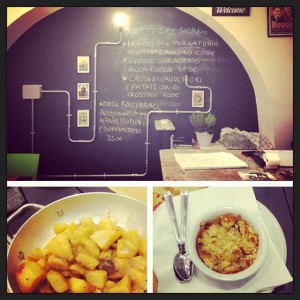 "So what?" vegan restaurant in Rome, Pigneto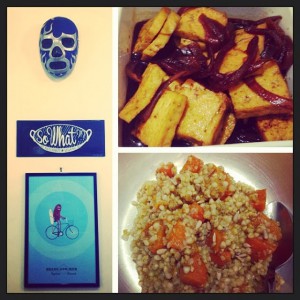 "So what?" vegan restaurant in Rome, Pigneto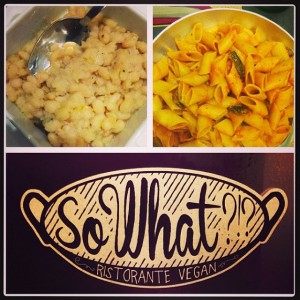 "So what?" vegan restaurant in Rome, Pigneto
As 
we
were 
all
 looking forward 
to 
try
their 
specialties,
we 
ordered
a 
bit
of 
everything:
tofu 
with
onions, 
buckwheat
with 
pumpkins,
haricot 
beans
with 
lemon
and 
laurel
(which 
I
elected 
the
best 
dish
of 
the
whole 
menu),
potatoes 
with
a 
special
curry 
of
spices 
and
pasta 
with
tomato 
sauce
and 
vegetables.
The 
opinion
of 
the
crowded 
table
was 
not
unanimous, 
but
I 
guess
it 
depends
on 
our
different 
degrees
of 
addiction
to 
animal 
proteins…
Surely
you 
must
try 
Paolo
and 
Alessandra's 
cuisine
before 
deciding
if 
you
are 
-or
 aren't
– 
into
vegan 
food!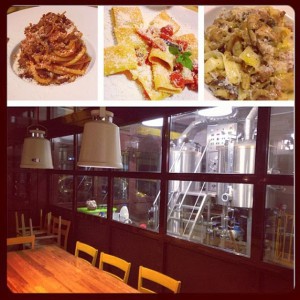 Birstro' brewery with restaurant in Rome, Pigneto
A couple of days later, we went to try another upcoming restaurant nearby (actually it still has to open officially, but you can already taste the provisional menu…) whose peculiarity is to serve home made craft beers from its own little brewery. Virtuously riding the (craft beer) wave of the moment, Florinda and the two brothers Danilo and Claudio (one in the kitchen and the other in the brewery) opened this small restaurant with simple but very tasty dishes and a selection of home made beers.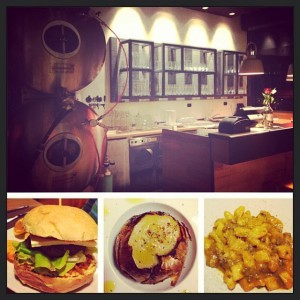 Birstro' brewery with restaurant in Rome, Pigneto
Here
we
tried, 
…ehm…,
almost 
everything
on 
the
menu: 
Salvatore
Tassa's 
melted
onion, 
traditional 
tripe,
pasta 
with
char-grilled 
tomatoes,
mint, 
vanilla
and 
pecorino 
cheese, 
pasta
with 
Amatriciana 
sauce,
pasta 
cooked
in 
beer
with 
s
ausage flavoured with fennel and black poplar mushrooms, tiny dumplings with carrots cream, ginger and chicken livers
, 
oxtail
meatballs 
with
celery 
and
Porto 
reduction,
beef's 
cheek
with 
red currants
and 
spring
onions 
stewed
in 
beer, 
cheeseburger, 
tiramisù
and 
other
desserts 
of
the 
day.
Everything 
was
delicious, 
especially
the 
dumplings!
:-)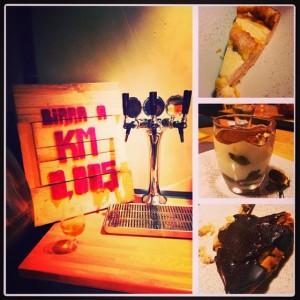 Birstro' brewery with restaurant in Rome, Pigneto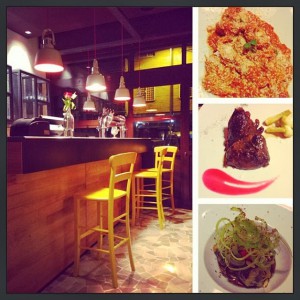 Birstro' brewery with restaurant in Rome, Pigneto
It turned out Pigneto is not so bad after all, especially off the beaten (pedestrian) track!
Find these (and many more) restaurants in my Rome Google Map!
SalvaSalva
SalvaSalva
SalvaSalva