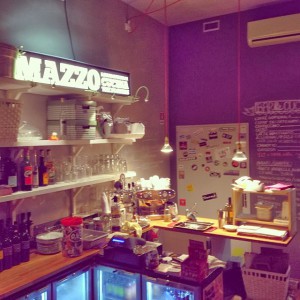 Mazzo Centocelle, Rome | Food
On the very first occasion I had a foodie friend to impress, which happened last week when my Macedonian friend Elena came to visit me in Rome (do you remember her exquisite selection of the best places to eat out in Ljubljana?), I booked a table at Mazzo, a new restaurant in the Centocelle neighborhood. 
Better to say, I booked the table, as Mazzo happens to be an extremely intimate place (one table inside and, as long as the weather allows, one table outside), according to the way of saying "good things come in small packages". It was Elena's last dinner in Rome and, so far, I played a good game (bringing her at Pasticifio San Lorenzo and, believe it or not, also cooking a home-made dinner), but of course the outcome is always determined by the last card… which, in this case, was an out door table in Centocelle! But I wasn't worried, 'cause Mazzo is managed by "The Fooders", a project born as "a live cooking performance, in order to condense cooking, music and graphic in the same performative act" and then transformed into "a real working team that deals with food design, food production and events". No need to say that when such an amazing and dynamic group of people opens its own restaurant you can't expect anything ordinary coming on your table!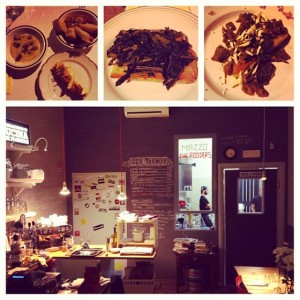 Mazzo Centocelle, Rome | Food
Since we had made all the way to Centocelle, we wanted to get the

most

best out of this eating experience, thus we ordered all available appetizers, which were: potatoes rosti with green peppers, toasted bread with lard, chard and asparagus, pappa al pomodoro (traditional bread and tomatoes soup from Tuscany), toasted bread with Amatriciana sauce and cannellini beans cream with croutons and thyme. For an average group of 3 people it would be already enough, but not for us!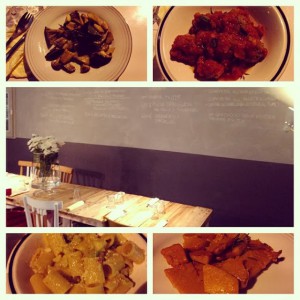 Mazzo Centocelle, Rome | Food
Determined to try as many dishes as we can handle, we carry on with traditional garlic, oil and chilli pepper with the addition of roman broccoli, pan-fried mushrooms, meatballs with tomato sauce and pan-fried pumpkin. It goes without saying that we also ordered the dessert: citrus fruits cheesecake and chocolate brownie.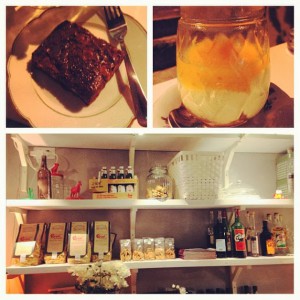 Mazzo Centocelle, Rome | Food
Everything was extremely good. Mazzo is one of the few restaurants that not only uses vegetables as proper ingredients and not just garnishment, but also values each of them with the proper recipe. Moreover, at Mazzo each vegetable tastes as it is supposed to, which isn't that conformed plastic taste vegetables from industrial productions have. 
Amazingly satisfied by the food, there was one last craving to satisfy: we were wondering why that name, which in italian means "bunch". In fact, even if it is located in via delle Rose (Roses street), it didn't take the name after a bunch of flowers, rather after the huge effort they made in order to open it, as they told us they really worked their ass off! (or, as romans say, si sono fatti il Mazzo).  
Find this and many more restaurants in my Rome Google Map!