I've been thinking about writing a post featuring the best street food in Rome, but I've been so busy lately that 'till now I've tried for you only two places out of my (very long) list… But luckily last week I attended the 'This is Food' festival, where I tasted many different dishes from many different restaurants in just one evening!

This is Food Festival, Rome
A golden opportunity to review 15 street food spots all at once!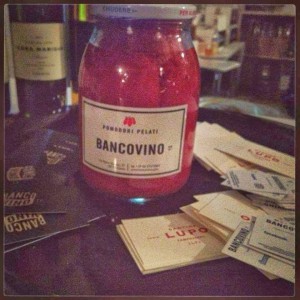 Bancovino | This is Food Festival, Rome
First things first, we started with a good glass of red wine at
Bancovino
, a wine bar which is right under my parents' house. It opened just before I moved out from my parents', so I've never been drinking / eating there, but I perfectly know the venue (actually, in my mind, I still picture it as the grocery where I was going to buy milk and fresh bread when I was a child!). Bancovino became popular quickly, not only in my old neighborhood but also among foodies from all areas of the town -and I find it always kind of weird to read all food bloggers going crazy for what in my mind is still a grocery run by an old lady!
[If you are feeling hungry, check Bancovino website here]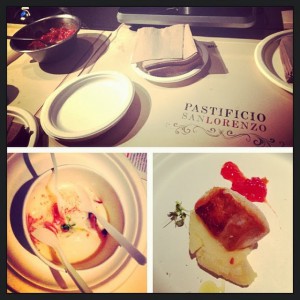 Pastificio San Lorenzo | This is Food Festival, Rome
Then we tried what actually was the best food experience of the festival: Pastificio San Lorenzo. This place was already on my wish list 'cause I was thinking to go there at the end of the month when I am going to show the best food of Rome to my Macedonian friend coming on a visit.
Thus I was very excited to get a preview, and I must say it totally seduced me, confirming all good opinions I've heard about this place! Here we tasted the cappuccino of potatoes, egg and mushrooms, which is simply amazing, and a dish with chicken, potatoes and sweet tomatoes: delicious!
[If you are feeling hungry, check the Pastificio San Lorenzo website
here
]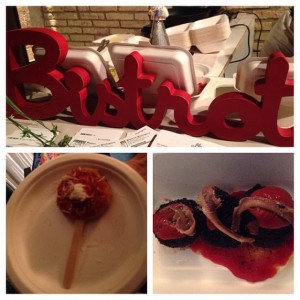 Bistrot Bio | This is Food Festival, Rome
Our second stop was the Bistot Bio; I didn't know about this place (whose venue is located inside a beautiful park in the centre of Rome), but as soon as I tasted their buffalo's milk mozzarella bound in ink black breadcumbs with anchovies from Cetara I knew I have to go there for a whole meal! Here we also tasted the pumkins' parmigiana twig (which was served as an ice-cream!), quite good but maybe too sweet for me (I'm not a big fan of pumpkins, though…).
[If you are feeling hungry, check the Bistrot Bio website
here
]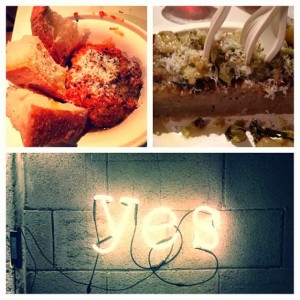 Mazzo Centocelle | This is Food Festival, Rome
Then we went for the nicest one: the Mazzo Centocelle stand. While we were waiting for our meatballs and potatoes rosti we chatted with the owners and they were so nice and funny that we decided to go eat at their restaurant soon! Moreover, it is a project by The Fooders, meaning there is a whole foodie world behind it: not only good food, but also food culture and great events! Moreover Mazzo's meatballs were delicious, so soft and tasty! And you know I'm quite picky when it comes to meatballs…
[If you are feeling hungry, check the Mazzo website
here
]
At this point of the evening, the Festival's organizers stopped changing money as all stands were running out of food! One friend from the organization told us that for this 1st edition they were expecting barely 3000 people, but we were more than 7000 and we were all very hungry! :-)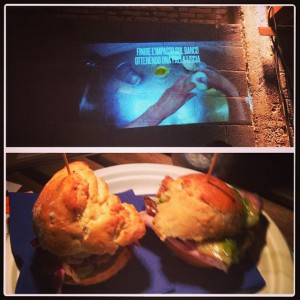 Grandma | This is Food Festival, Rome
Thus it was time to hurry up to get the last dishes available and we opted for the stand with the longest line (what a strategy!) which was the one of Grandma. Here we took two sandwiches: the Figli dei Figli dei Fiori one (courgette flower's bread with pork roast and spinach) and the Islam Pork, the vegan sandwich of basil and sunflower's seeds bread with hummus and grilled onions: just amazing!
In addition, they set-up a very cool stand, with a video showing the preparation of their recepes on the wall behind them!
[If you are feeling hungry, check the Granma website
here
]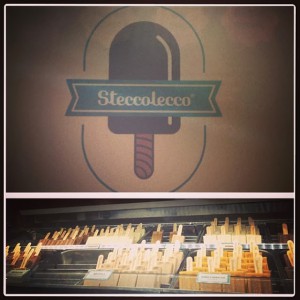 Steccolecco | This is Food Festival, Rome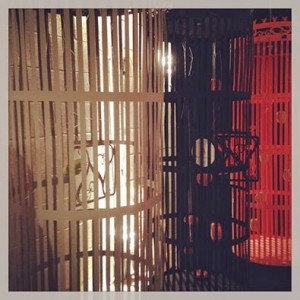 Fonderia | This is Food Festival, Rome
When it was time for the dessert, my friends split up into two factions: the ones feeling already in winter opted for a macarons tasting at the Fonderia stand, while those who were still living a midsummer night's illusion grabbed a biological ice-cream at Steccolecco, the high quality ice-cream maker of the capital!
[If you need something sweet to cheer you up, check the Fonderia website
here
; if you are in a winter denial, check the Steccolecco website
here
]
Last mention is for the festival venue itself,
Officine Farneto
:
a creative factory / wellness spa / cooking school / restaurant / event venue / whatever that I spent the whole night dreaming about, as I can perfectly picture myself living in a space like that! (ok, maybe smaller, or I will spend my whole income to pay for the cleaning lady!).
They have been organizing many interesting events lately, but each time I had something else coming up, so I still haven't been in such a beautiful place, even if it was on the very top of my wish list 'cause it sums up all my architectural  lusts: big open spaces, bricks on the walls, amazing floor, huge loft windows and wrought-iron almost everywhere….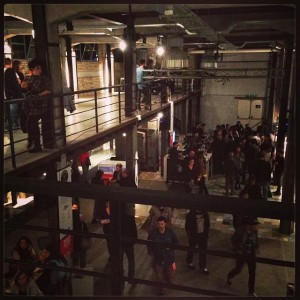 Officine Farneto | This is Food Festival, Rome