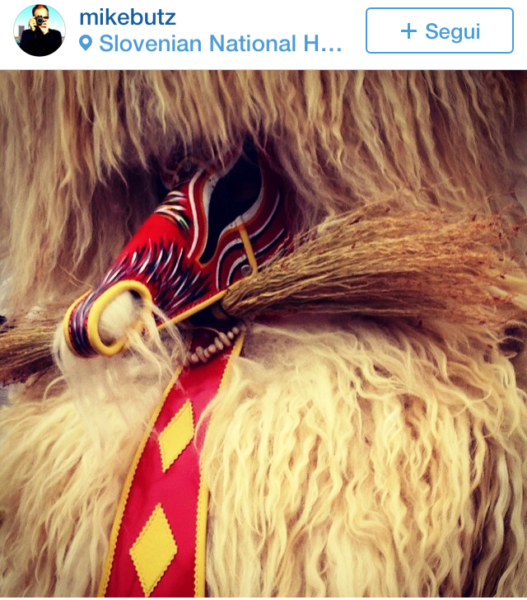 …which unfortunately, this year, I will miss! :-(
(but I won't miss the opportunity to ramble about how much I love Slovenia, and so… here we go!)
Kurentovanje is the traditional Carnival festival taking place in Ptuj, the oldest city in Slovenia, located in the North-Eastern area of the country. When I was living in Slovenia, Ptuj was one of my favourite day-trip destinations: next to a beautiful lake (Ptujsko Jezero), Ptuj has many interesting churches and monasteries, a Castle, Slovenia's oldest wine cellar, a great thermal spa (Terme Ptuj), lots of storks nesting on its red roofs and, during this time of the year, the coolest carnival ever!
disclaimer: as I lost all my pictures from the Kurentovanje parade, I'm borrowing some from Instagram, leaving the name of the Instagrammer who snapped it on the top to credit him; if you own the picture and you want me to remove it just let me know and I will.  
The Kurent Carnival originates from an ancient Slavic pagan rite of fertility: a Kurent (those figures dressed in sheep skin who go around the town wearing masks, a long red tongue, cow bells, and multi-colored ribbons on the head) is believed to help chase away winter and usher in spring.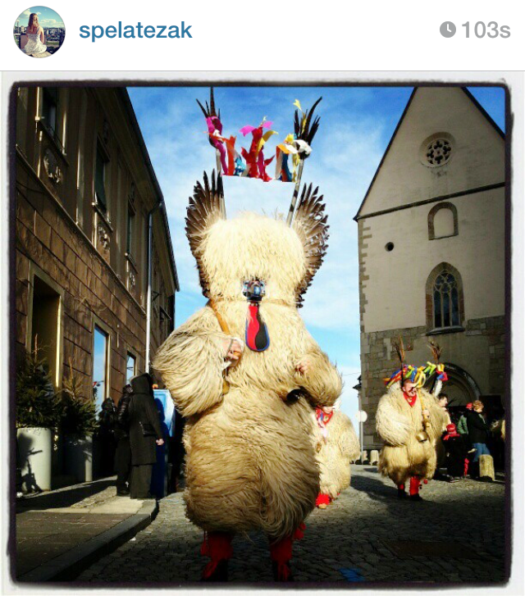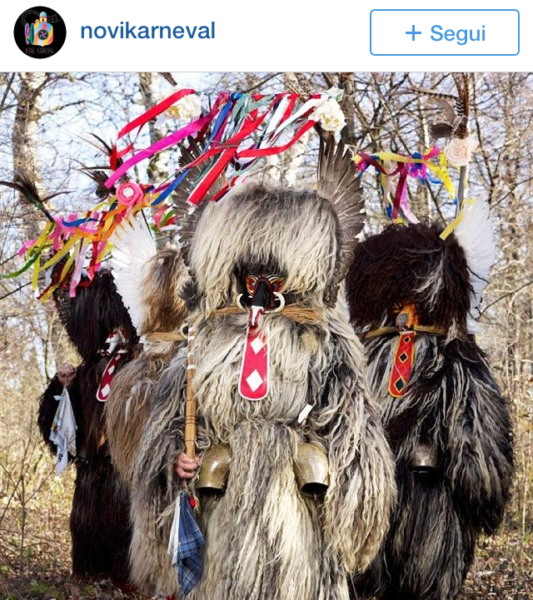 Besides Kurents, there are many other traditional masks which you happen to meet around the streets of Ptuj during Kurentovanje celebrations:
Kopjaš / Spearmen dance carrying long wooden sticks with multi-colored ribbons; they aren't an original carnival figure but a traditional wedding figure, although in 1960 a group of Spearmen led the first Kurentovanje parade in Ptuj and they are still proudly part of it;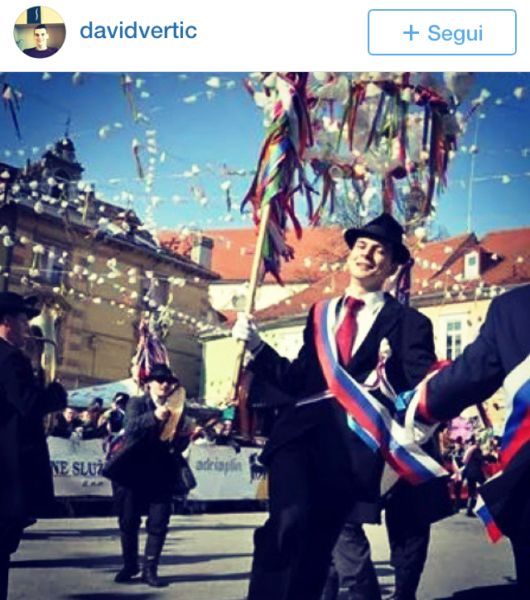 Ploharji / Log-hauliers transport pine logs for fertility's sake (traditionally a pine log was cut when no girls got married during the pre-carnival period) and on the log sits a doll representing the groom;
Jürek in Rabolj / Jurek and Rabolj: Jurek is a plant mask banishing the winter demon –Rabolj- during a choreographic fight;
Pustni plesači / Carnival dancers wish happiness and abundance with dancing and singing;
Hudič / The Devil –dressed in red, with a fishing net on his back to catch souls- is responsible for the smoothness of the Kurents' procession;
Baba nosi deda / Old women carrying old men represent the spirits of death people;
Medved / Bears walk in groups, accompanied by musicians;
Piceki in kurike / Cockerels are bird-like masks riding a stick with a carved hen's head at the front end and a wisp of hen's feathers attached at the back end;
Ruse / The Rusa wishes fertility and health of horses and other domestic animals; the mask is made by a wooden frame covered with a rough cloth (the one used for making sacks);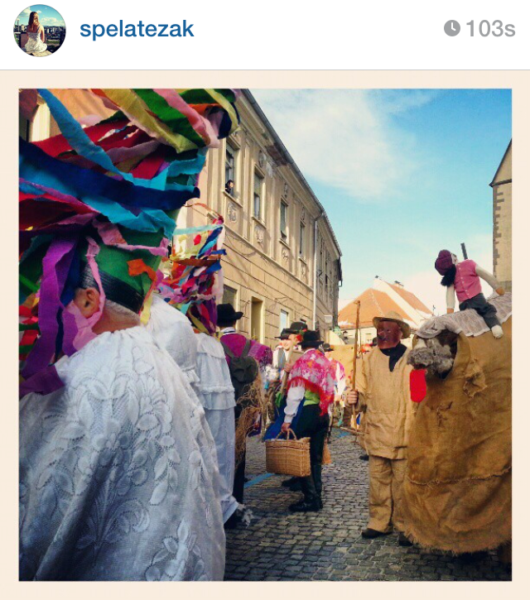 Cockerels (left) and Rusa (right)
Vile / Fairies are the first "official" mask for ladies: they are dressed in white and dance in circle;
Kopanja / The through is a men dressed as a woman carrying a bride who holds a bunch of onions instead of a bunch of flowers;
Orači / Ploughmen is a collective mask composed by three pair of "horses" harnessed in a decorated wooden plough followed by a Kurent, whip-crackers (those who snap the air with their whips to chase the devils) and a collector of donations, visiting farmyards to perform a traditional ritual for fertility's sake;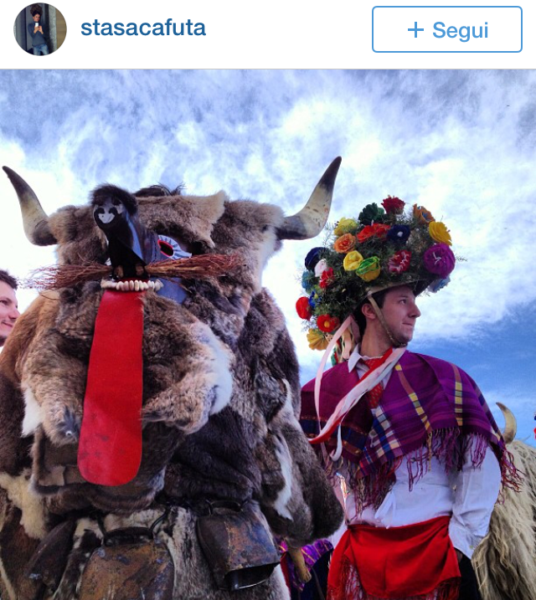 Dornavski cigani / Gypsies: people from Dornava (a village near Ptuj) join the parade dressed as gypsies, assuming many different "roles", from fortune-tellers to musicians.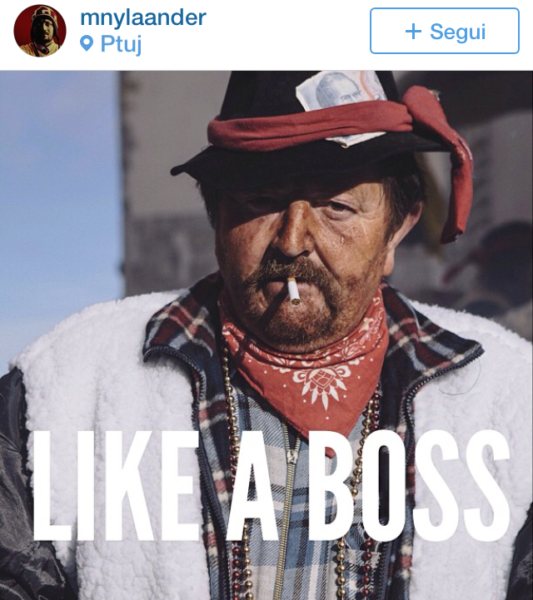 The manifestation is very loud: each mask has is own traditional "instrument" to make noise in order to scare off evils spirits.
Kurentovanje is still a very cherished tradition in Slovenia: masks and "roles" are handed down from one generation to another.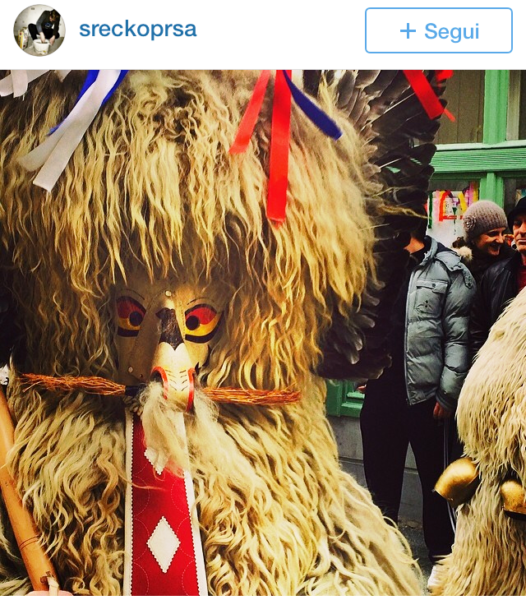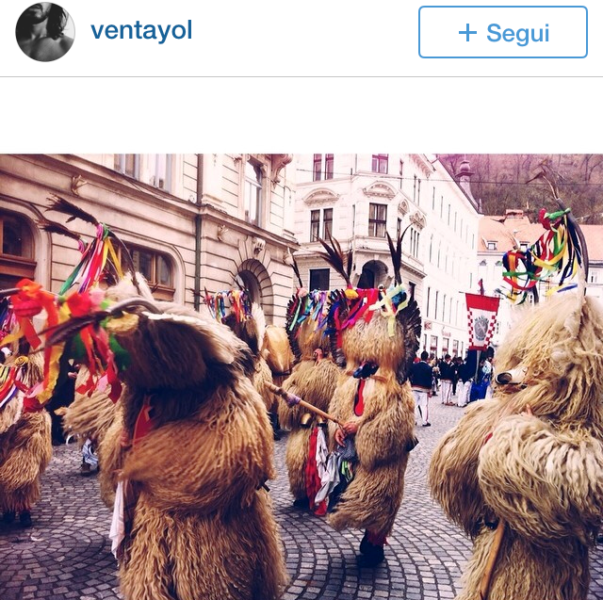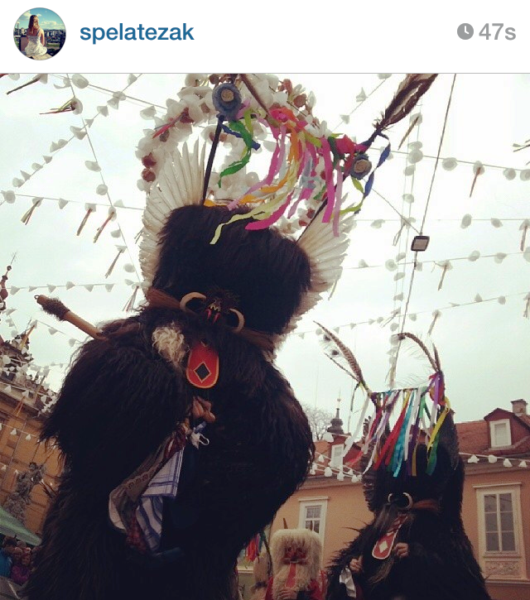 Kurentovanje 2015 will take place in Ptuj from 7th to 17th of February!
So bad I will miss Kurentovanje this year!
Are you going to Kurentovanje 2015? 
Let me know in the comment area below! 
For more information: